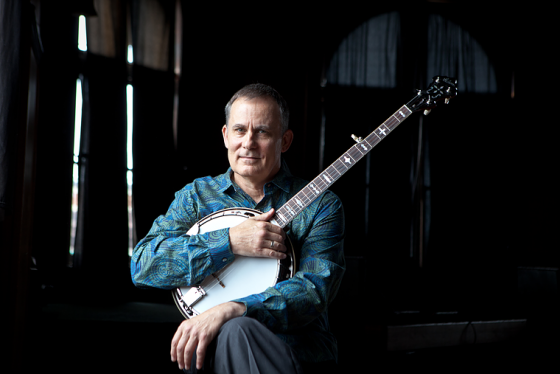 The banjo isn't typically the first image that comes to mind when one considers classical music. For Virginia banjo player and teacher John Bullard, however, the banjo is just as suited to Mozart as it is to mountain music. Last Fall, Bullard released Classical Banjo: The Perfect Southern Art, his third full-length album of banjo interpretations of classical music. The album is an impressively rendered collection of 25 tracks, parts of which Bullard has worked decades to master. 
"[The project] came out of me having a discussion with Jayme Stone, who was the producer and is also a banjo player and has some great albums out," Bullard says. "He asked, 'When was the last album you did?' And it was a long time ago. He ended up being interested in being the producer, so it ended up that we did it together."
Stone -- known for, among many other things, his 2015 Lomax Project -- worked on the album with Bullard from its inception, lending a hand with recording, of course, but also with what Bullard considers to be one of the most difficult parts of his musical endeavors: exploring ways to play complex classical pieces on an instrument viewed by many to have limited capabilities. Stone and Bullard found novel approaches to counter such issues, like experimenting with various conversations of backing instruments to make certain arrangements easier to play.
"You're trying to make the banjo do some things it doesn't normally do, like sustain a note for a long time," he explains. "In bluegrass, you pluck a note and it's a 16th-note and there are a zillion more following it, and it doesn't matter what happened with that one note so much. But in the classical stuff, sometimes you have a half-note or a whole note, and you have to figure out what you have to do to make this note last and sound okay. It's really different."
The pair recruited a number of skilled musicians as well as an eight-person choir to bring Bullard's vision to life, part of which was for each of the album's pieces to remain as loyal to their original counterparts as possible. The album also features a solo performance from Bullard, one that was truly decades in the making.
"The fugue, which is the only solo banjo piece on there, which is from Bach's 'Sonata No. 1' for solo violin, is one of my favorite pieces that I've ever heard in my whole life," he says."I've always loved it. I've been working on that for, gosh, around 20 years. I initially transcribed it and figured out what key I thought I could play it in -- it was written in G-minor and I do it in C-minor on the banjo. I'd done that and, two or three different times, had gotten to where I could play through it very slowly, but it was really hard and I would just say, 'I think this is too hard,' and I would put it down and forget about it for a year or so. Then I would pick it back up. I did that a few times. Then it was weird: When Jayme and I decided to work on this project, I picked it back up and finally I could play it. It just, all of the sudden, seemed to come to me. Maybe it needed to percolate for a few years."
That Bullard was able to pull off playing such intricate pieces on an instrument that has long been excluded from traditional orchestras may seem like a massive stretch to some, but he doesn't believe that the banjo is that far removed from the sounds of Baroque and Romantic music. "When I first started doing this, what really struck me is that the harpsichord and the lute, to me, sound a lot like the banjo," he explains. "They're in a different context, but they're plucked instruments. So it seemed like a natural thing for me." 
He also believes classical music has just as large a place in Southern culture as the banjo does -- an idea reflected in the album's matter-of-fact title with hopes of both deterring cultural gatekeepers and inviting new listeners into the fold. "It's the perfect art form for Virginia gentlemen," he says. "You're playing this genteel music, but you're playing it on the banjo. The banjo puts a different perspective on the standard repertoire of the classical world and lets people get a different perspective on the music. I think and I hope that it will bring some folks into the music that maybe wouldn't take the time to listen to classical music, and they might decide they like it."
---
Photo courtesy of the artist