I've said it before and I'll say it again: It's the most wonderful time of the year. It's fall, y'all. It's cashmere and comfort. It's long hikes on crunchy leaves and drives through the scenic routes where colors do, in fact, burst forth from the trees. It's also the exiting of stability in nature and the timid welcoming of something far more fragile and rapidly changing. It's the time to be wide awake and appreciate every moment because, before we know it, it'll be gone. Take a farm's crops, for example. Tomatoes, strawberries, and okra come to mind. I go to Green Door Gourmet Farm every summer to pick strawberries. Now it's October, and there's not a fresh strawberry to be found in those fields. (Strawberry fields are, in fact, not forever.)
Last year in Tennessee, I noticed that a lot of trees lost their leaves far too soon for my taste. I walked outside on a Monday and noticed that the maple tree by my driveway had turned from green to red to barren of leaves in under seven days. Not gonna lie: It startled my psyche. Gone so soon? But, but, but … it was JUST here! No, Mama Nature! No!
After I stopped pouting about it, I put on "Turn! Turn! Turn!" by the Byrds and I made a decision to spend more time outside the next time fall came around. I realized a profound truth that day: There is a season for everything in this life. Nothing stays the same forever. It's all about savoring the moment because it's simply not going to last. So I besiege you, dear friends … observe all of the beauty … enjoy every moment … and eat all the okra.
Ingredients
Smoky Okra
1 Tbsp ghee
2 lbs okra, cut length wise with heads still on
1 Tbs safflower oil
1 Tbsp smoked paprika
1 Tbsp garlic powder
Salt and pepper to taste*
Tomato Preserves
28 oz can fire roasted tomatoes (not low sodium)
1 small yellow onion or 1/2 large yellow onion, coarsely chopped
2 large garlic cloves
1/2 cup turbinado cane sugar or the like
1/4 cup apple cider vinegar
1/2 tsp salt (kosher preferred)
1 Tbsp fresh squeezed lemon juice
* I mean that literally: Season it, taste the raw okra, then add more salt and pepper, if it doesn't taste good. What a concept, eh?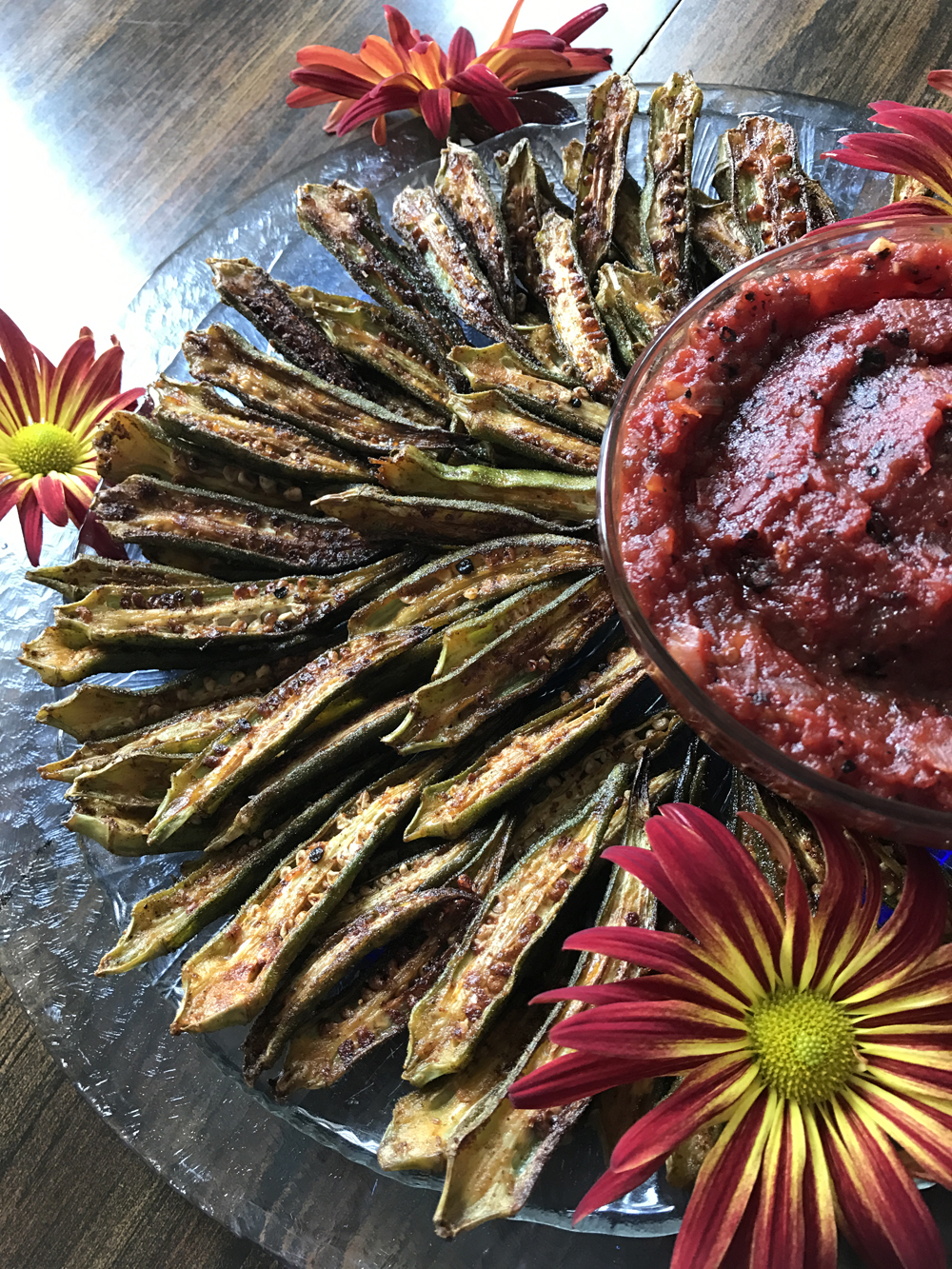 Directions
Tomato Preserves
Place tomatoes, onions, and garlic in food processor and pulse until it's the texture of preserves (not quite pureed). Pour tomato mixture into a sauce pot and add all of the other ingredients. Stir and cook on medium until mixture is reduced to half.
Skim off tomato juice that forms on the top and reserve for a delicious salad dressing.
Once tomato mixture is reduced to the consistency of preserves, turn off heat and transfer to jar and let cool.
Okra
Place a flat baking sheet pan into the oven and preheat oven to 450 degrees. Toss okra with safflower oil in a bowl. Pull out hot sheet pan from oven and add ghee to pan. As the ghee melts, pour out the okra onto the pan and toss it in the ghee. Spread okra evenly out onto the pan and add smoked paprika, garlic powder, salt and pepper, and coat okra evenly. Place back in oven and toss every five minutes until okra is crispy.