In Home Free, his 1977 novel of faded denim hippie dreams, Dan Wakefield described his wandering anti-hero Gene Barrett overhearing a song on a nearby record player as he dozes in a hammock in Maine — Linda Ronstadt singing her folkish country ballad "Long Long Time" in the alto that wafted through many a window in those imperfect, exploratory days. "Gene was glad it was Linda Ronstadt, not someone soppy or sickly sweet," Wakefield wrote. "Strong. Gutsy. Belting it out. Her voice didn't seem just to come from the house, but out of the earth, over the water into the rickety little town and the scrubland and forest beyond it."
Beginning in the 1970s, Linda Ronstadt's singing has had that kind of geological effect throughout popular music: steadying, seemingly able to erase time and trends within one flow of feeling that goes below the surface and the deeper strata of American consciousness. In a time of fading utopian hopes, she emerged as an emissary able to connect old musical ways with the new consciousness of her own maverick generation. "She is offering us something very valuable for the '70s: not a fantasy figure, but a reality figure," wrote the rock scribe Tom Nolan in 1974. Raised on country and the ranchera music that echoed through her Tuscon, Arizona, neighborhood, Ronstadt sang with a verve and directness that eradicated the pretentiousness that could sometimes afflict the children of the counterculture. Album titles like Hand Sown…Home Grown, Simple Dreams, and Hasten Down the Wind celebrated a naturalness that was complemented by a meticulous attention to musical detail and one of the greatest ears of the rock era.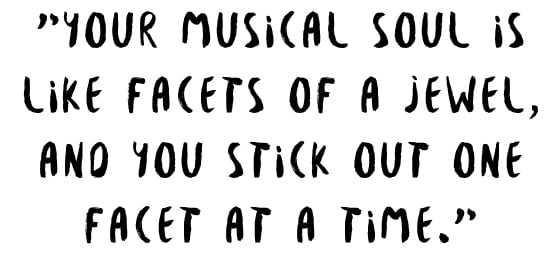 Those who underestimate Ronstadt as a pretty face and voice who rose to fame on the power of others' songwriting and production talents — and there have been far too many in that camp — are ignorant. From her teenage days in the folk trio the Stone Poneys, Ronstadt developed a persona that spoke profoundly to women waking up to the way many men had condescended to them throughout the early years of the supposed sexual revolution. She was an everywoman who, instead of building a world through songwriting, did so by taking on others' words and melodies and reshaping them with intelligence and boundless energy. She grew up in public through her recordings. In 1971, when she was 25, she told a reporter that she didn't have the voice to do soul music; by 1974, she'd developed her own style of testifying that made her funky reinterpretation of Dee Dee Warwick's 1963 shouter "You're No Good" into a number one hit, one she'd follow up by reinvigorating songs by Martha and the Vandellas, Chuck Berry, Roy Orbison, and the Everly Brothers, among others. At the same time, she continued championing her own peers, who played on her most successful albums. She was that woman who, like so many others, did the real power lifting within a scene dominated by self-styled heroic men.
When the multi-platinum success of her fifth album, Heart Like a Wheel, sent Ronstadt into the arena-rock stratosphere, she became the premium interpreter of an American songbook that she's continued to redefine throughout her career. It now includes everything from George Gershwin and Cole Porter to early rock 'n' roll, the Nashville sound, Mexican canciones, Laurel Canyon balladry, Cajun two-steps, and the punkish sounds of New Wave. She developed her singular eclecticism, in part, as a way of coping with a music industry that would have kept her in a stadium-sized box — she hated playing those big venues, ripping up her voice in front of anonymous-feeling hordes — and turned to theater music and standards as a way of reclaiming her right to be a subtle interpreter. "Your musical soul is like facets of a jewel, and you stick out one facet at a time," she said in a retrospective interview in 2003.

Even as a teenager, when lesser musical adventurers would fall into a rut, Ronstadt would change course. Setting forth on a solo career after early success with the Stone Poneys trio challenged the boundaries of strummable folk music by foregrounding its connections to country and becoming as much an inventor of country rock as was Gram Parsons or the Eagles, who famously formed as her backing band. After finding a niche as the patron of her L.A. neighbors, from Warren Zevon to Randy Newman and Jackson Browne, she teamed up with producer Peter Asher to hone that rocked-up pop sound that made her a superstar. Throughout her career, she would return to that sound which, in turn, became hugely influential, forming part of the bedrock of many future stars' styles, from Olivia Newton-John to Sheryl Crow to Tom Petty and the Heartbreakers and Carrie Underwood.
Meanwhile, Ronstadt became a producer herself, an extension, in some ways, of her role as a brilliant collaborator. Her work behind the boards with the soul legend Aaron Neville, for example, complements her many beautiful duets with him. Her deep love of harmony singing, along with her dedication to uplifting the women with whom she feels the deepest musical kinship, led her to form one of the most beloved vocal groups in recent pop memory — Trio, her project with Dolly Parton and Emmylou Harris. "I always mean to be a singer, not a star," she said when the second Trio album was released in 1999. In fact, Ronstadt's stardom has been predicated upon her ability to consistently remind listeners that to sing is to cultivate a space where all the trappings of the moment — fashion, fame — fall away, a space of pure joy and sensual release.
Linda Ronstadt can no longer call that space into being in real time, having lost her voice to Parkinson's disease in 2013. But she remains a bright spirit: the author of a revelatory book, Simple Dreams: A Musical Memoir, and a role model for a new generation of musical boundary breakers. And through her immortal recordings, her voice still permeates the soil of our consciousness, a clear liquid presence easing our minds and, by example, urging us to continue challenging ourselves. A natural gift beautifully cultivated, Linda Ronstadt's legacy still challenges us to be more free, even as it hastens down the wind.
---
Ann Powers is critic and correspondent for NPR Music and the author of several books, including Good Booty: Love and Sex, Black and White, Body and Soul in American Music, forthcoming from Dey Street Books in 2017.
Lede illustration by Cat Ferraz.