Highlighting the confluence of roots music and the mainstream, Railbird Festival welcomed 32 acts from across the rock, folk, and bluegrass spectrum to Lexington, Kentucky on June 3-4.
Boasting headliners Tyler Childers and Zach Bryan, plus Charley Crockett, Whiskey Myers, Nickel Creek and more, a sold-out crowd of 40,000-plus helped kick off festival season with a uniquely "Americana" lineup – drawing attention to this hidden gem of a city.
Set in the heart of Lexington and spread across three massive stages and a spacious lawn at The Infield at Red Mile (usually a horse racing venue and casino), 2023 marked the third year of a festival turning the "horse capital of the world" into roots-music central while celebrating the rich musical history of the area.
Day one kicked off with perfect festival weather– meaning it was blazing hot and dry as a bone. That was no worry, however, since Railbird also featured three huge shaded areas, plenty of refreshments (it is bourbon country, after all) and a merciful breeze. From just about anywhere on the grounds, fans could see everything all at once – and that included 2023's festival-season fashions.
Indie pop chanteuse Jenny Lewis was an early draw, singing smart tunes about "psycho men" and hypoallergenic puppies – and also welcoming Lucius, the Grammy-nominated duo who became something like the fest's house band, for a rich duet.
Later on, Charley Crockett herded everyone to the Elkhorn stage for some ballads from a modern day drifting cowboy. And Sheryl Crow showed she could still hang with the kids, even calling for more of them in politics. "I don't have a lot of hope for people older than me," the feisty icon said. "But you can bring change."
Whiskey Myers brought their own gasoline (and a match), firing up a midday crowd with their rowdy roadhouse rock, and while Valerie June won her crowd over with a big smile and songs connected to the Black-folk past, emerging phenom Morgan Wade unleashed the pent up anger of country girls everywhere, sounding like a combination of Courtney Love and Loretta Lynn.
Nineties alt-heroes Weezer united the crowd in a full set of fuzzed out awkward-teenager anthems – but also showed where they fit in the roots world, breaking out some old-timey three part harmony – and the day came to a close with breakout superstar Zach Bryan.
A self-made headliner who still carries the underground spirit, he gathered the whole crowd as the sun went down, doing his best to stay a songwriter who "keeps truth in songs." Leading a country band with strong Class of '89 vibes, he mixed tender-but-edgy confessions with a well-placed vocal growl, and finished the night off in awe of the Railbird crowd, noting he was on the fest's smallest stage just a few years earlier.
"I'm nervous as shit!" Bryan admitted. "Never in my life did I think I'd be after Weezer or Marcus Mumford."
Day two started off much the same as the first: hot and sunny, but with a marked increase of tow trucks prowling the Red Mile area. Great herds of humanity seem to migrate from one stage to the next, with wide smiles and a rootsier, more-acoustic lineup for them to enjoy. Luckily, the pacing was excellent and there was rarely any conflict over which stage to check out.
Winchester 49 took over the big stage early, dodging beach balls and blasting their gritty country/rock/soul as they welcomed the crowd back with calls to drink up life (and beer.) Old-school master Sierra Ferrell had everyone dancing a throwback jig, and while Flipturn mixed fiery rock grooves with huge, danceable swells of energy (like EDM on electric guitars), Ricky Skaggs charmed as the fest's elder statesman, and Kentucky treasure.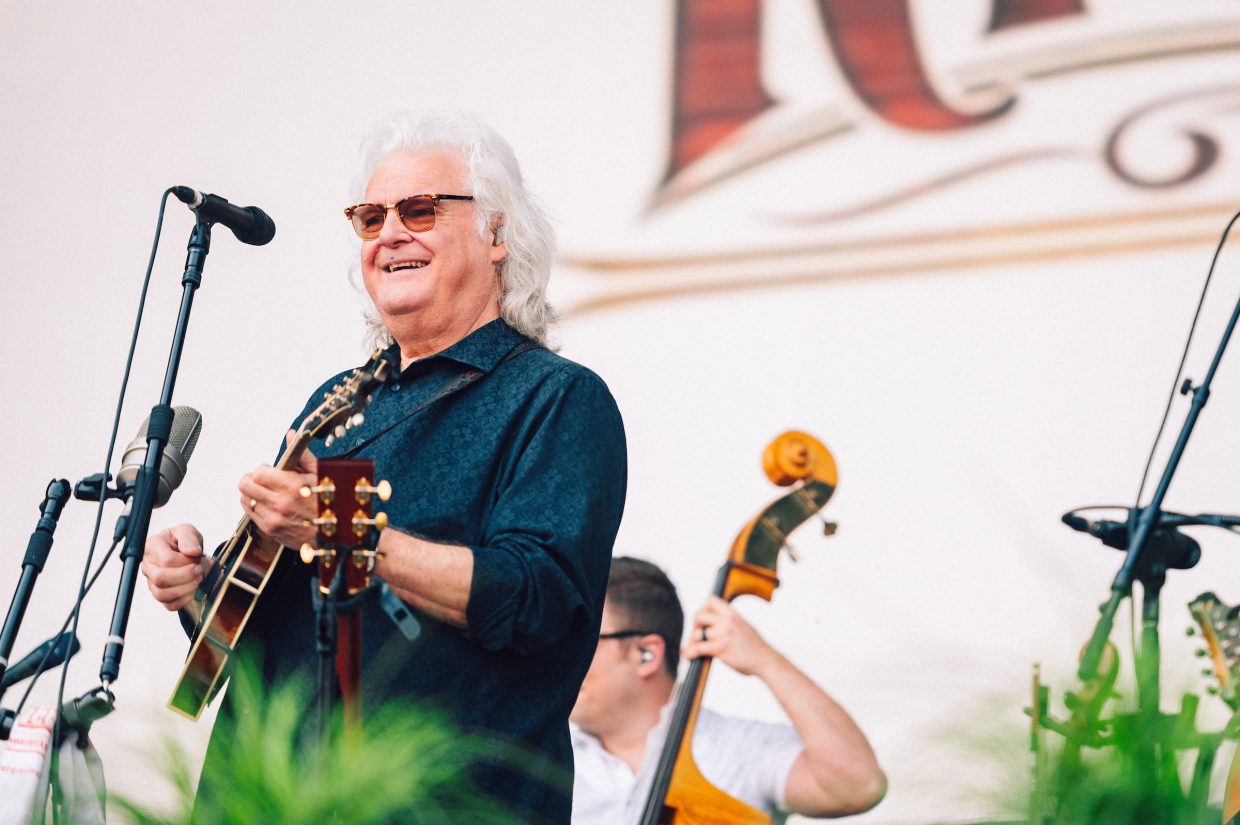 Making bluegrass look beyond easy (maybe more like effortless), a "RICKY!" chant soon broke out as parents answered questions from dumbstruck kids, like "Is it just him playing right now?" – once again proving the timeless, ageless wonder of acoustic music.
Nickel Creek seasoned their simple ingredients with a playful edge, returning for their first tour as a blood-bonded neo-bluegrass trio in quite a few years, while Amos Lee sampled everything from Memphis soul to Bob Marley and a bit of New Orleans funk.
Town Mountain found a welcome home for its foot-stomping, wild-child alternative-grass over at the covered Burl stage – as did Molly Tuttle (who will surely be on a bigger stage next year) and Charles Wesley Godwin, the West Virginia troubadour who welcomed night-one's headliner back for a re-energizing duet, late in the festival and just before its biggest draw.
That moment finally came as the deep-red Strawberry Moon rose over Red Mile, with Tyler Childers putting a bold, indie-country cap on an already special event.
Welcomed to the stage by Lexington Mayor Linda Gorton – who proclaimed June 4, 2023 as Tyler Childers Day – the Lawrence County native arrived carrying the whole state's roots-music tradition on his small frame, and never put a foot wrong.
Humble as ever and wielding the witty cadence of a carnival barker, he presided over a rabid hometown crowd in a jean jacket and rusty-blond hair, matching a voice that could cut Kentucky limestone with hardscrabble poetry just as sharp.
Over a two hour set, all of Lexington seemed to sway and sing along, closing the weekend with proudly down-home tracks like "All Your'n." On the surface, it's a holler-kid's rebellious pledge of true love, that's obvious enough. But in this case, that pledge seemed applicable in other ways – to the fans, to roots music, to Lexington. Perhaps even to the Railbird Music Festival itself.
"I'll love ya 'til my lungs give out / I ain't lying," Childers and his audience sang. "I'm all your'n and you're all mine."
---
Photos courtesy of Railbird Festival
Lead photo credit: Taylor Regulski