Being a "first" — a trailblazer, a pioneer, a renegade, an innovator — is an impossibly heavy mantle to take up. That being said, it's not surprising that, when it is accurately applied, the term is almost never opted into or self-ascribed. It's a fascination. A sort of voyeuristic moniker given by the media, by fans, by historians, by anyone who notices, or attempts to commodify, the importance of fresh offerings from new voices. In musical spaces, "firsts" tend to get more and more granular as they become more and more rare, necessitating countless modifiers and descriptors to lend accuracy to the idea that being on the edge, being an outlier in this way, is a selling point. Or, that it's a merit in and of itself.
Guitarist, singer/songwriter, and performer Sachiko Kanenobu's claim to firstdom is no ball-and-chain, however. It is truly inconsequential to her — despite its legitimacy. And as for intricate modifiers? Just one. Kanenobu is considered Japan's first female singer/songwriter. In an age when writers and artists alike are attempting to retire "female" as a pertinent adjective in music journalism, the designation does give pause. Though, 46 years after her debut album, Misora, was released in Japan, it's important to remember that being a woman permitted to take up space — in these cultures that champion masculinity above all else, and in artistic spaces historically reserved for men — is still significant. And the circumstances that prohibited other women from going before Kanenobu were not that long ago. And not unique to Japan.
Misora is a stunning work. Singular in its musical aesthetic, its production values, its amalgamation of European pop stylings and folk revival influences, and most of all in the fact that despite being sung entirely in Japanese, the songs are shockingly accessible, evocative, and relatable. Reissued by Light in The Attic Records in July of this year, the album has followed Kanenobu through her decades living in the states, her forays into other genres and musical phenotypes with other bands and artists, and her absolute tirelessness as a songwriter and adept guitarist — even if she may not consider herself "a picker." New generations of fans continually trip over and into this gorgeous record, and now, hopefully, countless others will have their eyes opened to this true masterpiece — and to a musician who deserves her place in the pantheon of folk singer/songwriter and guitarist greats.
Being designated as a "first" anything is kind of an enormous responsibility to bear. Do you see your role as one of Japan's first women singer/songwriters in that way? How has it felt to blaze that trail? Or did it not feel like that at all?
Kanenobu: No, I don't feel responsible, but it is exciting when I hear myself being referred to as the first Japanese woman singer/songwriter. I'm very grateful for the recognition. In the late 1960s there were no women who wrote their own songs and played guitar in Japan. I was the first one to do it on URC (Japan's first independent record label). Thinking back, it felt good to be in that position. At that time, I was really young so I always wanted to be different from other musicians. I didn't mind being the only woman doing what I was doing.
Part of why conversations about "firsts" can be stumbling blocks is because, often, these "firsts" are just examples of the first visible examples of X, Y, or Z. I wonder, are there artists, women or otherwise, that influenced you? That showed you there was a path forward for your music and your art? 
I grew up in a family (with three sisters and two brothers) that loved music and sang, which obviously had a big influence on me.
My oldest sister (18 year age difference between us) was a big star in Takarazuka, a famous woman's theatre in Osaka, Japan where she performed in musicals such as The Sound of Music and The King and I. My mother would take me to all her performances. My second sister probably had the biggest influence on me as she played Western records (such as Bing Crosby, Dinah Shore, Doris Day, Nat King Cole, and others) in our house, loved classical music (Beethoven, Mozart, etc.), and also introduced me to some music coming out of France at the time. My third sister would also go onto to become a singer/songwriter. She wrote Enka Japanese country music and can play the piano even though she's blind.
So, yes, my family was my biggest influence on my musical path.
At least stateside (but almost certainly pervasively, across the globe) general attitudes toward women in music often result in women being considered songwriters or singers before instrumentalists, but your guitar playing is clearly foundational to what you do — and so distinct. How did you develop your playing style, you are totally self-taught, yes? 
Yes, self-taught. One of my brothers learned how to play classical guitar and I would watch him play. Eventually, he got tired of playing so I asked him if I could borrow his guitar to try and teach myself to play. This was the beginning of my lifelong friendship with the guitar.
Later, during my high school years, my friend and I would sneak into the folk club on the campus of Kansai University. At that time American folk music was really popular among college students. Luckily, I met some great guitar players during that time who showed me how to fingerpick and play some simple chords.
Eventually I would meet film score composer Ichizo Seo, who introduced me to Donovan and The Pentangle, and I would try to copy their simpler songs, but it wasn't easy so I would simplify the scale and created my own style. Even now I can't tell you which chords I'm playing. I have to ask someone, "What chord am I playing?" I love Pentangle's guitarists Bart Jansch and John Renbourn, who created a unique style with their duet guitar playing. Their playing still inspires me.
Do you find that people automatically consider you more of a singer or songwriter, rather than a picker? Or has your experience been different?
No one labeled me a guitar player back then and even I considered myself a singer/songwriter who used the guitar to create the tone first and the words would follow. It wasn't until recently did I get the recognition as a guitarist and singer/songwriter.
This new recognition started when Misora first got reissued in Australia in 2006 by Guy Blackman of Chapter Records. Around that release the album started getting radio play in the Western world. Brian Tuner, former music director and DJ at New Jersey's WFMU, was a big supporter. My first long-form radio interview for the Misora reissue was in 2007 with WFMU's DJ Joe McGasko. At that time, it had been over ten years since I had performed any tracks off Misora but Joe took me seriously as an artist and encouraged me to start performing again. He had me on his show "Surface Noise" to perform four songs off Misora and two new songs. After that performance I started getting recognized as a guitarist and singer/songwriter, but before then I wasn't confident enough to even consider myself "a picker."
That WFMU performance was an amazing experience because it had been so long, that even I was really surprised that I had remembered all the guitar chords and lyrics off Misora. I remember thinking it was a miracle I pulled it off.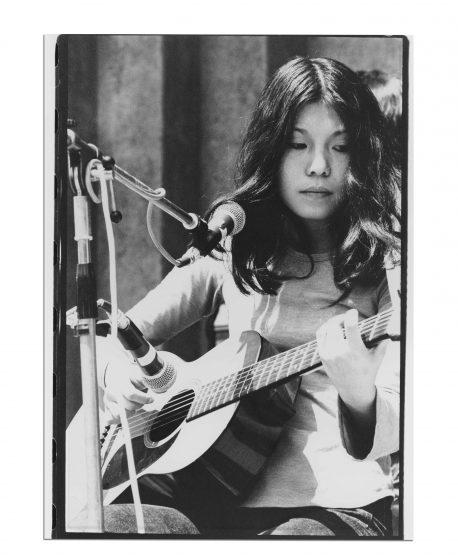 All of the tracks on Misora are sung in Japanese, but the music is still so accessible and immediate and touching, even with the language barrier. How do you accomplish that? Do you think that's a product of the integrity of the music, or intention you put into writing and performing it, or something else? 
Thank you for that. I put a lot of my love and soul into Misora but I thought it was going to be my first and last album, because in the middle of recording it I made the decision to marry Paul Williams [music writer and founder of Crawdaddy Magazine] and leave Japan. Three songs from the album were written after I met Paul and when I'm in love songs pour out of me.
When I first heard The Beatles and Bob Dylan I didn't understand the words but I totally connected with how they were expressing emotions. This feeling of connection and bringing people together was a goal of mind when making Misora.
Plus, the album was heavily influenced by the Japanese band Happy End and the melodies you hear were influenced by the Western music I grew up on… so seeing the music be reintroduced to Western youth is really nice for me.
In the time since blazing this trail, how has the scene for folk singer/songwriters — especially women — in Japan grown? What has excited you about the progress that's been made?
I can't really say, but I know that after I left Japan, I learned of so many singer/songwriters that became very famous in Japan such as Akiko Yano, Minako Yoshida, etc. and they were not afraid to express themselves. Friends have told me if I didn't leave Japan after recording Misora it might have impacted the singer/songwriter scene there but I don't know if that's true.
Are there artists here, in the U.S. that you are listening to right now? Any that get your creative juices flowing?  
I listen to all kinds of music: folk, rock, country, world, classical, jazz, blues, space, and classic movie soundtracks.
Right now, I enjoy listening to Steve Gunn. I love his originality and guitar playing. Steve and I have become very good friends and his playing inspires me to play my guitar more. I love the creative sounds that he makes with his guitar. He has a lot of passion and love of playing; I can both see and hear it. He is a very calm solo performer that plays so naturally I can't tell when the tuning ends and the song begins. He is one of my favorite musicians right now. He invited me to open for his Bay Area tour earlier this year. He and his band, plus James McNew from Yo La Tengo, backed me up as we performed at SummerStage in Central Park, and Union Pool in New York. I hope someday to perform again with Steve and make a record.
I also still love listening to Joe McGasko's show "Surface Noise" because he brings interesting new and old artists on, which is how I was introduced to Steve Gunn.
I would love to collaborate again with Mr. Hosono Haroumi, who co-produced Misora.
What do you think are the biggest differences you've felt between the scene here, in the U.S., and that in Japan? 
Biggest differences are language and culture. There is more freedom of speech here in United States. People express themselves more openly and say things more directly. It can be seen in American music as well.  I have become more Californian than Japanese over the years, because I have lived in America much longer than in Japan.
Western culture and music influence each other, it is interesting how everything comes together. Music comes around full circle in Japan and America, Eastern and Western worlds vibrate. We influence each other. That is what is happening now and it's a wonderful thing.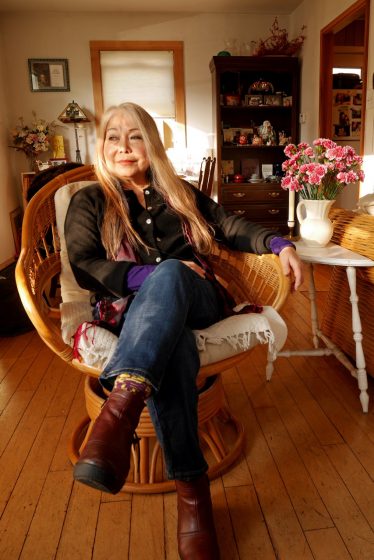 To wrap up, here's the obligatory, "What's next?" question: What's next? This reissue of Misora, decades later, is such a testament to your longevity and your impact — how are you planning to take that further into the future? Are you? 
First, I'd like to say thank you to the label, Light in The Attic Records, who put out a beautiful reissue of Misora this year on vinyl and CD.
I've been performing Misora over the last two years and I just performed the whole album in Tokyo for the first time in 46 years since I left Japan. For that Tokyo performance I remixed some of the songs, adding and rearranging some parts. Someday, I would like to make a new version of Misora, applying some of the ideas Mr. Hosono and I couldn't use in the original 1972 recording.
I'm still writing new songs, but putting out a new version of Misora would be so wonderful. I'm 71 years old now and I'm in the last chapter of my life so as long as I stay well I would love to continue performing for others. To my family, my dear old and new friends, and to Misora fans in the East and West, I love you all and I'm so thankful for your support and love.
---
Color photos: Yosuke Kitazawa
Black & white photo: Takashi Yamamoto