Since its founding in 1969 and its rebranding in 2003, the Nashville Film Festival has quietly grown to be one of the more respected festivals in the United States. While the festival isn't on the scale of, say, Sundance or Tribeca, its dedication to exploring diversity, championing burgeoning stars, and highlighting regional filmmakers makes for compelling lineups each year. Notably, the festival also makes a concerted effort to incorporate music-centric films into its programming — it is, after all, still Music City, film festival or not.
Here are five music films screening at this year's festival. If you're in Nashville, grab some tickets and check 'em out. If not, hang tight until they make it to your neck of the woods — all five of these are worth the wait.
Bill Frisell: A Portrait
Bill Frisell is one of the greatest living American guitarists. A virtuoso who knows no genre boundaries, Frisell has earned numerous accolades throughout his 40-year career, counting fans in jazz, Americana, and everything in between. This Emma Frantz-directed film features live performances galore, as well as appearances from Bonnie Raitt, Paul Simon, Lucinda Williams, and others.
All the Way to Tacoma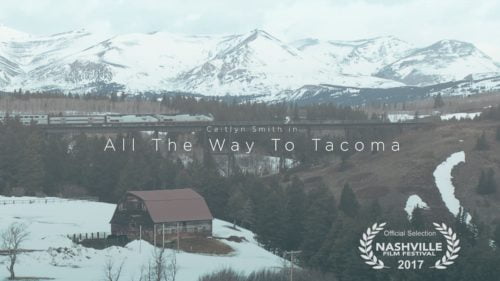 Songwriter Caitlyn Smith has had a number of big cuts, but perhaps none as big as "Tacoma," a song recorded by Garth Brooks on his 2014 album Man Against Machine. This film, directed by Justin Key, follows Smith and a handful of other Nashville writers as they journey via Amtrak to the song's namesake city.
The Last Songwriter
Songwriters' rights have been in the news for a while now, with hotly contested legal battles over who should be compensated (and for how much) for song recordings. Garth Brooks, Emmylou Harris, Jim Lauderdale, and other big-name artists appear in this documentary, which argues for the integral role of the songwriter in the music industry.
Straight Into a Storm
Deer Tick puts on one of the rowdiest, most energetic live shows you'll ever see, so it's no surprise that filmmaker William Miller wanted to document the band's 10th anniversary show in New York City in 2015. The documentary digs far deeper than just the anniversary, however, giving a never-before-seen history of the beloved roots-rock band.
Honky Tonky
This experimental short film, directed by John Warren and made in conjunction with the Tennessee Art Commission, was shot on Nashville's famed Lower Broadway, and perhaps is best described as portraying what the world looks like after you've spent one drink too long hanging out on the storied stretch. It's part of the festival's Experimental Showcase and is also available in its entirety above.
SaveSave