Welcome to "A Minute In …" — a BGS feature that turns our favorite artists into hometown reporters. In our latest column, Kate Stables from This Is the Kit takes us on a tour of Paris, France. Take a listen to the band's latest release, Moonshine Freeze, to get the full effect.
One of the main things I love about being in Paris is the outdoor places where people hang out. Free public spaces are something I think are extremely important — places you can be without feeling bad if you're not buying a drink or spending money.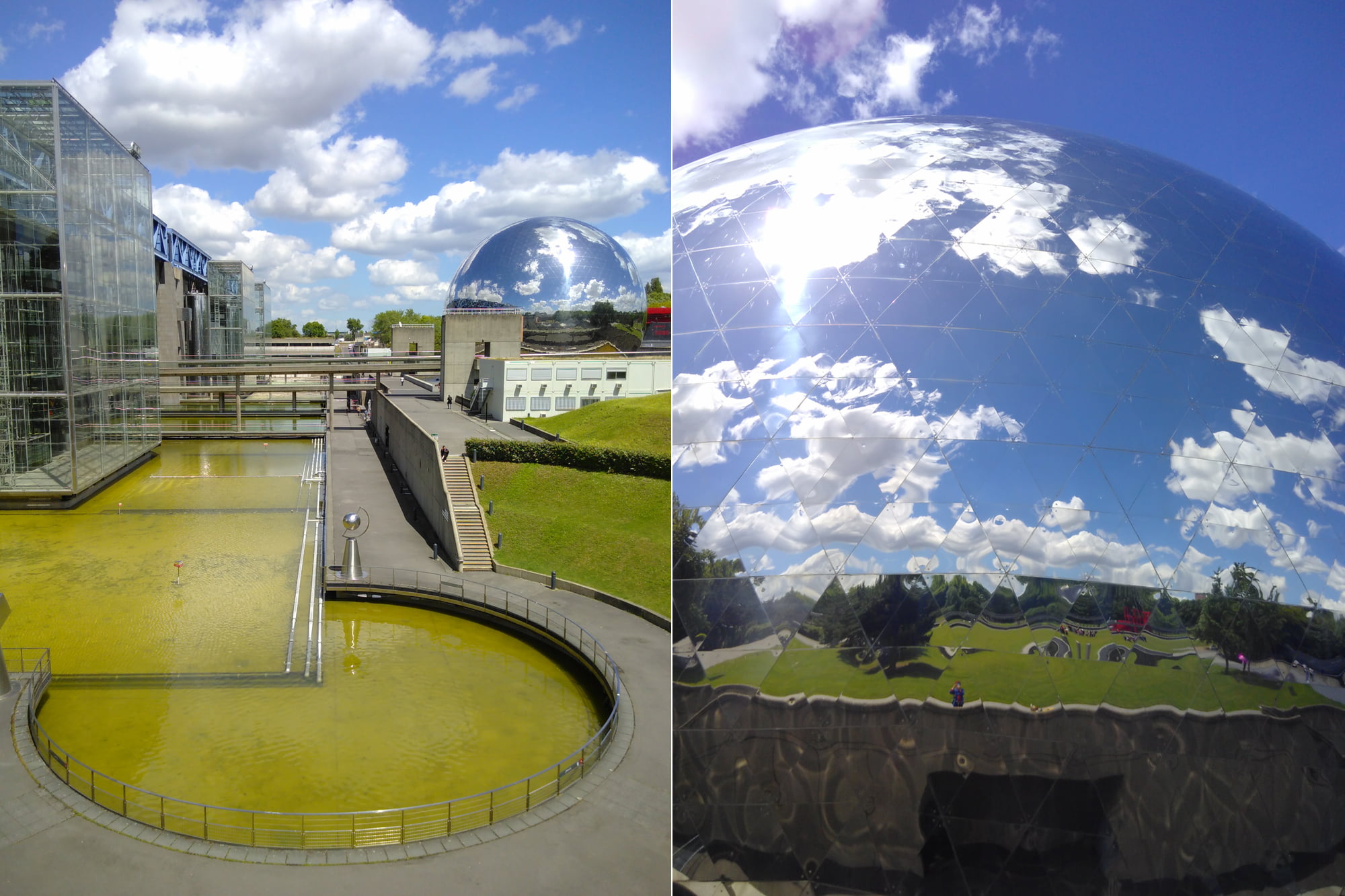 Just up the canal from where we live is Parc De La Villette. It's a huge space with museums and greenery and play areas and cinemas. Lots of green and lots of people hanging out. And, in the summer, they have open-air cinema every night. La Geode is a big spherical 3D cinema there and it's right next to the science museum that we used to go to nearly every day before our daughter started school. It's got the Canal de l'Orcq running through it and you just can't beat being near to the water. Even if it is kind of stinky city water, it still makes everyone feel kind of better somehow.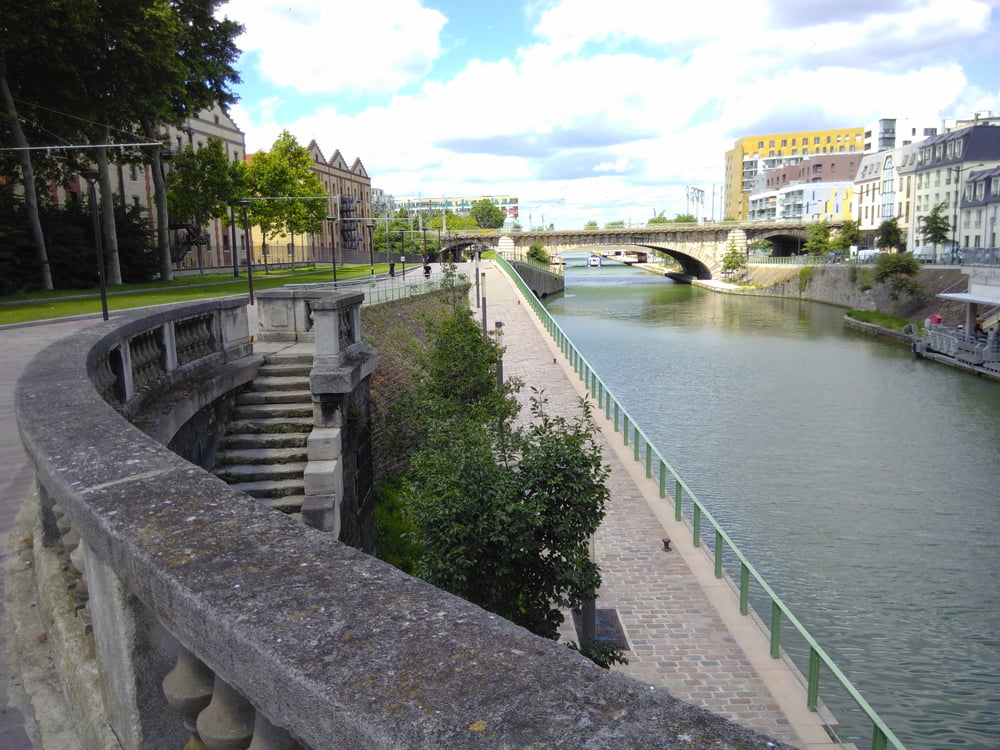 And if you follow the canal up left from the science museum (Canal de St-Denisas opposed to Canal de l'Orcq), there's a cycle path that takes you past all kinds of calm and secret water-side spots to sit and walk and watch. It's pretty urban, and the farther out you go, the more industrial it gets, but I like that. It's nice to see another Paris. It's not all cafés and scarves and Baudelaire, contrary to popular belief!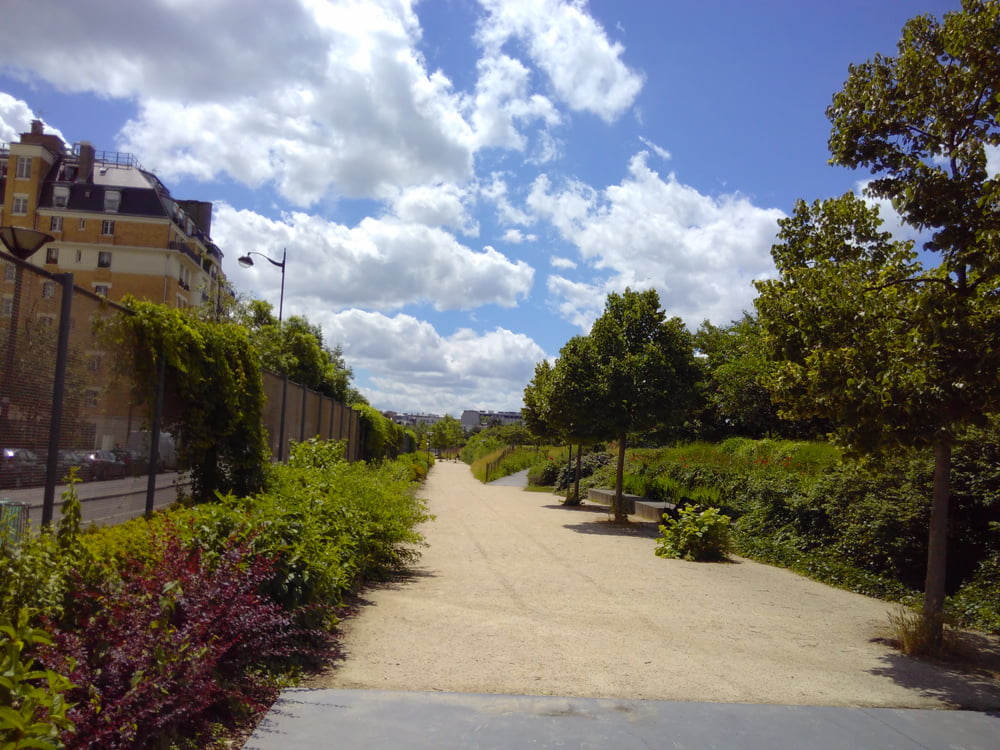 Jardins d'Eoles is, I think, my favourite park in Paris. It's a lovely open space next to the railway lines and has a huge amount of sky. There are big flat spaces for kids to wheel around on and large green areas where you're actually allowed to sit on the grass (pretty rare in Paris). The kids here are always up for joining in with your games, and the adults are usually up for chatting. People from all walks of life hang out together and it's really great to see and be part of.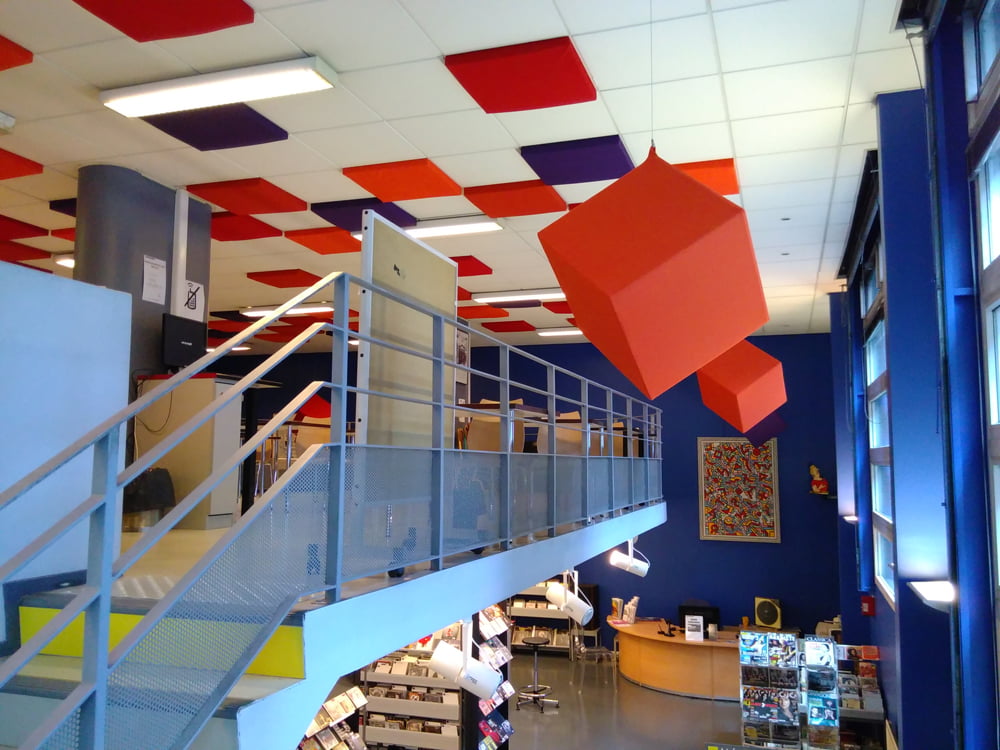 Bibliotheque Hergé (named after the man behind Tin Tin) is one of my favourite places to go and be quiet. They have a really great comic book collection and a music library there, too. The staff are always so nice and they put on a lot of community events. Libraries for me are real life savers! Life in Paris (as in a lot of cities) is pretty cramped and working from home can take its toll on everyone's health and shared space. So it's really important for me to be able to go and work elsewhere from time to time. Being in a different space brings with it a different headspace. And there is something so calming and reassuring about being in a library. I'm a sucker for a public amenity!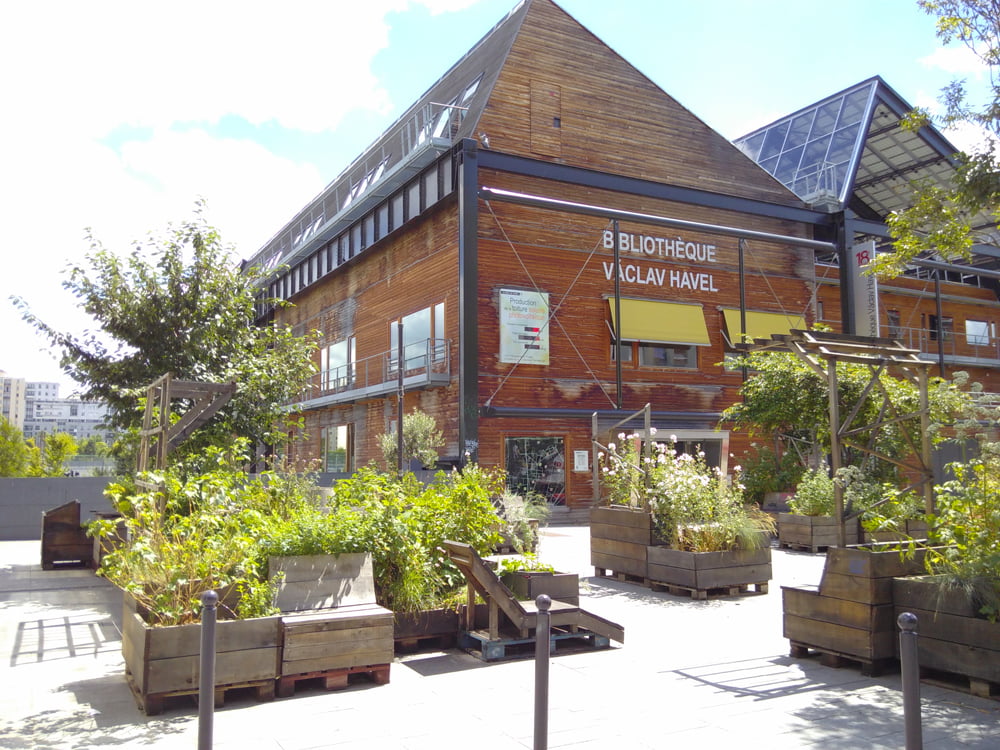 Bibliotheque Vaclav Havel (named after the Czech writer, philosopher, and political dissident) is on a new stretch of eco buildings on Rue Pajol in the 18th Arrondissement. They've planted a kind of community garden/sitting space outside, which is another very nice place to sit and to be. And, inside, they have an excellent games room with all the best board games in — Dixit, King of Tokyo, Carcassonne … the list goes on! And what's more, it's just down the road from Bob's Bake House, an excellent Paris establishment and eatery.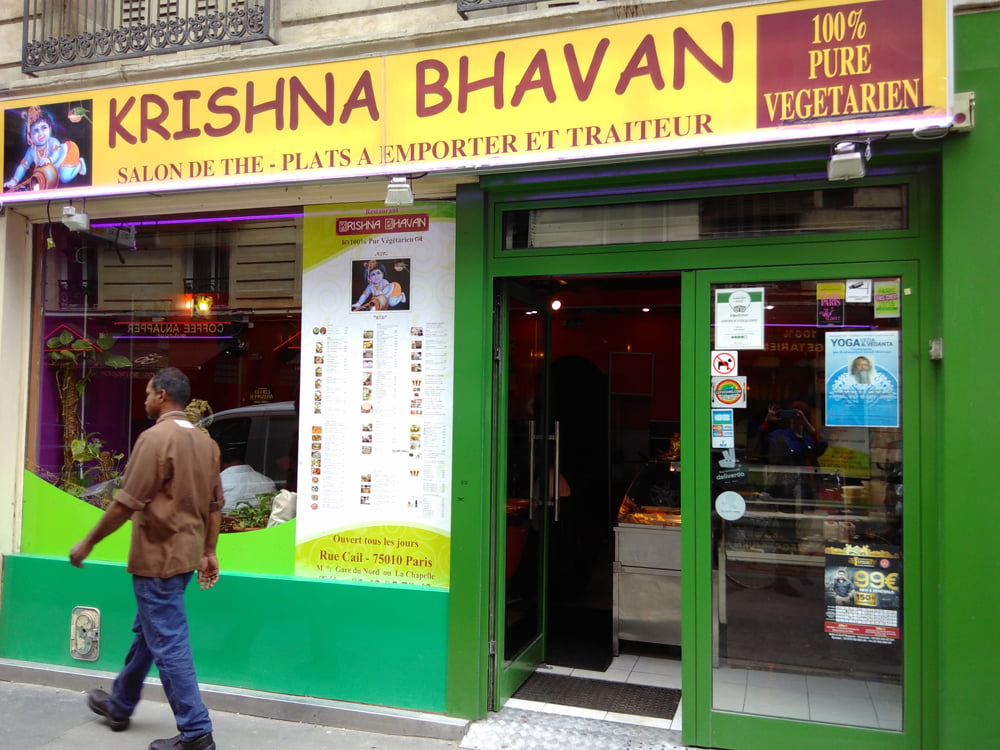 We're pretty lucky in that there are some really very nice places to eat in our neighborhood. Krishna Bhavan is just up the road from where we live and makes amazing Southern Indian food. I'd say this is the best place to go for a masala dosa in Paris.
My other favorite local restaurant is an Eritrean restaurant called Massawa. There are two vegetarian options on the menu and I usually get them both. Totally delicious food and a very nice and friendly vibe inside.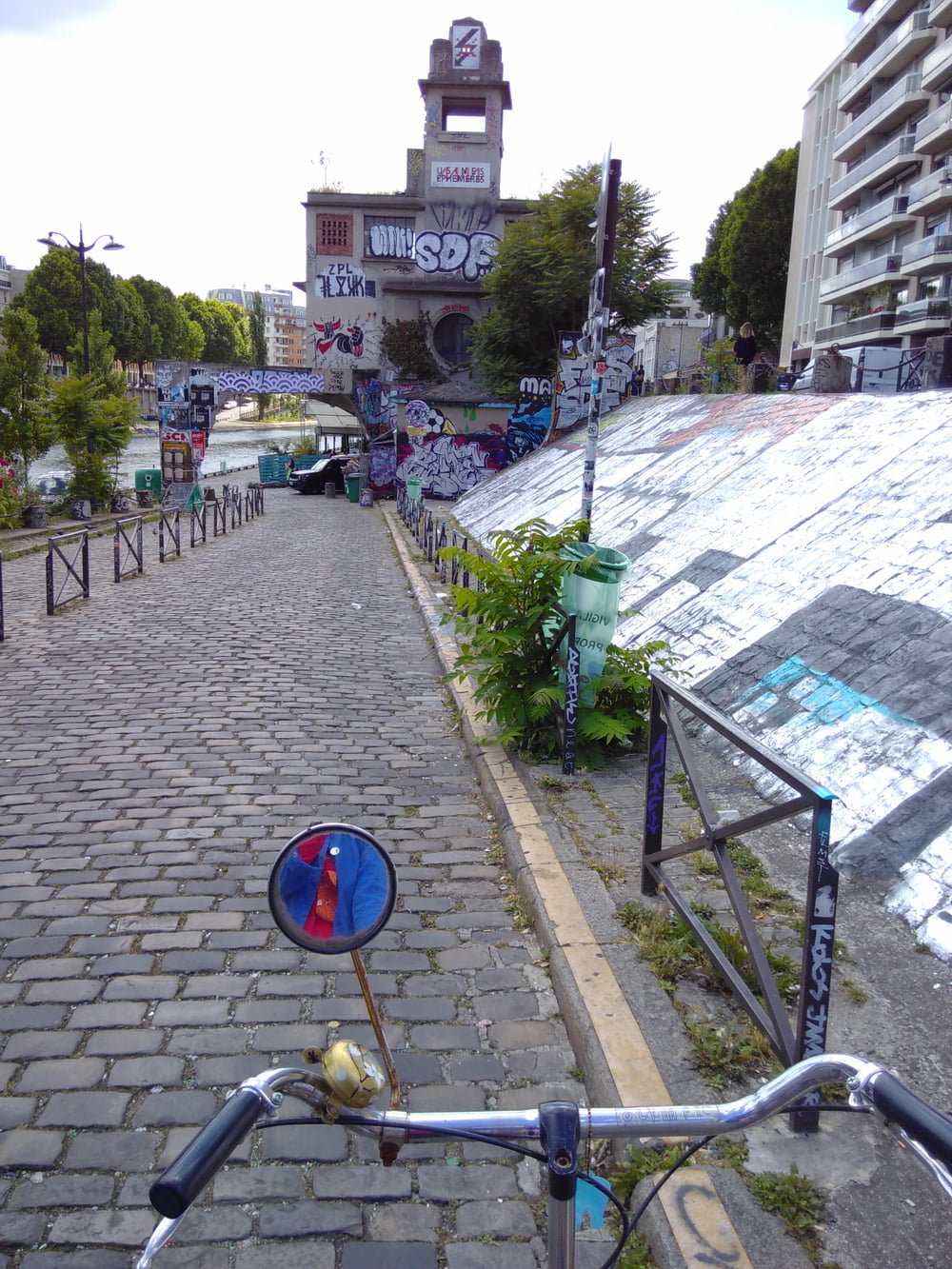 Also just round the corner from where we live is a great music venue called Le Point Ephemere​. We've played there quite a few times over the past 12 years of living here, as have our friends who pass through Paris on tour. It's a really great venue and arts centre, with classes and exhibitions and events. And it's totally brilliant that it's about 60 seconds walk from our flat.
---
Lede photo by Lucy Sugden Smith