If musical styles were counted as lifetimes, then Aaron Neville has lived several. Known for his almost instantly recognizable falsetto, Neville has sung in all sorts of flavors throughout his 50-year career: doo wop, pop, gospel, country, soul, funk. You name it, he's likely sung it. He rose to fame on the success of his 1966 R&B single "Tell It Like It Is," but later performed funkier, grittier music with his brothers Art, Charles, and Cyril in the Neville Brothers. Then, of course, came the duets with Linda Ronstadt and Tricia Yearwood, which earned him three Grammys.
But while he's matched his voice to many moods, it's his newest album, Apache, that shows off a deeper, more intimate side to the singer. Combining many of the sounds that have informed his impressive repertoire, Apache feels like Neville's big personal statement — one that just so happens to arrive as he turns 75 years old. He penned most of the album's 11 tracks, setting his poetry to music as he's done before in the past for the occasional song. "The stars had to be aligned and everything," he says about why he waited so long to complete this project.
Listening to him now, it sounds as though he's got as much vocal power as he ever did. Neville credits his regular workout routine with keeping him young, but beyond that, he cares for his voice with a mixture of apple cider vinegar, honey, and cayenne pepper, and regularly flexes his talent rather than let it atrophy. Speaking about growing older and the physical limitations it can bring, he says, "If you don't use your legs, one day you're going to get up and your legs are going to say, 'No, I'm not doing that.'" The same goes for his voice. "I have to sing a lot. In the place [his wife Sarah and he] got out in the country, I can sing loud as I want. I'm not bothering nobody. In New York, in the apartment, I gotta sing soft, because I don't wanna mess with the neighbors." If it sounds like listening to your neighbor Aaron Neville sing would be the best dinner party story to share with friends, he only chuckles at the thought.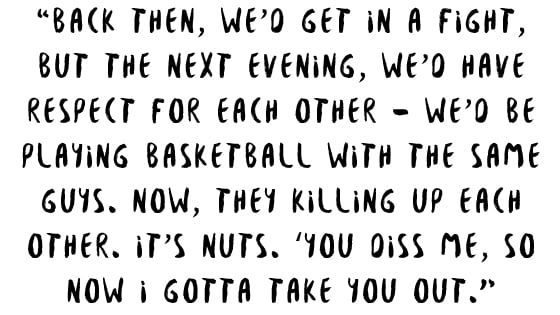 The one element defining Apache more than any other is its strong New Orleans vibe. It bubbles up in nearly every song, as if Neville had — to borrow a cliché oft ascribed to the Crescent City — created a delicious gumbo. Originally from New Orleans, Neville now lives in New York, but he hasn't lost sight of the city that birthed him. "New Orleans is my mother and father," he says. "It raised me. I used to drink that Mississippi River water." Listening to the first track, "Be Your Man," that water lingers still in Neville's blood. With big horns leading off the song (thanks to David Guy and Cochemea Gastelum — two parts of Sharon Jones and the Dap-Kings — Ryan Zoldis, and Eric Bloom), it's a striking departure compared to the cover work Neville has put out in recent years. If it weren't for his voice interjecting a soft "oooh" at the 12-second mark, it would be hard to pin it to the singer in 2016. The song feels straight out of his early days with the Neville Brothers mixed with a touch of the Meters' flare and a dash of Incredible Bongo Band's rhythm for good measure. Added to all that, there's the ineluctable something that makes its way into all his music thanks to his vocals.
Neville channels New Orleans most especially on "Stompin' Ground," when he invokes the places, family, and friends who shaped him. "When I wrote this poem, I started thinking about the people that passed through my life and that meant something to me," he explains. "Like the first one [he mentions], 'Mole Face and Melvin.' I'm Mole Face, that's me and my friend Melvin. They used to call us that because we used to go through different neighborhoods looking for girls back in the day, and we'd get in fights." He sees the difference between then and now most starkly in the way young men choose to settle their arguments. "Back then, we'd get in a fight, but the next evening, we'd have respect for each other — we'd be playing basketball with the same guys. Now, they killing up each other. It's nuts. 'You diss me, so now I gotta take you out,' you know."
Besides the strong New Orleans feel running throughout, Apache contains message after message — some social, some political, some environmental, and some just good ol' fashioned wisdom about love and respect. "People don't realize, when you born, you have a package deal," Neville says. "People live like they ain't got an expiration date, but I mean it's what you do in between. Don't make it a blank check, don't make it about 'Me Me Me.' Reach out and help people on the way. Make your life meaningful." Meaning arises most clearly on "Fragile World," which encourages people to treat the planet better, and "Judgin'," which encourages them to treat one another better. "You never know what someone else is going through," he says discussing "Judgin'." "One of the Native Americans had a thing saying there are two wolves inside of each other — one is evil, one is good. You gotta fight the evil one off." Neville believes his messages come from a higher power. It's his purpose to act as conduit, sharing them with listeners and, hopefully, shifting what the world appears to value. "You know, I cannot plan to write anything. I have to be inspired. It's like somebody's telling me the words and I just write it out."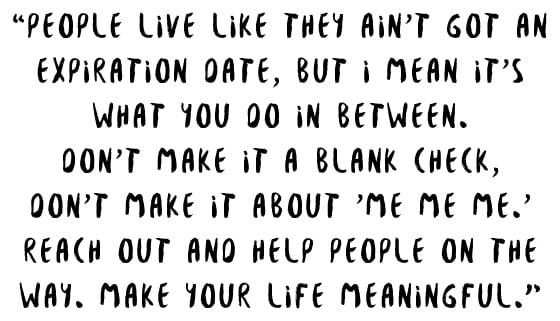 The arrival of the conscientious Apache could not be timelier, and Neville is already aware of how hungry the world is for something edifying. He says, "There's a lot of fear and hate and envy. I don't know what's in the air, but I pray." He was deeply struck by the nearly back-to-back shootings of Alton Sterling in Louisiana and Philando Castile in Minnesota. "I put something on Facebook the other night after the …," he begins, his voice trailing off but failing to finish the thought because the words grow too heavy. "I got kind of emotional because I had a flashback of me and my brother Cyril in New Orleans back in the '60s about to have a confrontation with the police and it was … wolves, they were the evil wolves back then. You couldn't stand on the sidewalk or nothing, they'd come and harass us. I started crying and my wife said, 'What's the matter?' I said, 'I don't know. I just got emotional. I had a flashback and I thought that could've been me back and then and they …' so you know that's got to stop."
But rather than the divisive narrative that has been trying to pop up about Black Lives Matter versus Blue Lives Matter, Neville doesn't see things painted in such stark opposition. Harkening back once again to the Native American phrase that resonates with him, he says, "They've got great police, and we need the police, but there are some wolves out there, and they're on a mission. They've gotta kinda get in and weed it out. Have a better training program or whatever. Do whatever you can to save a life. Life is precious and life is a present to us from God, and he's the only one who has a right to take it."
As much as his newest album is about communicating something positive at a dark time, don't consider it a swan song. Apache is not a coda for Neville's career. It is a persona freed from any one constraint and allowed, instead, to bask in the freedom that blurring boundaries brings and the messages that result. Neville has more poetry — he is constantly writing, jotting down this and that on his iPhone — and plans on setting more of it to music. There's no slowing down, especially since he knows he doesn't have forever. "I want to sing until the creative say, 'That's enough.' Until then, I wanna do it and I'm gonna keep on singing loud out in the country and hitting notes, and stay in the gym," he laughs.
---
Lede illustration by Cat Ferraz.