WinterWonderGrass 2020 is on the horizon and BGS is excited to share the official daily schedule for their California edition, taking place March 27-29th in Squaw Valley, California.
WinterWonderGrass California is excited to present not one, but two headlining sets from rising star Billy Strings, who was named International Bluegrass Music Association's Guitar Player of the Year in 2019.
In conjunction with the daily schedule announcement, WWG plans to release a limited quantity of single-day tickets starting Thursday, January 23, and weekend General Admissin passes will move to tier 2 pricing the same day. Tickets and more info available here.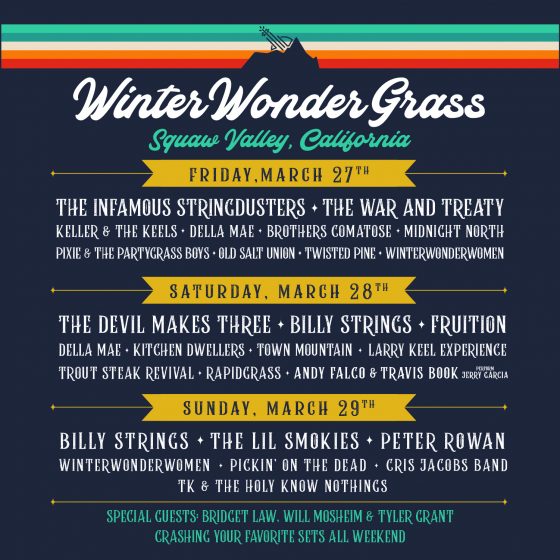 "WinterWonderGrass continues to honor the pillars of bluegrass while creating space for the evolution of the genre to flourish. I feel this lineup speaks to that ethos," festival founder Scotty Stoughton remarks in a press release. "I'm super excited to see first time bands like The War and Treaty, Cris Jacobs Band and Twisted Pine as their jaws drop from the stunning Squaw Valley views surrounding their stage. It's also an honor to watch Billy Strings continue to grow, and welcome back legends like Peter Rowan."
Sentimentally, Peter Rowan himself adds, "When the music hits the crystal air at WinterWonderGrass and echoes off the mountains, we are home."
Gates open at 1:45 PM each day during the 3-day music festival with Friday and Saturday nights' programming will last until 10:00 PM, and Sunday ends slightly earlier around 9:30 PM. Performances across the Soapbox, Pickin' Perch and Jamboree stages will see many artists perform two consecutive sets, and each night, performances on the Close Pick stage will close the festival.
Tickets for all three stops are now on sale and moving fast: Colorado | California | Vermont.
VIP tickets to Steamboat's stop are already sold out, but fans are encouraged to check out the official fan-to-fan ticketing exchange powered by Lyte if they're in search of tickets as more of the dates and tiers sell out.
See the daily schedules below: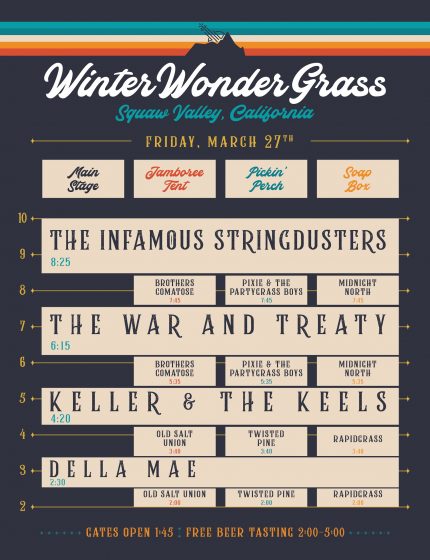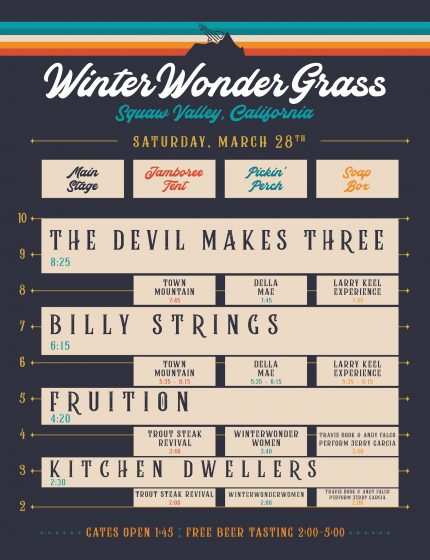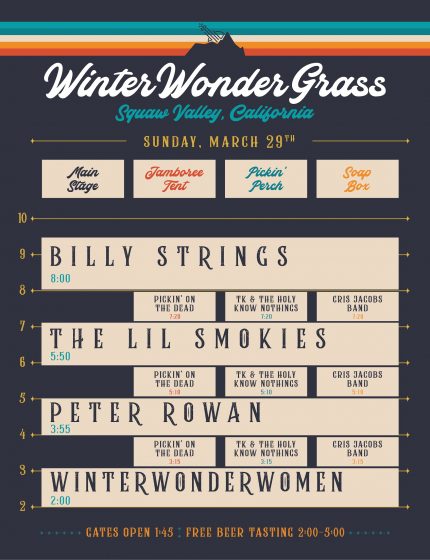 ---
Photo credit: Molly McCormick