For nearly 50 years, Asleep at the Wheel have been anything but that. Since the Western swing outfit formed in 1970, members have come and gone, but bandleader Ray Benson — he of the towering 6'7" frame — has remained the one constant. The Texas institution now boasts musicians from Wisconsin, Washington, and beyond, with influences that inform an ever-widening soundscape. As Benson writes in the prologue to his 2015 book with Dave Menconi, Comin' Right At Ya: "I've always played retro music that's out of step with the mainstream, but that hasn't kept me from being ahead of the curve on a lot of things."
Asleep at the Wheel's newest album, New Routes, touches on Cajun swamp, Irish traditional music, gypsy folk, and more. Although the band has released multiple tributes to Western Swing star Bob Wills, their new project closes with "Willie Got There First," a clever tribute to Benson's longtime friend, Willie Nelson. Written by Seth Avett and recorded with Scott and Seth Avett, the song claims that Nelson has already written and sung practically every feeling that needs to be written and sung.
That may be true, yet one of the band's sultry new numbers, "Call It a Day Tonight," marks the first time Benson has written with a member of Asleep at the Wheel since the 1980s. In this case, it's Katie Shore, an accomplished singer and fiddler who joined Benson for a chat with the Bluegrass Situation.
What was the collaborative process like for "Call It a Day Tonight"?
Ray Benson: It was the first time I had ever co-written with somebody and could use texting and mobile phone.
That would make such a difference.
Benson: Yeah, you didn't have to be in the same room, or make a tape and send it in the mail.
Katie Shore: For me, one thing that's hard about writing with someone is I still have to go be alone with it. I think that Ray's kind of similar. We had time to be apart and we ended up sending ideas back and forth, so the song wrote itself. We were really on the same page. … That's the thing about this record—it was everybody bringing a piece of yourself and an idea. We recorded close to 30 songs at the end of it, and then had to whittle it down.
Benson: We haven't been able to do anything more because we're working: Getting up every day, getting on the bus. It's been a month-and-a-half tour and a month before that.
That kind of daily grind, for anyone who's creative, can take that impulse or spark out of the desire to write.
Shore: We spend a lot of time cruising down the road and I'm always trying to write little ideas or jot things down. But we don't really have any space to get any instruments out, which all of us that write in the band kind of need.
Benson: But then again I wrote a melody today. I was waiting for our hotel room, and it's like, "Ok, file that away."
I know that it's possible to write on the road, but I think there's a certain kind of mental space you lack too when you're on a bus.
Benson: Oh yeah. Just energy too. All you want to do is get a little bit of rest, shower, get your clothes on, get something to eat, and then go do the show. ["Call It a Day,"] it's a good one though.
It is a good one, and I was also dumbstruck by the rhythm and feel you've got on "Pass the Bottle Around." That deep, gritty sound.
Benson: I spent a lot of time in the Cajun world back in the '70s. I had this idea — I was listening to Blind Willie Johnson — and I started singing. Suddenly, I realized I had taken inspiration from him. You know, I wrote that for Emily Gimble, who's Johnny Gimble's granddaughter. She sang with us for a while. I had this idea for her, then I realized it's for me. I remember when I brought it to the band, they said, "We'll put saxophones on it." I said, "No, no, no, this is swampy."
It reminded me of Tony Joe White, but I love how you're taking it in this whole contemporary direction.
Benson: Tony Joe came and played with us on my birthday last year. That's as high a compliment as you could've paid me. I love Tony Joe. He's the funkiest white man I ever met.
That's the truth! The album's title, New Routes, seems to juxtapose the ending song with its suggestion that everything's been written — at least by Willie Nelson. Do you think there are still new avenues to explore?
Benson: Oh yeah. I started Asleep at the Wheel 48 years ago, and it's always been a collective. The direction of Asleep at the Wheel is the direction that the personnel are capable of doing. This bunch really have a creative energy that's going to create a whole lot of cool stuff with the Western swing mode, the gypsy swing mode, rockabilly. That's what Asleep of the Wheel has always been about—that wide range of Americana music.
What do you look for in terms of your collaborators?
Benson: What we have, which is great talent and contribution. We might be the primary writers, me and Katie, but the other guys write too. Even if they don't write, the arrangements they do…
Shore: Everybody is such a serious musician in this band. I think that is what's kept Asleep at the Wheel going for 50 years—a lot of great players have come in and out of this band. What's cool is a lot of us have been friends for a long time, even some of the younger folks in the band. Everybody comes from a different influence, and yet we all grew up loving the same stuff. It's cool to see Western swing evolve. Ray hires people for what they can do, and everybody's really different. We're kind of a hodgepodge.
Benson: It's a tapestry, not a hodgepodge. [Laughs]
You said you started off with 30 songs for this album. What was the recording process like?
Benson: Some of them are half-finished and sitting in the can at the studio. I know we'll use some of them because it was hard to whittle it down to the 10 or so. Then with the Avett Brothers, Seth sent me that song ["Willie Got There First"], and I said to him, "Hey guy, we oughta do this sometime." He and Scott got together and said, "Alright, we're going to come down and do it with y'all."
It is really magic and then to get Bobbie, who is Willie's sister, and Mickey Raphael, who I've known before he joined Willie Nelson. I hadn't recorded with Mickey since 1974 and it was really neat to have this homage to Willie, and of course Willie being the funny sonabitch that he is, I sent him the song before I recorded it and I said, "What do you think about it?" and he said, "It's so hard to be humble." He's so funny. He's still got that great quick wit.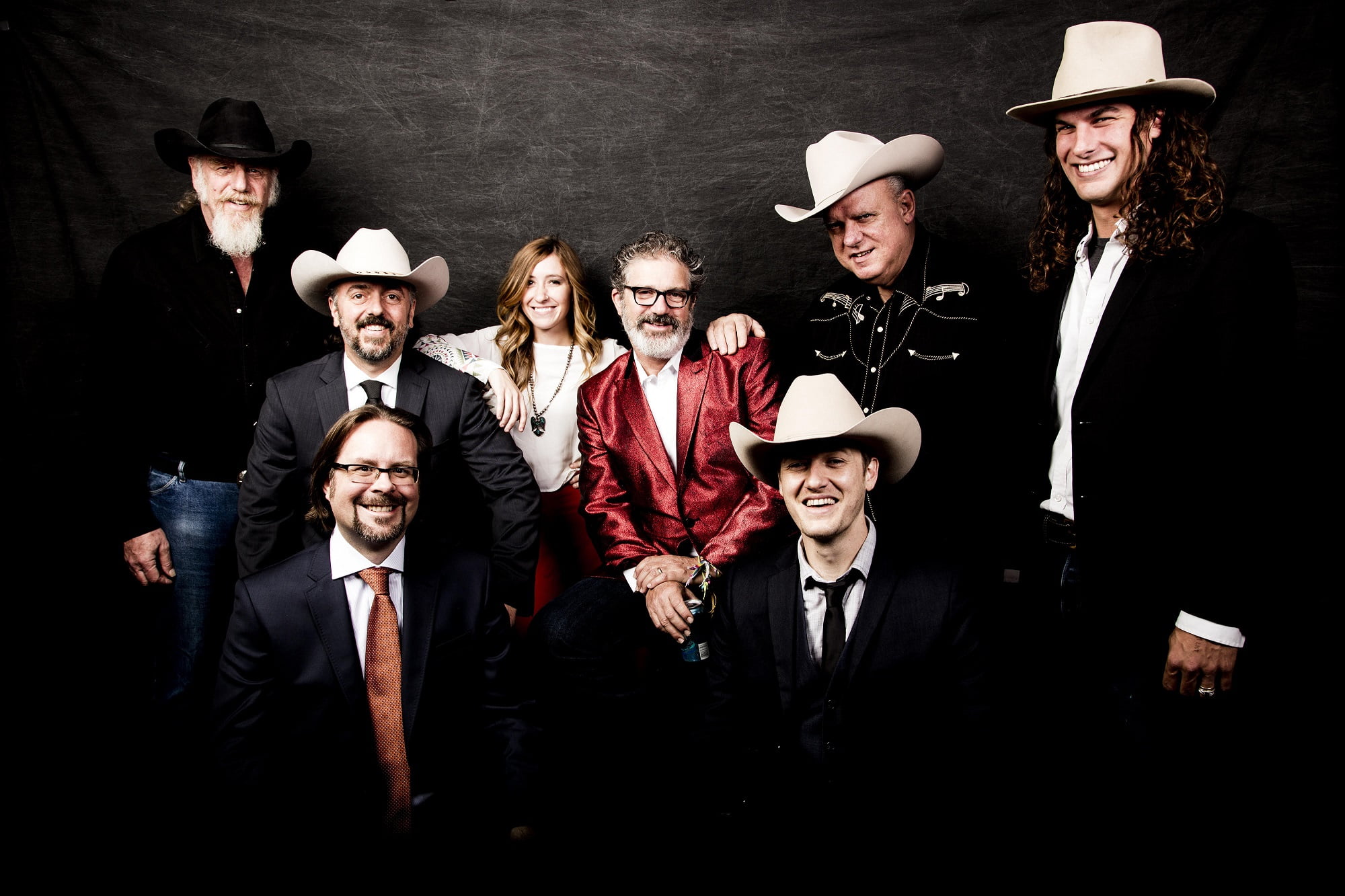 I know you have a long history with Willie, but what brought about this tribute? Seth really just came to you with a song?
Benson: I had met them a number of years ago and we were kindred spirits in our love of roots music, so we became friends. [Seth] had read my book with Dave Menconi and we started texting back and forth. He sent me that song because it's very sweet of him to do that; he knows my relationship with Willie.
In fact, that's how they met. The Avett Brothers were coming through town and I was putting together that show with George Strait and everybody [an all-star fundraising concert for Texas wildfire relief in 2011]. I said, "Hey, you're coming through town anyway. You can come up and sing 'Will the Circle Be Unbroken' with Willie and us. We became friends. It's the same thing as the people who drew their inspiration from roots music but create their own modern music.
And they came down to Austin to record the song?
Benson: Yeah, we booked a show with the Avetts and Asleep at the Wheel. That's how we made it possible for them to come down. They were very generous, and they happened to be coming through Texas in that time period, and it all worked out. As my friend Big Boy Medlin says, "Everything works if you let it." You have to trust the cosmos is going to come your way when it's supposed to.
I love that it's a family reunion in a few different ways.
Benson: Yeah, that's funny because we cut the track and we were done, and I said, "Seth, I'm going to try and get Bobbie and Mickey to do this." He said, "Let's do it. That makes this history as opposed to just another song." I'm usually against those kinds of songs that mention the name of the song and get so corny, but to me it was poetry. You've got poetry, let's go with it.
---
Photo credit (live shot): Patrick Carnahan
Photo credit (posed shot): Asleep at the Wheel