Back with another blogisode of Make 'Em Like It, where I, your humble cooker (yeah, I totes just made that a noun) hope to inspire you to take risks on preparing foods that you or your loved ones haven't generally taken a liking to in the past. In this blogisode, it's all about rice and salad.
If I use the word "salad" around my bonus kids, their faces scrunch and their lips purse 'n' bow. They're super cute, though, y'all, and if we were all on the couch playing a game of, "Silly Faces of 2017," they'd win all the candy. When it comes to cooking and feeding them and trying to inspire them to begin to grasp a concept towards lifelong nutrition, though, it can be a struggle.
Then there's that man of mine. His food foibles include a disdain of plain rice. I don't believe that he's rare in his disposition or anything like that. But look at me, y'all: I'm straight up 100 percent Ghanaian. THE food staple of all staples in Africa is rice, rice baby. It doesn't matter what else is going on at mealtime; there is always a pot of rice on the back burner of the stove. It's like a Southern American's doughy rolls or an Italian's crusty baguette. To eat a meal without your staple feels all kinds of wrong. As an adult whose journey through American cuisine has been challenging and frustrating, I have been able to let go of always having to have rice with everything I eat. However, I have not released an ounce of my sincere and desperate love of the stuff. When my man told me he didn't care for rice, I had a full on Fred Sanford moment (hand on heart, heavy breathing, jaw stuck on stunned) and it took me a while to recover from it.
So I should stop making both salad and rice altogether and give in to a lifetime of Food Sacrifice, right?
Who you talkin' to, fool? Nah.
Lemme do you one better than that. Here's a version of rice and salad that nobody will see coming … and it's full of flavor and good energy. A note of caution, though — I can't help you if you have picky eaters who don't do multi-colored food. My six-year-old bonus child is one of those no-goers. For instance, she loves chicken and she loves broccoli — buuuut if the chicken and broccoli are combined on her plate, her gag reflex is on automatic. Luckily, she and I are peas in a pod when it comes to that plain-rice-love — so, winning.
So, as James Brown would say (or sing, rather), "Try Me" …

Ingredients (serves 8)
4 cups of water
1 Tbsp kosher salt (the water for boiling the rice should taste like salted sea water to make sure that the flavor permeates through the grains)
10 cardamom pods, tied in cheese cloth
2 cups uncooked basmati rice, rinsed until water runs clear
1 large shallot, thinly sliced
1 cup golden raisins
1 cup celery, thinly sliced
1 cup peas
1/2 cup mint, chopped
1/2 cup flat leaf parsley, chopped
1 Tbsp grated organic lemon zest (if you don't use organic fruit for zest, you're just grating pesticides right into your meal)
Crispy fried onions to garnish
Salad Dressing
1 Tbsp safflower, grapeseed, or similar oil
1/2 tsp black pepper
1 Tbsp cumin
1/4 tsp cinnamon
1 Tbsp chili powder
1 Tbsp coriander
1 tsp crushed red pepper
1 tsp minced garlic
1 cup tomato sauce (regular sodium)
2 tsp kosher salt
1/4 cup extra virgin olive oil
1 Tbsp honey
1 Tbsp balsamic vinegar
1 Tbsp lemon juice
1 Tbsp grated ginger (or 1 Tbsp ginger paste)
Additional option — 1 Tbsp sriracha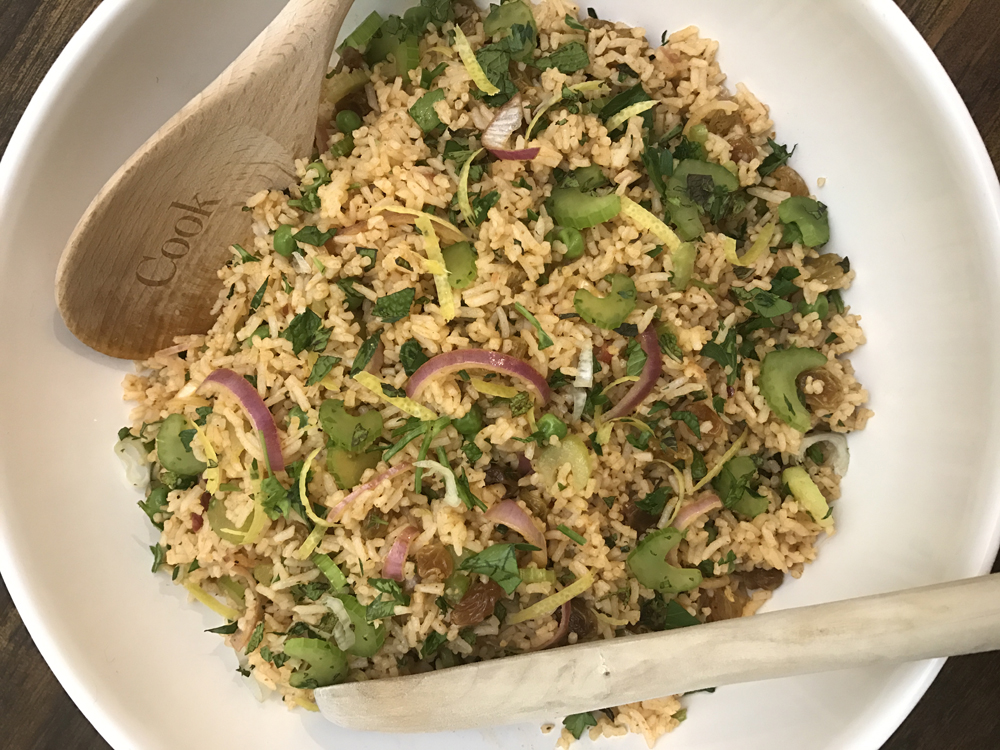 Directions
Bring water, salt, and cardamom to a boil in a large pot. Add rice, stir, and return to a boil, then reduce to a simmer, cover, and cook for 15 minutes or until fluffy. Don't worry if some rice gets stuck to the pan. It happens to the best of us. Once rice is cooked, spoon out onto a baking sheet brushed with oil. Lay rice out evenly and drizzle a little olive oil on top and toss the rice until evenly coated. Let cool until slightly warm or room temperature.
Once rice is no longer hot to touch, transfer to large mixing bowl. Add remaining ingredients except for salad dressing and fried onions — but don't toss them in yet.
Add safflower oil or similar to small shallow pan on medium heat and add the next six ingredients under Salad Dressing. Warm just until tiny bubbles start to form. When the aroma of the spices is rich in the room, add the garlic for final 60 seconds, then turn off the heat and transfer spices and garlic into a small mixing bowl.
Add salad dressing ingredients to the small mixing bowl and whisk until well incorporated. Pour dressing over the rice and toss to coat evenly.
Garnish with crispy fried onions.