Scholars Doug Seroff and Lynn Abbott have worked together for nearly 40 years researching the history of African-American music. Tracing the origins of jubilee, quartet, vaudeville, ragtime, and early blues music, they've co-authored four books — Out of Sight: The Rise of African-American Popular Music (2009); Ragged But Right: Black Traveling Shows, "Coon Songs," and the Dark Pathway to Blues and Jazz (2012); To Do This You Must Know How: Music Pedagogy in the Black Gospel Quartet Tradition (2015); and their latest, The Original Blues: The Emergence of the Blues in African-American Vaudeville, published in February.
Abbott, a researcher at the Hogan Jazz Archive at Tulane University in New Orleans, and Seroff, an independent scholar, met serendipitously through music. "I buy and sell old phonograph records. It's something I've been doing since 1975 and that was how I first got in touch with Lynn," Seroff recalls. "He was buying records from me, and the records he was buying were things that were also of interest to me, so we kind of precipitated a correspondence."
When Seroff made a field trip to the Tidewater region to interview a group of singers, he made a pit stop in Richmond, Virginia, where Abbott was living at the time. "I visited him and hit it off, and he got interested in pursuing the same sort of research and we started collaborating, or at least exchanging and sharing the information that we had gathered," says Seroff.
Seroff and Abbott then began researching Black gospel quartet singing in the late 1970s. They collected oral histories and dug up concert recordings and programs. Seroff's access to historical recordings by proxy of buying and selling records helped the process. They also combed through African-American community newspapers on microfilm in special collections and university libraries. Although it wasn't related to the subject matter they were studying, a pattern emerged that Seroff says was hard to ignore.
"Lynn and I had already been working together for 10 years … he was looking through some of the notes and Xerox's that I had [of the Indianapolis Freeman] and he noticed that there were some years of the Freeman that he'd reviewed that I didn't have," Seroff explains. "So he sent them to me, and they were a period in the early teens and, in reading through them, I saw repeated references to Ma Rainey and Bessie Smith — they're well-known blues artists — and, to the best of my knowledge, none of that information had appeared in any other scholarship before."
When minstrelsy gave way to vaudeville as the popular form of American entertainment in the late 1800s, African-American vaudeville theaters for exclusively African-American audiences arose due to segregation. What Seroff and Abbott found indicated that the original blues came to fruition on these stages in theaters across the Southeast in the 1910s. While ragtime "coon songs" were standards in vaudeville clubs, they were given new life with the development of blues songs in African-American Southern theaters.
"[We] shed light on phenomena that generations haven't wanted to contemplate or have proven impossible to comprehend from a modern perspective," Seroff explains. "But when you get more details of the context and the historical context, it makes some of these very difficult issues like 'coon songs' and Black performers entertaining Black audiences in blackface makeup … it clarifies these things."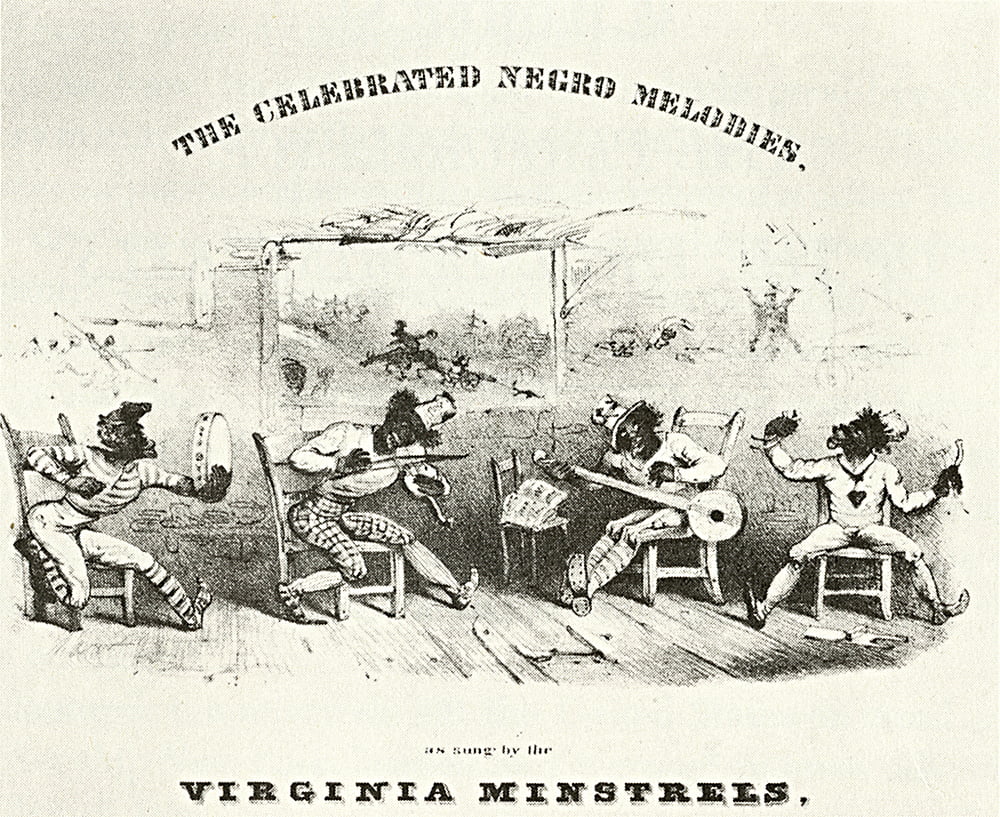 Detail from cover of The Celebrated Negro Melodies, as Sung by the Virginia Minstrels, arranged by Th. Comer, Boston, 1843. Scanned from Dan Emmett and the Rise of Early Negro Minstrelsy by Hans Nathan.
Seroff and Abbott set to work putting together a manuscript based on the information they found in the Indianapolis Freeman.
"First, we wanted to tell the story of the performers, of course, and it also became clear that we needed to tell the story behind the theaters and the booking agencies and such," Seroff says. "And then there was the matter of Butler "String Beans" May, who turned out to be such an important character that he skewed the narrative of all the other people because we couldn't really talk about the movement of performers from the Southern vaudeville into the northern theaters without first explaining how String Beans had blazed the trail."
Butler May was a blackface comedian from Montgomery, Alabama, who was referred to as the "blues master piano player of the world." Seroff and Abbott credit String Beans with perpetuating the rise of blues in Black vaudeville.
"[String Beans] was like some sort of a forgotten phantom and a central, seminal figure who had been just written out of the history entirely and the newspaper was full of good information about him," Seroff says. "There are runs in the newspaper covering years where almost every issue has something of interest about him. And so, you know, to bring String Beans back to life is the most satisfying and pleasurable experience in writing this book."
While sifting through the muddy waters of vaudeville and the blues, Seroff and Abbott unearthed several other performers who have otherwise been left out of history — singers like Ora Criswell and Trixie Smith who, along with well-known performers like Ma Rainey and Bessie Smith, ushered in the era of the "blues queen." Seroff and Abbott had difficulty organizing all the different facets that emerged from their research and ended up setting the manuscript aside. They came back to it on and off throughout the years, all the while publishing other works. Thus, the release of The Original Blues marks the completion of decades of research.
"Reading the newspaper on microfilm is a very different process than Googling something. A lot of Black community weekly newspapers have now been digitized, but when we started our project, none of them had been digitized, and I'm glad of it," Seroff says. "As much time has gone into it, I suppose it was very difficult at the time, but it was also very rewarding. It's amazing to find this stuff. You're sitting in front of a microfilm reader and you find out about Bessie Smith's partnership with Buzzin' Burton? No one had known anything about that before and it's very important historical background."
While the origin of the blues sparks discussions amongst historians when it comes to region, Seroff and Abbott's work is a pioneering contribution to scholarship. By unpacking a complicated time in history, they ensure that the emergence of these musical traditions and the figures who made them are ushered into the modern era.
---
Images of Butler May, Ma Rainey, and Bessie Smith courtesy of public domain.