He's only 23 years old, but Western Canadian musician Colter Wall has created an album which echoes through time with Songs of the Plains.
A traditional Western love letter to the wide open, often-frozen prairies of his native Saskatchewan, Wall's sophomore project once again highlights booming baritone vocals and an appreciation for historic sounds – but it's more living artifact than relic of the past. Mixing originals in with covers of Canadian classics like "Calgary Round Up" (by Wilf Carter), "Night Herding Song" and "Tying Knots in the Devil's Tail" (both cowboy traditionals), its 11 tracks feels as fresh as the first wildflower bloom of spring.
Dave Cobb produced Songs of the Plains, with Canadian country stalwarts Corb Lund and Blake Berglund joining harmonica great Mickey Raphael and pedal steel legend Lloyd Green as guests. But it's Wall's youthful enthusiasm for the genre – and his timeless approach to song craft – which stands out. He spoke with The Bluegrass Situation about his love for Saskatchewan, working with his heroes and what it's like recreating a good-old-fashioned campfire song.
You grew up in Saskatchewan, and Songs of the Plains is very much a Western album. What makes a life out West different? Why does it lend itself to inspiring its own genre?
That's a great question. Just like any place, the people have an entirely unique culture, and we have our way of doing things, our own way of talking and our own way of telling stories. When I think of the West, because of its history and because of the way people romanticize it, it's sort of a land of myth. It's a land of harsh realities and a sort of mythos – one of wild, tall tales. And it's been painted in a lot of different ways, often by people who aren't actually from that part of the world.
Not many people are doing this kind of music anymore. How did you get turned on to traditional Western music, especially being such a young guy?
Well I'm just a huge fan of traditional music in general and have been for a long time. … I love those old tales and folk songs and how they're so rooted in people, being passed down from year to year, changing and shifting over time. I've always been fascinated by that. Probably the first cowboy songs that I heard and really dug – and tried to learn – were done by Ramblin' Jack Elliot, who was notorious for doing cowboy and Western songs, but he played folk music from all over. He would also play Blind Lemon Jefferson songs and Woody Guthrie songs, bluegrass traditionals, country traditionals, and then those old cowboy songs. So I had been listening to his catalog and stuff like Jimmie Rodgers and from there I started to dive down the rabbit hole and discovered all the greats like Marty [Robbins], Tex Ritter, and all those guys.
I really love the opening track, "Plain to See Plainsman." It seems like autobiography, so what did getting away from home teach you about it?
The short answer is that distance makes the heart grow fonder. I had always loved Saskatchewan, but I didn't realize how much until I moved down here [to Nashville] and started to travel around a lot. I think I became more interested in our history and culture. Before [moving] I was aware of it, but maybe not trying to actively learn about it and write about it.
"Saskatchewan in 1881" speaks right into that history, right? It's kind of a warning to a city slicker from Toronto about what he'll find if he comes West looking to get rich. Why did you set the story in 1881?
That's my take on prairie humor. The 1880s are when they first started to ship people out to the Western Provinces – and they weren't even provinces yet, they were territories. The people in the cities back East had just realized that we had all these natural resources out West, so they started surveying the areas and sending people out to settle them. That started in the early 1880s, so the premise was to tell in a humorous way about the lives of people and what life might have been like back then, having to deal with all the frustrations of frontier life. It's kind of a regional joke.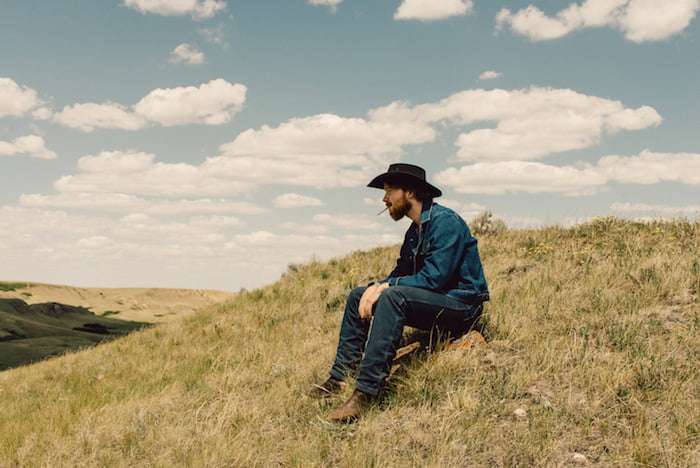 You've got Mickey Raphael and Lloyd Green on this album, and they add so much Western flavor. What was it like bringing those guys on board?
I had known I wanted Mickey to play on the record long before we went into the studio. I had met him probably a year ago at a show where he was part of the house band, and I was already a huge fan. I think he's the best harmonica player in the world. Since then he's been really nice and supportive and kept in touch, so that was just a matter of waiting to get in the studio.
With Lloyd, I have to be honest. I wasn't even aware he was still around. I told Dave [Cobb] I wanted some pedal steel, and he said 'Why don't we get Lloyd Green?' My eyes about fell out of my head. So we called Lloyd and sure enough he came down. I helped him carry his stuff in, then I got to hear him play pedal steel on my songs for about an hour – which was pretty incredible – and then after that I got to listen to him tell stories about playing with [George] Jones and [Johnny] Paycheck, all these legends. It was surreal.
The power and depth of your vocal has always stood out. Does it still surprise people?
The most common thing I get is 'How old are you?' And I tell them, and then there's always some surprise there.
When did you notice you had this deep, timeless baritone of singing voice?
I've been working at it for a long time. When I turned 18 I had been trying to sing, and it wasn't really working out, but I realized I could sing low a little bit in the baritone register. It felt natural, so I kept doing it, and I'm still working at it. I feel like these three records, to me they're like little stepping stones on my road of trying to figure out how to sing. Listen to that first EP and then the first album, there's quite a difference in the vocal. And then if you listen to this new record, this is the first time I've felt comfortable and like I had control over my voice. I think it sounds better.
You let your voice stand on its own on "Night Herding Song," and I read you left the studio to record that. How did that decision happen?
We tried to cut it in the studio, but the thing about RCA [Studio A] is that it's a really big room, but it's a studio so it's kind of dead in there – there's no natural reverb. I don't record with headphones on, so singing a capella in a room like that, it's kind of hard to hear. It just wasn't working out, so we decided to go out to Dave's house – this tucked-away little spot in the trees with a studio in the basement. But just outside the studio is this patio and fire pit, and we figured we'd cut it outside, just pull the microphone out the door. I was really trying to get a campfire vibe going on, which is a cowboy tradition, and really went with the nature of the song. So I went out there and started a little fire, and recorded it that way. It was a lot easier, and it turned out great.
Did this project satisfy your urge to make a real Western album? Where will you go from here?
Yeah, I'm pretty pleased with the way it turned out. I had more of an idea of what I wanted going into the studio than ever before, and I'm proud of it. As for the future, I've got a few ideas of where I might want to go, but it's hard to say this early. I've been playing a lot more shows with my new band, and we've been messing around with some interesting sounds, but I just hope people enjoy this one when it comes out. After that we can start worrying about the next one.
---
Photo credit: Little Jack Films