Robert Cray's voice betrays a sense of electrified giddiness as he talks about recording with Hi Rhythm, the house band from famed Memphis label Hi Records that joined him on his latest project, Robert Cray & Hi Rhythm. For a musician who has performed with Eric Clapton, John Lee Hooker, and Stevie Ray Vaughan, it seems like "star struck" wouldn't be an issue, but to hear Cray tell it, his latest LP was an experience unto itself. Whether describing listening to organist Charles Hodges replicate the "wah-wah" sound he perfected for Al Green, or standing in Royal Studies amidst all that history, or tapping into the groove that almost magically envelopes Memphis, there's an expansive warmth — almost a sense of awe — that comes across as he talks about working with the infamous studio band. To say it was a "once in a lifetime" moment underscores the project's timing, since he will receive the Lifetime Achievement Award for Performance from the Americana Music Association this year while Hi Rhythm will be honored with the Lifetime Achievement Award for Instrumentalist.
Although Cray is known for his emotive blues licks, he's been exploring his soul influences in recent years. Robert Cray & Hi Rhythm continues what he began in 2014 with In My Soul (recorded with the Robert Cray Band). The latter charted his appreciation for the classic soul coming out of labels like Stax and Chess, and studios like Muscle Shoals; the former leans into the nexus of blues, soul, and even funk in order to explore where his guitar can guide those sounds. Besides covering Tony Joe White's "Aspen, Colorado" and "Don't Steal My Love," Cray penned several new songs for the project, including the frank but tender "The Way We Are" and the politically charged "Just How Low." Though he doesn't point specific fingers with the latter, the opening bars of "Hail to the Chief" and the chorus make clear his message: "One never knows just how low someone might go." He doesn't shy away from speaking his mind about the current president, even if he knows how that's gone for musicians in the past. An earnest and open songwriter, Cray's partnership with Hi Rhythm continues the genre's tradition of embedding necessary messages within its enchanting grooves and, in turn, reveals yet another piece of his soul.
Did you ever think, when you first started out, that you had 20 albums in you?
No, I didn't go that far. All I knew was I wanted to play music. Everybody, as a youngster playing music, wants to make a record, but you never see any further past a first record.
What's it like on the other end of that perspective now?
Well, the whole thing still remains a lot of fun. I enjoy doing what we do, and with all the records under our belts … we're making a living at it and we're still here.
This latest project recorded with the Hi Records house band is so special. Soul music, and especially the kind of soul music that label released, has long featured a potent message. How have you seen it shift or develop since the '60s and '70s?
It's kinda hard to describe. Working with those guys from Hi Records, it's been instilled in them. I've been a big fan of their music for the longest time. Everybody has more music appreciation even outside what they do, and then when you put the right people together — which was the case when Steve [Jordan] put us together — we were able to do what we love. It was pretty cool.
One of the songs, in particular — "Just How Low" — sounds as though you're addressing Trump, even though you never mention his name. At the very least, you're addressing this kind of divisive mentality that has once again become so prominent. Why did you want to take aim at that specifically?
Just the tone of everything that's going on these days. It's a dramatic shift from where we once were and with President Obama being in office. We haven't had anybody that's so out in the open with his disdain for government, different people, different cultures, all of that. We spend a lot of time on the road, trying to keep up with what's going on, and we see how it is for people outside of our country, and how they feel about it, as well. So, yeah, it was just a natural thing. This wasn't the first time that we've addressed political issues. We've gone back to even when the Iraq War started and talked about that on both sides of the issue, and then on behalf of military personnel.
It's interesting that you choose this way to approach it, though. Because, in recent years, between William Bell and Don Bryant, the message they're sharing about changing times advocates for peace. I love that music — don't get me wrong — but I like that you take a more stringent tone.
Right. Well, my only issue with this song is, every day there's something new. I gotta keep writing verses to this song. People are on the fence about going the way we went only because of what happened to Dixie Chicks years ago, and everybody is worried about their fan base. They just want to stay in line, but, you know, if you don't address the issue, it doesn't get addressed.
I can see why Steve Jordan has described you as an "honest soul" because it is a bit of a risk to come out and so blatantly share a specific perspective that might scare away portions of your fan base.
Well, thank you, Steve. But you have to, you just have to. There's no dancing.
I appreciate that, as a listener. Some people talk about the special feeling Muscle Shoals and Memphis exude. Where do you think that special energy comes from?
I'd like to consider Memphis the hub of American music. When you think about rock 'n' roll, the blues, it's such a big part. We have different areas, too: You've got country coming out of Nashville, and the jazz that came out of New Orleans. But I think, overall, Memphis is the hub. Without the blues, you wouldn't have rock 'n' roll. It's just there.
So how did you tap into it for this session?
I didn't need any coaxing. I met some of the guys from Hi Rhythm in the past just briefly, but have always had a love for the music. I had the opportunity to work with Steve — this being our fifth project. Steve is the supreme organizer, and he has a way of making everyone feel really comfortable in the studio. When we work with Steve, one of the first things we do is, he gets behind the drum kit and just starts playing. No song. Everybody's got their instrument and we're just playing. And that groove will go on 20-25 minutes, until everybody feels really good. Just to be creative, just to make things happen. Then he goes, "Let's do one of these tunes," so we'll start playing one of the tunes, and we'll do the same thing for 15-20 minutes, and Steve'll yell out, "Let's cut it." Everybody's loose, and it's really cool.
That's fascinating. I've always loved this idea that places hold their history — in both good and bad ways — but here the fact that you could step into Royal Studios surely lent something to that groove.
Yes, and that's what I should mention, as well. Another part of the whole "feel" thing is being in Royal Studios. You walk into the place and you see pictures of Willie Mitchell, of course, and you see pictures of Al Green, and you see old tape boxes with Ann Peebles' name on it, and you have the whole Mitchell family bringing in food. It's just a "Welcome to the family" kind of feel. It was really warming to be there.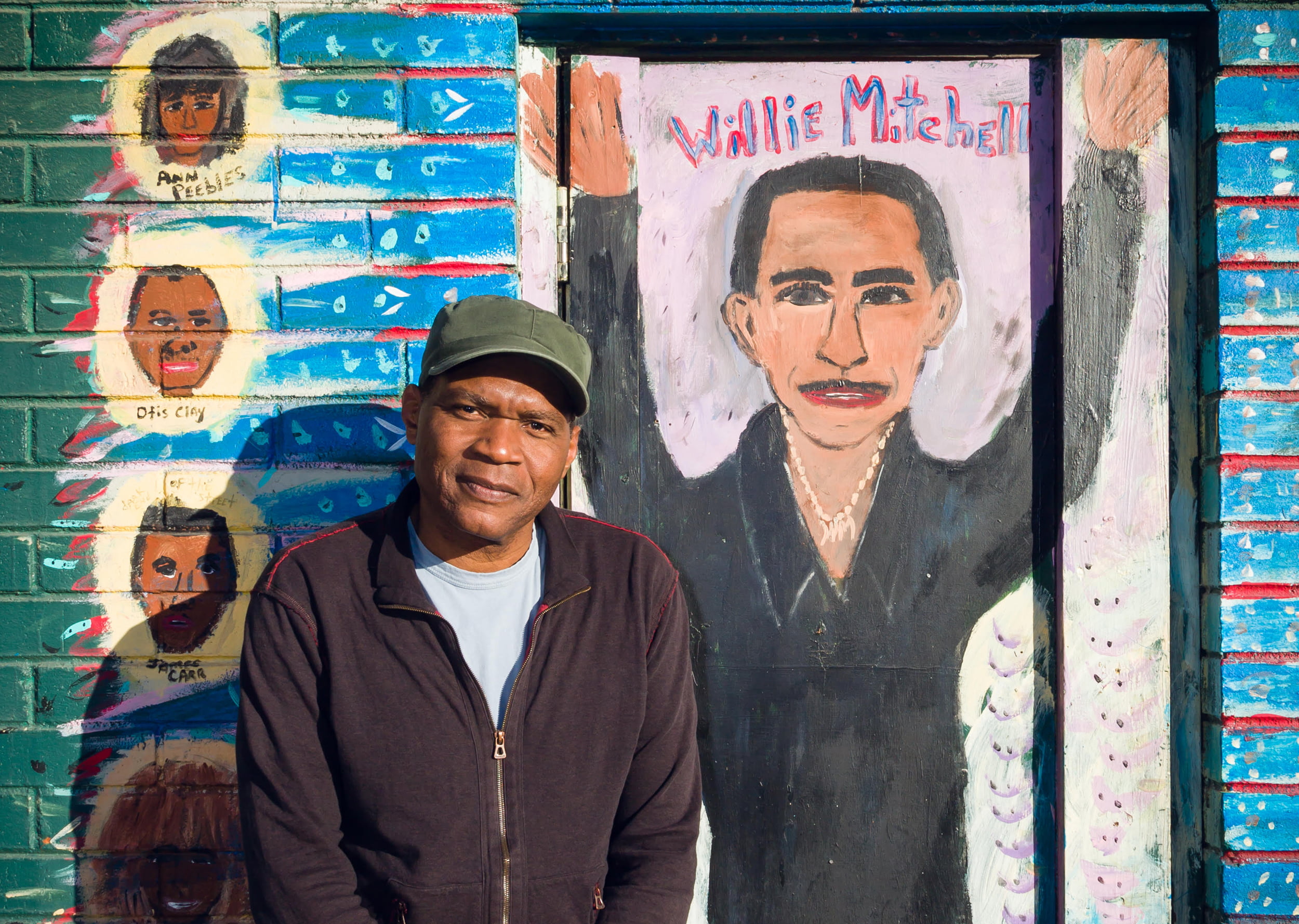 That comes across in the tracks that you were able to capture together. There's a family reunion kind of feel. So now, in addition to your original tracks, you chose to cover Bill Withers and Tony Joe White, but then you also recorded with White. You're getting all these Tennessee titans together! What was that like?
That was great. Steve's wife, Meegan Voss, sent me the song "Aspen," and I listened to it, and said, "This is really cool." So when we got around to the song, Steve called him, and Tony Joe had just come from Australia or New Zealand, but he wanted to be the studio, so his son drove him over from the other side of the state. He showed up and he was so happy to be there, and he was like family, too. Everybody has a total respect for him. We just had a good time. He's a wonderful human being.
There was another time that we did this program in Nashville, Songwriters & Storytellers or something like that, for PBS. I remember Keb' Mo' being there and a bunch of other people, but Tony Joe was there, and we each did songs. I'd do a song, then Keb would do one, then Tony Joe would do one. Everybody was pretty cool, until he broke out "Rainy Night in Georgia." I think everybody wanted to walk out after that. He was the sweetest guy in the world. That's when we first met.
And now here you are recording together! Your song "Way We Are" captures the beauty of staying with someone. Besides age and perspective, how has writing a love song changed for you over the years?
You can only write a love song if you've experienced love. I sat down and was thinking about the relationship that my wife and I have. We have our ways. Everybody has their ways. But the relationship works. I'm stubborn sometimes, and she's stubborn sometimes, but at the end of the day, that's who we are, and we acknowledge that. It came out that way.
I love it. Also, congratulations on receiving the Lifetime Achievement Award for Performance at AmericanaFest this year.
I'm looking forward to, once again, having the opportunity to work with Hi Rhythm. We've done three or four gigs, and it's always a special treat. I love watching Charles Hodges play his organ! I always think back to the days when I was listening to Al Green, and I heard him going "Whaa-o" across the organ, and he does that all the time. I'm always smiles. I have a really good time with it.
---
Photo credit: Ronnie Booze