Robert Finley is helping pack up his friend's Batmobile when I reach him in his native north Louisiana. "We got a chance to surprise the kids at the church," he explains. The occasion felt particularly special for Finley, as it marked his anniversary with his church. "Most of the kids, I knew their parents when they were kids," he says. "I've been here 32 years, and I'm three generations in." For a blues singer who recently dropped his sophomore album, Goin' Platinum!, with none other than the Black Keys' Dan Auerbach, Finley hasn't let that game changer shift his values. He still plays guitar and sings in church, he still finds ways to brighten people's day, he still packs up Batmobiles.
Finley may have been born in Louisiana, but he wasn't discovered there … at first. He joined the Army during the Vietnam War and was later discovered by a bandleader who heard him playing guitar in a German rec hall. From there, he was recruited to help entertain the troops. If it seemed like music was opening itself up as a career path, things quieted when he returned home. Finley found other ways to make a living, but all that time, he kept playing — just not in the way he once dreamed. Last year, he released his debut album, Age Don't Mean a Thing, through Music Maker Relief Foundation, but it's his latest release that's been the real surprise. He thought he knew the end of his tale, but it turns out there were still a few more chapters left to write.
A friend of Auerbach's sent him a video of Finley busking in Louisiana, and the bluesman's growling vocals caught his ear. He eventually signed Finley to his label, Easy Eye Records, and worked with him on Goin' Platinum! Auerbach wrote the songs, which reflect Finley's story — about holding on to dreams, about gettin' while the gettin's good — while touching on those subjects that have always shone under the blues' spotlight: love run amok, women with that voodoo touch. Auerbach's steady blues guitar lets Finley's raspy vocals run the show. Influenced by singers like Tyrone Davis and Joe Simms, his voice oscillates between the former's big, howling pleas and the latter's restrained, thoughtful quality. Goin' Platinum! is an outcome that took nearly 50 years to arrive, but Finley knows some stories don't happen overnight. No matter what, he's been singing and he'll keep singing. If more people happen to be listening now, ain't that something.
We tend to view success as something that only happens in youth, but you are proof that there are other stories to tell. What most excites you about this new chapter?
It's really almost too good to be true. I'm still trying to get it in my head that this is actually happening. Twenty-five, 30 years ago, I wouldn't have been able to handle it because I wouldn't have been mentally prepared. I think everything happens within its time so I had to go through these … you know how they say, "You don't know what it feels like to be well until you get sick"? You remember how you felt when you were well.
So what did age, specifically, help you recognize about this special moment?
I'm more or less concerned with a future for the children and grandchildren, and helping other people fulfill their dreams. I'm really what you call a sharecropper. We farmed for a living and, most of the time, you didn't get your share; you worked the fields, you picked the cotton, but the check don't go to you. That's the hardest part. I've understood that everything I went through was for a reason, so now I'm at the age where I understand that there's a higher power that speaks and you know you have to wait on your turn. Everybody can't be the king at the same time.
But to hold on to that dream even when you're being exploited by a system like that …
I had my ways of making an honest living. I performed on local TV shows in Monroe. CBS would show me on the morning show, but everything that come out don't always work. It has nothing to do with what we were doing, but the people that invest — you know, paying for the TV time — they make the decisions, and it was a business. That's kind of where I got my first start: I was on The Earnie Miles Show.
Oh, wow, in Bernice or in Monroe?
The show was in Monroe. He used to come by and pick me up, and I'd ride with him. I think he had more confidence in me than I had in myself, and he kept telling me like, "Boy, you need to be doing this and doing that."
It's hard when others see it in you, but you can't hold onto it yet because you haven't reached that mentality.
Yeah, it's good when other people see some positive in you, but you can't see it because … like me, I've been hearing my voice all my life. I've been singing all my life, but now everybody's excited about it. But to me, it's what I've been doing all the time. I thank God that I happened to be in the right place at the right time, and then knowing somebody that knows somebody, and then knowing the one that knows everybody, and put a little God in the mix.
Right, and wait for the rest of the world to catch up. You never gave up on music, but did you ever feel as though music had given up on you?
I knew one thing: Winners might quit, but quitters never win. I knew, if I wanted to make my dream come true, I had to make everybody out a liar that said I wasn't gonna be nobody. Once, my dad said to me, "Boy, you ain't gonna never amount to crap." I told my friends, "Man, I can be anybody I wanna be, but I don't wanna make my daddy out to be a liar." I sat there thinking, "I don't think that's what he meant." I feel like he's smiling down from heaven now.
And what if you had held yourself back just for that reason? What a story.
Well, we wouldn't be having this conversation. [Laughs] I tell people, the story never changed in me. I added more to it, but it never changed. When you tell the truth, you don't have to lie. When you get young people's attention and elderly, too — in the same room — and they're dancing and you're spreading joy, that's the energy that I strive for. You can get addicted to doing it, because all you're doing is spreading love. When you do it from your heart and you do it because that's what the world needs, the good Lord always opens the door and gives you a chance. You just gotta keep doing what you're doing, and he'll make everything that happens, but first you're going to go through some hard times. People know about the last two years.
Yeah, but they don't know what came before.
There was 50 years of struggling before the last two years was acknowledged. People want it to happen instantly, but the struggle was there.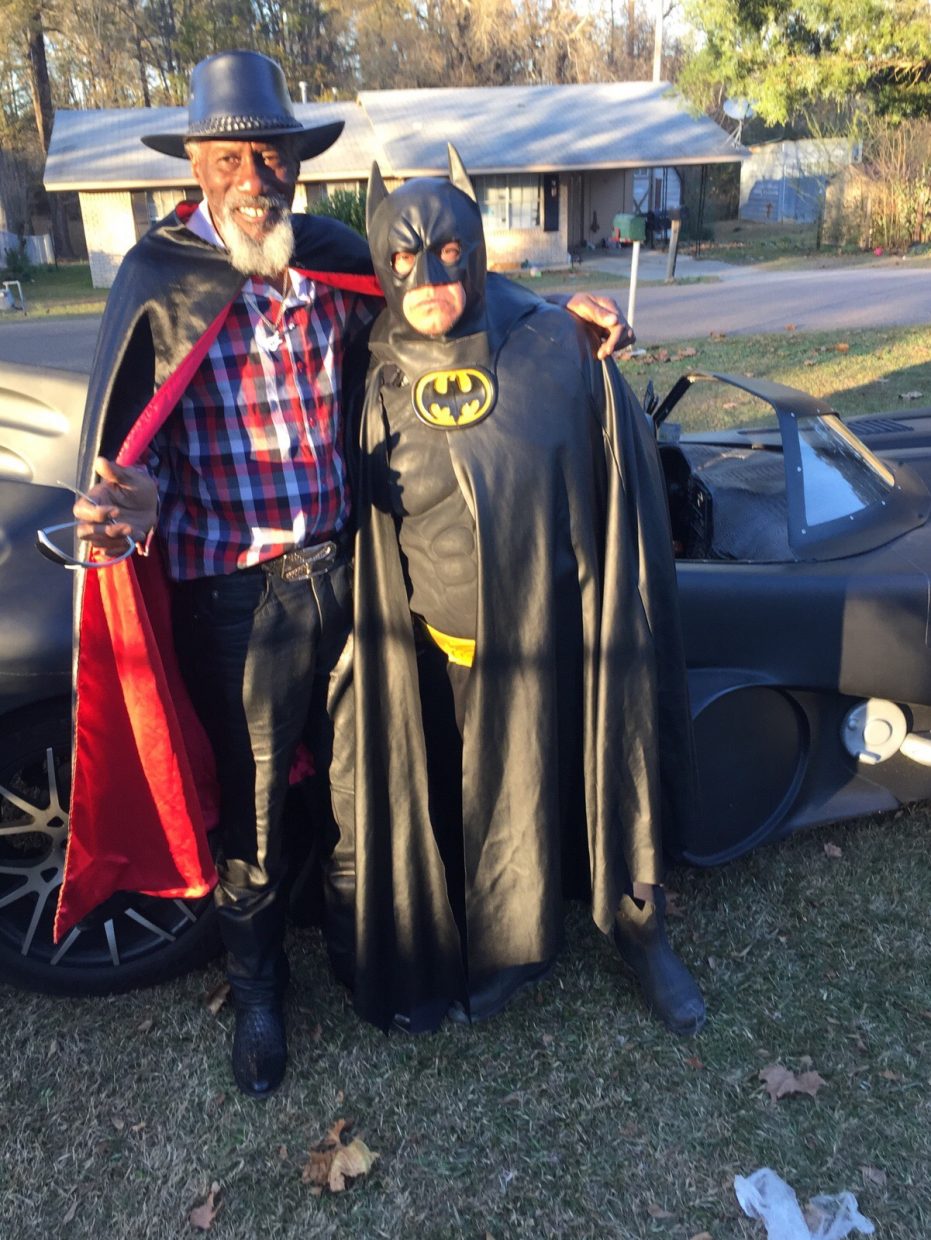 Nowadays, everyone loves things that come fast and easy, but it doesn't work that way.
Yeah, there's no push button success. It's hard. In order to make a dream come true, you have to stay focused. Right now, everybody's patting me on the back and, if I let that go to my head, I'll lose my train of thought. This success, it don't change me. I still hang out with the same people, and I didn't move to the big city. I just moved to the other side of town.
You released your debut album last year through Music Maker Relief Foundation, so when you set out to make Goin' Platinum! with Dan Auerbach, what did you hope the end result would look like?
I think this thing was created by a higher power. When I first went into the studio, I didn't know what they expected from me, but the greatest part about it is, [Auerbach] told me, "Look man, this is the story, and you tell it your way." I was like, "What do you mean?" He said, "I just want you to be yourself." You know how some people try and take you and make you into this? He just wanted me to be myself, and he was open minded to all my suggestions.
You've mentioned in other interviews how performing this music felt similar to performing a character. Who is this character and how does he differ from Robert Finley?
It brought out characters in me that I didn't know, that I hadn't had an opportunity to do. I was doing music videos and flying out to Hollywood. This was the greatest thing that could've happened to me in my life, so I gave it my best shot. I'm a pretty good actor because I always was a clown in school anyway. I give the people what they want. They love for me to dance, and I love to dance because I was in an automobile accident and I broke a lot of bones, and they told me I'd never walk again. And I'm legally blind, that's another problem. So any chance I get, I just dance. When the crowd roaring and they screaming, I'm enjoying the moment, and all it does it make me want to dance some more. The hardest thing about entertainment is when the stage manager tells me my time is up. I say, "Dang, I wasn't through!" The joy keeps coming, and the happier I make the audience, the happier I get. I'm living my childhood dream. I feel so blessed.
---
Photo Credit: Alysse Gafkjen