Owsley "Bear" Stanley was a hero of the psychedelic counterculture, notorious for both his production of high quality LSD and his engineering work for the Grateful Dead. (He built their famed concert sound system, known as the Wall of Sound.) But his contributions extended far beyond the psychedelic revolution. By plugging his recorder directly into the sound board and placing microphones on and around the stage, he became a transformative force in the landscape of capturing music. Upon his death in 2011, he left behind 1,300 reel-to-reel tapes of shows he recorded in venues around San Francisco in the 1960s and '70s. Last month, the first of these recordings — known as Bear's "Sonic Journals" — was introduced to the world in the form of a seven-disc box set titled Doc & Merle Watson: Never the Same Way Once. Released by the Owsley Stanley Foundation, a non-profit organization founded by Bear's son, Starfinder Stanley, the box set captures Doc and Merle's four-night stint at the Boarding House in San Francisco in 1974.
"The idea is that this is all preserved for future generations to discover," says OSF board member and executive producer of the box set, Hawk Semins. "Our primary mission in real time is to keep these [tapes] from disintegrating, from deteriorating and being unlistenable and, thereby, having lost an important segment of modern American musical history."
The OSF's preservation efforts are dedicated to digitizing all of Bear's reels. So far, 200 reels have been digitized with the help of their Adopt-A-Reel program, in which anyone can pick a show to have preserved in their name for $400. Once a show is selected, the Grateful Dead's sound engineer, Jeffrey Norman, pulls the tape, follows a digitizing protocol approved by field experts, and returns the tape back to the archive.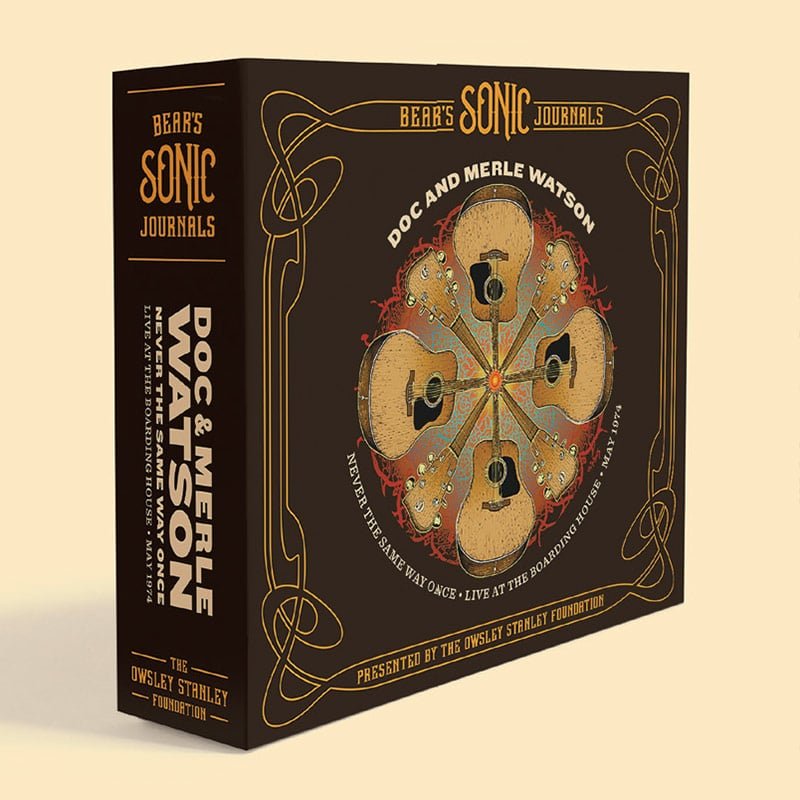 "We have a policy that we do not recreationally listen to any of the reels. We treat each reel as though the time that we preserve it is going to be the last time it's going to ever be played because we don't know what condition it's in until we start running that reel," Semins says. "I don't want anybody to think we're just sitting there with our headsets on enjoying all this great music to ourselves. We don't listen to it until it gets digitized. We don't know what's on the reels until it actually gets digitized and we play it back."
As a dedicated Doc Watson fan, Semins had some sway when it came to selecting Doc and Merle's shows for universal release. His fandom aside, Semins says the decision can also be attributed to the combination of sound quality and the caliber of Doc and Merle's playing. Plus, the arrival of Doc in San Francisco is not without historical significance. Psychedelic musicians — including the Grateful Dead — held Doc in high esteem for his authenticity.
"There's a 40-year gap between the time that that original roots music was being played and the time it was being archived and resurrected by Alan Lomax at the Smithsonian. Compared to medicine, it is like treating erectile dysfunction before and after Viagra. So we're looking back 40 years, at this moment in time, and archiving this particular juncture of this icon of roots music going out to psychedelic San Francisco and letting it all hang out," Semins explains. "And it shows in the looseness. I mean, the playing is tight, but in the looseness of the atmosphere, the attitudes. Doc's clearly having fun, and, you know, he's always charming, but there's an ease."
Bear most likely met Doc at the Marin County Bluegrass Festival a few days before these shows took place.
"Picture the two of them sitting down at a table having a hushed conversation where Owsley hands Doc a microphone and explains to him the process that he's going to use and why he thinks it's important for him to record the show and getting Doc's buy-in on recording," Semins explains. "That's an unusual situation, right? Who but Owsley in 1974 could show up at a venue and say, 'I wanna record you,' and have that artist from a totally different idiom, not with the Grateful Dead, not with their scene, listen to him, hear him out, be persuaded to say, 'Yeah?'"
Watson's long-time friend and bassist, T. Michael Coleman, recalls watching this conversation in the liner notes of the box set. As he puts it, when he listens to the box set, he hears "a legend recording a legend." Wrought with unique elements, Never the Same Way Once is an essential addition to Watson's catalog. These shows mark the first time he played songs like "Hound Dog," "Chicken Road," and "Doggone My Time," and his virtuosity is palpable. When the OSF debuted the box set at MerleFest this year, listeners immediately honed in on Watson's energy.
"We started taking pictures of people listening to the headset that we brought and we'd put on 'Black Mountain Rag' from disc seven, and they'd look real serious and all of the sudden their eyes would pop up," Semins recalls. "[Doc] gets so fast at the end of that 'Black Mountain Rag' that he ends up in a place where he doesn't expect and it starts cracking him up …He laughs and he turns to Merle and he goes, 'I don't know what I done there,' and then he starts noodling around with the guitar and he goes, 'Oh I see, I see.' It's incredible."
The OSF applied the same care and precision that Bear took while recording when they produced the rest of the box set. In addition to material provided by Coleman, the accompanying 16 pages of liner notes includes contributions from guitarist David Holt and the most contemporaneous photographs of Doc and Merle taken just three days before these shows. Sketched by Starfinder Stanley and adapted into cover art by Mike DuBois, the cover features Doc's famous guitar, nicknamed "Ol Hoss," multiplied and arranged in a circular design.
"This juxtaposition of the roots music meets psychedelia, it goes right to what we were trying to accomplish with the cover art," Semins says. "That's Ol Hoss as a sort of kaleidoscopic, psychedelic Appalachia meets West Coast. The idea was this is what happens when worlds collided, and the design … we call it Gallagher Mandala for the Gallagher guitar."
When it came time to find the perfect name to encompass this momentous release, Semins and company took a note from Coleman. "We had no intention initially of ever doing a seven-CD box set as our first release, but we heard the stuff and we couldn't decide what to choose," Semins says. "And so we ran this by T. Michael Coleman, and we said, 'Should we be concerned that you guys played "Tennessee Stud" all four nights?' And T. Michael said, 'Shoot, we never played "Tennessee Stud" the same way once, let alone four times!'"
---
Photo credit: Jim Morton