The flowers are blooming, the bees are buzzing, and grilling season is here again. One of my favorite meats to grill for a dinner party is lamb chops. They cook fast, taste great, and please dinner guests beyond expectations.
I was shown this recipe 25 years ago when I was in chef school, and it remains my favorite. The marinade is simple, but perfect. If you serve these at a dinner party, plan for about five chops per person. They'll start with three, reach for another one, and then almost always politely check to see if there might be one more available. People eat more of these little chops than they think they will, because they are so delicious.
Frenching a rack of lamb — that is, removing the fat and membranes which extend to the end of the individual rib bones — gives the rack a clean look for an elegant meal. Elegance aside, you can hold the rib bone and eat the chop like fried chicken without any worry of offending anyone. In fact, it's nearly impossible not to. They are so tasty, you'll want to grab every last bite. You can buy them Trader Joe's, already Frenched.
The perfect lamb chop grilling album? Gillian Welch's Time (The Revelator).
INGREDIENTS
1 package of Frenched New Zealand Lamb Chops (about 10 chops)
10 pods of fresh garlic, chopped fine
5 sprigs of fresh rosemary, chopped roughly
6 tbsp Olive oil
3 tbsp fresh lemon juice
Tony's Creole seasoning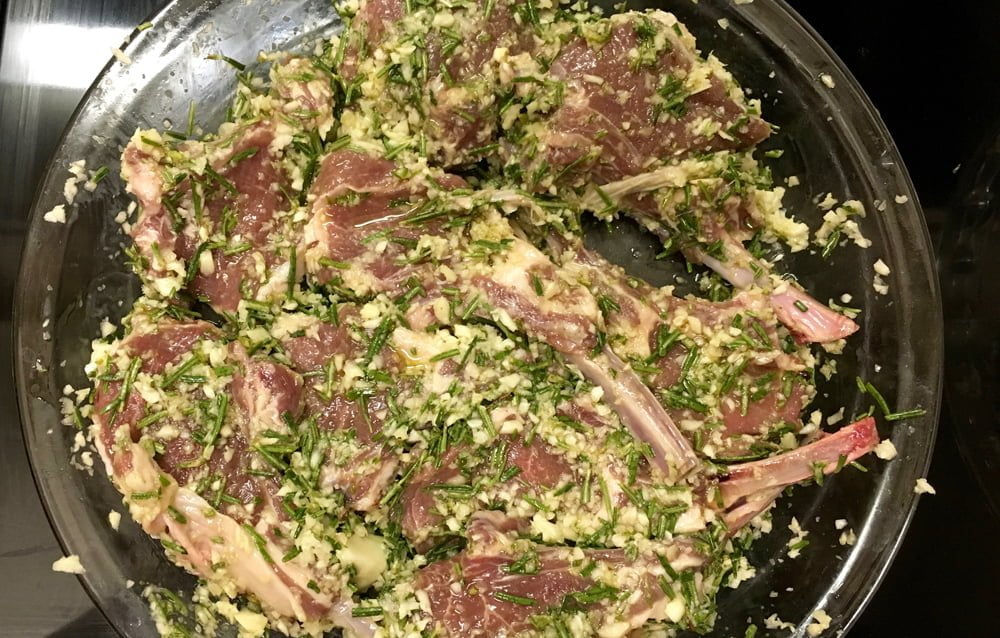 DIRECTIONS
Use a very sharp knife to slice the lamb into individual chops. Set to the side. Combine the chopped garlic, rosemary, lemon juice, and olive oil in a bowl, toss the chops in, and coat them. Then lay them in a single layer in a flat glass container and cover them with the marinade from the bowl. Refrigerate for at least 24 hours.
Remove from the refrigerator two hours before you plan to grill them, bringing them to room temperature. This helps the garlic and rosemary to sink into the meat.
Heat the grill up on high, and then wipe the grill down with a paper towel thickly coated in olive oil. This cleans it, and helps the chops not to stick. Turn it down and prepare to barbecue on medium-high heat.
Place the marinated chops on the grill. They cook very quickly — about 3-4 minutes per side for medium-rare.
Serve with warm garlic bread and a huge salad.
---
Lede photo credit: InterContinental Hong Kong via Foter.com / CC BY-ND.