If recent reports are to be believed, New Orleans has usurped Las Vegas's drunken, fluorescent-pink crown as the go-to spot for bachelorette parties. Gaggles of girls trouncing down the Tremé sporting satin bride-to-be sashes are not an uncommon sight, as brash replaces the sound of brass that defined the city that Troy Andrews, known to most as Trombone Shorty, grew up in. Like everywhere with a deep and steely soul, gentrification has landed, bee to flower, and Andrews, who became a bandleader before most children had their training wheels removed, is intent on keeping that spirit alive: but in a way that makes sense for the modern world, not despite it.
On Parking Lot Symphony, his newest LP, Andrews collaborates with everyone from members of Edward Sharpe and the Magnetic Zeros to Aloe Blacc, and has previously shared the stage with country, rock, and pop greats — including Dierks Bentley, Red Hot Chili Peppers, and Madonna, to name a few. There's a lot of arguing these days about how to best ensure that music keeps thriving in a bachelorette party-inundated, streaming- and synth-heavy world, and Andrews' school — one that fuses R&B, jazz, blues, and big band — is the type to actually keep the art of song cogent. It's full of tradition but never once traditional, rich in talent and technique, but never trying to fly out of reach.
The title track, written with Alex Ebert of Edward Sharpe and the album's producer, Chris Seefried, is this dichotomy in action: It's slick and funky but joyfully unpredictable, adorned with pulls of the trumpet that are as lyrical as the words itself. Parking Lot Symphony is partly inspired by a youth spent playing anywhere outside of four walls, marching down the Tremé in street parades, and partly by Andrews' sponge-like approach to current culture — more often than not, he's browsing the Spotify Global Top 50 over any individual record.
"We played everywhere from Jackson Square to parking lots, funerals, backyards, on street corners, on street cars, everywhere," says Andrews. "So Parking Lot Symphony really means music can go anywhere, be played anywhere, and take you anywhere." True to form, the record feels blissfully free of any sonic or physical walls.
It's been four years since your last record (2013's Say That to Say This) was released. Was there a song that kicked things off for this new collection and made you realize the direction you wanted to take things?
I don't know if it was one song; it was more a process of letting inspiration come to me while I was traveling and working on the road. Then some sparks of inspiration would come up to do some new music, and I'd be writing a hook. I went into the studio by myself for two weeks and played all the instruments before I introduced the band to the songs. I wanted to get a bunch of ideas out first, then have the musicians play the parts better than I could while we perfected the arrangements.
You have such an interesting roster of co-­writers on the record: Kevin Griffin from Better Than Ezra, and Ebert amongst them. On "Familiar," with Aloe Blacc, you even create a new palette you've called "trap funk." What do you do to stay connected to every corner of music, regardless of genre?
I think it is a natural progression. When I grew up, I was listening to brass bands and I was listening to New Orleans hip-hop, so that is a part of my culture. I started, then, playing my horn to hip-hop beats and rock beats. It's part of knowing where you come from, but trying to move the music forward.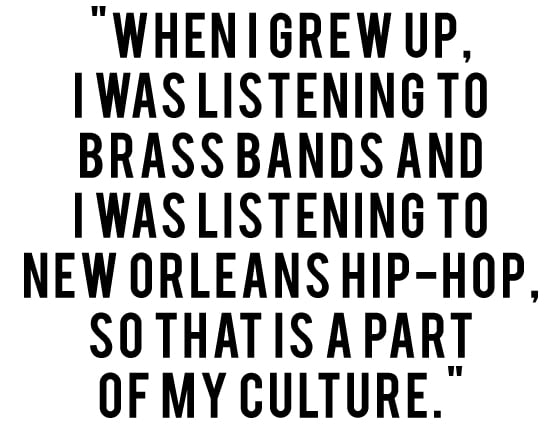 You chose two covers for this record, both from local legends: "Here Come the Girls" by Allen Toussaint, and the Meters' "Ain't No Use." What musical gaps were you hoping those would fill?
I didn't want to play standard songs and, when I heard "'Here Come the Girls," even though it was written before I was born, I almost feel like it was written for me to perform. I just thought that the horns in "Here Come the Girls" would fit really well with the sound I was creating at this moment. "Ain't No Use" is a song we have played live.­­ The Meters are New Orleans legends. Their sound to me is New Orleans, and you can hear in their music how they adapted and grew and expanded on the traditions they started in, which we try to do.
Is there a song on the record that you are most nervous to play live?
I don't really get nervous, but singing, in general, for me, can be a little challenging. It's easier and more natural for me to play than it is for me to hear my own voice. Singing feels more like jumping over a hurdle. And I feel like I really pushed myself vocally on this album and I'm looking forward to doing that in our shows, as well.
Speaking of nerves, you've played at the White House before. Would you do it now? Do you think musicians should be overtly political?
It's a personal choice to be political or not, and I don't want to tell anyone what to say. I did play four or five times for President Obama at the White House, and a few times were for Turnaround Arts to support arts education. Those were tremendous experiences because I also got to collaborate with kids, as well as some artists that I never thought I would get to play with. It was just great to be on stage there, be among some of the greatest musicians in the world, and be able to play in front of the President and the First Lady.
You've also played with country musicians like Dierks Bentley and Zac Brown. Do you enjoy modern country?
I love all music. Garth Brooks is probably right at the top of the list for me, as far as artists I respect and would love to work with. Seeing Zac Brown live when we toured with him, I learned a lot from that, how he plays with so much emotion. And playing with Dierks Bentley and with Little Big Town … you can just feel the power of their talent.
New Orleans is once again becoming one of the biggest tourist destinations — a hot destination for bachelorette parties with AirBnbs everywhere. Does that worry you? Do you ponder gentrification much?
It does, when I go to the old neighborhood and realize how many of the people who made it a special place aren't there. The Tremé is the neighborhood where I grew up, but since the storm, many of the original Tremé people I grew up with can't afford to stay there any more. So, in some ways, it is already a New Orleans that lives on in my music.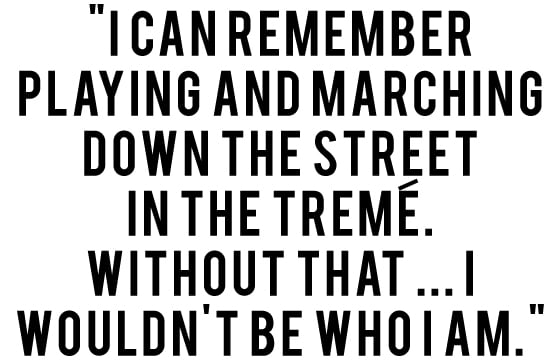 We're in a world of synthesizers and automation — as a musician, do you think about instruments themselves being at risk long-term, and kids growing up not wanting to play an instrument? What do you think can be done to ensure we keep kids picking up guitars and trombones, not just computers?
I can remember playing and marching down the street in the Tremé. Without that, and the people around me who taught me or provided access to instruments, I wouldn't be who I am. That's why I feel the responsibility to carry on the traditions that raised me. I don't want to wait until late in my career to give back. I want to do it while things are growing for me. I felt an unspoken responsibility to give back.
What do you hope people take away from this record emotionally?
My goal is to put out great New Orleans music, and I've taken everything that I've learned, everything I'm interested in, everything I've played onstage with different people from country and western, to rock 'n' roll, to funk, to hip-hop, and I'm just putting that in the context of my own tradition of what I grew up with in New Orleans. So I hope people take that you can be true to your roots and still make your own way forward.
---
Photo credit: Mathieu Bitton