Even after five decades in the bluegrass business, the McCoury family is having a banner year in 2019. In February, Del McCoury turned 80 years old and shared the Grand Ole Opry stage with some of his most famous admirers. That same month, the Travelin' McCourys – fronted by Del's sons Rob and Ronnie McCoury — picked up a Grammy award in Los Angeles for their self-titled, debut album. And looking ahead, the 12th annual DelFest music festival in Cumberland, Maryland is slated for May, with performances by both bands on the schedule.
In person and off stage, Del McCoury is as polite and warm as one would expect. Smiling broadly as he enters the Opry dressing room, he's wearing a Hawaiian shirt, his pompadour is on point (as always), and he seems unfazed by the fact that show time is less than 30 minutes away. To paraphrase another Opry star, he's just so proud to be here.
"I've been listening to the Grand Ole Opry since I was at least 10 years old," he says. "My brother and my dad would listen because it was before TV, you know? Especially out in the country where we lived. People had TVs, but I don't remember anybody who did out in the country. We grew up on a farm. Like I said, I've been listening to the Grand Ole Opry since then and I've always looked up to all the acts on here. Especially the bluegrass acts, like Bill Monroe and Flatt & Scruggs. It's a big show in my mind! Still is!"
Though the time set aside for the interview is somewhat brief, Del conjures up stories about everything from crusty club owners to playing Carnegie Hall. He cracks up at a memory of Bill Monroe flat-out telling festival promoter Carlton Haney that a bluegrass festival would never work. Thinking even further back to his childhood, he reminisces about being fascinated by Earl Scruggs' banjo on "Rollin' in My Sweet Baby's Arms" when he was around 11 years old.
"Something hit me here," Del says, touching his heart. "That banjo behind the lead singer was so good. And so I learned how to play that. I was already a guitar player but I heard this record and I thought, 'Wow, that's what I want to do!' So, when I could get a banjo, I started learning it. Just take the record, pick the needle up and put it over, and try to play what Earl was doing. It was not simple!"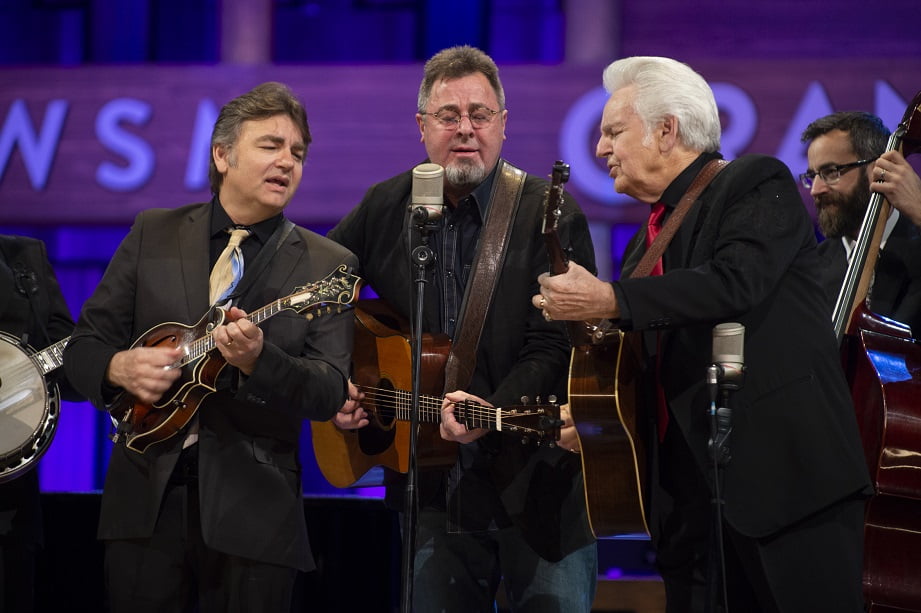 Ronnie McCoury, Vince Gill, Del McCoury
Asked about the decision to spin off a group from The Del McCoury Band, employing everybody except himself, Del says he conferred with manager Stan Strickland about how to make it work.
"I got to an age where I thought, you know, I'm [not] gonna be around here forever," he noted, just before breaking into his trademark laugh. "I felt good, and I still feel good, but you never know. When you get to 70, you don't know how many days you got left. I thought, these guys depend on me. My wife and I talked to Stan and I said, 'You know, if we get them something going on their own, and if something happens to me, then by that time they might be established.' So we got them a different booking agent than I had, and it seemed like right from the start they were starting to do good already! And I thought, 'Wait a minute now, I wonder if I should have done that…'"
He breaks into laughter again, before adding, "Especially when they start winning Grammys! And they don't take me with them!"
Loyal bluegrass fans know that for decades the Del McCoury Band has done its own share of travelin' – not to mention winning two Grammy awards of their own. Led by Del on lead vocals and guitar, the good-natured group includes Ronnie on mandolin, Rob on banjo, Jason Carter on fiddle and Alan Bartram on bass. Cody Kilby assumes Del's role as a guitarist in The Travelin' McCourys, while the vocals in that ensemble are handled in equal share by Ronnie, Rob, Jason, and Alan.
Three days after their Grammy win, the Travelin' McCourys regrouped with Del when the Opry curated a special show called the Grand Del Opry, in order to commemorate McCoury's milestone birthday as well as his 15th anniversary as an Opry member. Friends like Sam Bush, Bela Fleck and Abigail Washburn, Vince Gill, Old Crow Medicine Show, Jesse McReynolds, Ricky Skaggs, Marty Stuart, and of course Travelin' McCourys jammed with the man himself.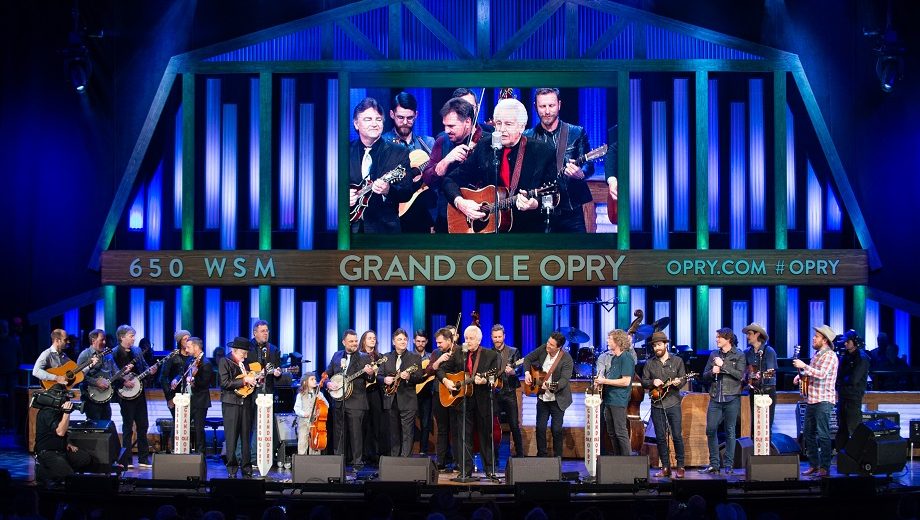 The finale of the Grand Del Opry
In an interview a few weeks after the show, Rob says, "One of the biggest things for me was the finale, and looking at all these people on stage to help Dad celebrate his birthday. And also looking out to see nearly a full house in honor of my father. It made me very proud to see all these folks that have such respect for my dad and the music, and they all took the time to come out to the Opry that night and put on a show in honor of my father."
Del McCoury made his first appearance on the Grand Ole Opry as Bill Monroe's guitarist in 1963 – and that performance was only McCoury's second gig with the esteemed Father of Bluegrass. The first was not long before that, when McCoury subbed for Monroe's banjo player at a New York show. Although McCoury still preferred playing banjo, Monroe offered him a spot as a guitarist and lead singer – a job he kept for a year. "He's the reason I'm doing that now," Del says with a chuckle. "I didn't think I would be, but once I started playing guitar and singing, I liked it."
Obviously he still does. McCoury has played a staggering number of festivals over the years, including a few of those seminal Carlton Haney bluegrass festivals of the 1960s. Still he needed some persuasion to launch his own music festival. He recalls, "My manager said to me, 'Did you ever think about having your own festival?' And I said, 'Yeah, I've always wanted to, but I don't want the headache! What a headache that's got to be!'"
But with persistence, the right location, and a diverse lineup, DelFest has become a major player on the folk festival circuit. This year's roster includes The String Cheese Incident, Trampled by Turtles, Tyler Childers, Railroad Earth, and more than a dozen bluegrass artists, including Billy Strings, Sam Bush, the Gibson Brothers, Sierra Hull, and the SteelDrivers.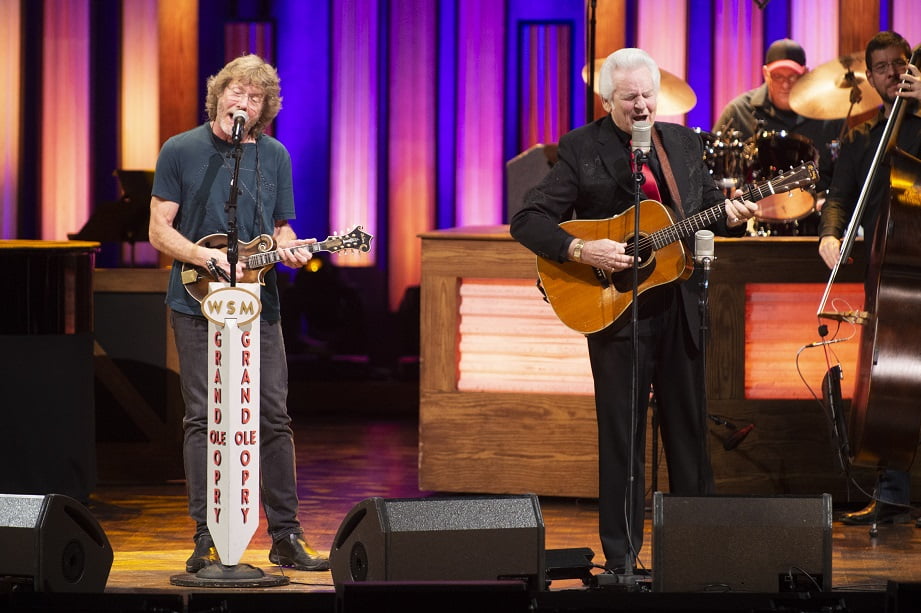 Sam Bush and Del McCoury
"Attendance is staying up there good, and it's fun," Del says. "It's not a bluegrass festival, it's just a music festival. We have a lot of bluegrass bands there, you know, but we have jam bands, and we have country acts, man, you name it. We had jazz bands, we had a mixture of music, and I like a variety of music my own self. I figured, if we have a variety of bands, some folks will come to see one band, then these folks will come to see another band, and that's how you get your fans."
Rob McCoury adds, "I thought having the festival was a great idea. We've played hundreds if not thousands of festivals through the years. So I think it was just the natural progression to have a festival of our own. I guess the most surprising thing is, the small details that add up to big things, that no one realizes is going on behind the scenes."
Asked about the reward of all that work, he answers, "The fans, no doubt about it. All those folks come to DelFest, and anytime dad walks on stage at his own festival he's a rock star. To me, it's just the coolest thing."
Rock star. Bluegrass Hall of Fame member. A nine-time IBMA Entertainer of the Year. Dad. These are just some of the ways you can describe Del McCoury. Winding down the interview backstage at the Opry, he pauses for a moment when he's asked how he'd like the Opry family to remember him.
Finally, he says, "You know, I guess I'd want 'em to remember me like a guy that never expected to be an Opry member. I knew I would play music, for years and years, but I thought, 'The Opry is something is really special and I don't know if they'd want me there.' I was fortunate that they did, and I'm just so grateful. I hope they just remember a country guy that really loves the Grand Ole Opry and loves music."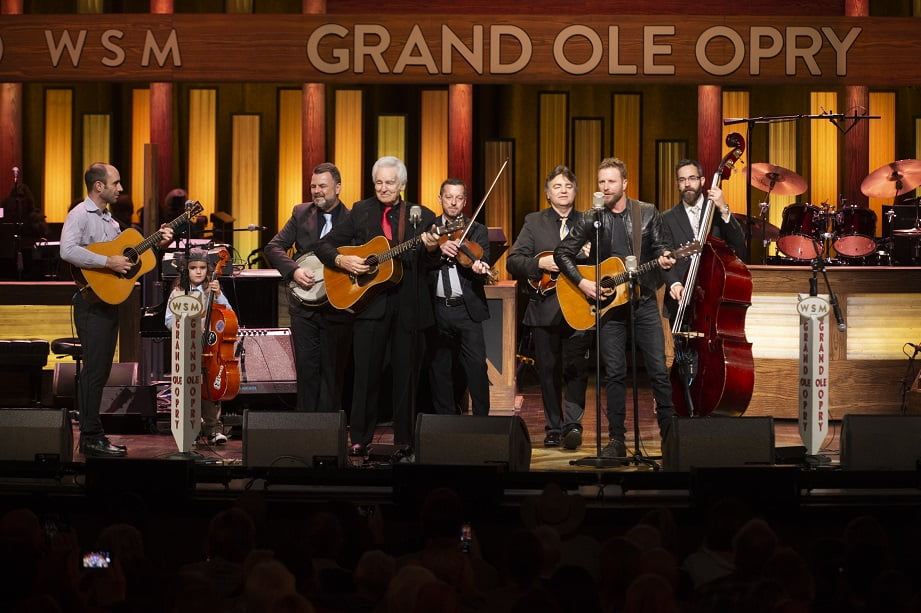 The Travelin' McCourys, Vassar McCoury, Del McCoury, and Dierks Bentley
---
Photo credit: Chris Hollo / The Grand Ole Opry