Artist: Crys Matthews
Hometown: Richlands, North Carolina (currently Washington, D.C.)
Song: "Call Them In"
Album: Changemakers
Release Date: March 26, 2021
In Their Words: "As a social-justice songwriter, my approach to songs has always been to lead with love and hope, even when it is hard to do, especially when it is hard to do. That message is at the heart of 'Call Them In.' It is so easy for those of us committed to justice to do the work of calling out injustice, but it is much harder to take that next step and try to invite people in. But that is the charge, that is the task before us. Not a lot of people did that better than John Lewis.
"As a fellow Black southerner, I grew up hearing about the freedom songs people would sing (like 'Eyes on the Prize') as they marched for justice, and I wanted this song to feel like something they would be proud of and maybe march to, which is why I wanted to build a choir into the song. Fellow social-justice songwriters Kyshona Armstrong and Heather Mae, who are singing on the track, definitely helped me achieve that. I hope that this song passes on a little of the love and hope that he and Dr. King passed on to me and so many others. May we never stop believing in good trouble, or in the vision of America that Congressman Lewis bled for on that bridge all those years ago.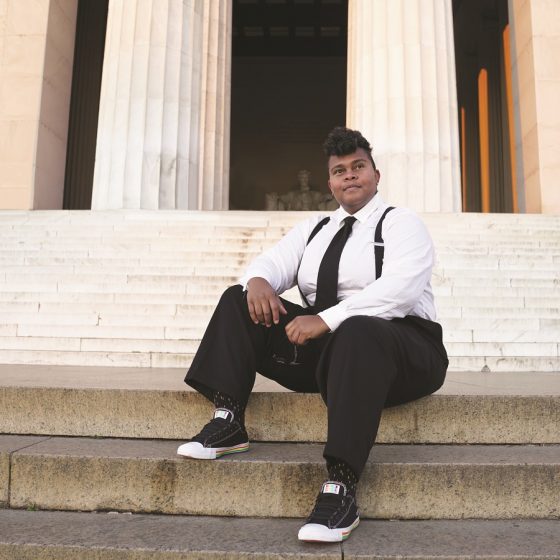 "In the summer of 2020, while the entire world was learning how to live through a global pandemic, America was in the middle of a reckoning nearly 400 years in the making. George Floyd's brutal killing at the hands of police in Minnesota sparked the kind of national outrage that had been sparked decades ago when John Lewis and so many others were brutalized on Bloody Sunday. And while George Floyd was not the first and, in some ways, not even the most horrific of these all too frequent instances of police brutality, he woke so many people up to the reality at the heart of the Black Lives Matter movement.
"In an interview he gave on The TODAY Show, Congressman Lewis said that he thought Dr. King would be very proud of how many Americans were standing up for justice, and speaking out for better. Lewis said, 'He's looking down and he's saying to each and every one of us, keep it up, and never give up, never give in, but to keep the faith and to keep your eyes on the prize.' At 80 years old, and after having suffered so much cruelty and brutality, this great man was still doing the work of calling out injustice while simultaneously calling in more allies, more willing change agents, more of what Dr. King called 'drum majors for justice.' So when he died on July 17, 2020, I knew that I wanted to honor him. It is my sincere hope that 'Call Them In' does just that." — Crys Matthews
---
Photo credit: Rah Foard