It's been said with age comes wisdom, but for Mary Chapin Carpenter, it's more likely to deliver questions. Where wisdom does arise for the now 58-year-old singer/songwriter is in living with them, rather than thinking answers offer any absolute understanding. "I think the questions are far more important than any answers," she says. "Our job is to pose the questions and provoke each other to think about these things." Carpenter has long exhibited an inquisitive nature, her music serving as the conduit for explorations both internal and external, but don't expect her new album, The Things We Are Made Of, to provide shining pearls of knowledge. Instead, she remains content residing in the unknown. "I don't know if I would describe anything as a lesson," she says about her new music, "because that conjures up the idea that there was some kind of reckoning, in a way."
Carpenter's conversation contains a measured quality as she seeks to connect the shapelessness of thought with the structure of language, so that nothing gets lost in translation. Words, after all, don't always naturally comprise the meaning that manifests internally. Based on the care and consideration she brings to her everyday speech, it's easy to draw parallels to her writing process. Carpenter has long been a striking lyricist, her ability to capture phrases earning her five Grammys and 15 total nominations, among many other industry accolades.
Discussing how she approached songwriting, Carpenter explains reaching a place where she, quite simply, tried to get out of her own way. "It was a very gradual sense of trying to be as un-self-conscious in writing as possible, and to feel as open to the world as possible. I think that inspiration is everywhere you look, and you have to be open to it, let it sort of filter in." As freeing as that openness sounds, it also involves uncertainty. To be open to an experience arguably means discarding any expectations or control attached to it.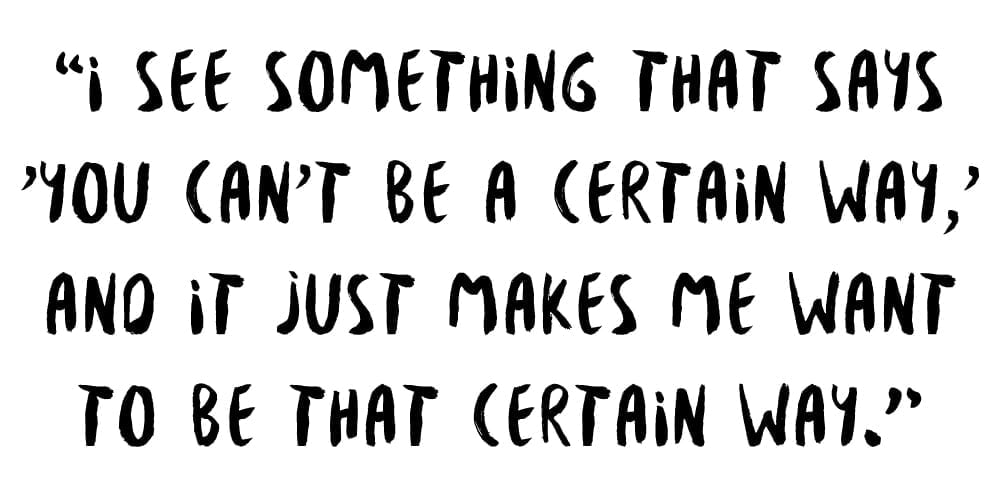 In the album's first song, "Something Tamed Something Wild," Carpenter explores relinquishing control and enjoying the journey, rather than the destination, as a result. It's a sentiment long-touted to an increasingly frenzied and fast-paced population, but under Carpenter's care, her lyrics do what they do best: evoke a remarkable level of honesty. "So the things that matter to me now are different from the past / I care less about arriving and just being in the path / Of some light carved out of nothing / The way it feels when the universe has smiled," she sings, breaking beyond the meter while the melody and rhythm hold tight. As a result, the platitude's original meaning takes on refreshing perspective grounded from her subjective experience.
Carpenter also plays with the chorus throughout the song, revealing the heart's complexities: Treasures become lessons become echoes become voices become love. She creates a space where juxtaposing forces exist within the same moment, which finds its culmination in the chorus's final line, "Something tamed, something wild." That phrase, perhaps, pushes against the cultural tendency to position people — but, really, women — in either/or spaces. To be both tamed and wild moves beyond a restrictive dichotomy to rest in the messiness that living entails and further emphasizes what she offers as a songwriter.
Carpenter admits, "I've never in my life felt limited by anything other than myself," but that doesn't mean her own experience blinds her to what takes place all around her. "I'm fully aware that, in our culture and in our society, there are myriad limits and boundaries and ridiculous glass ceilings and etiquettes from top to bottom," she says. "I know those things exist. Maybe I've gotten myself in trouble here and there by either ignoring them or mouthing off about them or whatever it is. I see something that says you can't be a certain way, and it just makes me want to be that certain way." Any conscious pushback on her part derived from her refusal to be silenced by what others might think. Of course, Carpenter shares, there have been negative letters and comments and opinions, but that hasn't made her rethink her approach to songwriting. "Life's too short to not say what you feel. Your voice is your voice; it's all we have. To even contemplate not using it … I can't even contemplate it," she says earnestly, her dusky timbre expressing an assuredness that only comes from someone comfortable in her own skin.
Aging — especially reaching an age where society tends to look away — manifests thematically on her new album. But, again, she refuses to take any experience at face value. Carpenter says about the current youth-obsessed culture, "When you get to this place in life, it emphasizes loss and the things that you no longer have, and I feel like that is not digging deep enough." The album's second song, "The Middle Ages," touches upon the surprise of finding yourself older, as well as the questions that follow. Carpenter turns what at first could come across as a melancholy reaction into a celebration. "And way back in the back of your mind, you heard something getting through / Like some beautiful passage without words welcoming you / To the middle ages," she sings, the song's lead guitar producing a lighter melodic layer to contrast her deeper vocals.
Carpenter exhibits a sense of pride discussing the years she's achieved, turning to one of her favorite philosophers, G. K. Chesterton. If ever she can't hit upon the meaning using her own words, she's more than comfortable leaning into someone else who has influenced her. Chesterton is one in a series of references that pepper her conversation. "He talked about how, when you're young and something bad happens, it often can feel like the end of the world," she explains, "but when you're older, he says, 'The soul survives its adventures.' It's that great inspiration that comes to people who are middle-aged. You don't care as much what people think. There's so much freedom in that; there's so much autonomy. You have a greater sense of purpose, you have a greater sense of control over your own life, you realize how important personal growth is, having these experiences that challenge you to think about yourself."
If it wasn't clear already, Carpenter is an avid reader, her mind stacked full of stories, poems, authors, and more — each of which has helped her face that challenge of self-discovery and each containing an important message clarifying the experience of being alive. My Name Is Lucy Barton by Elizabeth Straught is one such book. In it, a writing instructor character says, according to Carpenter, "Each one of us, we only have one story. And you're going to write that story a thousand different ways. Don't ever worry about your story; you only have one." She found it applicable to her craft. "When I read that, what it made me feel like is, 'Yes, I have one story and the songs are the ways I write it a thousand different ways,' she says. "That's what they represent."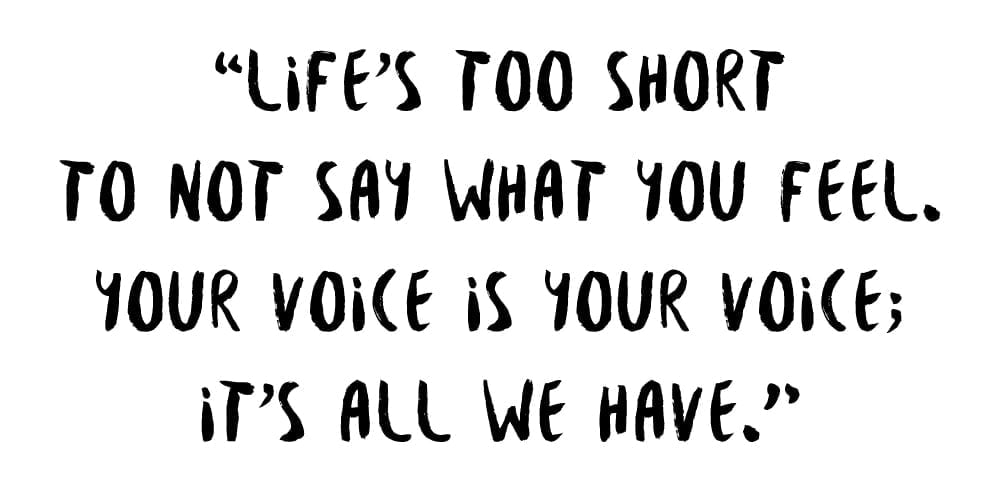 For Carpenter, the telling has naturally changed as she's gotten older, but she doesn't recognize age as a limit, nor should she. The prolific songwriter has put out 14 albums, infusing each with a degree of thought that not only makes her an important voice but a necessary one. It's a point she sees reflected in her fellow musicians. She says, "I love how vehement Lucinda Williams, an old friend and someone I admire so much, is. She was talking recently in an article and she makes no bones about saying, 'I'm doing the best work I've ever done.' For her to say that without apology is so wonderful, so refreshing. Shout it from the mountaintops!"
While she takes a more modest tone when discussing her own work, it's clear she's proud of The Things We Are Made Of, but also the new direction in which it pushed her. She partnered with producer Dave Cobb (Jason Isbell, Chris Stapleton, Lake Street Dive) for the first time. "As you can imagine it was terrifying to show up and you've never worked with someone before," she says. "You're putting yourself in their hands." Curiously, Cobb did not want to hear her songs ahead of time. In the end, his process allowed Carpenter's voice to shine through without weighing it down with unnecessary instrumentation or overproduction. "He wanted to be as responsive in an immediate way as possible," she explains. "I didn't know what to make of it."
She adds, "He really pushed me to do certain things, but he freed me up, as well. I trusted him. It was a wonderful, wonderful experience."
With yet another album to her name, Carpenter continues to serve as a kind of contemporary philosopher, mining questions for what they offer in and of themselves, rather than seeking answers from the very start. Hers is neither a naïve nor a quixotic outlook, but one willing to view all experiences — both good and bad — with a degree of curiosity that only benefits the recipients of what she's learned and is learning. Referencing yet another meaningful figure in her life, Sir George Martin, she says, "One of his favorite things that he used to say is that, 'Age is a thing you have to live with, if you're lucky.' If we're lucky enough to reach this point in time, we get to be the beneficiaries of this wisdom that can only come with reaching this point and time. I think that's a big thing."
---
Lede illustration by Cat Ferraz.