Melissa Etheridge is closing in on three decades since her first full-length of original material was released and, over the years, she's represented something distinct to many different kinds of fans. Most know her for her music, with well-loved hits like "I'm the Only One" and the Grammy Award-winning "Come to My Window." To other fans, her public battle with breast cancer and resilient spirit are an inspiration through illness and hardship. Beyond that, Etheridge's outspoken and unwavering dedication to human rights causes and the LGBTQ community has made her an icon and an articulate voice for the causes and issues that affect people every single day.
But before Etheridge was on the national stage, it wasn't always about her own words, songs, lyrics, and melodies. "I've always played other people's music," says Etheridge with a laugh, recalling a string of cover bands and her earliest gigs. "I learned by playing other people's music, from country to rock 'n' roll to R&B."
That affinity for the classics has been made apparent plenty of times throughout her career — check her jaw-dropping rendition of Janis Joplin's "Piece of My Heart" for evidence that Etheridge can slay a cover song — and when she was approached by Concord Records to take a crack at the Stax catalog on her latest studio release, Etheridge jumped at the opportunity. Her forthcoming full-length album, MEmphis Rock and Soul, is a 12-song compilation that covers Stax songs originally recorded by icons like Otis Redding, the Staple Singers, and Rufus Thomas, and it zeroes in on the music that inspired her own.

"Stax, as far as I am concerned, it's the soul, it's the birthplace of rock 'n' roll," she says. "I've seen film of Janis Joplin watching Otis Redding in concert, and then she moves and sings just like him at Woodstock. The artists that inspired me were inspired by Stax, so this is going back to my serious roots."
Where does one even begin when the Stax catalog is your playground? Etheridge was left with 200 tracks to choose from after she'd gone through and selected her favorites. Slowly, she picked them apart and narrowed it down to 100, then 50 songs, and finally she got down to the 20 numbers that she brought into the studio. "The main criteria was how I felt inside when I listened," she says.
"Some of them were inspiring. I mean, 'Try a Little Tenderness' is great, but it's been done a million times, and I didn't feel like I could give anything newer to it. I tried 'Knock on Wood,' and that one just didn't read, didn't flesh out. Then, there are even a couple that no one's heard of that I found. I just loved the beat, loved the whole thing, and thought, 'Okay, I'm just going to put my rock 'n' roll spin on it.'"
The Etheridge you hear on MEmphis Rock and Soul embodies the unrestrained passion that so many artists have found in these songs before her. Maybe it's the ghosts of Royal Studios coming back for one more encore — after all, the Memphis spot where Etheridge recorded the album was hallowed ground for the likes of Al Green and Chuck Berry, and it was started by Willie Mitchell, whose son Boo Mitchell produced the record with Etheridge.
"Without Boo, this project would not have happened," says Etheridge. "He was the first one there and the last one to leave every day, and the respect he has for the music, for his father, for his father's legacy, for Vaughan and Lowe … It's a real family down there."
Much is added to MEmphis Rock and Soul beyond Etheridge's recognizable vocals — astute listeners will catch the sounds of the Hodges Brothers and many other Memphis music legends in the background of the soulful tracks — but Etheridge found herself taking on greater roles than she'd bargained for, too. Take the enthusiastic "Hold On, I'm Coming" — the first single from the forthcoming album and one of her favorite numbers from the compilation. "For the longest time, I was looking for someone to sing it with me. I kept thinking, 'It's a duet. It's a duet. I'm going to ask this person, that person,'" she says. Things didn't pan out, but she brought the song into the studio on one of the final days of recording. "I thought, 'Well, I'm just going to put the pedal to the metal and just hit this thing as hard as I can. Make it as rock.'"
Jumping into the recognizable number by herself, Etheridge railed through the song with all of the noisy edge she'd hoped for, zeroing in on her own unique take on the song while preserving the energy that made it a hit in the first place. The vocal that made the final mix was the live one they recorded right then in the studio, and you can hear Etheridge beam as she relives the recording process. "It was just such a great experience, with these musicians there. They've seen so much. They've played on so much," she says. "They took me in. I have such great respect and love for all of them."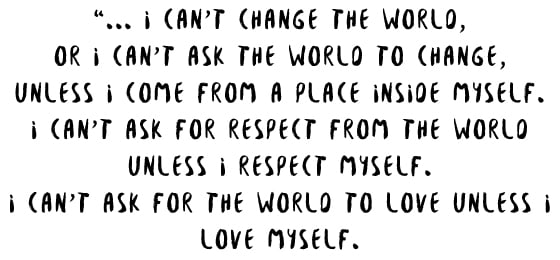 Respect comes up a lot in conversation with Etheridge, but her rendition of the Staple Singers' "Respect Yourself" might be the most soulful embodiment of the virtue.
"I decided to go into Respect Yourself and take the heart of the meaning, and the purpose behind the song," she says, citing Black Lives Matter and the nationwide push for change and equality as catalysts for her lyrical direction. She called fellow songwriter Priscilla Renee with the intention of maintaining the sense of urgency and the call to action that inspired so many in the '70s, but modifying the original lyrics for today's social and political climate. With the weight of her activism to guide her, Etheridge makes for a compelling voice behind so many numbers that served as a soundtrack for the nation's civil rights movement.
"I'm 55 years old, and I've seen some things," she says. "I do understand one thing, and that is that I can't change the world, or I can't ask the world to change, unless I come from a place inside myself. I can't ask for respect from the world unless I respect myself. I can't ask for the world to love unless I love myself. When I do — when I love myself, when I have a deep respect for myself as a human being and as a member of society, when I respect who I am truthfully — every inch of me — then I can truly look at my neighbor with respect, and they will see what respect is. They will see it in me."
On MEmphis Rock and Soul, Etheridge owns this mantra with a reverence for the musicians who came before her that reveals itself in her respect for her own tastes, interpretations, and talents. It's easy to belabor the places we'd like to see a bit more respect — on the Internet, in the schoolyard, on the political stage — but it's got to start somewhere. Why not with a little rock 'n' soul?
Enjoy thoughtful female singer/songwriters? Read our Artist of the Month feature on Mary Chapin Carpenter.
---
Lede illustration by Cat Ferraz.