AmericanaFest is HERE! The annual festival, business conference and roots-music extravaganza will once again take over Nashville beginning today, September 19, through Saturday, September 23. While of course we're most looking forward to our event presented with Queerfest, the Good Ol' Queer Country Jamboree, on Saturday from 3 p.m. to 6 p.m., the entire week is filled to the brim with must-see, must-hear, must-do events, panels, showcases, parties and hangs.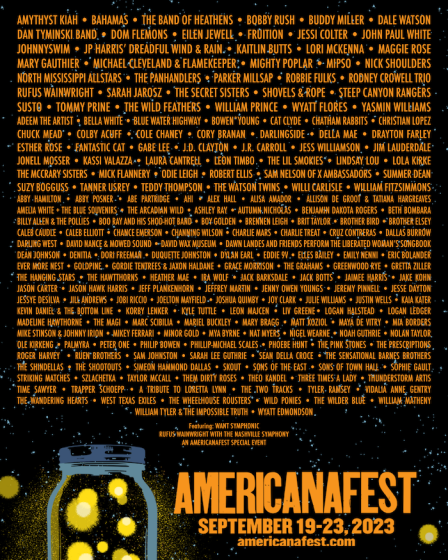 As we do most years, below we lay out a variety of items starred by BGS staff on our AmericanaFest apps – which, BTW, is a festival and conference essential. You can add performances, panels, and keynotes to your own personalized scheduled complete with lineups, panel rosters, details and more. Plus, you'll be able to easily see which events require special tickets or advance RSVP directly in the app and which are accessible with your conference badge or festival wristband. Download the official app on the app store here. Download via Google Play here. See the full AmericanaFest daily schedule in your browser here.
We want to hear from you, too! Which AmericanaFest events and shows are you most excited for? Which of the more than 200 showcasing bands and artists are at the top of your lists?
Panels, Parties, & Events
Check-in and pass pick-up begin today, Tuesday, September 19, at 12 noon at the Westin Nashville in the Gulch, but most panels and conference programming gets rolling tomorrow, on Wednesday. If you thought ahead, you already RSVP-ed to the Country Music Hall of Fame & Museum's conversation and performance by two of our faves, Rosanne Cash and John Leventhal, this afternoon at 3 p.m. They'll chat about their careers plus the 30th Anniversary re-issue of The Wheel – hear a track from that project on BGS here.
There are quite a few more conversations, panels and events we're eyeing this week around Nashville:
Roots & Branches – Kentucky Music – WED. SEPT. 20 10:00 AM @ The Westin Vanderbilt III
Kentucky poet laureate Silas House – who recently wrote the story behind Tyler Childers' sensational new music video – will chat with fellow Kentuckians and musicians S.G. Goodman, Kelsey Waldon and Nat Myers about "the history, legacy and current state of Kentucky's music and the way it has helped to shape American music…" The bluegrass state means more to American roots music than just bluegrass and these folks know it. An enlightening conversation is sure to be had.
Where the Action Is: Americana Artists and Activism – WED. SEPT. 20 11:00 AM @ the Country Music Hall of Fame & Museum Ford Theater *RSVP REQUIRED*
Moderated by veteran BGS contributor Jewly Hight and hosted by the Country Music Hall of Fame, this conversation will feature performances by Adeem the Artist, Mya Byrne, Autumn Nicholas and Allison Russell, all artists who leverage their music making in Americana spaces to advance activist causes, social justice and representation and inclusion. The event promises to connect the present and each of these artists to this vibrant tradition in roots music and folk.
Hillbillies and Hot Dogs – WED. SEPT. 20 11:30 AM to 2:00 PM @ Compass Records *RSVP REQUIRED*
Our friends at Compass Records and No Depression host one of the best hoedowns every year at AmericanaFest, replete with hot dogs and the recording studio that birthed the Outlaw movement. Hear music by Robbie Fulks, Kelly Hunt, Mattie Schell and the business queen of banjo herself, Alison Brown.
NMAAM Songwriters Rounds – WED., THURS., FRI. SEPT 20, 21, 22 12:00 PM to 1:00 PM @ National Museum of African American Music
A music conference and festival in Nashville is the perfect time to visit the National Museum of African American Music, which opened during the pandemic and has slowly but surely built momentum and an audience for the history, culture, and tastemaking of African American music. And situated right in the heart of Nashville's lower Broadway neighborhood, it's the perfect venue to make such points. NMAAM's daily writers rounds will feature artists and songwriters like AHI, guitar phenoms Joy Clark and Yasmin Williams, BGS One to Watch Julie Williams and more.
An Intimate Conversation with Nickel Creek & Sarah Silverman – WED. SEPT 20 1:00 PM @ RCA Studio A *RSVP Required*
You read that right! Nickel Creek and Sarah Silverman in conversation at RCA Studio A moderated by Jewly Hight!? Pinch us! Clearly one event not to miss this week. RSVP is required, hope yours has been submitted long ago!
Indigenous Americana – WED. SEPT 20 4:oo PM @ the Westin SoBro I & II
You are still on stolen land. While you occupy the historic lands of the Cherokee, Shawnee and Yuchi this week, set aside time to appreciate, ingest and center Indigenous music makers, their songs and their stories. This panel conversation on the future of the thriving Indigenous music community will feature Amanda Rheaume, Crystal Shawanda, Nicole Auger of the Indigenous Music Summit and Trenton Wheeler. More events for/about Indigenous music below.
Kentucky Bluegrass, Past and Future – THURS. SEPT. 21 2:30 PM @ the Westin Gulch I & II
From our friends at the Bluegrass Music Hall of Fame & Museum in Owensboro, a conversation about the arc of bluegrass in the bluegrass state featuring BGS contributor Craig Havighurst, Bluegrass Hall director Chris Joslin, fiddler Jason Carter, the legendary Sam Bush, educator and picker Scott Napier, and Jessica Blankenship of the Kentucky Music Hall of Fame.
Who Are the Gatekeepers of Americana Anyway? – THURS. SEPT. 21 4:00 PM @ the Westin Gulch I & II
If your immediate reaction to this panel title is skepticism, this is definitely for you! The roster of Omar Ruiz-Lopez (of Violet Bell), Rissi Palmer and Yasmin Williams immediately indicate this conversation will critically unpack and explore the construction of Americana as a format, just how multi-cultural the music really is, and why that strength is worth spotlighting while we dismantle systems of gatekeeping and exclusion.
Transgender Artists Arriving and Breaking Through in Americana – FRI. SEPT. 22 1:00 PM @ the Westin Gulch I & II
Just a few short years ago there were almost no LGBTQ+ spaces at AmericanaFest, so we're ecstatic to see a trans-specific space like this opened up at the conference. Hear from Ally Free, Cidny Bullens, Mya Byrne, Paisley Fields and moderator Marcus K. Dowling on historic and current challenges and opportunities for trans, non-binary and gender non-conforming Americana musicians.
From 'Queer Jolene' to 'Pay Gap': Teaching Social Issues Through Americana in the Classroom – FRI. SEPT. 22 3:30 PM the Westin Gulch III
Using two songs as a springboard, scholar-musician Nadine Hubbs and showcasing artist Beth Bombara will be joined by Aimee Zoeller, Ethan Anderson, and renowned writer/thinker Tressie McMillan Cottom to discuss the use of Americana music and texts to teach and highlight current issues of race, class, gender, sexuality and identity in university and college classrooms and academic spaces.
Americana Honors & Awards

The marquee event of the week, the 22nd Annual Americana Honors & Awards will take place on Wednesday evening beginning at 6:30 p.m. See the full list of honorees and nominees here. The awards show promises appearances and performances by so many Americana friends and neighbors: Adeem the Artist, Allison Russell, Brandy Clark, Jessi Colter, Marty Stuart, Nickel Creek, William Prince, Sunny War and many, many more. Recipients of this year's Lifetime, Trailblazer and Legacy Awards include The Avett Brothers, George Fontaine Sr., Bettye LaVette, Patty Griffin and Nickel Creek.
Not able to be in the sacred pews of the Ryman Auditorium for the show? You can watch online via Circle All Access's YouTube Channel or the Americana Music Association's Facebook page.
Good Ol' Queer Country Jamboree at Soho House Nashville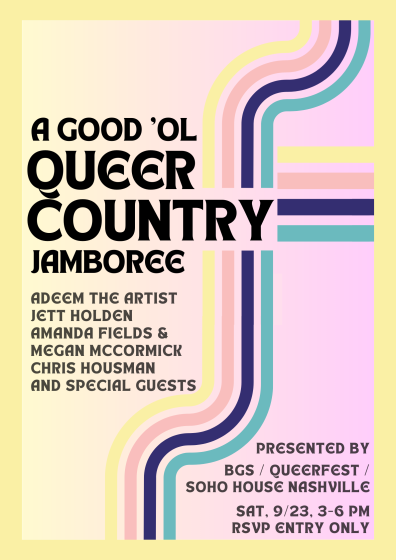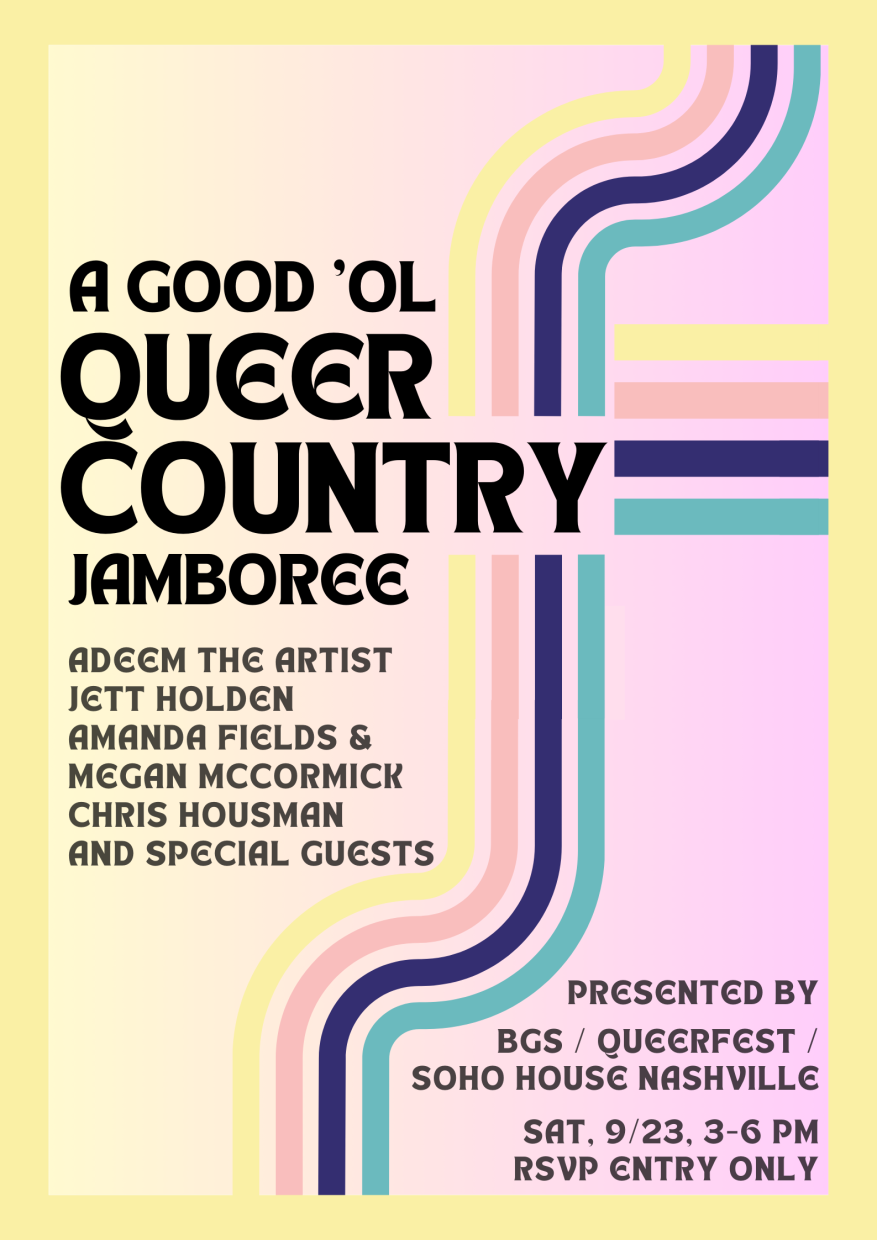 A rare opportunity to utilize the gorgeous facilities of Soho House Nashville at this members-only and conference passholders-only event! Plus, enjoy the absolute best in queer country being made today as we celebrate the announcement of BGS's new outlet, Good Country, coming in 2024! Space is limited, so make sure your RSVP is in for the Good Ol' Queer Country Jamboree featuring music by Adeem the Artist, Jett Holden, Amanda Fields & Megan McCormick, Chris Housman and special guests.
You can get more information and RSVP here.
The Good Ol' Queer Country Jamboree
Featuring Adeem the Artist, Amanda Fields & Megan McCormick, Jett Holden, Chris Housman, and more.
Saturday, September 23, 3 p.m. – 6 p.m.
Soho House Nashville
Showcases, Artists & Bands
Here are just a handful of the showcases, lineups, artists and bands we've got our eye on this week:
Americana Proud: A Voice for All – TUE. SEPT. 19 8:00 PM & 9:30 PM @ the City Winery
Hosted by singer-songwriter Autumn Nicholas and Nashville-based drag queen Vidalia Anne Gentry, Americana Proud will bring two showtimes of their highly-anticipated showcase to the City Winery on Tuesday evening, the first at 8 p.m. and another immediately following at 9:30 p.m. Hear from artists and musicians such as ISMAY, Jobi Riccio, Kentucky Gentlemen, Palmyra and many more.
Bourbon & Bluegrass – FRI. SEPT. 22 4:oo PM to 6:30 PM @ the Vinyl Lounge
Join us and our friends from Visit Owensboro and LogStill Distillery for one of our most favorite pairings, bourbon and bluegrass presented by BGS! Fresh off of our rollicking time in Kentucky at Bourbon & Beyond, we've still got a hankering for whiskey and tunes – this time from Mama Said String Band and the Owensboro Bluegrass Band. Join us Friday afternoon at the Vinyl Lounge in Wedgewood Houston!
Willi Carlisle
We can't get enough of this lonesome troubadour's poetic, old-timey country. He's in and out of Nashville quick this week, so catch Willi Carlisle's official showcase at the Vinyl Lounge on Thursday, Sept. 21 at 8:00 p.m. (Read our most recent feature on Carlisle here.) Now THAT'S good country!
Michael Cleveland & Flamekeeper
Fiddler Michael Cleveland burnt down our BGS Stage at Bourbon & Beyond last weekend when he brought on his friend and ours, Billy Strings, as a surprise guest. Later that evening during Strings' main stage set, he brought Michael out in front of 40,000 roaring fans. We LOVED that moment – don't miss his official showcase with his band, Flamekeeper, at Analog at the Hutton Hotel on Thursday, Sept. 21 at 9 p.m.
Jessi Colter
This legend of country has a new, Margo Price-produced album, Edge of Forever, out on October 27, so it's the perfect week to check her off your live performance bucket list. Colter will have an official showcase at 3rd & Lindsley on Wednesday, Sept. 20 at 10 p.m., plus she appears as part of Mojo's Music City Mayhem on Thursday, Sept. 21 between 3 and 6 p.m. Also some good country.
Della Mae
We've been keeping up with Della Mae lately – from Earl Scruggs Music Festival to Bourbon & Beyond to AmericanaFest! – and we've loved every second. If you haven't heard their new four-person lineup, it's worth checking out this week. If you're not in Nashville at the conference, stream their newly released Neil Young cover instead. (Below!)
Liv Greene
AmericanaFest is all about discovery and if you haven't discovered this singer-songwriter yet, this week is your chance. Hear Greene's award winning songwriting – which is equally winsome and pining while gritty and bluegrassy – on three different occasions throughout the week: Tuesday, Sept. 19, 8 p.m. at Americana Proud at City Winery; their official showcase on Thursday, Sept. 21 at 10 p.m. at the City Winery Lounge; and during the Tribute to the Songs of 1973 Part 3 on Friday, Sept. 22 at 10 p.m.
Jaimee Harris
You know what Jaimee Harris's music is? Good country! It's all over this AmericanaFest lineup, for sure. Harris will have your heart firmly in hand with her grounded, earnest and effacing nostalgia. It feels so country and effortlessly Americana, but with endless queer, subversive wrinkles. Get acquainted with Harris and her latest album, Boomerang Town, at several different performances during the week: Tuesday, Sept. 19, 8 p.m. at Americana Proud at City Winery; Thursday, Sept. 21, 4:30 p.m. at the Lone Star Shindig at the Bobby Hotel; Friday, Sept. 22, 1:20 p.m. at Bowery Vault for SHC East Coast Social Club; her official showcase on Friday, Sept. 22, 8 p.m. at the City Winery Lounge; Friday Sept. 22, 11 p.m. at the Basement East for A Tribute to the Songs of 1973; and Saturday, Sept. 23 at Dee's Country Cocktail Lounge at 1 p.m.
Lola Kirke
All of Lola Kirke's exes live in LA, so luckily she's in Nashville this week! Kirke was a highlight of our BGS Stage last week at Bourbon & Beyond in Louisville before heading to AmericanaFest, where you can see her at SiriusXM Outlaw's Americana Most Wanted guitar pull on Thursday, Sept. 21 at 12 p.m.; also see her official showcase at the Blue Room on Thursday, Sept. 21 at 10 p.m.; and at Imogene + Willie's Round Up – a free, unofficial, buzzworthy event certainly worth a drop-by at least – on Friday, Sept. 22 at 7:15 p.m.
Native Guitars Tour – Voices of Native Americana – THURS. SEPT. 21 12:00 PM to 4:00 PM @ The Blue Room
Native leaders in music, art and fashion will bring authentic songs and stories to the Blue Room at Third Man Records on Thursday afternoon. Hear from Dach Martin, Jir Anderson, Levi Platero Band, Mike Bruno & the Myriad Mountains, Mozart Gabriel, Olivia Komahcheet, Rico Del Oro, Sage Bond and Scotti Clifford. From Native blues to crooning country and everything in between.
Emily Nenni
Get your boot scootin' in while you're in Nashville with honky-tonker Emily Nenni, whose country & western picked up a few tricks and twists in California's Bay Area before landing in Music City. Nenni will jam a handful of Nashville shows into a packed tour week that takes her away from and back to AmericanaFest in the blink of an eye. Hear her at Honky Tonk Tuesday at the American Legion in East Nashville on Tuesday, Sept. 19; plus an appearance at Musician's Corner at Centennial Park on Friday, Sept. 22 at 4:35 p.m.; and her official showcase at Eastside Bowl on Saturday, Sept. 23 at 10:30 p.m.
Autumn Nicholas
Nicholas has already appeared on this preview in a few places, and rightly so, as the North Carolinian Black Opry alumnus continues to build momentum behind their stratospheric voice and introspective, emotive songs. Hear the voice Nashville has been buzzing about for months – and that will open for Jason Isbell at the Ryman this fall – throughout the week: Tuesday, Sept. 19 at Americana Proud at City Winery, 8 p.m. and 9:30 p.m. shows; "Where the Action Is" panel at the Country Music Hall of Fame on Wednesday, Sept. 20 at 11 a.m.; and their official showcase at the Basement on Friday, Sept. 22 at 8 p.m.
Queer Cowpoke Roundup – SAT. SEPT. 23 2:00 PM to 5:00 PM @ the Groove
On your way to/from the Good Ol' Queer Country Jamboree at Soho House on Saturday, stop by the Groove record shop in East Nashville for another LGBTQ+ centered event, the Queer Cowpoke Roundup! With music by Austin Lucas, Julian Talamantez Brolaski, Julie Nolen, Melody Walker, Mercy Bell, Secret Emchy Society, Shawna Virago and Wiley Gaby plus a special tribute to the legacy of Lavender Country and Patrick Haggerty to kick it all off.
Jobi Riccio
We are sweet on Jobi Riccio's new album, Whiplash, a showcase of powerful, talented songwriting done up in checkered gingham and starchy denim and the perfume of broken in leather. We've had our eye on Riccio for a few years now, so it feels gratifying to watch the music industry discover and get behind the Berklee graduate. Hear Riccio perform during the Americana Honors & Awards on Wednesday night, but also elsewhere during AmericanaFest: Tuesday, Sept. 19 at Americana Proud at City Winery at 9:30 p.m.; Thursday, Sept. 21 at WMOT Day Stage at Eastside Bowl at 4 p.m.; and her official showcase will be at Exit/In on Thursday, Sept. 21 at 8 p.m. (Plus, Riccio's social media tease a "to be announced" appearance on Friday, September 22, so keep your eyes peeled.)
The Shindellas
Americana is all about making music outside the lines, about exploring the rootsy fringes of these genres we all hold dear. The Shindellas are one of the most exciting groups to come out of Nashville in recent memory, but because of their glitz, polish and crisp production values they're rarely categorized as Americana – which they certainly can lay claim to, through blues, R&B, soul and so much more. Their new Louis York-produced album, Shindo, drops in October, so make sure you catch them this week on Saturday. You'll be glad you did! See the Shindellas at the 11th Annual Thirty Tigers Gospel Brunch at the City Winery, Saturday, Sept. 23 11:00 a.m. to 1:00 p.m.; and their official showcase at the Basement East on Saturday, Sept. 23 at 7 p.m..
Dan Tyminski
The man, the legend, he needs no introduction to the BGS reader (except, perhaps, when introduced as his mononym, Tyminski). Hear Dan fresh off his Bourbon & Beyond appearance on the BGS Stage with his new bluegrass band lineup, who are certainly worth a listen, at their official showcase on Thursday, Sept. 21 at 10 p.m. at the Analog at the Hutton Hotel. This new lineup of pickers backing up the famed voice of George Clooney on O Brother, Where Art Thou? are one of the most exciting things to come from Tyminski, musically, in the last handful of decades.
Yasmin Williams
If you've never seen Yasmin Williams play guitar, prepare to have your mind blown. Her approach to the instrument doesn't just wow her audiences, it wows her fellow guitarists as well, from Bryan Sutton to Tommy Emmanuel. We've been fans of Williams for more than a few years, since before her Shout & Shine appearance even, and we're glad to catch her again this week at AmericanaFest: "Wide Open Spaces – The Rise of Ambient Americana" Panel, Thursday, Sept. 21, 1 p.m. at the Westin Gulch I & II; "Who are the Gatekeepers of Americana Anyway" Panel, Thursday, Sept. 21, at 4 p.m., the Westin Gulch I & II; NMAAM Songwriters Round Friday, Sept. 22 at 12 p.m.; and her official showcase Thursday, Sept. 21 at the Blue Room at 9 p.m.
---
Poster graphic and photo of Keb' Mo' courtesy of the Americana Music Association.
Lead images: Yasmin Williams by Kim Atkins Photography; Amanda Fields & Megan McCormick by Lindsey Patkos; Adeem the Artist by Shawn Poynter; Michael Cleveland by Amy Richmond.