Paul Kowert came on board as bassist for the Punch Brother about 10 years ago, stepping into a band of musicians he knew casually but admired greatly. In the following decade, he's gained even more visibility in the world of acoustic music through his band Hawktail and a gig as bassist for David Rawlings Machine. His versatility is reflected in the list of bassists he cites as influences: Edgar Meyer, Mark Schatz, and Roy Milton "Junior" Huskey. He's quick to admit that he's not a lyricist, yet his musical contributions definitely shape the undercurrent of Punch Brothers' newest album, All Ashore.
This interview is the second of five installments as the Bluegrass Situation salutes the Artist of the Month: Punch Brothers.
I really like the bass line of "Just Look at This Mess." What do you think that song is about? Tell me what you were hoping to capture in that song.
Well, I might as well cut to the chase here and say that I don't really engage a whole lot with the lyrics, personally. I listen to them and everything, but in terms of my interaction with the music, I get most of what I need from just getting inside my bandmates' musical expression. I attach to a feeling that comes with the way that they're playing and they're singing. That's pretty much the extent of it. The songs have a trajectory that can be strictly musical. That's how I interact with the songs.
That's interesting, so you're listening for the feeling. To me, that song seems ominous and disturbing. What kind of feelings did you hear in that song?
That song is divided into three segments that are really contrasting, but at the beginning, I think it's simple enough to say that I can feel how Thile wants the song to feel, just by the way he's playing the mandolin and the way he's manipulating his voice. And you know, the sound of the words is as important as the feeling. And it's all really the same thing. Like the sibilance and how long he holds on to an "s," and where he places a hard consonant in the beat. That's as expressive as anything to me. I latch onto those kinds of things.
If I had to put it into words – which I never have – I wanted it to sit there, like a … well, like a mess on the floor, you know? I mean, that's not necessarily the meaning, per se, of the storyline necessarily. But he's saying, "Just look at this mess." And where he's placing the mandolin, and the way that melody sounds, and the way he's singing it…. For me as a bass player, I wanted the bass and the mandolin to kind of combine, to make something that didn't really have any forward drive. It sits there. So, that's my response.
I saw you at the Ryman, and I couldn't help but notice how often you were brought up to the front, in comparison to some bands I see where the bass is always hovering in the back. And I wondered just how much time and thought goes into the staging — you know, where everybody's going to stand during the songs?
It's all musically driven. It has to do with how you monitor on stage, which means how you hear your band members and yourself. And the sound coming out of the speakers. That's what I mean by monitoring. So, putting me in the middle makes the bass sonically accessible to everyone on stage somewhat. But also, it puts me in a position where I can get into the vocal mic. 'Cause I sing harmony sometimes. And it puts me in a place where I can lock with my two most consistent rhythm counterparts, which are the mandolin and the guitar.
I can always hear Gabe on the fiddle, because he kinda occupies his own sonic space. And the banjo, I just put into my in-ear monitor so I can hear Noam. And sometimes I walk over there to hear him. Like I said, it's all musically driven. It's so we can hear each other and play together. And just play the best music that we can play.
You mentioned singing harmony. A lot of people talk about the musicianship, which is excellent, but do you think that vocal blend is also important to the Punch Brothers' sound and vibe?
It's something that we focus a lot on because we're better players than we are singers. During soundcheck, we spend a lot of our time focusing on getting the vocals sounding better, because we need to. That's just where we need to spend our time. It demands the most of our attention. But that's because the playing is easier for us. In terms of whether it's an important part of the sound, yeah, anything with vocals, the vocals suck up a lot of your attention, right?
But also, the way our music is written, the performance of the vocals, the precision, and blend of the vocals is an important factor. …. When you hear multiple voices come together singing, it's a powerful thing. It's just the way that across the board. It's not just the Punch Brothers, it's everybody who does that. Voices coming together in harmony – that's a powerful thing.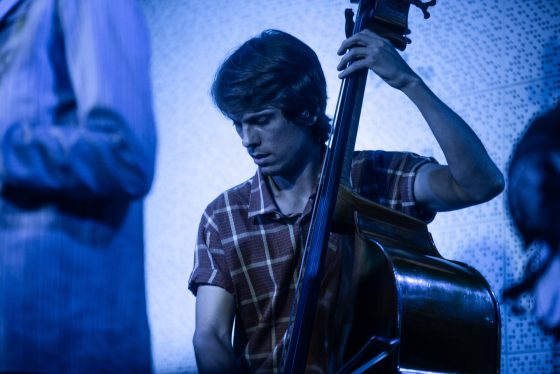 How did you become interested in playing bass? What drew you to that instrument?
I was in violin, then when I was nine, I wanted to start playing another instrument to participate in the strings program [at] my elementary school. My friends were all starting an instrument for the first time, so I wanted to do that, too. So, I started playing the bass as well as the violin. I was just having more fun playing the bass, so I just stuck with the bass and I put the fiddle down for a while. In recent years, I picked it back up, and I play fiddle music on it now.
Plus, you know, as a young person it was fun for me to play the bass, because I could play in a rock 'n' roll band. I could play Paul Simon music or The Beatles on electric bass. And upright bass in a jazz combo, with a trumpet, drum set, and a guitar player or a keyboard player. And that was a social thing, that was fun, and it was musically expressive. I enjoyed playing bass for the collaborative reasons as much as anything.
I know you've got Hawktail still, and you're touring David Rawlings Machine. I can imagine it's a challenge to balance three different things. Is that hard for you or does it come pretty naturally?
Oh no, it's hard. But it would be harder for me not to do it. To put it simply, Hawktail affords me a chance to pursue sounds that I really hear. I do more writing for that group myself. It's instrumental music and I'm primarily an instrumentalist. It gives a chance to really let my instrument be the voice. Simply put, that's the differentiation.
And playing with Dave and Gillian, these are just people I admire. I really love their music. And it's a different angle, sort of, on a similar instrumentation. It's a somewhat similar well of influences in the grand scheme of thing, maybe. You know, they wanted a bass and I'm not going to turn that down!
---
Illustration: Zachary Johnson
Photo: Courtesy of Red Light Management