Trampled by Turtles are living up to the title of their newest album, Life Is Good on the Open Road. The Minnesota-based band parked the bus for nearly 18 months after touring behind their prior album, 2014's Wild Animals. Leading up to the new project the six-piece group gathered at a lakeside cabin and rekindled their connection forged over more than a decade of performing together. Those positive vibes carried over to the new album, which emphasizes their exceptional acoustic chops. On the afternoon of their Ryman Auditorium show in Nashville, frontman Dave Simonett and mandolin player Erik Berry visited backstage with the Bluegrass Situation.
I know you cut this new album live-to-tape, but I was still surprised to see it took just six days to record it.
Simonett: We were surprised too. We had two weeks booked in a studio, which I think for a lot of people might be fast as well. For us that's plenty of time, usually. But we ended up mixing the whole thing while we were there too.
Berry: Yeah, there was a dinnertime meeting where it was like, "Gentleman, I think we're done. We got one more song to record tomorrow." "Really?"
Other than just the general efficiency, what's the upside to that?
Simonett: I enjoy lots of parts about live recording. I like to do it quite a bit. When I produce other people, I try to get bands to do it as well. It's always spoken about in a vague way because I think it's really hard to describe. But you do capture some kind of energy, a vibe. People play differently, if you want to get practical about it, when they're all playing with each other, rather than playing to something that's already been recorded.
The rhythm is one. You're not following anything, you're all just kind of moving in the same direction at the same time and it's elastic. Nowadays it might be considered risky because it's so easy to make things perfect now. But I've never felt like that really benefits that many people anyway. But especially us who have been playing together for a while. When we all sit and play and look at each other and play with each other, it sounds different than if we don't, I guess.
Berry: To add to it, we hadn't played together for about a year, outside of the weekend retreat we did. To build on what Dave's saying, when people are playing together live, there's also something different when something's happening for the first, second, third, or fourth time, than when you're playing that tune for the 50th time. Stuff grows on it; they move together differently.
Simonett: Yeah, I've always loved trying to capture a song before people start to really think about what they're doing. Before people come up with parts to play. Before it gets dissected too much. It's cool to see what happens naturally. I'm burnt out after a fifth take. That's as far as I want to go.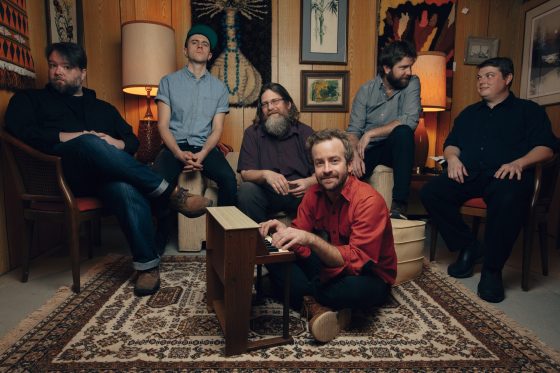 Dave, how do you introduce your new songs to the band? From what I understand, you had songs already in your back pocket when you got together to record. How do you show the band, "Here's some songs I've written"?
Simonett: That's about as simple as that. Sit down and…
Berry: I use the phrase "coffee house ready." Dave's got them to a point where you could go to a coffee house and play the song.
Simonett: Yeah, I can play them. Core structure, melody, lyrics are pretty much done. And then I just sit there and play it a few times, and people join in when they feel like they have the hang of it, and it's pretty organic.
That seems cooler than recording a little demo and emailing it to everybody.
Simonett: Yeah. I do that too, just so people can get the vibe, or at least know what's coming – maybe if I have the song done in time to do that kind of thing. That is a nice thing to be able to have. I don't think the real learning of it happens until we are all in the same space, though.
Berry: The real benefit of having stuff in advance is like in "Annihilate," where I have a part that I wrote on it because I had the time to think about it.
Simonett: I also don't know how to write music down on paper, so it's all pretty simple anyway.
You guys seem to operate a lot on instinct. Is that something you had to develop and learn?
Simonett: Oh, I think it's the absence of learning for me. I don't really know any other way to act.
Berry: I hate the word "easy," but there's been a certain easy chemistry that all of us have always had with each other. On the very early shows, I'm like, "That's pretty good. I could see doing that again." So there's something like that, too, now that it's 15 years down the road.
Simonett: There's a lot of bands in the string band world, if you want to call it that, that are amazing at that kind of stuff. I guess I don't want to list examples because I'll probably leave somebody out, but I think we're pretty comfortable being a band that's not that. It's maybe more song-driven than upfront-playing driven, if that makes sense. That's just where we naturally fit, I think.
Berry: I'll name a couple names. When we first started, I didn't know what I was doing. So I went across the street from where I worked to the Electric Fetus Record Store in Duluth and said, "I'm just getting this bluegrass band starting. I don't know what to listen to." So they sold me a Bill Monroe CD and they sold me a Yonder Mountain String Band CD. They were like, "This is your basis. Here's what's happening right now." That Yonder Mountain disc was Mountain Tracks, Volume 2. That's a live one. There's some really great stuff on there. It didn't take me very long for me to realize I couldn't play like that. [laughs]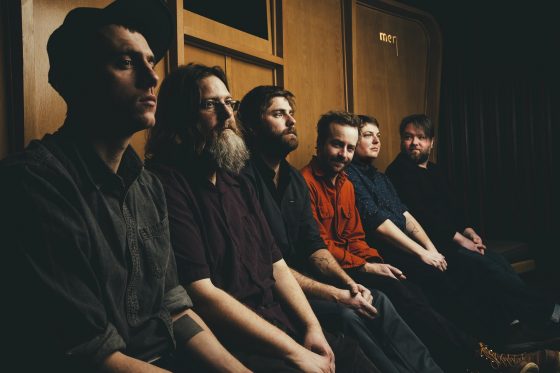 You guys are good at reading the room by now, I'd imagine, after 15 years on the road.
Simonett: Yeah, I think so. It's always kind of a mystery. You can play the same set list two nights in a row and the response could be completely different. My goal as a performer is to get as far away from caring about that as possible. Any true performer will tell you that you can't please everybody and that's really not your job anyway. My job onstage – I don't view it as to be up there to make everybody in the room happy because I can barely keep myself happy, you know? But I feel like we tailor to rooms, though, with our set list.
Berry: If we were going to do a set that no one was going to watch, I think that what we would prefer to do would be like, "OK, let's take a break with a little slower one, now. Now we're going to kick it up again." I think people like our tastes. We're pretty lucky … I don't know, I've had to come to grips with it, too, because people aren't shy about letting you know they're disappointed.
Simonett: They love it, actually.
Berry: People have been telling me after shows that it's bullshit that we didn't play "Song X" or "Song Y" since the year 2005.
Yeah? What do you do when that happens?
Berry: You play a 90-minute show. If you have more than 90 minutes' worth of material, the odds of dropping a song are high. … If we played every original song we have, that's a four-hour show. That's not going to happen. So I could challenge any Trampled fan: "Here. Write your ideal set, 24 songs." I know that I could read it and be like, "But you left off… Now you know how it feels."
Simonett: A listening crowd – it's a weird relationship, man. It feels great generally. I like performing. It took me a while to like it. I still get freaked out about getting up on stage. But I enjoy the act of it now. But you can't go up there with the illusion that everybody in the room is going to enjoy what you do. I think if you start thinking about that too much, you start changing yourself and you're really close to becoming a cover band.
Do you mean like a cover band of your own material?
Simonett: Of ourselves, yeah. To just go up there and try to do what you think people are going to like. That's not the point. For me, I like to think as an artist, I want to be able to feel totally comfortable. This tour is a good example – to go up and play new music every night. That's holding on to still being valid in some way.

When I listen to this record, there does seem to be a sense of motion in the writing and the songs. Do you agree with that?
Simonett: I agree with it, yeah. I think even the title. But all of that came about after we made it. It's happened to me before. You write a bunch of songs and make a record and you have no clue of any kind of thread that binds them all together until you put it in order and listen to it. "I guess I was singing about traveling a lot." [laughs] I don't really notice it as it's happening.
Listening to "Thank You, John Steinbeck," I heard a reference to the book Travels With Charley. What are the literary influences you draw on for inspiration?
Simonett: Steinbeck is really high on my list. That book in particular. It's been a couple of years since I've done this, but I used to read that book before every tour. Hopefully this isn't too long-winded of an answer, but after a certain amount of time touring, maybe the traveling part of it starts to lose its sparkle a little bit, and you forget … It's amazing how easy it is to have a life like this become predictable, which it's not supposed to be. At least I don't want it to be that way. [I want to] remember that it's still an adventure. You're still roaming around the world playing music. I think the core of that book is appreciating the adventure of a road trip. It made me want to pack my camera, you know?
---
Photos by David McClister