To begin, a disclosure: Roland White is kind of a hero of mine for his perseverance, his originality, his sense of humor, his experience and much more. Also, he's an employer of mine; I've been playing in the Roland White Band on most of its dates for close to 15 years now, and I've recorded two albums with him, including his new one, which I also co-produced. Lastly, and maybe most importantly, Roland's a friend of mine. And he has a great story.
Played with Bill Monroe, the Father of Bluegrass? Check. Played with Lester Flatt? Check. Toured around the world as a member of the Country Gazette and then the Nashville Bluegrass Band? Check. Had a band with Béla Fleck? Check. Helped organize and make Jim Lauderdale's very first album? Check. Fronted his own band since the turn of the century? Check.
That's a lot of boxes, and any one of them could be turned into a meaty article. Here, though, I'm going to concentrate on the story of the group whose legacy inspired the new album, Roland White & Friends: A Tribute To The Kentucky Colonels; it's the starting point for the larger Roland White story, illuminating the way it was for young bluegrass musicians in the 1950s and 60s and how Roland, his brother Clarence, and the rest of the Colonels were able to craft an enduring and influential body of music.
Shortly after he turned 16 in 1954, Roland's family relocated from Maine to Southern California. He was already playing the mandolin by then, and younger brothers Clarence and Eric were playing guitar and banjo (tenor, not the bluegrass 5-string). They joined their sister, JoAnne, who sang, around the house and at local functions. Soon after moving to Burbank, the boys rather casually entered a talent contest, and in short order found themselves dressed in hillbilly clothes and, as The Three Little Country Boys, performing on a variety of local stages and radios shows — even, if briefly, on television. All of this before any of them had heard a lick of what was just beginning to be called bluegrass.
Roland recalls that it was in a comment from a visiting uncle in the middle of 1955 that he first heard Bill Monroe's name — and naturally, it was in connection with the instrument they shared. "My uncle Armand asked me if I'd ever heard of Bill Monroe. He said, 'He plays the mandolin, he's on the Grand Ole Opry and,'" Roland adds with a grin, "'he is fast!'" Not surprisingly, that piqued his interest — but to actually get hold of a record was, at the time and under the circumstances, something of a project, involving a walk into town to the music store, perusing a catalog, ordering it, waiting, and then picking up the little 45rpm disc of his choice: "Pike County Breakdown." (It was actually the B-side of "A Mighty Pretty Waltz," and yes, it was fast.)
What followed was a "conversion" experience of the kind that was happening around the same time to other people his age, give or take a few years — a cohort that includes the slightly older Mike Seeger and Ralph Rinzler; the slightly younger Del McCoury and Neil Rosenberg (like Roland and Clarence White, all members of the International Bluegrass Music Association's Hall of Fame); and the slightly younger still Jerry Garcia, David Grisman, and Peter Rowan. What most of them had in common was some distance, geographic and sometimes sociological, from the Southeastern epicenter of the emerging bluegrass sound; what all of them had in common was a profound desire to hear and play more of it.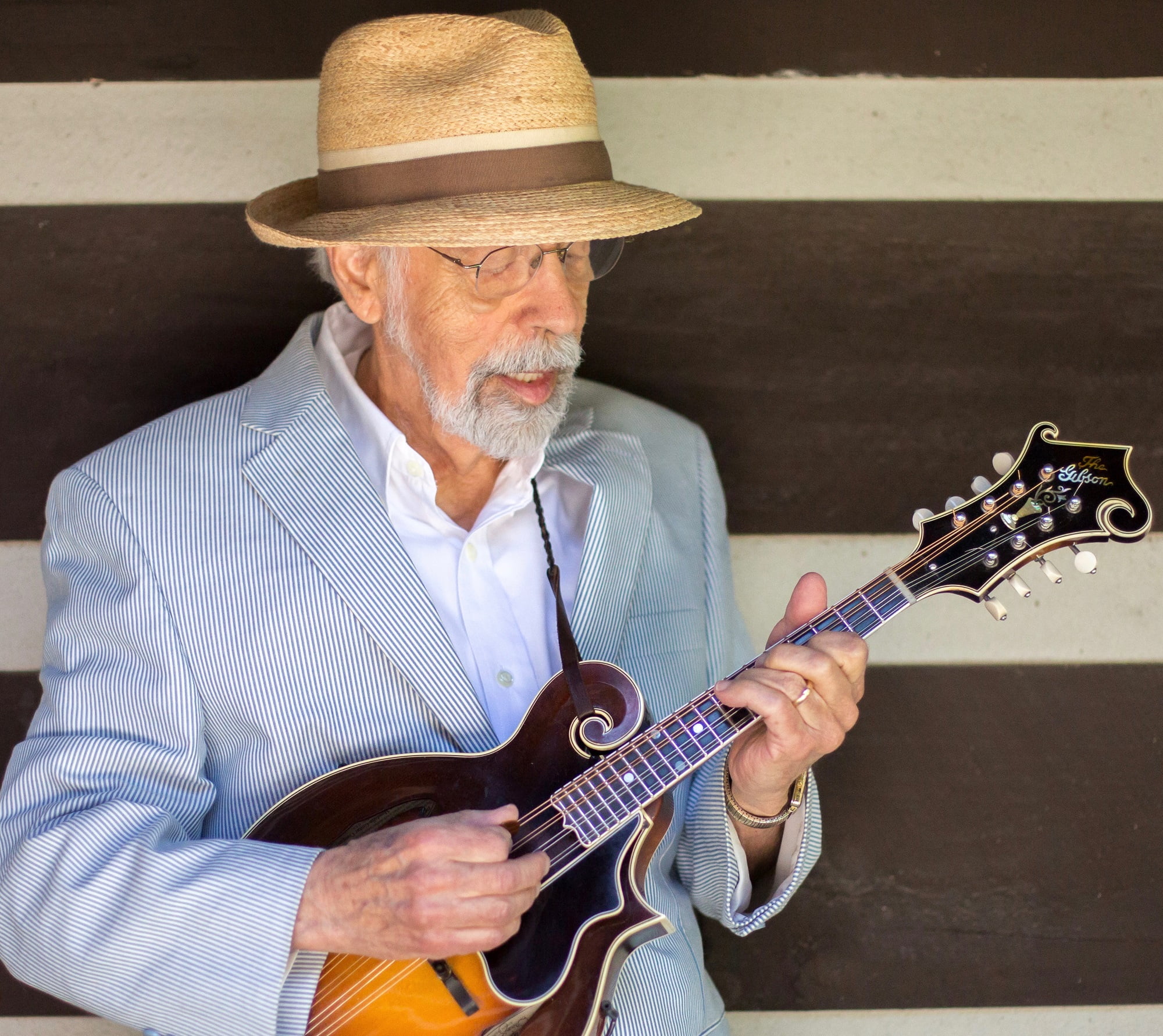 More records soon made their way into the White household, often mail-ordered from Cincinnati's Jimmie Skinner Music Center, and so did a five-string banjo, which Roland learned to play in the Scruggs style. Eric moved over to bass, and the band, now just The Country Boys, began studying the picking and singing of Monroe, Flatt & Scruggs, Reno & Smiley, the Stanley Brothers, Jimmy Martin, and more. While they focused on the whole sound, there was room, too, for Clarence to study the lead guitar stylings of Earl Scruggs, Don Reno, and the Stanley Brothers' George Shuffler, as well as the rhythm guitar playing of Flatt, Martin, and others. And though skilled banjo players were still rare — especially in California — by 1958, they'd met and recruited Arkansas native Billy Ray Lathum for the job, allowing Roland to devote himself once again exclusively to the mandolin.
1959 was a big year for The Country Boys. For one thing, they were joined by Leroy McNees — Leroy Mack, as he's still known — whom they met first as a fan, but soon persuaded to take up the Dobro. Mack not only rounded out the band's sound, but quickly became a valuable asset as a songwriter. For another, the band got its first bookings at the Ash Grove in Los Angeles, a key venue in the emerging folk revival, and one that also booked national bluegrass acts as they made their long journey out to the West Coast.
Indeed, the Ash Grove turned out to be an important place where folk audiences and bluegrass musicians could meet one another; as Roland put it, "Playing the Ash Grove opened the way for us to play to a totally new audience — a folk music audience that we had known nothing about. They dressed differently from the Country-Western audience (they were college students, professors, beatniks, doctors, and lawyers) and they paid close attention to the music."
Not only did the Ash Grove provide the group a new audience, it gave them a different sound; the less raucous, more attentive audience and more sophisticated sound system allowed Clarence White to hear himself better than ever before. Within a matter of weeks, he began to take solos — plenty of practice time at home had allowed him to explore and build on what he'd been hearing on records — and The Country Boys started to build a unique sound that featured lead acoustic guitar in a way that reached well beyond their influences.
By 1961, The Country Boys — now a five-piece band — had built a good circuit for themselves, playing to folk audiences at the Ash Grove and on college campuses around Southern California while maintaining a foothold in the dynamic country music scene. Their prominence gave them an inside track that landed them an appearance on The Andy Griffith Show — just before Roland got his draft notice, a then-common occurrence. While he served for the next two years, the band continued without him, taking a couple of important steps, including the replacement of bass player Eric White with Roger Bush; a name change to The Kentucky Colonels; and recording their first LP in 1962. The project, which featured some of Leroy Mack's most enduring originals, also debuted Clarence's distinctive, increasingly powerful lead guitar work. Over in Germany, where he was stationed, Roland admits that "it floored me."
By the time Roland was discharged from service in the fall of 1963, Mack had left the band, replaced by transplanted Kentucky fiddler Bobby Slone. With Mike Seeger's then-wife, Marge, acting as their booking agent, the Colonels were booked for their first East Coast tour, playing folk clubs in the Boston area, New York, Washington D.C., Baltimore and beyond. In each, they made connections with local bluegrass musicians, ranging from melodic banjo pioneer Bill Keith to the members of the Country Gentlemen to David Grisman, and when they came east again in 1964 — a trip anchored by an appearance at the Newport Folk Festival — they did more of the same. Interestingly, though, and a sign of the distance that still separated the folk revival circuit from the country music one, they never got even as far south as Nashville; as Roland says, "there was nothing for us there."
Sadly, while their focus on folk audiences had served to give them broader appreciation than they might have gotten while working in Southern California's country music scene, it also meant that, as those audiences began turning their attention to more electrified folk-rock and newly emerging rock artists, the Colonels would see harder times. Though they continued playing into 1966, the group eventually disbanded, with Roland soon taking the guitar/lead singer job with Bill Monroe and moving to Nashville, and Clarence turning first to studio work, and then to electric guitar playing with the Byrds.
Even so, the magic that the Colonels had made continued to appeal to both Roland and Clarence, and in 1973, they reformed their original brother trio with Eric. Adding banjo man Herb Pedersen and dubbing themselves the New Kentucky Colonels, they embarked on an April tour of Europe and, though the banjo position remained unstable, they started to make plans for more touring and recording — only to have them come to an end when Clarence was killed by a drunk driver while loading out from a Palmdale, California club.
What did the band leave behind? Not much in the way of recordings, unfortunately. The Kentucky Colonels made hardly any in the studio — the album done while Roland was in the Army and an all-instrumental album, Appalachian Swing!, one of the most influential bluegrass recordings of the 1960s are the sum total — and while enough of their shows were recorded at the Newport Folk Festival, at California venues, and on that final European tour to fill a couple of albums, they've often been out of print or hard to find.
Yet it's clear — and the new record makes the point with its wide-ranging roster of guests, from guitarists like Billy Strings, Molly Tuttle and Jon Stickley to banjoists such as Kristin Scott Benson (Grascals) and Russ Carson (Ricky Skaggs & Kentucky Thunder) and fiddlers like Brittany Haas (Hawktail), Kimber Ludiker (Della Mae) and Jeremy Garrett (The Infamous Stringdusters) — the legacy of the Colonels can't be measured so simply. From songs like "If You're Ever Gonna Love Me" and "I Might Take You Back"— both co-written by Leroy Mack, and recorded by scores of bluegrass artists — to guitar showcases like "Listen to the Mockingbird" and "I Am a Pilgrim," their influence has been carried forward through the bluegrass generations, not only by Roland White, but by Tony Rice, Jerry Garcia, and a host of others who met and heard and jammed with them during those critical years in which they were playing the national folk music circuit.
And for Roland White, for whom those years were just the beginning of a storied career that has taken him, by turns, deeper into the heart of bluegrass and further out to broad-ranging audiences, the opportunity to revisit them in the company of new generations of musicians has been an exciting one. "I really enjoyed playing and singing with all these musicians," he says. "They appreciate the old music that we made, but they brought their own touch to it, too. It's good to know that these songs, and these sounds are in good hands."
---
Illustration by Zachary Johnson
Photo by Russell Carson, Carson Photoworks