Put a fuzzy sweater on me. And those fingerless gloves. Crack the car windows so I can hear the snapping, swirling, and crackling of dried leaves when we're in motion. Put Alison Krauss's Now That I've Found You: A Collection on the stereo. Drive me through East Tennessee, then let me out of the car to breathe it, walk it, and absorb it through my epidermis and into my bloodstream. Don't call, email, or text me a thing because I don't want you to get your feelings hurt when I ignore you. I will ignore you. Sorry not sorry; I belong to Autumn.
Autumn has an intoxicating effect on me. Like a fickle lover. Yeah, you know the bloke — the one you know is going to break your heart over and over again, but whom you still welcome into your world with opened arms, hands raised, singing the chorus of "I Surrender All" with blasphemous vigor.
There one moment and gone the next. Autumn — the fickle tickler — awakening all of my senses and making me breathe deeper than I ever did in Summer, Winter, and definitely Spring. (Claritin D, anyone? For the love …) Then it leaves without warning, with no long kiss goodbye. Yet, just like that leaving lover, it's our choice to either be bitter about the imminent end, or instead focus on living in the blissful moments and enjoying the gifts we are receiving.
Okay. That's enough of a Meditation Challenge for today. Let's get on with it.
Some people feel most creative in Spring, but for me, it's Autumn. I end up incorporating ingredients in new ways because I feel invincible at this time of year. You can't tell me nothin'. Plus, it's all about comfort food — am I right? Yet, if I'm honest, my take on comfort food has had to be modified due to the career I've chosen. If I don't want to give my wardrobe stylists conniptions, I often have to find reasonable alternatives to mashed potatoes, decadent pasta, and pumpkin soup bread bowls. This isn't easy to do, kids, but I must admit that I meet the challenge brilliantly. Taste buds can be just as happy as waist lines. I promise you.
My favorite moments to relish in Autumn are inspired by the season-specific produce lining every market bin. Tables are filled with different kinds of gourds and squash, all of which represent the various colors of every leaf on every tree at this time of year. It is also the time of the season to utilize certain things the earth gives us that it will soon take away. Many of our herbs need to be protected and preserved before Winter takes hold. Basil is currently holding on for dear life. Mint, too. Parsley makes claims that it can withstand Winter's wiles, but I have yet to see it happen successfully in my yard. Pesto is begging to be made. Begging, I tell you.
And so alas, in celebration of this, my most favorite season, I give you SPAGHETTI (spaghetti squash, that is) and MEATBALLS (orange roughy and crabmeat balls, that is) with a mint and lemon pesto that will make you want to make out with anyone you see in a sweater. I mean … just … trust me.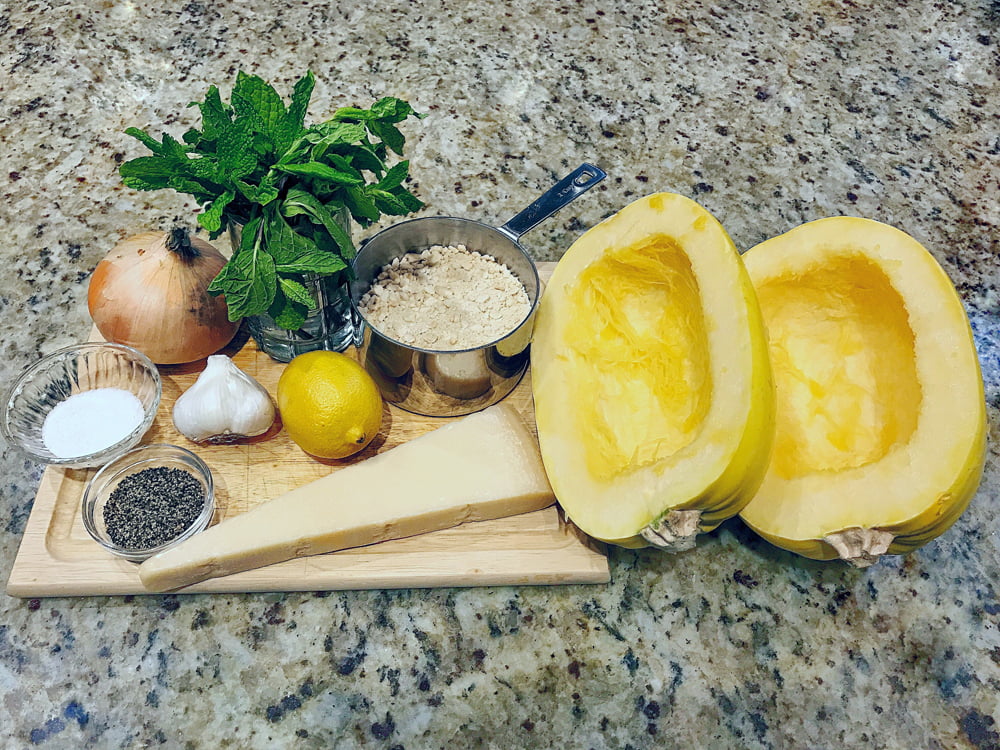 INGREDIENTS (Serving Size 6)
2 spaghetti squash, halved and seeds discarded
Safflower or grapeseed oil
Kosher salt
Coarsely ground black pepper
1/2 cup red or yellow onion, diced
1 small to medium shallot, minced
One large clove of garlic, minced
1/3 c of parsley, finely chopped
28 oz (2 c) wild caught crab claw meat, picked for shells (but there aren't many in claw meat)
8-10 oz orange roughy
1 egg, beaten
2 c breadcrumbs (I used Glutino plain crackers, pulsed down to breadcrumbs)
FOR MINT LEMON PESTO
4 small to medium garlic cloves
2 c of mint
1/2 c fresh parsley
1/2 c Grana Padana or Parmeggiano Reggiano cheese
2 tbs fresh lemon juice
Zest of 1 lemon
1/2 c extra virgin olive oil
2 tsp kosher salt
1 tsp black pepper
DIRECTIONS
Preheat oven to 375.
Drizzle safflower or grapeseed oil lightly into squash and rub to coat.
Sprinkle salt and pepper inside to taste and place in baking dish, skin side down. Cover squash with foil.
Check at 30 minutes and, when you can pierce the skin with a knife and pull it out clean, it's ready. Set aside.
Put 2 teaspoons safflower or grapeseed oil in a skillet. Add onions, shallots, garlic, and a healthy, two-finger pinch of salt. Sauté on medium high heat until soft. Try not to brown. Set aside.
Place orange roughy in food processor and blend until it's similar to coarse mashed potatoes. Place in large bowl and add crab meat, beaten egg, breadcrumbs, parsley, 1/2 a teaspoon of kosher salt, and a pinch of black pepper.
Bake for 20 mins.
Broil for 5 mins for added color.
Set aside.
Add to food processor garlic, mint, parsley, cheese, lemon juice, lemon zest, salt. Slowly drizzle in 1/2 cup of olive oil with food processor at first on pulse, then full blend.
Take a fork and twist out spaghetti squash in a circular motion starting from outside in until it looks like angel hair. Scoop into large bowl. Add pesto to spaghetti squash and toss to coat. Place meatballs on top and garnish with fresh mint and grated cheese and lemon zest.
Enjoy!