Happy New Year! We have survived 2016, even though, as a friend put it, we have elected 2016 as president. But never mind that for now.
The new year can be an exciting time to start fresh and focus on our goals. It can also be overwhelming, as there's so much to change and imrove. This anxiety extends to food and health. We may feel that we had a too many sweets during Thanksgiving or too many drinks during Christmas. We often resolve to cutting back and jumping into a workout routine, and the $60 billion diet industry is all too happy to "help" with that.
There is absolutely nothing wrong with jumpstarting one's health with green juice or a new workout class. The problem is that we often make our resolutions too extreme and unrealistic. We expect habits that have been formed over a year to break with sheer determination in the first week of January. Then, we are hard on ourselves, if we don't succeed.
The last two years, I've tried to take more stock of what I'm being formed by: Do I want the habits I have acquired? Instead of swearing off all delightful foods or drinks, I have tried to focus on caring for my body, eating nourishing foods, and getting enough sleep. This year, I want to be more consistent with Morning Prayer and carving out more time to be inspired for my writing.
Learning to balance my love for food and my desire to be healthy has been difficult. I love how a wonderful meal fuels a long conversation with friends. I enjoy trying new restaurants and having a glass of wine after a busy day. I also love the way I feel eating healthy foods and working out regularly. There have been several times in my life when I felt like I had to choose between these things — I had to eat a salad for most of my meals and have an intense workout regimen, or I needed to let that go and enjoy cream and desserts on a regular basis. Today, I try to live in the middle.
I love recipes like the one I am sharing for this reason. It's a nice blend of light and satisying, perfect for a meal any day of the week.
I recommend pairing this with Nocona by Carey Ott.
Ingredients (Serves 4-6)
For the spaghetti squash:
2 medium spaghetti squash
Olive oil
Kosher salt
black pepper
For the meatballs:
1 pound ground turkey
1 large egg, lightly beaten
1 tsp kosher salt
fresh ground black pepper
1/2 cup seasoned breadcrumbs
1/4 cup grated parmigiano-reggiano cheese
1 Tablespoon fresh Italian parsley, chopped, or 1 teaspoon dried parsley
1 Tablespoon fresh basil, chopped
1/4 small white or yellow onion, chopped finely
1/8 cup milk or broth
1 clove garlic, minced
1 Tablespoon tomato paste
For the marinara:
3/4 medium onion, chopped (the remaining onion not used in the meatballs)
1 small bell pepper, chopped
1 cup button or baby portobello mushrooms, chopped
1 28 oz cans crushed tomatoes (I like Cento.)
1 16 oz can diced tomatoes
1 Tablespoon granulated sugar
2 Tablespoons balsamic vinegar
1/4 – 1/2 cup chopped basil
Fresh grated parmigiano-reggiano cheese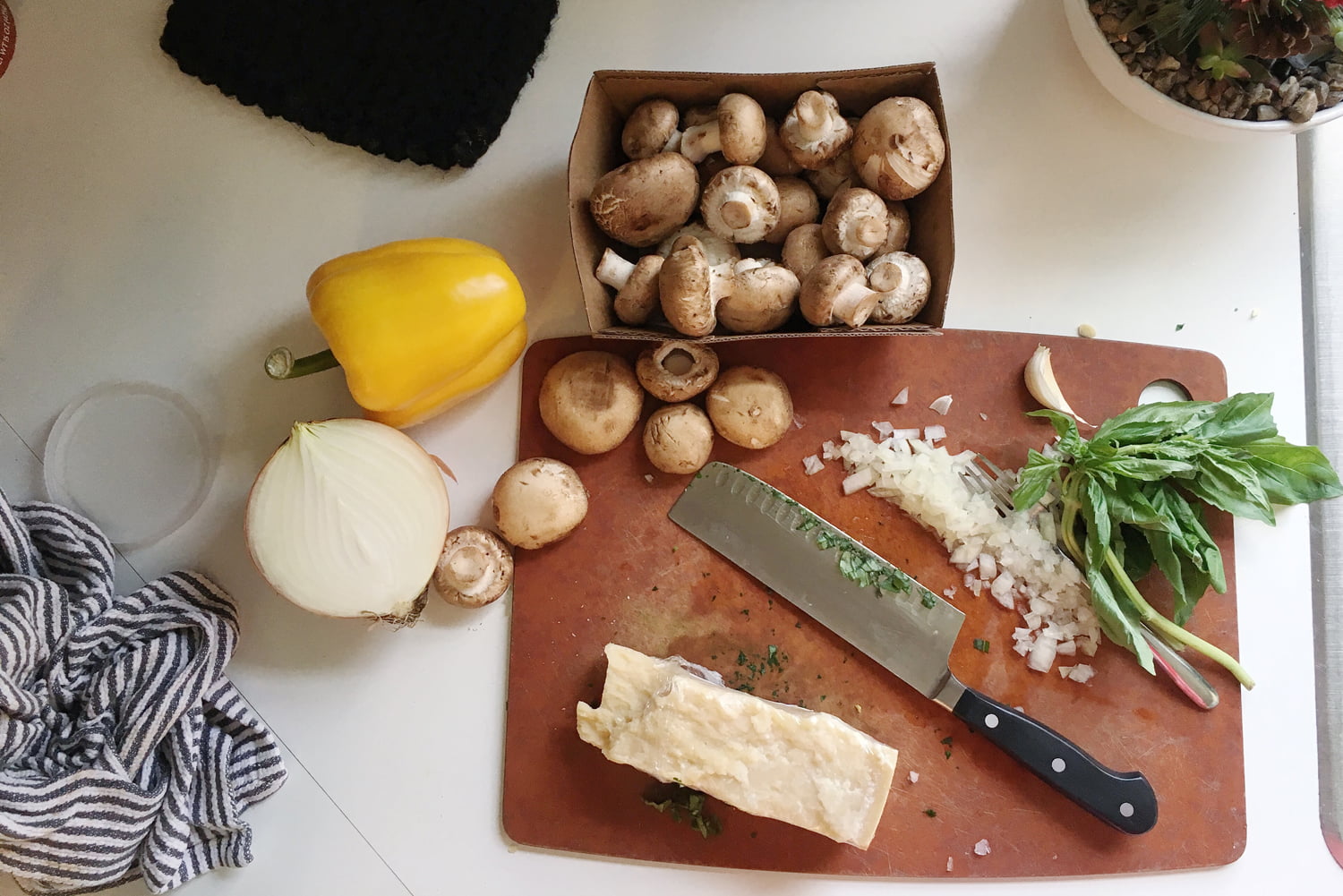 Directions
Begin by turning oven to 400 degrees.
Cut the Spaghetti squash in half and scoop seeds out of the middle with a spoon.
Lay on cookie sheet and lightly drizzle olive oil over the top and bottom of the squash. Use your hands to evenly coat, if necessary. Sprinkle salt and pepper on both sides. Lay squash down on cut side. Set aside.
Place all meatball ingredients in a bowl. Mix with wet hands to combine. Wash hands, and heat 2 teaspoons olive oil in a large skillet. Shape meatball mixture into 1.5-inch balls.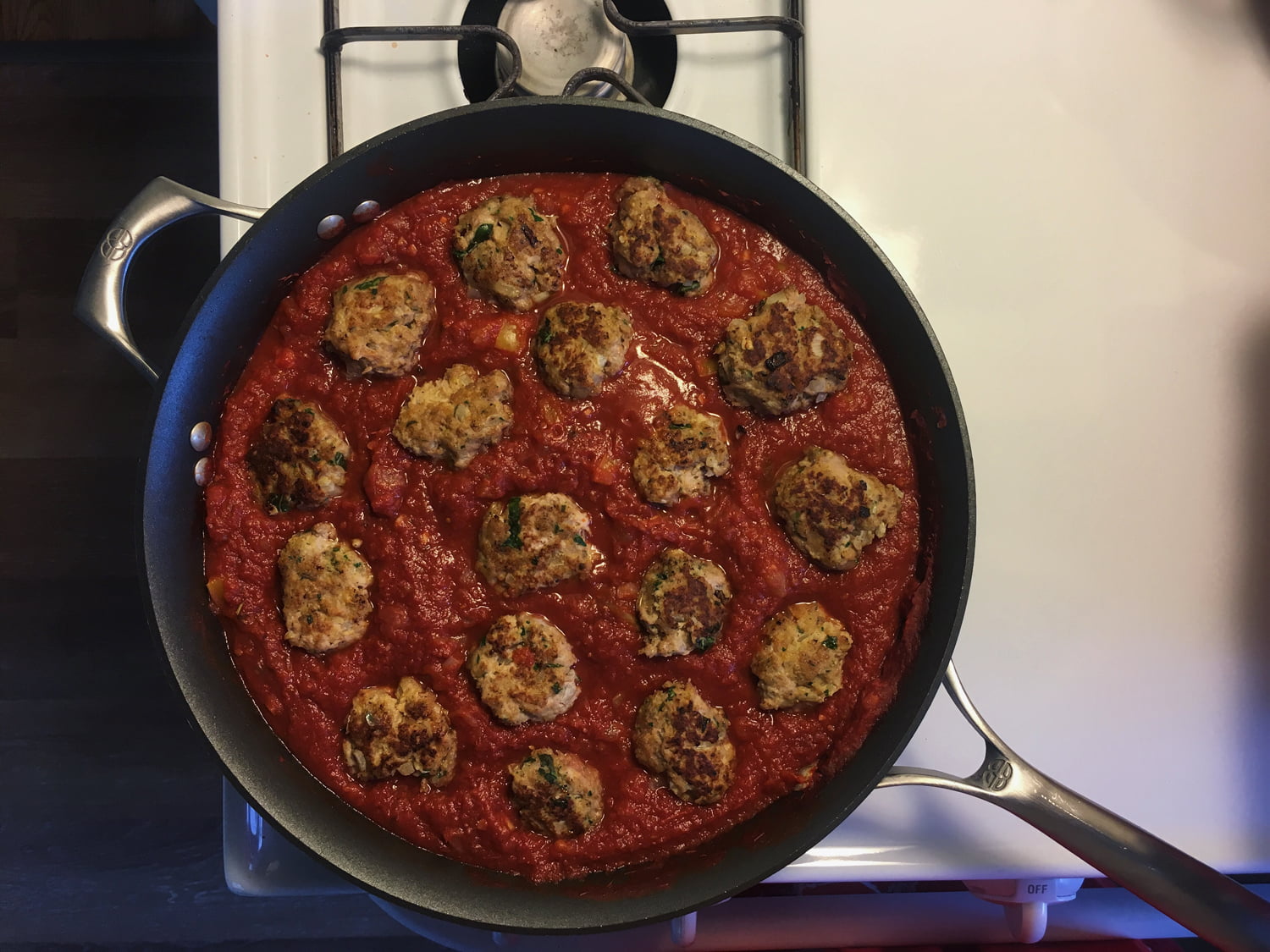 Place them one by one in the skillet and brown on high medium-high heat. Turn the meatballs and brown on the other side. Take out meatballs and place on a plate.
Place spaghetti squash in oven and cook for 30 minutes, or until it is tender when poked with a fork.
Wipe out pan and place back on stove with another drizzle of olive oil. Add chopped onions, sprinkle with a pinch of salt, and sauté for a few minutes on medium heat. Then add bell peppers and sauté for another few minutes. Add garlic and mushrooms and sprinkle another another pinch of salt. Cook all together for 2 minutes and add both crushed and diced tomatoes. Lower heat to low, and stir in sugar, balsamic vinegar, and chopped basil. Add meatballs and simmer for 30-40 min. Taste sauce, and add salt and pepper, if necessary.
Once the spaghetti squash is cool, use fork to scrape out squash into bowls. Spoon marinara and meatballs over squash. Top with shaved parmesan cheese.