Illustrator Sean Ryan is best known for his popular Instagram account Badly Drawn Models, which boasts nearly 80,000 followers and features black and white caricature-esque portaits of everyone from Kendall Jenner to designer Raf Simons. What Ryan's followers may not know, however, is that the illustrator is at the helm of his own Badly Drawn empire, one that also interprets portraits of authors, musicians, rappers, and other public figures.
Based in Liverpool, Ryan was called out by Dazed as "fashion's favourite illustrator." A self-described "artist, slacker, and pizza fan," Ryan has been profiled by everyone from Elle to the Guardian for work that ranges from fashion's elite to the finest footballers. We, however, took particular interest in his Badly Drawn Authors series… admittedly a less popular collection thanks to its lack of any Kardashian-Jenners.
"A few years ago, I was visiting my parents' house and my mum had a pile of my old things that she wanted to throw out," Ryan tells the BGS. "Most of it was junk, but I found an old football sticker book, which I kept. I don't really know why, but I started to draw the footballers within it, spending about 30 seconds on each one. I uploaded a few to Facebook and, to my shock, people seemed to like them, so I turned it into a project called 'Badly Drawn Footballers.'
I'm pretty unoriginal with my ideas, so I started thinking about other groups of people who would make interesting 'badly drawn' subjects. A few days later I was reading something about William H. Gass and thought his face would be great to draw. Thus, badly drawn authors was born!"
Ryan takes iconic photos of literary giants and distills them to black and white line drawings that, while perhaps not offering the most flattering image of each author in question, are still somehow instantly recognizable. We've rounded up a handful of our favorite author portraits, all of which are available in his Badly Drawn Authors Etsy shop. Be sure to check out the rest of his work, too, and feel free to send me this Badly Drawn portrait of Mariah Carey, if you're really feeling the holiday spirit.
Nobel Prize winner and all-around badass Alice Munro
Papa Hemingway himself
Everyone's (least) favorite batshit faux-losopher — Ayn Rand
James Joyce, Patron Saint of "Oh Yeah, I Totally Read It All…"
Poet and fiction writer Sylvia Plath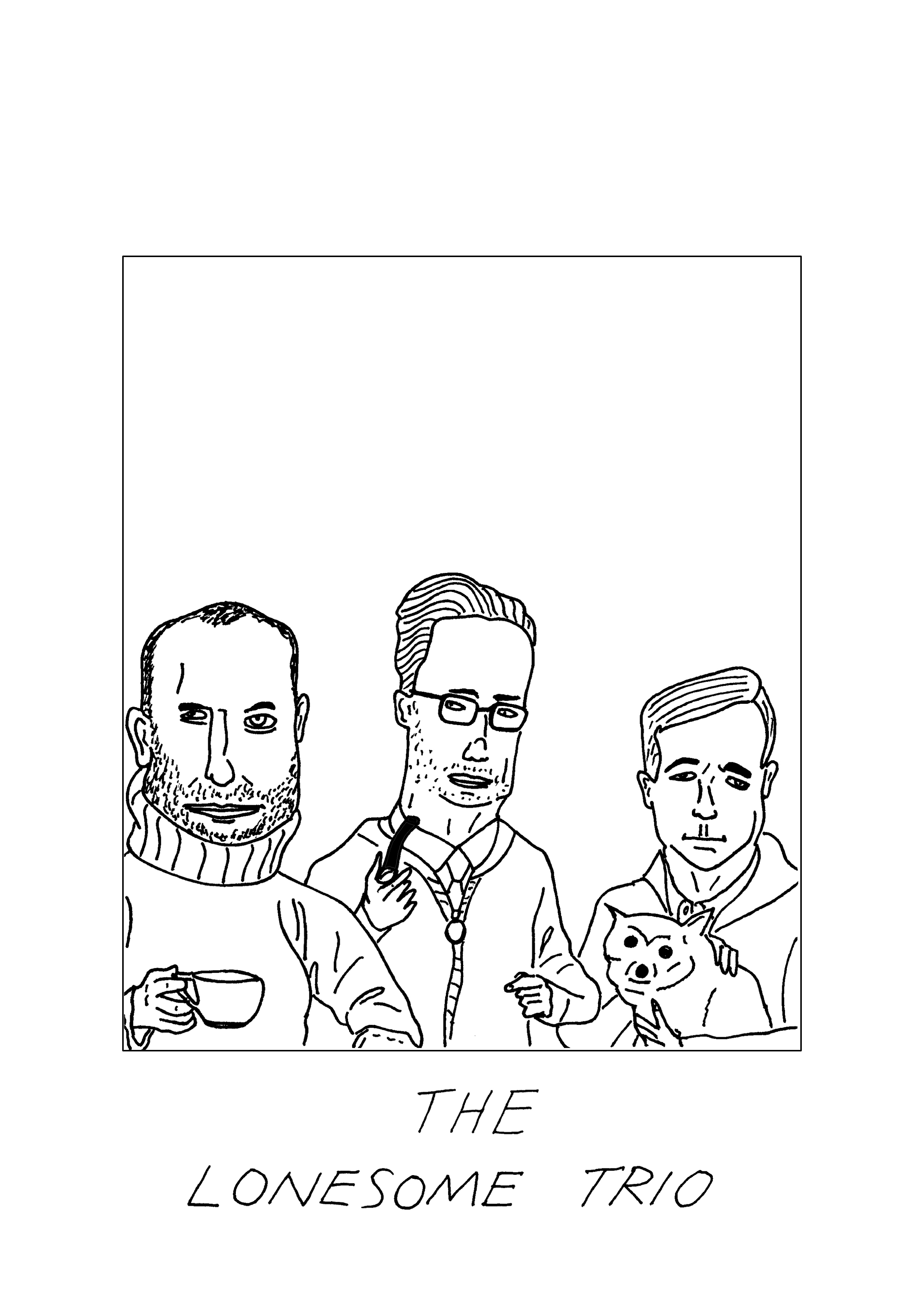 BONUS: Ryan graciously drew the Lonesome Trio, the bluegrass project of our own Ed Helms, just for the BGS. We're feeling pretty special.