Our plans: GET. OFF. YOUR. ASS. 2020: Nope, lol.
In the past, supporting musicians, writers, and creators meant going out to shows, buying drinks at venues, volunteering at festivals, and so much more. But music fans and supporters around the globe are finding new ways to show up for the folks who supply the soundtracks to our lives.
States and local jurisdictions may be loosening coronavirus lockdown restrictions, but the numbers are still very clear. Memorial Day or not, the healthy, safe choice is to just stay distanced, stay apart, and stay on your ass! We'll continue to bring you a few of our favorite events, livestreams, and COVID-19 coping resources that we've scrolled by on our feeds or found in our inboxes each week until that reality changes.
Did we miss something? (We probably did.) Let us know in the comments or on social media!
Rhiannon Giddens Honors Bill Withers, Aids COVID-19 Relief Efforts
In early May, Rhiannon Giddens released a gem from her vault of B-sides and outtakes. Recorded in what she refers to as a "very un-socially distanced time," Giddens and co. perform a lively tribute to an icon of American music. The release of this cover and music video celebrate the life and music of Bill Withers, while also portraying life in quarantine and raising funds for Global Giving's Coronavirus Relief Fund.
Like many of his other hits, Withers' "Just the Two of Us" has an infectious cheerfulness that, especially when juxtaposed with images of quarantine and sheltering in place, can brighten any day. Giddens explains, "When Bill Withers passed, we suddenly remembered we had made this beautiful [cover]… So whether it's just the two of us, or just a few of us; whether the lockdown has been for months or it's about to be lifted; COVID-19 is here for the foreseeable future, and the more we can be alone together now, the better the future will be." 
---
Whiskey Sour Happy Hour Concludes
Our month-long online variety show came to a close last night with a surprise bonus episode featuring performances from past WSHH performers like Billy Strings, Valerie June, Rodney Crowell, and more. Last week, for the superjam of our final "official" episode, our cast of pickers pulled off this incredible cover of "The Weight," a perfect finale for the series.
It's been an incredible journey building and sharing these shows with all of you over the past few weeks, but the fun isn't quite over yet. We've left all episodes of Whiskey Sour Happy Hour online so we can continue
raising money
for MusiCares and Direct Relief, two organizations leading the charge with critical support for musicians and front line responders facing this crisis.
Over your Memorial Day weekend, why not binge the whole show, enjoy world-class songs and comedy, and if you can, give a little to support the cause, too? Watch all episodes and donate here.Our friends at Direct Relief have been working ceaselessly since the advent of this pandemic to supply personal protective equipment to front line responders. Watch this brief video that captures the importance and the magnitude of the work they're accomplishing.
---
California Bluegrass Association Says to "Turn Your Radio OnLINE"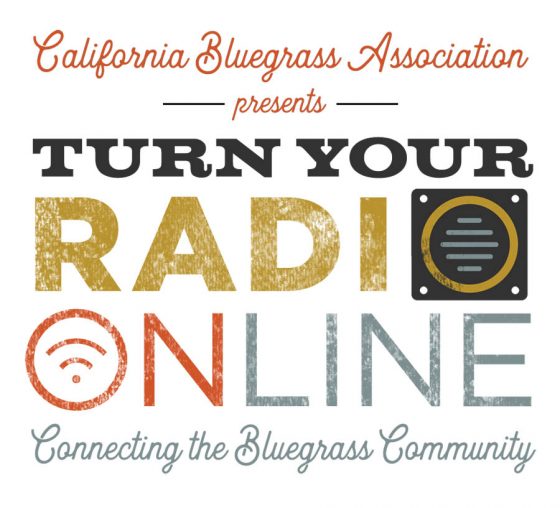 Founded in 1974, the California Bluegrass Association is one of the oldest and largest bluegrass associations in the world, with over 2,700 members. They produce events throughout the year, including the jewel in their bluegrassy crown, Father's Day Bluegrass Festival, held every Father's Day weekend in Grass Valley, CA since just a year after the organization's inception.
This year, the festival has canceled all in-person programming, asking bluegrass fans in California and around the world to turn their radios "OnLine" to take part in music performances, live interviews, online interaction, and so much more, featuring artists such as Tim O'Brien, Laurie Lewis, Molly Tuttle, Lonesome River Band, Special Consensus, Joe Newberry & April Verch, and others.
The webcasts will be accompanied by an online auction to raise funds for the CBA's newly announced COVID Artist Relief Fund. Items being auctioned include fine acoustic instruments, books, music lessons, historic bluegrass memorabilia, and items of interest from popular musicians.
Get all of the information, full performance schedules, and more right here.
---
Music Maker Relief Foundation's Freight Train Blues 2020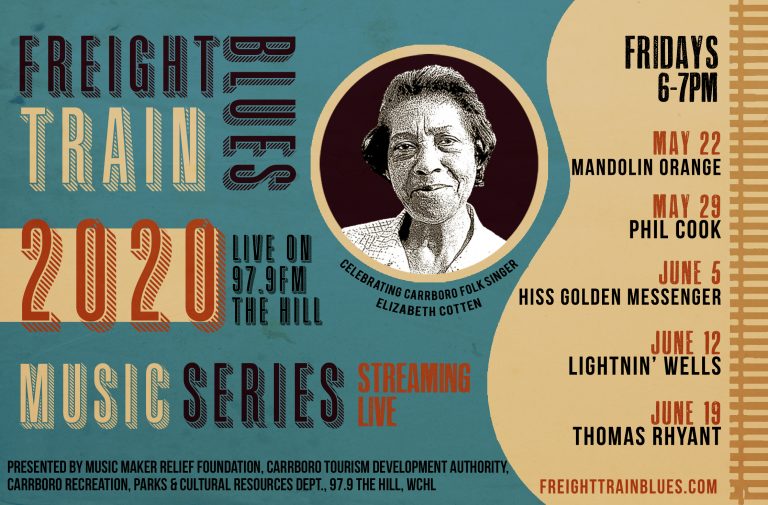 Our friends at the Music Maker Relief Foundation, the Hillsborough, N.C. based nonprofit whose mission is to promote and preserve American musical traditions by partnering directly with elderly musicians, have announced their 2020 music series, Freight Train Blues. The event, which ordinarly takes place at Carrboro Town Commons in Carrboro, NC, will now be broadcasted on Facebook, YouTube, and by WCHL 97.9FM out of Chapel Hill.
Featuring performances from Phil Cook, Mandolin Orange, Thomas Rhyant, and more, Freight Train Blues celebrates the life and legacy of Piedmont blues legend Elizabeth "Libba" Cotten, a pioneer in bluegrass, old-time, and blues and whose songs have left an indelible mark on all of American roots music.
You can tune in all through May and June! Get more information from MMRF here.
---
Reinventing a Broken Wheel – Frank Conversations, Future Opportunities

BGS co-founder and executive director Amy Reitnouer Jacobs will moderate the sixth session in Folk Alliance International's "CommUNITY Online" series of sessions and panels on Friday, May 22 at 2pm CDT / 12pm PDT. Joined by David Macias (Thirty Tigers), Erin Benjamin (President/CEO Canadian Live Music Association), Enrique Chi (artist/activist), and Megan West (Facebook/Instagram) this group of industry experts will discuss, identify, and explore opportunities to innovate, pivot, and move the industry along in new directions. We each have a role to play in constructing our "new normal" — from immediate action to big picture initiatives, this conversation promises to be inspiring, provocative, and realistic.
Register for free, inform the conversation, and participate here.
---
Justin Hiltner and Jonny Therrien contributed to this article.