Tanya Tucker isn't known as a songwriter, although "Bring My Flowers Now" from her newest album, While I'm Livin', shows she can hold her own. Across four consecutive decades of charting singles, she relied largely on the Nashville songwriting community — and in turn, she's served as a muse for them. Among her forty Top 10 country hits are classics like "Delta Dawn," "Strong Enough to Bend," and "Two Sparrows in a Hurricane."
Now, her life is the inspiration behind the songs of While I'm Livin', produced by Brandi Carlile and Shooter Jennings. A bulk of the material was written specifically about Tucker by Carlile and her musical comrades Tim and Phil Hanseroth (a.k.a. The Twins). At her producers' insistence, she also cut material formerly recorded by Miranda Lambert ("The House That Built Me") and Waylon Jennings ("High Riding Heroes").
In the second half of our Artist of the Month interview, Tucker talks about the songwriters she's known, the mysteries of songwriting, and the left-of-center producer that she credits with her career. (Read the first half of the interview.)
BGS: I read that you had Loretta Lynn in mind while writing "Bring My Flowers Now."
Tucker: Yeah, I was on the way to Christmas in Texas on the bus. And she called me, or I called her, and we're always talking songs. She says, "We gotta write something together. You gotta come on over here and write. Me and you gotta write a hit." And I said, "Well, I got this idea, let me sing a little bit to you. I've had it for years, but I just can't find anything to go with it." And I sang her the chorus and she goes, "When you come back through here, you gotta stop in here. We'll finish that song. I love that idea."
So I went out to California in the meantime, and I guess I'd sung it for some reason to Brandi — and I'm sure I sung a few ideas to her. But then she brought it up the last day of the sessions and we cut it right after we finished writing it. And then it became the title, so yeah, that's pretty cool.
Yeah, it's such a minimal production on that song.
That was always her thing. She told me, "It's time that we hear your voice and it's been so covered up, and so in the mix. And it's time for people to hear the real Tanya Tucker, and you don't need a lot of crap over it and a lot of production." She's very into that — very raw, real, flaws and all.
I wanted to ask you about Tom T. Hall because he's popular among our readers, and he's in the Bluegrass Hall of Fame now. He's written a lot of bluegrass hits.
Oh! I had no idea. I've been thinking about him a lot lately. We text, I text him. Johnny Rodriguez and I were together the other day, talking about how Tom T. brought him to Nashville to play guitar. And how I toured with him. I used his van when I was a kid. That was always hard because some people didn't like you using their van. But he was very cool with it.
I was 14. We had dinner one night and even back then he said, "You know, you gave me a great idea for a song." So I guess I've always come by it naturally. Now songwriters hang out around me, just knowing any minute something's gonna come out of my mouth. I can't tell you how many big songs that were my idea. But I didn't write it, so that's the way it goes.
I'm a great idea person. I'm a great hook person. But it's just like "Bring My Flowers Now," I had the chorus but I could not find the meat. I had the bread, but no meat. And if you don't have that, then you might as well hang it up. Sometimes it takes a catalyst to get that out of you. Gary Stewart was that way with me. … He could somehow get things out of me. I've known some people that can just be in a room, while you're in the room writing, and just bring it out without even realizing it.
I don't know what it is. Writing a song is very hard to explain in words how it happens. It's almost like you have to explain it after, "Well that happened. Curiously, it happened this way." I don't really think about it much. Harlan Howard always told me, "Oh, you're a writer trying to get out of a singer's body." Max D. Barnes was a good friend of mine and he said, "If you just sit down and focus for a few minutes, I bet we would write at least three standards." At least three. So I've had the greats say things like that to me — and mean them.
You've been listening for great material from the very start of your career.
When I was a kid, one day I said to Billy Sherrill, "I'm getting a little irritated. You know, you write all these songs for Tammy Wynette and you ain't never written one for me." And he goes, "Well, let me tell you why." Either he knows how to build a fence real quick or he was really being honest, and he said, "It's because I have never written a song that's as good as you are a singer." And I went, "Oh, well that was really cool. I'm not sure I believe that shit." But he did finally write me one and I did record it. It wasn't a single. It was called "I Guess I'll Have to Love Him More."
I used to fight with him about recording some songs. "Almost Persuaded" — he goes, "Nah nah nah, we don't need to do that." And I'd go, "WE'RE GOING TO DO THAT!" I had someone tell me the other day, "God, I loved the way you sang 'Almost Persuaded.'" It was a totally different change from the boy to the girl. But he never did want me to cut any of his songs and I had to fight him to do it. Sure miss old Billy. I give him all the credit. Without him, I don't think any of this would have happened.
He set the stage for you.
Well, he listened to me. They're walking out of there going, "What the hell?! This guy's lost his mind listening to this kid." Because I turned down "Happiest Girl in the Whole USA." I said, "Love the song, it's great, but it's not my song." And then when he played "Delta Dawn," with Alex Harvey on guitar/vocal, and I went, "There you go. That's my song." And he listened. I didn't record anything that I didn't want to with Billy.
He was a little left-of-center and I've always said that anybody that gave me a chance in life was… maybe dealing with more decks of cards, a little off-center. Because anybody logical, who had a watch, was on time, never gave me a shot. It was always those people that were just a little crazy…
I'm so proud to have known some of those boys. Oh my god, all my boys at CBS [Records] were really great. When Billy signed me, the record label thought he was crazy, too. But they couldn't mess with him too much because he had all the hits on the charts. They thought he was kind of strange, actually very strange. And he was. He wasn't a normal kind of guy. At all. So, those kind of people, I have a soft spot for because they're the ones that gave me my chance, my shot.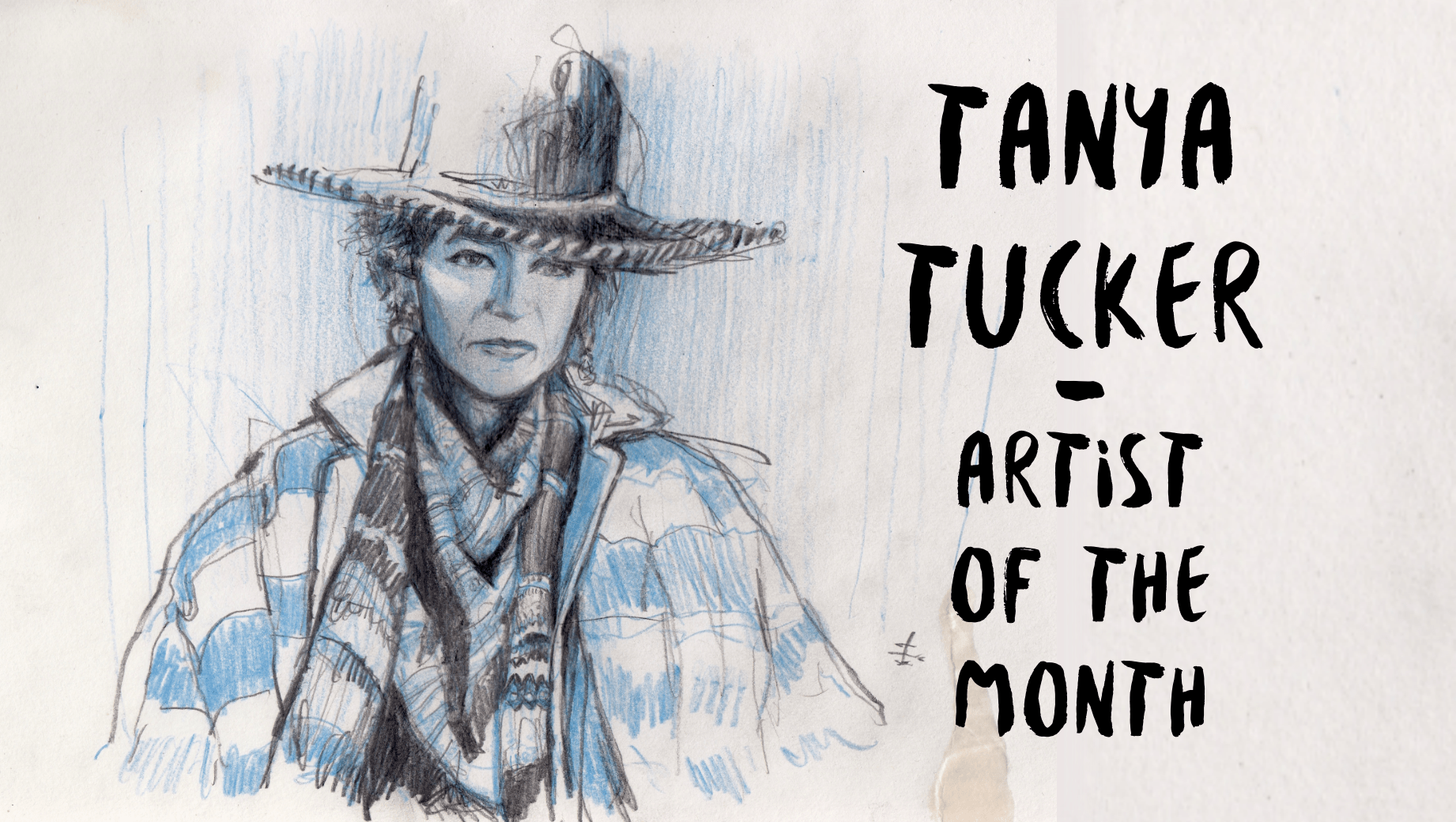 Your fans are going to hear this and might say, "Well, this is different." What do you hope they hear in this record?
Well, I hope they like it. "The Wheels of Laredo" is a good song, but it's not "Only two things in life make it worth living." It didn't grab me like that, but it's grabbed everybody. I'm amazed that they like it as much as they do. People have come out of the woodwork, they're sending me videos of them listening to it in Canada and in the pool, Buck Brannaman riding in the arena to it — and it's just like, "Whoa, what is it about this song?"
I really don't know. I can't put my finger on it, but I'm glad it's happened. I bet it's like what Elvis felt when they gave him "Hound Dog" – "What the hell?! I ain't singing this: 'You aint' nothing but a hound dog, cryin' all the time.'" Like, "OK, no…" And then he cuts it and it's a big ol' smash. Makes you second guess yourself a little bit.
So I really don't have any explanations of how all this happened and why. I look at all that stuff up there [plaques on the wall]. It's not all the stuff I've done, but it's a lot of my work and my catalog and my albums. But I never would've imagined this album would do what it's done. Really. I have no answer for it, I have no explanation.
---
Photo credit: Danny Clinch
Illustration: Zachary Johnson