True Sadness is an album about duality. It would have to be, really, for the boys behind the big-smiled, unbridled, foot-stomping joy on-stage at an Avett Brothers show to be naming a record something that sounds like such a drag. From lyrical jabs at the aging process to a well-rounded foray into new instrumentation, the Avett Brothers' effort catapults the listener and its authors into a sort of maturity where sadness isn't a monumental event, but rather an underlying part of everyday life.
"It's not necessarily this ongoing bummer," Seth Avett says. "True sadness isn't about becoming this dark thing, where you're just giving up and realizing, 'You know what? Screw it. Everything sucks.' It's more about just sort of accepting, as Bob [Crawford], our bass player, has very eloquently put it many times, that the human heart is fully capable of experiencing great joy and great sadness simultaneously."
For True Sadness, the band's fourth consecutive full-length working with producer Rick Rubin, every song began with a bare-bones recording using only the core trio of Seth, Scott Avett, and Crawford. Then, the songs were recorded with the full seven-piece band all live in the same room — a studio setup they hadn't pursued since 2007's breakout record, Emotionalism. They didn't stop there: With Rubin's assistance, a third step brought the final tracks well outside of their boundaries, instrumentally.
"We worked with another engineer who took the raw tracks and sort of re-imagined them with all these different samples and synths — just all these crazy sounds," says Seth. Then they re-performed every song with the added depth of the tape sounds and synths, with certain tracks maintaining more of the new territory than others.
"What we ended up with was about four versions of every song," Seth offers. "'You Are Mine' ended up being one of those that was in, like, that third stage … third or fourth stage … it's kind of everything mixed up in one."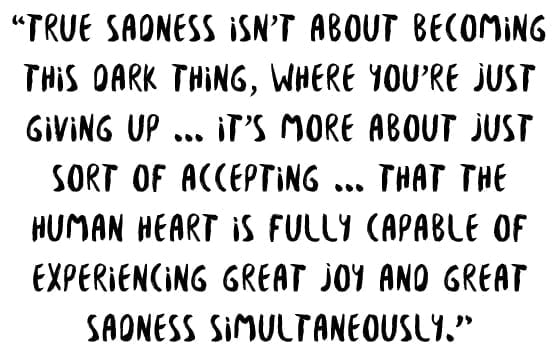 While this experimental, synth-stained streak reveals itself most clearly on tracks like "You Are Mine" and "Satan Pulls the Strings," the energy behind the songs is unmistakably created by the same band that came up screaming and stomping their way through Southern stages.
"The simple answer here is that we do our best to just follow the song. Whichever way the song is represented best, that's the way we leave it. We try not to get too caught up in how we're perceived," Seth says. "Like, 'Well, we're an American Roots band or and Americana band, so every song has to have only acoustic instruments' and all that. We've never really felt any kind of allegiance toward that. [If] one song was kind of an oddball, [it's because] it felt right like that."
While the band is tapping into new sounds for True Sadness, they continue to thrive thematically with material that can be continuously re-interpreted by the listener: On standout track "Smithsonian," the narrator rails through universal truths about aging like they're breaking news. The song zeroes in on the strange quality of certain lessons or life changes that you have to experience yourself to truly understand, keeping pace with the album's overall perspective.
"It's a lot about resolve," says Seth. "Just coming to a resolution about breaking down, and how that is completely, 100 percent natural — 100 percent normal — and it's all good. It's fine!"
A scroll back through the Avetts' catalog almost feels prescient. Lyrics like the forlorn mention of elections on "Head Full of Doubt, Road Full of Promise" feel almost political today, where they may have once felt coming-of-age. The Avetts' songs evolve with the listener in a way that's given them a timeless quality, and True Sadness expands upon that facet of their music admirably.
"The truth remains the truth," Seth muses. You won't hear the Avetts proselytizing about current events — despite the ongoing controversy in their home state of North Carolina — but that's not to say there aren't takeaways that feel bigger than heartbreak or personal strife. "If you have your heart in the right place and you're making your comments about humanity from the right place," he says, "I think that it soars above the bickering within the political landscape."
Lead single "Ain't No Man" makes a strong argument to that point:"Ain't no man or men that can change the shape my soul is in / There ain't nobody here who can cause me pain or raise my fear." You can take it as a personal pick-me-up, a nod to religion, or a knowing wink at current events, but you certainly won't come away from the song feeling weighed down.
"It's meant to be self-motivating — a little bit of currency to buy yourself a little confidence when you're not feeling so confident," he says. "We don't always wake up in the morning thinking, 'All right! Now I'm gonna knock it out today. I'm going to be joyful and I'm gonna be confident, but I'm also gonna contribute!' Some days, you're stepping into 'em feeling just like a wounded animal. It just takes everything you've got to act civilized, in a way. So I think the song is a little like just giving yourself a motivational speech, and just getting solid and getting centered and kind of squaring your shoulders up, picking your head up, and just getting into it."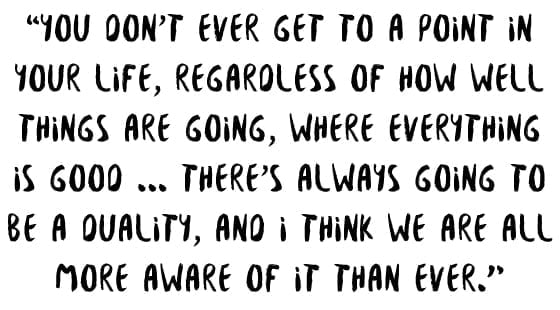 True Sadness was announced to the world in an open letter about the ways that the Avetts' music has become intertwined with their real lives, pointing from the very beginning to the heightened thematic complexity in each number.
"It does occur to me now, that in some regard, before any professional success, we were perhaps paradoxically more self-aware. The songs would show mere versions of ourselves — the heartbroken introvert, the frantic worker, the forlorn traveler, the philosopher, the romantic, the loner — all somehow imbued with the meaningful sheepishness of a James Dean character. We used to hope and vie for that attention, that perceived personality, that coolness."
If their previous work was about compartmentalizing the parts of themselves that feel, True Sadness abandons the pursuit of cool in favor of a pursuit of the optimistic and honest. "You have to come to a place of resolution within the tragedies that are always happening," says Seth. "You don't ever get to a point in your life, regardless of how well things are going, where everything is good — where it's all good. There's always going to be a duality, and I think we are all more aware of it than ever."
Leave it to the Avett Brothers to serve up True Sadness and leave us mostly with real, gritty, imperfect joy.
---
Lede illustration by Cat Ferraz.