Smoking your own side of salmon is easy. It does not require much work and is a wonderful option, if you're cooking for a few people. The last time I cooked one it was snowing… it was a wonderful afternoon!
I guarantee that this recipe will impress your guests, if you choose to use this as the centerpiece of a dinner party meal. I have done exactly that over the years, and my guests always leave raving about it. When I see them again out there in the world somewhere, it's almost always the first thing they bring up when they see me: "Oh my God, that salmon … how the hell you do that? I can't stop thinking about it!" It makes me smile. I love making memorable food, and this one is a no-brainer. The secret is to brine it overnight in two kinds of sugar and salt, then let it sit out on a tray the next day for a few hours and form a thin skin before you smoke it. The rest takes care of itself.
To me, store-bought smoked salmon just ain't right. It's wrapped in plastic, too expensive, and it's always either dry or oily. This simple recipe will disabuse you of ever buying that stuff again!
INGREDIENTS
1 whole side of fresh salmon
1 cup of white sugar
1 cup of brown sugar
½ cup of salt
Tony's Creole Seasoning
1 cup Mesquite Chips
1 cup Hickory Chips
Pam Non-Stick Olive Oil Spray
Charcoal
A Weber grill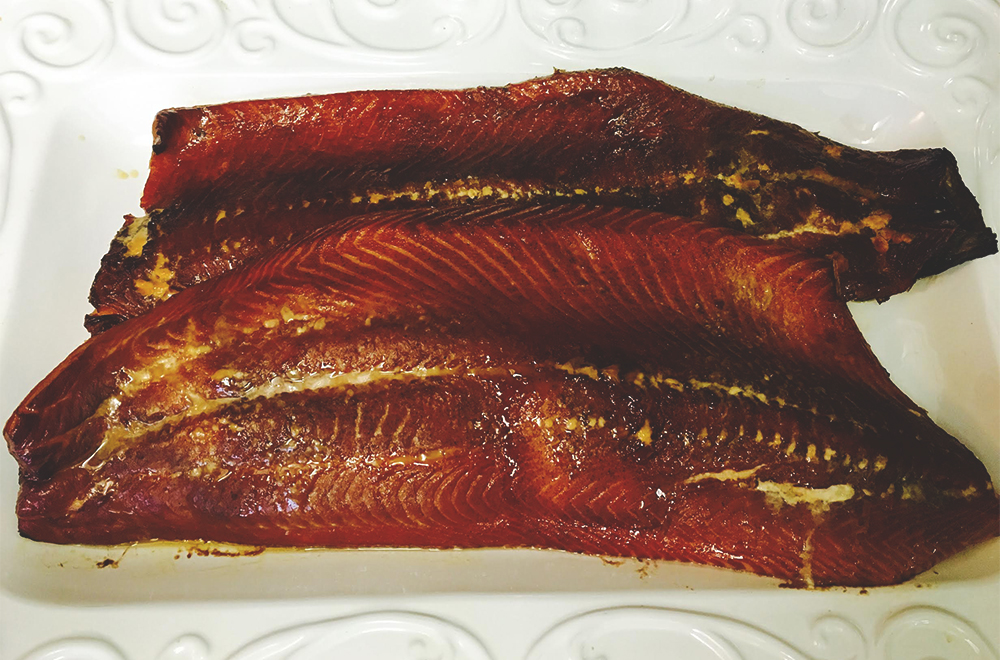 DIRECTIONS
Take a whole side of fresh salmon and put it in container big enough to lay it down flat in, then pour the white sugar, brown sugar, and salt on top. Fill the container with water, and make sure the water covers the salmon. Stir it up a bit, cover it, and put it in the refrigerator overnight.
Take it out the next day a few hours before you're going to smoke it, shake it off, sprinkle Tony's Creole Seasoning on it (be careful, a little bit goes a long way!), and lay it flat on a big plate or a board. Toss the soaking sugar water, and let the salmon dry in the air for at least three hours.
When you're ready to smoke it, pour coals on one side of the grill, light them, and wait until they glow. While waiting, take the mesquite and hickory chips, and soak them in water.
Tear off a big piece of aluminum foil and fold it so that it's thick enough to hold the side of salmon. Spray it with Pam Non-Stick Olive Oil Spray and put the fish on the foil. Pour the soaked, drained hickory and mesquite chips on top of the coals, and let them get going good. Then place the fish and the foil on the grill, on opposite side of the coals. The idea is to SMOKE the fish, not barbecue it. Cover the grill tightly with the lid. The smoke will turn the fish a beautiful brown and, after a few minutes, you'll need to slightly open a vent to let some air into the grill to keep the fire burning. The trick is to let enough air in to keep the smoke coming, but not too much, because you don't want flames leaping up and burning the bottom of the fish. Again, the idea is to smoke the salmon, so keep it off the coals as best you can.
The salmon is cooked when you touch it and the flesh has tightened. You'll know you're there when the white liquid stops forming on top. It usually takes about 30-40 minutes. Don't overcook it! It will continue to cook a bit after you take it off, so I always err on the side of caution.
Enjoy!
---
Mary Gauthier was a chef long before she ever wrote her first song. Her latest album, Trouble & Love, came out in 2014.