This weekend, September 21, 22, and 23, at the West Virginia State Fairgrounds in Lewisburg, West Virginia, ascendant, down home country star Tyler Childers and his cohort will gather for an event begun in 2018 called Healing Appalachia. The benefit festival, put on by West Virginia based non-profit Hope in the Hills, will include performances by some of the biggest and buzziest names in American roots music: Jason Isbell & the 400 Unit, Trey Anastasio Band, Marcus King, Umphrey's McGee, Amythyst Kiah and many more.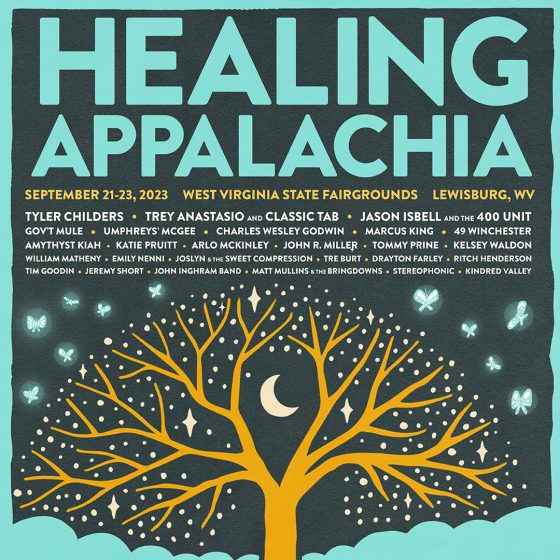 Healing Appalachia is just one of many such community-led, collective efforts born from within the region in recent years that is working towards effecting positive change while offering local, ground-up solutions to big, systemic problems. Their social media and website put it elegantly and succinctly: Their vision is a prosperous Appalachia, free from addiction. The opioid crisis has hit Appalachia, especially West Virginia and Childers' home state of Kentucky, incredibly hard. When 26 people overdosed on one day in Huntington, West Virginia, in 2016, the mission for Hope in the Hills and Healing Appalachia was born.
At the time, Childers and his hardscrabble team were still climbing the music-industry ladder, building connections and community that would eventually grow and blossom into the multi-day event Healing Appalachia has become today. Childers' friend and manager, Ian Thornton – who founded WhizzbangBAM, the booking and management company that represents Childers – together with festival program director Charlie Hatcher, Hope in the Hills board president Dave Lavender, and others took that tragic day in Huntington and turned it into an accretion point, around which they gathered and took action. Now, the festival has a local, annual economic impact approaching $3 million while raising thousands of dollars to be distributed to local, on-the-ground organizations and non-profits that specialize in addiction programs, recovery, support and healing for this long-oppressed region of the world.
We spoke to Ian Thornton and Dave Lavender for a two-part interview preview of Healing Appalachia, that dives into the work of Hope in the Hills and explores this grassroots music event's community-first mission, that hopes to heal these music-steeped, underestimated communities in Appalachia from the inside out. Read our conversation with Ian Thornton below, read our conversation with Dave Lavender here.
Unable to attend the festival this weekend? You can donate to support the cause here.
Could you tell me a little bit about the background, the impetus, or the inspiration when you all were putting your heads together to make an event called Healing Appalachia. What was that like?
Ian Thornton: I'm very close friends with a fellow named Charlie Hatcher, who's actually the festival producer for the event. The idea came to him first – you know, he tells the story better than I do – but he was on a fishing trip and got a call that yet another one of his friends had passed away from an opioid overdose. You know, we've all lost countless friends who we grew up with, went to school with, and I guess you'd say this one was the straw that broke the camel's back. Charlie just kind of wanted to do something about it. He reached out to me and we got our heads working.
We're not a recovery organization ourselves, right? But what we're good at is the music side of things, producing events, working with musicians, playing music, inspiring people, bringing people together. That's kind of how it was born. I talked to Charlie, who is friends with Tyler [Childers], too, and obviously this is something Tyler is very passionate about.
Tyler is also from Appalachia and he's lost friends and family members, himself. The idea kind of spawned from thinking, "What if we do essentially a Farm Aid type of event?" The thought process was to have Tyler be the face of it and have all the efforts go towards recovery and the battle against the opioid epidemic here in Appalachia.
What I love about a cause like this is that the music itself is generative and restorative, and isn't just a tool to generate interest or awareness. How do music and the arts play a role in a mission like this, in healing Appalachia, where the music can do the work as well as spotlighting the work? Do you agree or disagree?
IT: I certainly agree, and I think music is one of those things that ties everyone together, right? On a base level.
This one I think is in particular, it's special because substance use and music are pretty closely tied together. A lot of musicians suffer from [substance abuse], and it's part of the lifestyle, right? It's part of what you see as "the rock and roll lifestyle" or whatever you call it. They kind of go hand in hand. We're all more aware of it now, too, and we all know folks who have taken things to the extreme, then they've had to kind of pull back and get sober after feeling like they lost their way. We wanna show that sobriety and rock and roll – or whatever you want to call it – can live together harmoniously, just as easy as the party side of things.
A very good friend of mine, who's no longer with us, Tom Morgan, he battled with sobriety for a long time. He was one of the guys that taught me my first chords on a guitar, right? And it got to the point, for him, where he couldn't even go to shows locally, because they're always at bars, right? Venues and bars are so closely associated that it can be difficult for someone who is in recovery.
I think that's why the music side of Healing Appalachia, using music to bring awareness to this epidemic, really goes hand-in-hand. Even some of our performers – Trey Anastasio is performing this year and I think he's over 15 years sober, now. Obviously with Phish, which is, you know, the jam band, you would assume, drug culture and everything else is associated with that. But, Trey's only gotten greater in what he's done with his musicianship. And, you know, Tyler even comments too that his artistry has improved and he's been able to focus more on it since becoming sober and quitting drinking.
What is the importance of community and mutual aid to this mission, and how important is it that you all are not just people coming in from the outside, that you all have a stake in this – regionally and locally. Do you think that building community as you're doing this is just as important as doing the work as well?
IT: Yeah. And, you know, to be honest, I think that's where it has to start. You can look at things on these big levels and you can just get overcome or overwhelmed with how large the changes you're trying to make are. At that point you get discouraged and you're not going to do it.
Living inside Appalachia, we have heard all of the stereotypes. That we're, you know, "Shoeless, toothless, drug-addled, fat…" We've dealt with these things and we've dealt with the oppression of the coal industry, of big money, of big pharma. All of this built on the backs of Appalachians.
I've always been someone who believes that you have to start locally. You have to have something that's attainable. Something you can put your hands on and something that's meaningful – it's more meaningful to us because we're in the fucking thick of it, right? I mean, Huntington, West Virginia, was almost the nucleus of the opioid crisis, and that's the city I was born and raised in. We watched [everything] happen, the day there were 26 overdoses in one day due to a bad batch of heroin coming in. If you create something locally and have local people that are invested, what that does is it will not only grow the mission in and of itself, to help people become more aware. But one of my ultimate goals was always for someone else to see what we're doing and it inspires them to do something in their region. Sometimes that's all people need. They just need to be pushed over the hump to get the inspiration.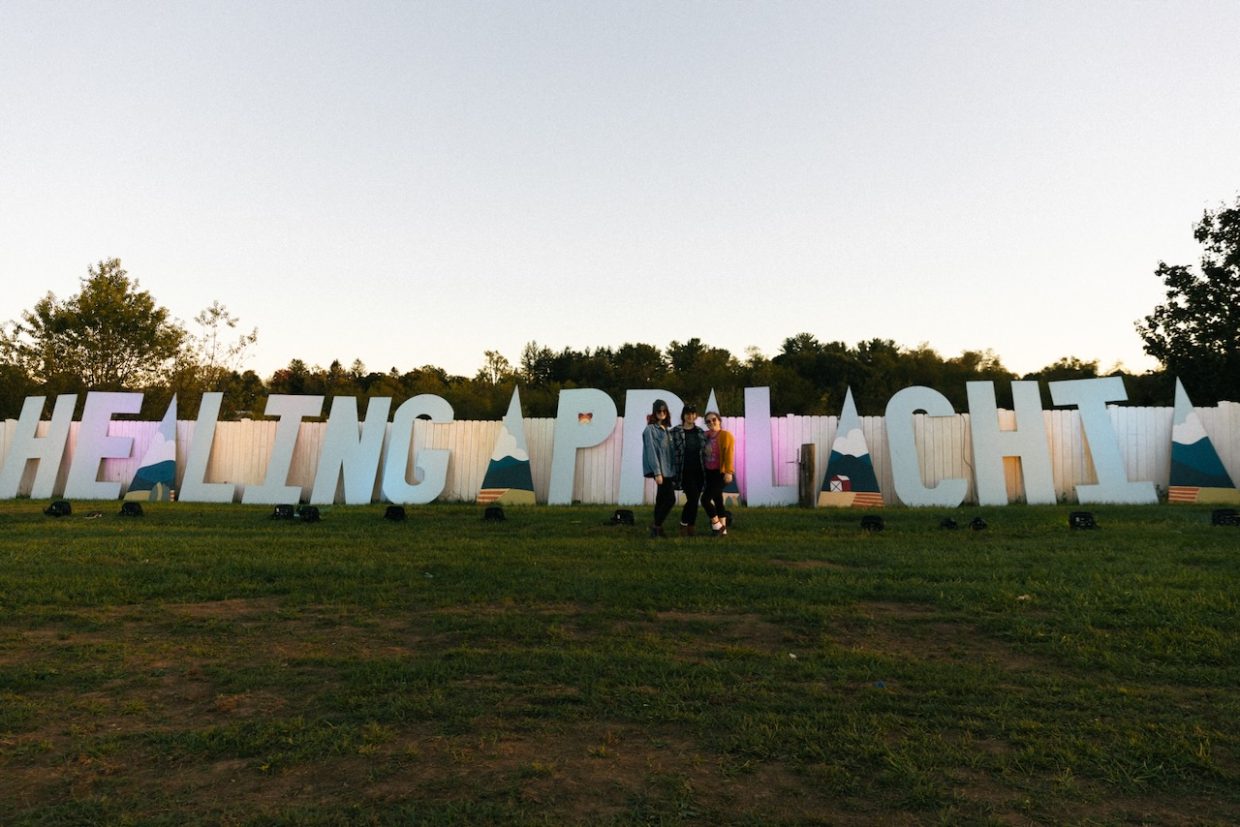 Do you have an idea of the scale of the economic impact of the festival, not only for your mission, but also for the area in general?
Yeah, so I'm going to refer to my fact sheet here. [Laughs] We've estimated $2.4 million in local economy spending in southern West Virginia and the Lewisburg area. That's like hotels, gas stations, shops, restaurants, everything. On top of that, we donate money directly, too, and we pull a lot of volunteers from the region.
Like, the local high school basketball team will come and clean up trash. We've given more than $50,000 to local youth organizations in Greenbrier County alone. I think we had over 30 states and 6 countries represented last year in concertgoers.
It does make the point for you: You can have all of the apparatus and all the infrastructure, but if you don't have the community, how do you take those numbers and turn them into something that means something to the people who are on the ground there in West Virginia? And involving them, too, right? Everything from the car lots to catering to cooking burgers out back.
To date, we have donated over $400,000 to recovery wellness organizations. That goes to over two dozen different organizations. We're not a recovery organization ourselves, right? We're facilitators. What we're trying to do is give people that want to do that side of the work the means to do it. We don't have this crazy application process for grantees. You don't have to have a degree in grant writing to come to us. Tell us what it is you're doing, tell us what you need. It could be needle exchange programs or money going towards Jacob's Ladder, which is an organization for children that were born addicted. We try to hit all sides of it that we can, relying on donations as well as funds raised from the concert itself.
What bands, acts, or artists are you particularly excited about this year when you look at the lineup? It's a pretty stout lineup!
To be quite honest, I'm pretty excited about the whole thing! When this started it was a small, one day event. I think we only had around 7,500 people show up to it. Last year, we had 16,000+ plus.
I'm personally pretty excited about Trey Anastasio and Classic TAB. I'm such a Phish fan, obviously, and can't believe we're having Trey play right before Tyler. I'm just really stoked about that! Also excited for Gov't Mule, Isbell, 49 Winchester, who are cruising right now. And then, you know, keeping some local folks involved, too, your Kelsey Waldon, Charles Wesley Godwin. And Mr. Tommy Prime, who is fantastic and obviously, his father was an inspiration to a lot of these folks.
It's really special to see some of these folks actually coming to us now. At first, you know how it is, you have to go beg people, "Hey… I'm doing this charity thing… You want to go play for free? We'll get you in the local paper…" The "exposure" gigs, right? And now the pitch writes itself! The work that's been done speaks for itself and people get behind it.
It goes back to the tie with substance abuse and music. You know, they go hand in hand. … I drink, right? It's nothing that I'm personally [abusing], thankfully. But substance abuse is a thing that can get out of hand in the music industry.
Let's close with two questions and they feel very big, but don't be alarmed: What does a healed Appalachia look like to you, personally? And what's one thing that you'd like people to know about Appalachia?
IT: I mean in healing Appalachia, we just have to make it so that folks don't feel trapped or alone. And to let them know, if it's a battle they're going up against, they're not the first one to do it, even if it's not an easy battle. It's not going to be a mound to climb, it's a goddamn mountain, right? So, having the availability and the resources in place so that when someone is ready to take this on, whether it be the first time or the 10th time, that they don't feel ashamed or guilty about it. That they feel loved and like a human being.
Question 2, I think wherever you come from, rural, urban, or whatever, it's the stigmas, right? I want people to know how those stigmas make an impact. The stereotypes of, "They're fat, uneducated. They live in hills and don't wear shoes, right?" The whole reason I do what I do, with Whizzbang in particular, I only work with acts from our region. And I do that specifically. When I started getting into all this, even before Tyler, just seeing the music that's created here. We are not just one thing, right? Nobody is just one thing. You cannot judge a whole people by the bit of the iceberg that floats on top.
The stuff on top that's the most visual, but you can't judge a whole people by that. Appalachia is the most beautiful place in the country. Granted, I'm biased. I grew up there.
(Editor's Note: Read part two, our conversation with Hope in the Hills board president Dave Lavender, here.)
---
Photos by Hunter Way / Impact Media