Nashville's "Music City" nickname has always been broader and more inclusive than the national impression, which largely has been built on two things: the city's impressive country music legacy and its equal importance as a hub for the general music business, with major emphasis on recording and publishing. But what hasn't been as well recognized and celebrated, at least by those outside particular communities in Nashville, is its contribution to numerous other idioms and its role in their evolution and development.
Hopefully that's going to change with the new National Museum of African American Music (NMAAM), now open across the street from the historic Ryman Auditorium in downtown Nashville. The Fifth and Broadway entrance to NMAAM and its proximity to one of the nation's music shrines couldn't be more appropriate, and it is notable that the museum isn't located in one of the sites better known as a Black music hotbed such as Detroit, New York, Los Angeles or even Memphis. Nashville has always been a major player in the African American music world, from the days of the Fisk Jubilee Singers to radio station WLAC breaking R&B, soul and blues hits, and the Jefferson Street nightclub scene providing both valuable training for emerging artists and a vital showcase for established ones.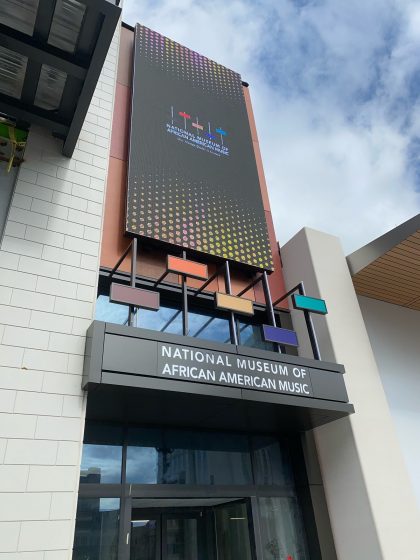 However, the museum isn't focused mainly or wholly on Nashville, nor any single city or musical style. The 56,000-square-foot entity aims to spotlight the entirety of the music made in this nation by Blacks, to demonstrate its impact on the totality of American sounds, and to celebrate its history and multiple influences. As CEO/president Henry Hicks repeatedly told media members who attended tours in January, "We're showing how music through the prism of the Black experience has played a vital role in the growth of this country and how it's affected every fabric of the culture."
The sleek, architecturally striking building has the same visual splendor and attractiveness as the National Museum of African American History and Culture in Washington D.C. Upon entrance, visitors to NMAAM will be immediately drawn to the central corridor that's billed as the Rivers of Rhythm. It features touch panel interactive exhibits, something that's a recurring sight throughout the halls housing exhibits and other items designed to showcase 50 genres and sub-genres of Black music.
The corridor leads into The Roots Theater, which is actually where the museum tour formally begins. There's an introductory film presentation that provides the African background and heritage of the various exhibits. It also offers a cinematic shorthand of what visitors later see presented in more exacting, visually striking manner: the multiple sounds and styles of notable Black music creators and performers. The theater seats approximately 190, and in later weeks and months will serve as the location for various screenings, lectures, music performances, and concerts.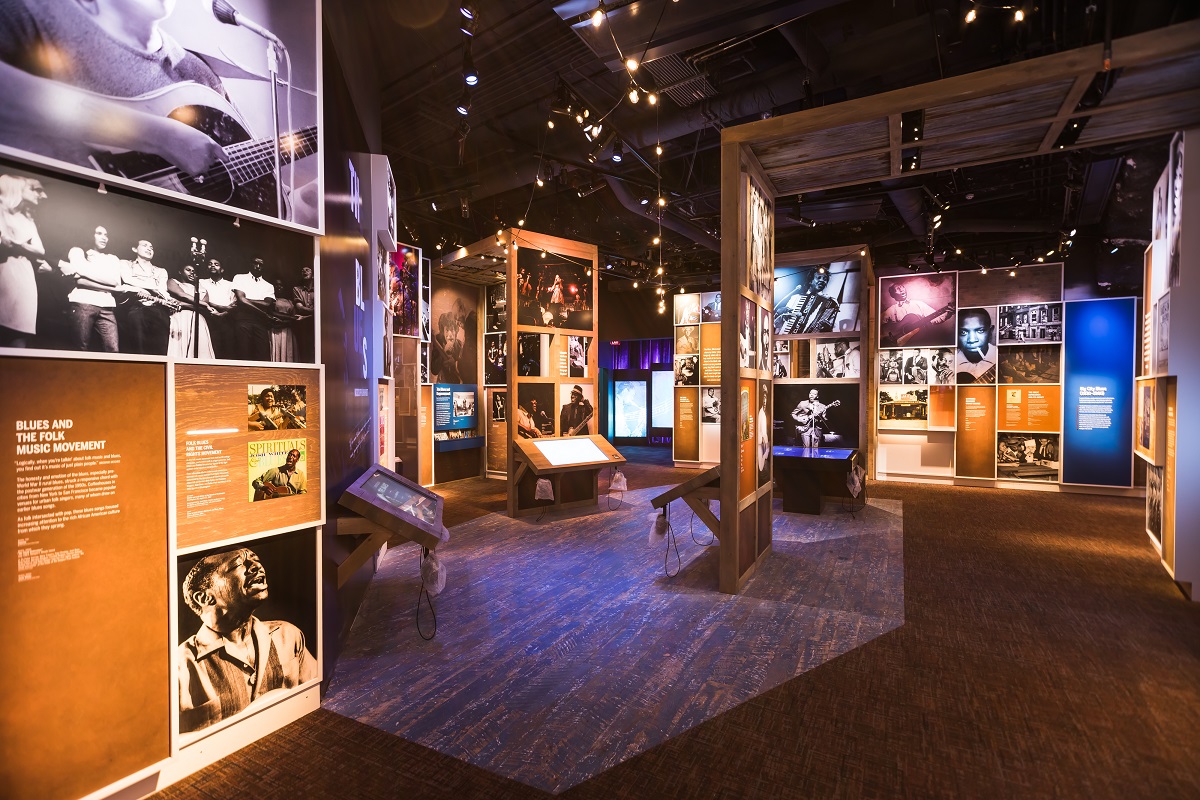 The different genre exhibitions feature everything from more interactive exhibits with timelines to cases containing such items as one of Louis Armstrong's trumpets, one of B.B. King's "Lucille" guitars, or costumes worn on key nights by performers like Billie Holiday, Nat "King" Cole, Ella Fitzgerald, Ray Charles, or Aretha Franklin. The museum doesn't neglect any area of Black music, going from the earliest spirituals to pre-jazz, traditional and modern jazz, blues, R&B/soul, funk, disco, and into contemporary hip-hop and EDM. There's also a detailed storyboard for every idiom.
The greatest examples of Black music influencing other idioms that are sometimes mistakenly assumed not to have any links with African Americans can be seen in the Crossroads section. It includes an essay that traces how country founding fathers like Jimmie Rodgers and Hank Williams were influenced by the blues, and how the acoustic guitar playing of people like Sister Rosetta Tharpe and the gospel-tinged shouting of Odetta in turn influenced white folkies like Joan Baez and Bob Dylan.
One of Chuck Berry's biggest hits, "Maybellene," was a reworked version of Bob Wills' "Ida Red" with new lyrics, while certainly Elvis Presley, Carl Perkins, Jerry Lee Lewis and other white rock 'n' roll and rockabilly types were performing a hybrid of country, blues, and R&B. In both cases, as well as early string band music played by white and Black performers, these artists were hearing and creating a fresh sound based on their love of multiple genres, which the Crossroads section reflects in text and exhibits.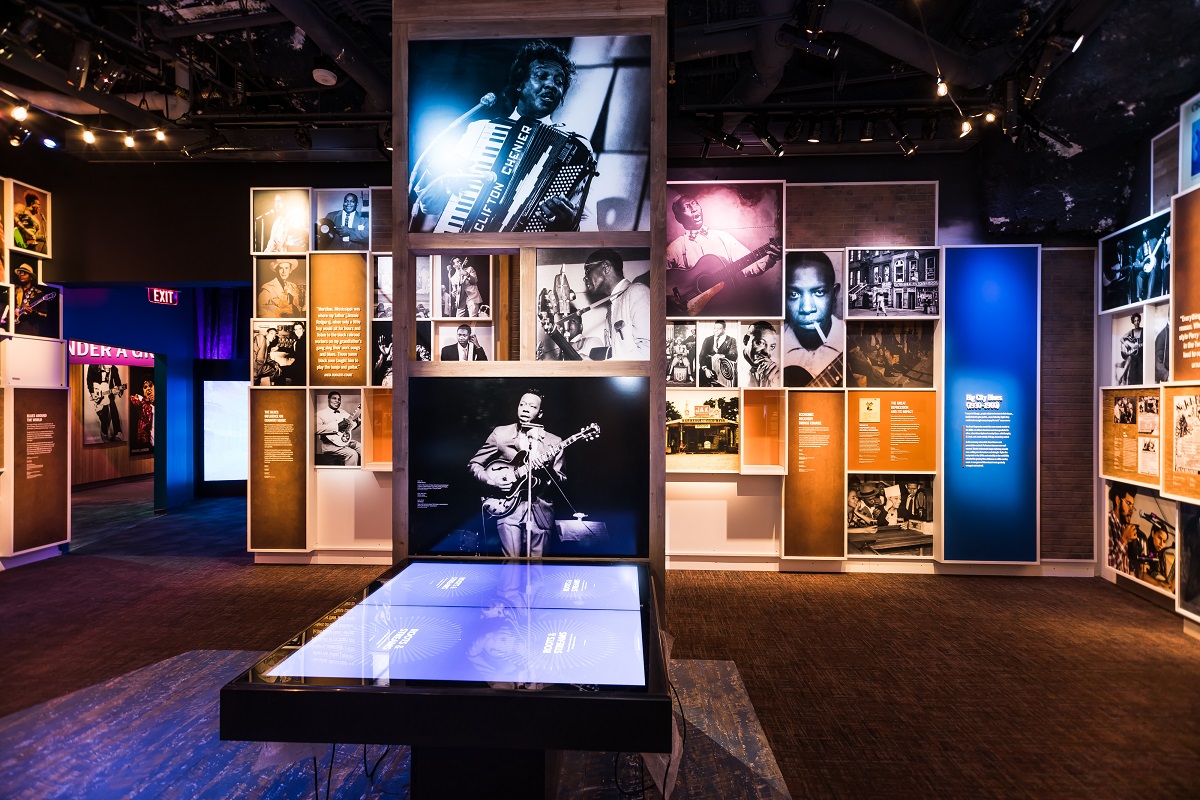 Along the way, depending on your musical preferences, you're able to become an active part of the experience. There's a disco dance room that inserts a neon silhouette onto the wall. You can construct your own blues song, improvise within a personal jazz composition, become part of a gospel choir, or craft your own freestyle raps. Any or all of this activity is recorded on a personal RFID wristband and automatically uploaded so that it can be shared online with friends, assuming you really want those efforts heard by others.
But most importantly, the mission, one frequently cited by tour guides and reinforced through the various exhibits, displays, and films, is Black music's cross-generational links and the way it's been both a voice of protest and a force for unity across diverse backgrounds. The role music played both in rallying Blacks into the World War II effort and helping inspire and fortify the Civil Rights Movement are just two parts of that underlying joint theme.
Whether it's "One Nation Under a Groove" or "A Love Supreme," regardless of spiritual or secular content, Black music has been at the core and forefront of American culture. No single building better exemplifies and reveals that than the National Museum of African American Music. No matter what kind of music you love, or even if you're tone deaf, this museum will have something of value for you to see, hear and enjoy, as well as valuable lessons to learn and history to remember.
---
Photo Credit: NMAAM/353 Media Group