One of my first jobs after high school was working as a chef … in a small café … in a church … a mega-church. You read all that correctly. I usually leave the last two parts out, when telling folks about that time.
I had been considering going to culinary school before this, but my father suggested I get more experience cooking professionally before embarking on such an expensive investment. That job came up, and I took it. It was up to me to determine the menu, make orders, try to configure costs versus sales, etc. The kitchen was really more like a storage room that had been furnished with a panini maker, mini oven, two small burners, and a commercial fridge and sink. As you can imagine, the limited resources made coming up with a menu challenging. My boss also determined that the menu would be changing each week. So, there I was, a recent high school graduate that had merely cooked at home for her parents and friends, trying to run a kitchen.
It turned out to be a really lovely season of growing, experimenting, and learning. I plumbed the depths of soups, salads, and sandwiches that I still love to make.
Today, I'm sharing a beloved combo I used to throw on the menu in the Fall and Winter: Tomato Basil Bisque and my version of a grilled cheese. It's good. Really good. The kind of good that people would break their low-carb diets for. And even though it's far from cold in Tennessee, sharing this meal with my husband today gave me all the warm and fuzzy Fall feelings.
I would suggest pairing this comfort food with my go-to comfort album: Josh Ritter's The Animal Years.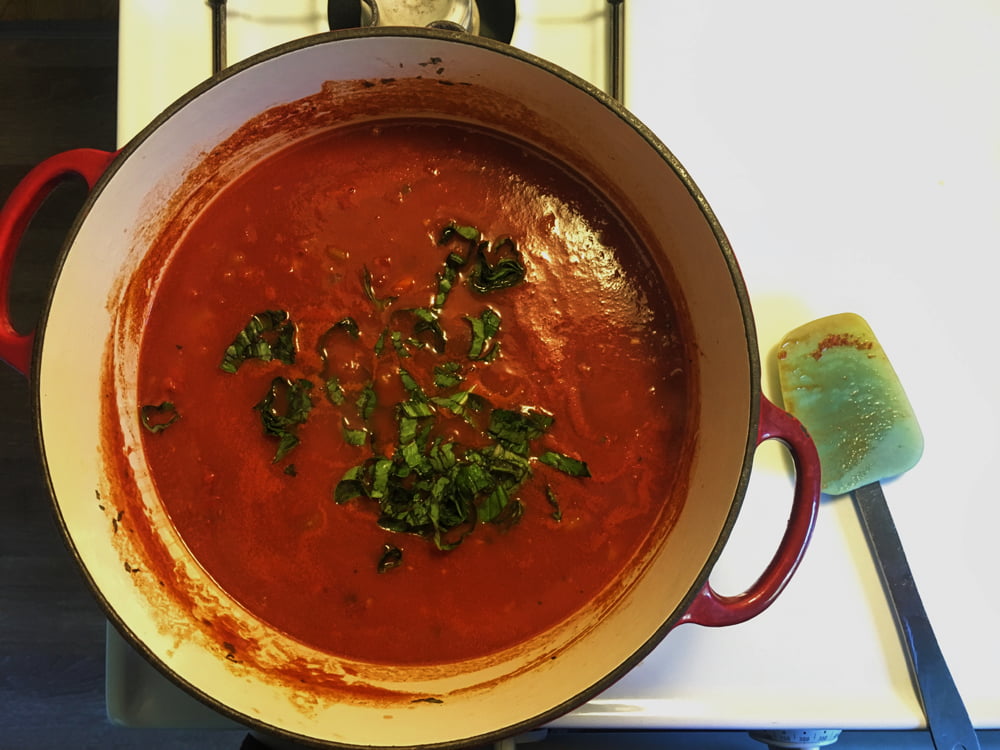 Tomato Basil Bisque (Serves 4-6)
3/4 cup celery, chopped
3⁄4 cup carrots, chopped
1⁄2 cup yellow onion, chopped
1 tablespoon fresh garlic, minced
1 tablespoon butter
3 cups tomato juice
1 cup broth
8 ounces of canned diced tomatoes
3 ounces tomato paste
1 teaspoon dried basil
1 teaspoon dried herbs de provence (optional salt & pepper)
1 cup heavy whipping cream … Sorry, no low-fat alternatives for this one.
3 teaspoons sugar (Trust me on this.)
1⁄4 cup fresh basil
In a large saucepan, cook celery, carrots, onion, and garlic in butter until vegetables are tender. Add tomato juice, broth, undrained tomatoes, tomato paste, dried basil, herbs de provence, and pepper. Bring to boiling; reduce heat. Simmer, uncovered, for about 30 minutes or until slightly thickened. Add fresh basil. Use immersion blender to blend the soup together. You can also place half of the soup in a blender or food processor, if you do not have a fancy immersion blender like I do. Cover; blend or process until smooth. Repeat with remaining mixture. Return all of the mixture to the saucepan. Stir in whipping cream and sugar; heat through. Taste and add more salt and pepper to your liking. Ladle into warm soup bowls. Garnish with fresh basil leaves, if you like to impress folks.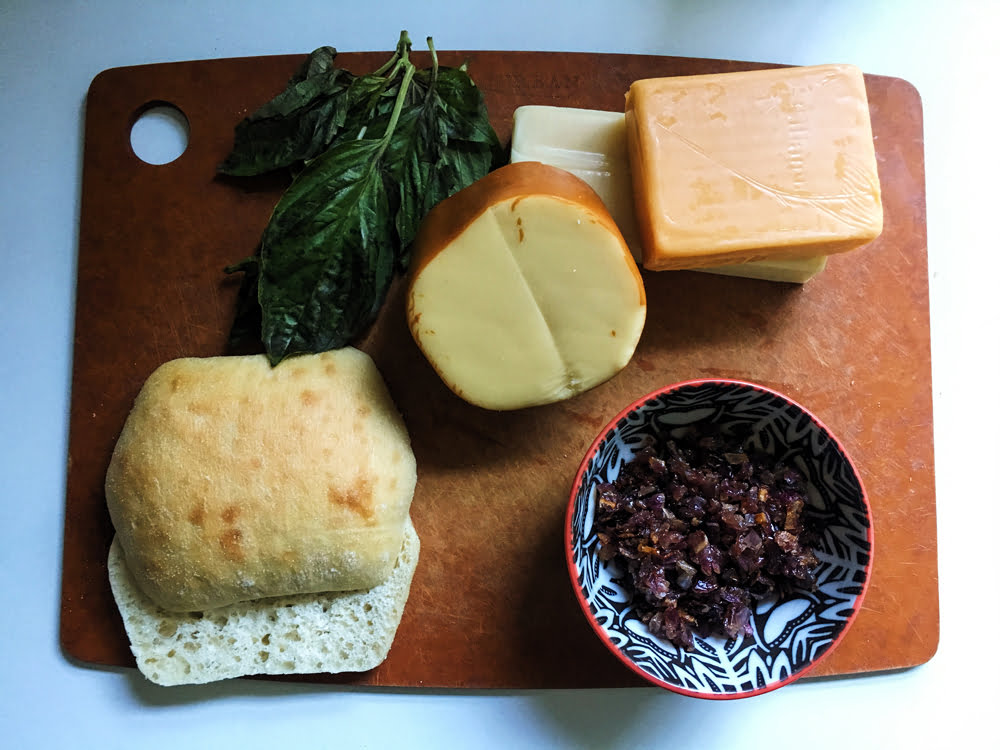 "Grown-Up" Grilled Cheese
4 ciabatta rolls
Salt and pepper
4 oz smoked gouda cheese
4 oz cheddar cheese
4 oz part skim mozzarella
Panini press, or something heavy, like a teakettle with the bottom wrapped in foil. I like to add some water to the kettle to make it heavier, because I'm creative like that.
French Onion Spread
1/2 red onion, chopped
1 TB olive oil
1/2 cup sour cream
1/8 cup mayo
Place chopped red onion and olive oil in a baking dish. Sprinkle with salt and pepper. Bake at 325 degrees for 30 minutes, mixing a few times mid-way through the cooking process. Meanwhile, half the ciabatta bread and grate the cheeses.
Once the onion is cooled, mix with sour and mayo. Add seasoning with salt and pepper to taste.
Spread French onion mixture on both sides of ciabatta rolls and layer with each cheese. Place in a greased pan on medium heat. Cook for a few minutes, then place kettle on top. Press down evenly. Cook for 3-5 minutes on each side, or until bread is crispy and cheese is melted.
Take off heat and slice grilled cheese in half diagonally. Serve alongside soup.