If you're not swearing off our nation's capital until 2020, we're here to help you avoid the tourist traps in Washington, D.C. Full of free museums, bustling nightlife, ethnic eats, and a diverse population, Washington D.C. offers reaffirmation of the fabric of our nation in a time of division.
Getting There
The airport situation might be the hardest part about getting to Washington, D.C. since the District itself is a no-fly zone for all commercial airlines. With all of the airports on the outskirts, you'll want to choose carefully the closest one to your accommodations. Ronald Reagan/DCA has Metro access and is the closest to the city center, Dulles is a 40-minute ride to town, and Baltimore/Washington International is close to an hour away from D.C. proper, but is accessible via city bus. Getting around with no car is doable with a Metro pass, ride sharing, or your own two feet.
Accommodations
From bed and breakfasts in Georgetown to Airbnbs in DuPont Circle to swanky hotels overlooking the White House lawn, there is no shortage of spots to crash in D.C. The Kalorama Guest House is a cozy euro-style B&B right off the metro and two blocks from the National Zoo. Airbnb has plenty of options, averaging $190 per night. And, if you're feeling fancy (and planning way in advance), check out a room in the Hay-Adams, overlooking the White House.
Eats & Drinks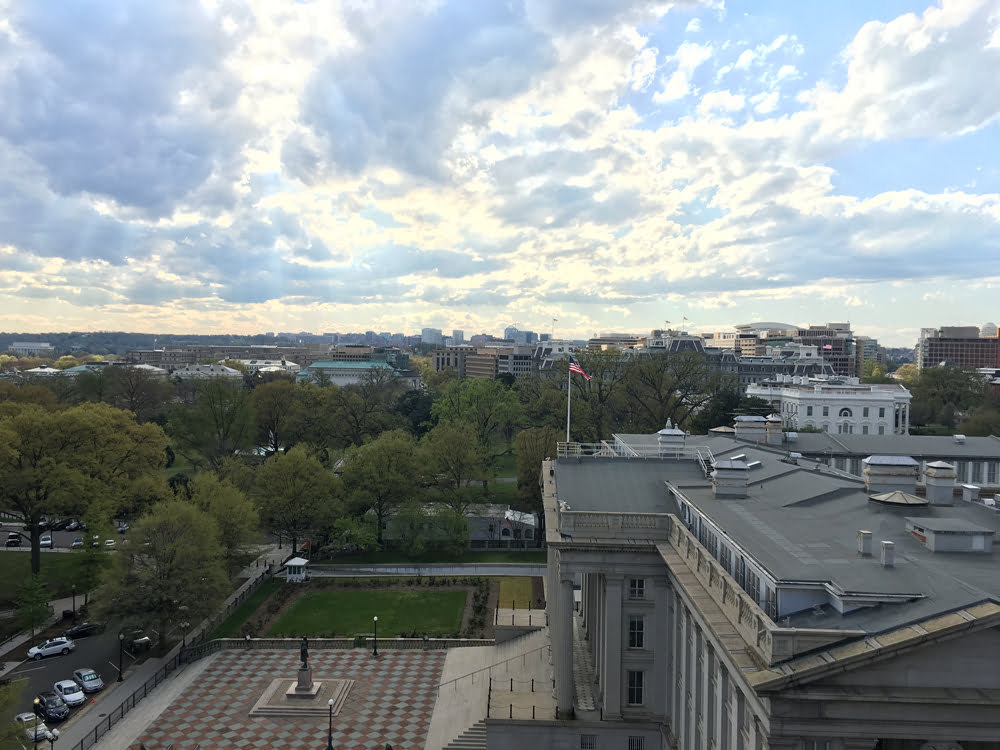 Photo: View from the W bar, Photo credit: Saahil Agrawal
D.C.'s multicultural make-up makes for comprehensive dinner plate fare. They've got a killer high-brow food scene, but the hidden ethnic gems are what make D.C. so tasty. If you want to eat Greek with the local Greeks, head to Mykonos for Imam Baildi and the most authentic tzatziki in town. Neapolitan pizza made by Italians in Arlington at Pupatella was voted best pizza in the state of Virginia and is right down the road. Other must-trys include Japanese donburi from Donburi in Adams Morgan and Latin eats from El Pollo Sabrosa.
The D.C. crowd is a work hard, play hard kinda crew, so there are also plenty of places to wet your whistle. The rent is too high, so dive bars are aplenty, as are the complete opposite — exclusive clubs. Bar Pilar is on 14th Street and is Hemingway-themed. ChurchKey is a beer lover's delight, collaborating with breweries like Sun King Brewery and 3 Stars Brewing Company on exclusive brews. Head to the top of the W for drinks with a view of the Treasury and the White House, plus you can play Where's Waldo? to find the security personnel on top of the White House.
Sight Seeing
D.C. has the obvious political sights that are popular for a reason. There's nothing like walking the monuments that circle the Tidal Basin on the West End of the National Mall at night, taking a selfie in front of the White House, or perusing the National Archives, but there are some off-the-beaten path spots that are worth the deviation from throngs of tourists.
Music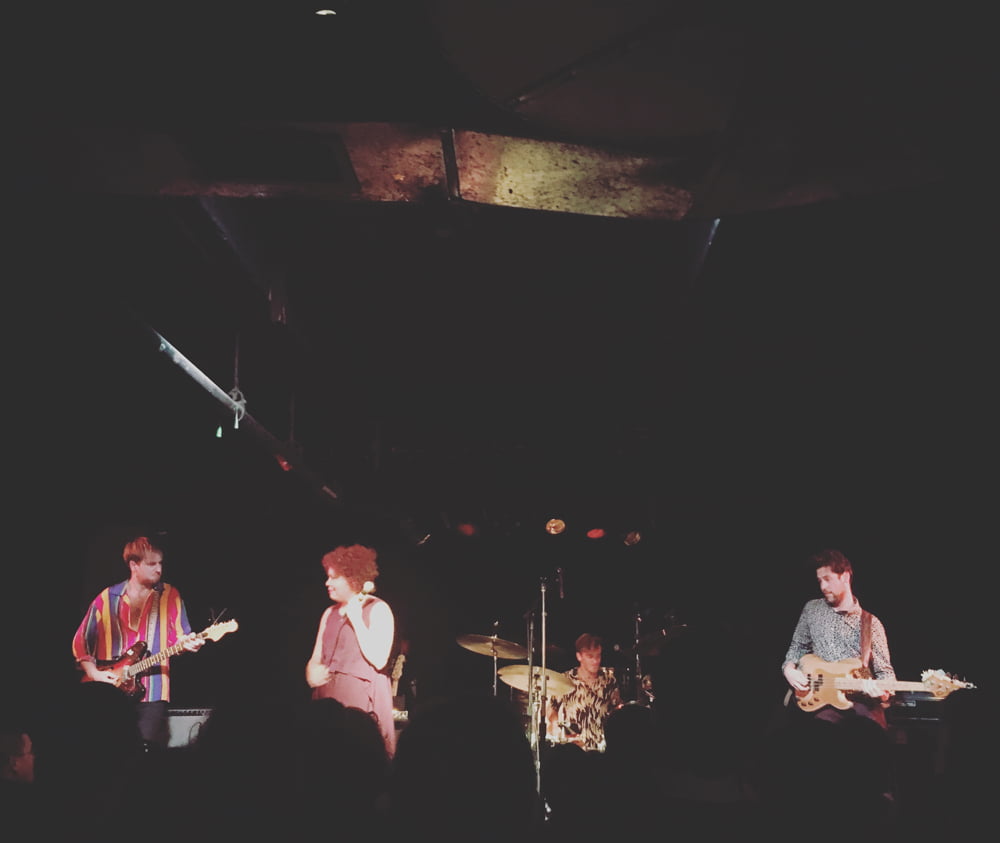 Photo: Black Cat, photo by: Josephine Wood
D.C.'s got plenty of live music venues. Catch indie bands at Black Cat, bluegrass and Americana at Gypsy Sally's, and a wide variety of other touring bands at the 9:30 Club, where they make their famous 9:30 cupcakes for artists and for sale to the public.
As for record stores, two Sundays of every year, collectors wrap around E Street to get first dibs on DC Record Fair's vinyl fare at Penn Social. Grab some Emmylou from Red Onion Records or get nitro cold brew and peruse new and used records at Songbyrd Music House.
Books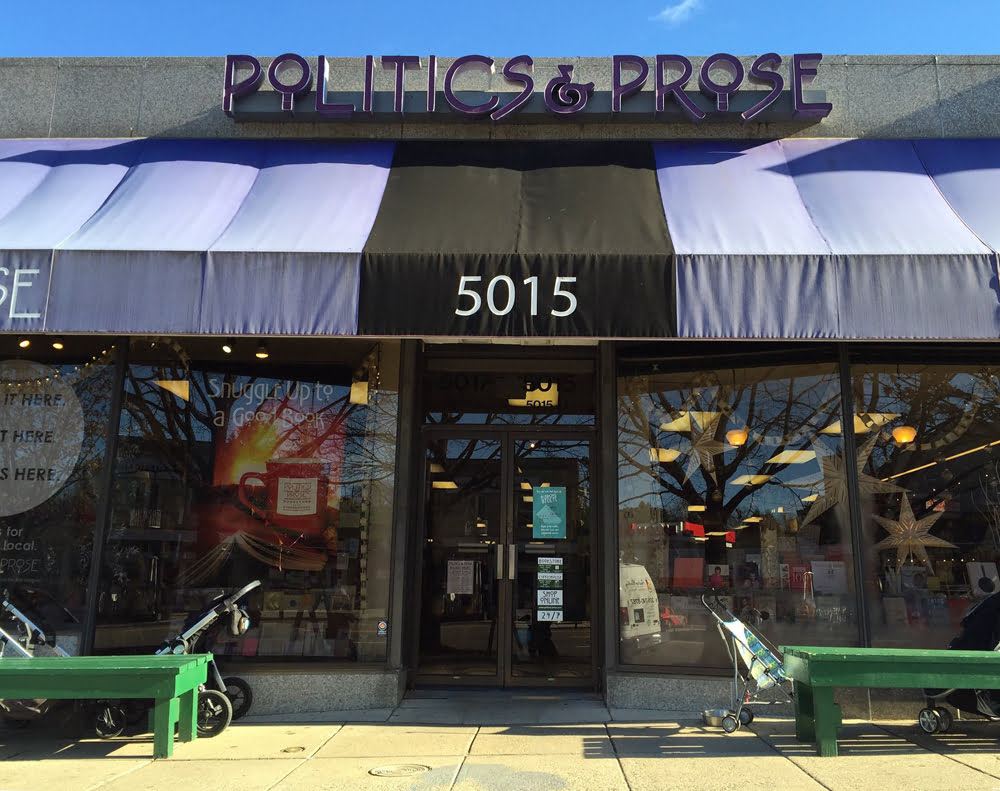 Photo: Politics & Prose
Go book shopping and get a hearty breakfast at Politics & Prose. Be sure to check out their events lineup because they host notable people like Trevor Noah, Bernie Sanders, and Bob Boilen often, plus they have killer deals on used books.
Museums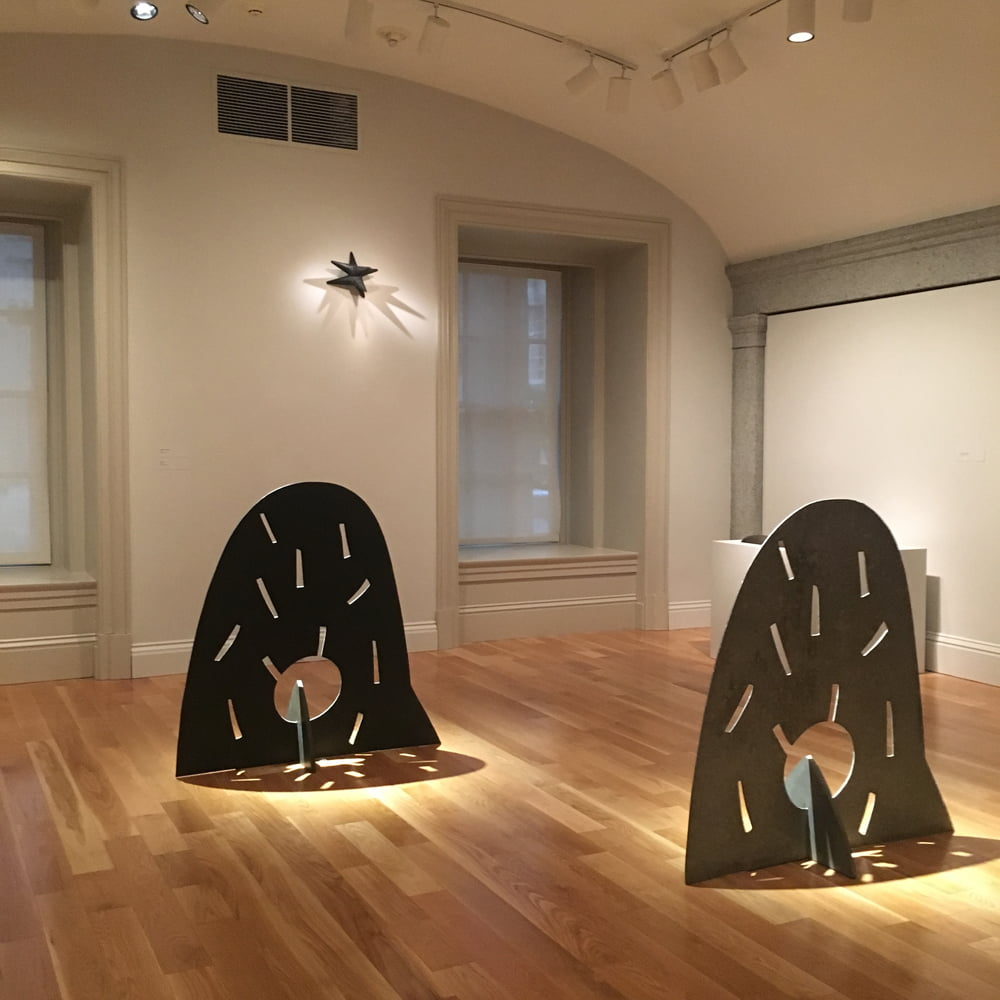 Photo: National Gallery, Photo credit: Josephine Wood
The National Portrait Gallery is one of the more obscure Smithsonians, but is well worth the visit, particularly their "In the Groove" series of Herman Leonard's jazz photography.
In the age of media skepticism, the Newseum offers a timely look back at the history of media in the U.S., including a 50th anniversary exhibit on the history of the Civil Rights movement, photography of immigrants and a history of rock 'n' roll and politics' intersection. It's not a Smithsonian Museum, so it costs $25, but is worth the cash.
The National Gallery boasts the most comprehensive art collection, which allows a wide range of visitors — art lovers or not — the chance to connect with different styles. Plan to spend a large chunk of time exploring, or target one genre or time period to meander through.
The National Museum of African-American History and Culture is the newest Smithsonian and tickets are tougher to come by, though still free. It's worth the wait. The museum is a walk through the history of African-Americans in the United States, including Civil Rights history, slavery, music, art, and much more. You'll learn more than you did in any history class, but plan at least half-a-day to spend wandering the museum, because there is a lot to take in at this five-story, emotionally taxing museum. Get ticket details here.
This one's not exactly a hidden gem, but taking a stroll at the Georgetown Waterfront, along the Potomac River, is a great place to enjoy a sunny day. There are biking and walking paths, as well as plenty of stores and restaurants to pop in along the way. Plus, Georgetown is pretty much the most charming spot in D.C.
---
Lede photo credit: freestock.ca ♡ dare to share beauty via Foter.com / CC BY