Western North Carolina is a vast landscape of blue mountains, peppered with small and charismatic towns. From Boone to Wilkesboro to Asheville, most of western North Carolina is a blue bubble in a red state. The Blue Ridge Mountain communities defy Appalachian stereotypes in some towns and feed them in others. Doc Watson started MerleFest — a holy ground for traditional bluegrass — on the campus of Wilkesboro Community College 31 years ago. Wilkesboro is a small town which intermingles with Boone, so we're covering Boone, too. (This guide is not comprehensive of all of western North Carolina, but is intended to help those making the pilgrimage to the east coast for the grandfather of bluegrass festivals.)
Getting There
Getting to the Boone/Wilkesboro area is a beautiful trek, especially in the spring. If you're flying, Charlotte Douglas International Airport (CLT) is closest at one-and-a-half hours. Asheville's regional airport (AVL) is two hours away and Raleigh's airport (RDU) is two-and-a-half hours. Any drive you take will be scenic.
Where to Stay
Troutsong
There are a few hotels in Wilkesboro which get booked pretty quickly, so your best bet is to camp, bring your RV, or book accommodations in Boone. Wilkesboro is nearly bone dry for places to stay during MerleFest. Boone is a 40-minute drive from Wilkesboro (beware of cops along the way, as this area is notorious for doling out tickets). Airbnb and VRBO have options in both areas, plus Asheville is two hours away.
What to Do
Bluegrass abounds in the Appalachian high country. In fact, legend has it that Old Crow Medicine Show got discovered by Doc Watson while they were busking on King Street in downtown Boone. From festivals like MerleFest to buskers to impromptu jam sessions at local bars, bluegrass is abundant. Boone Saloon hosts everything from string to jazz to punk shows in the heart of downtown. Legends (an on-campus venue at Appalachian State in Boone) hosts musicians from Mipso to Dr. Dog and beyond, and musical greats like the Punch Brothers are known to have visited the Schaefer Performing Arts Center in Boone.
Besides it's rich musical history, Boone and Wilkesboro's vast, rolling landscapes make them a playground. The Blue Ridge Parkway intersects the highway between the two mountain towns, and getting lost on the parkway is encouraged. Along the BRP, we suggest hiking Rough Ridge, Beacon Heights, and the loop trail around Julian Price Lake — a beautiful mountain lake.
In Wilkes County, Stone Mountain State Park features a giant granite dome, trout fishing, and advanced level rock climbing. Some of the best mountain biking in the Southeast can be found along the shores of the W. Kerr Scott Reservoir, outside of Wilkesboro. This lake is home to more than 35 miles of single track trails.
Eat & Drink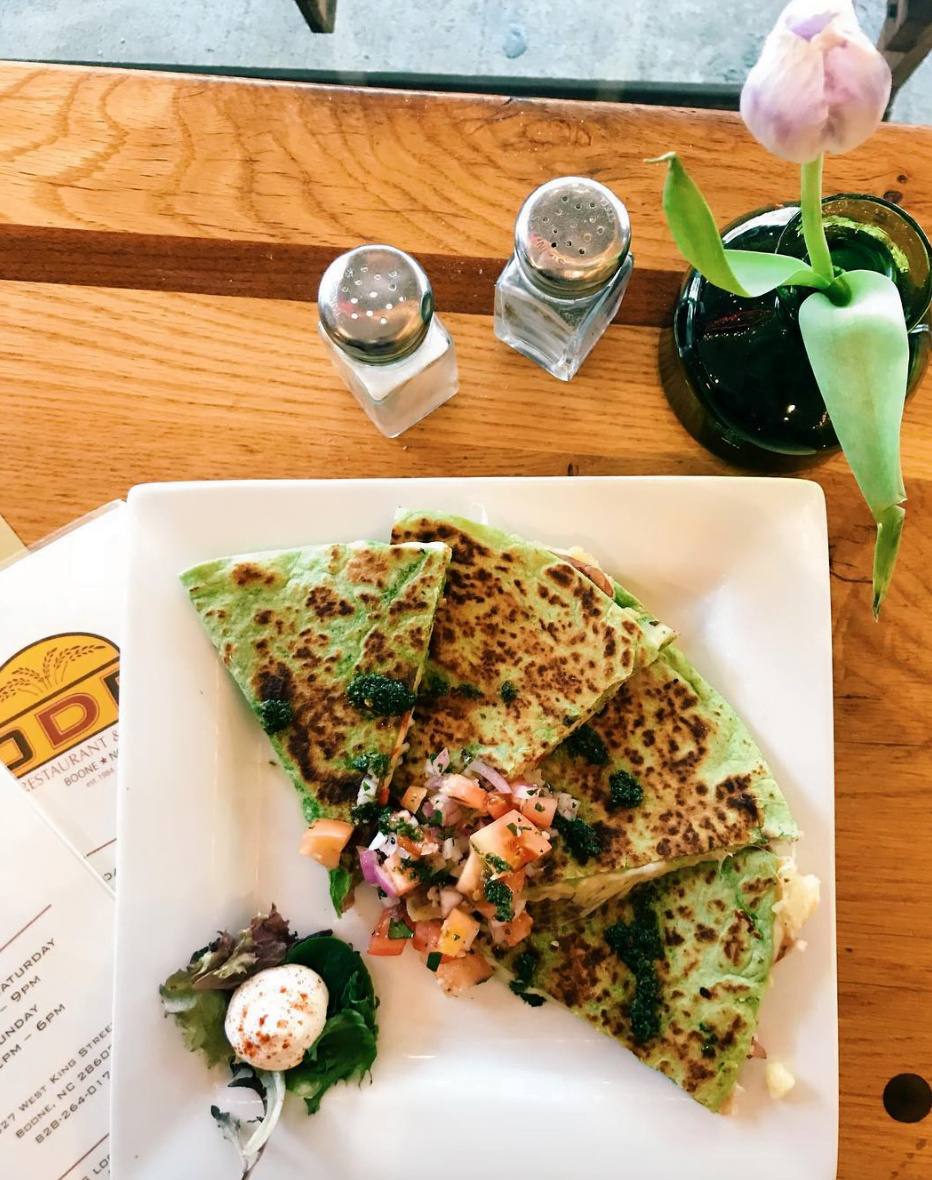 Our Daily Bread
Rich with veggie options, Boone's food scene leans toward healthy and fresh. Stroll down King Street and you'll hit the best sandwich shop in town, Our Daily Bread. Try their chipotle turkey press washed down by one of their many local brews.
Hidden behind King Street in a back parking lot is Espresso News, simply known as "e-news" to locals. You can't go wrong with their organic drip coffee or a dirty chai latte, and it's a quirky, quiet hang. The star of the show in Boone's food scene, according to us, is Wild Craft Eatery (formerly Hob Knob Café). Their flavorful Buddha-style bowls, unexpected flavor combinations and plantains with mango sauce are crave-worthy, and made us go back twice the first trip we visited.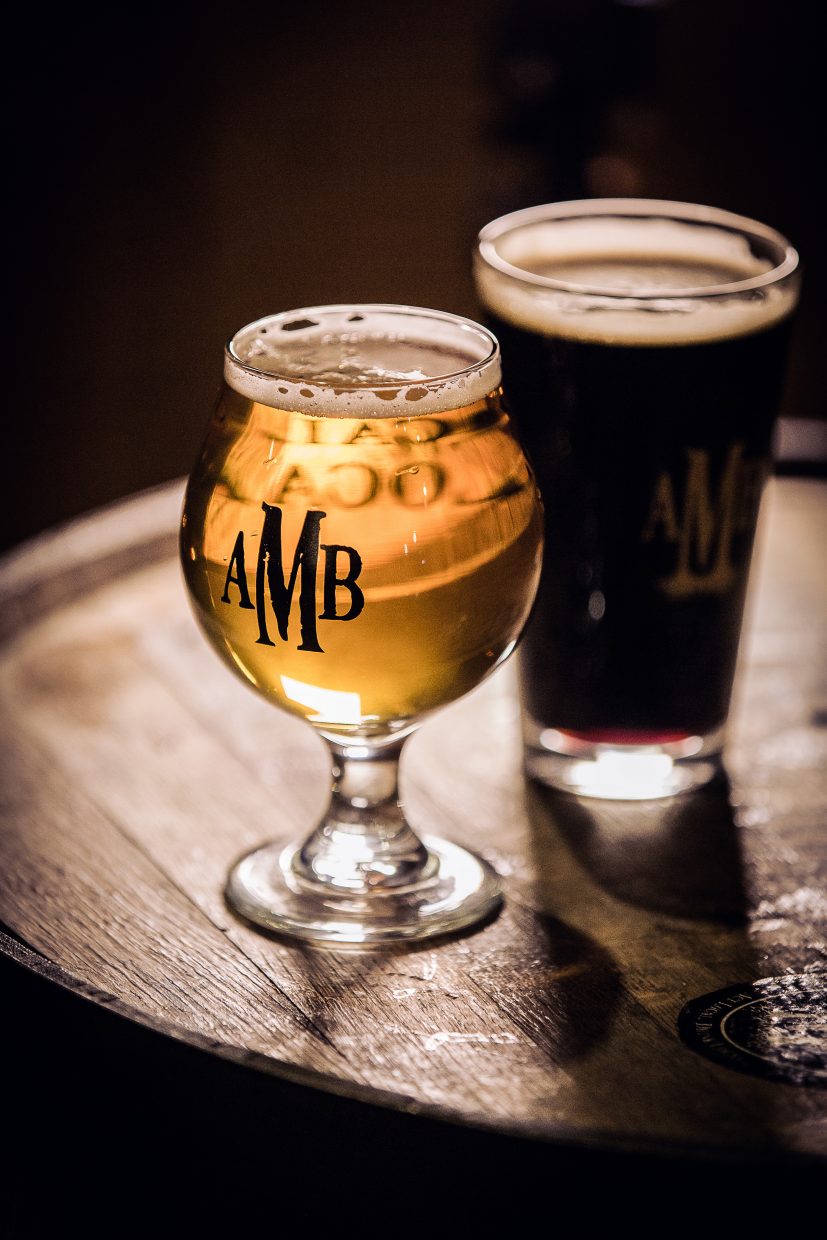 Appalachian Mountain Brewery. Photo credit: Watauga TDA
Coyote Kitchen is in the same creative vein as Wild Craft, specializing in southwestern bowls featuring ingredients like sweet potatoes, black beans, sautéed tempeh, plantains, and chipotle sauce. To find local hops, head to Appalachian Mountain Brewery, Boone's first brewery, and a locally loved spot for beer, music and trivia.
MerleFest Tips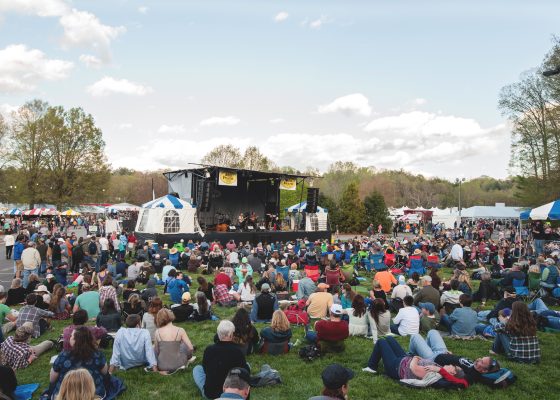 Americana Stage. Photo credit: MerleFest
MerleFest, nestled at the base of the Blue Ridge Mountains, is one of the grandfathers of bluegrass festivals. This isn't your hip, old weed-smoking alternative grandfather. (We're looking at you, Telluride.) It's your traditional, ball cap-wearing, newspaper-reading, fisherman grandfather who likes the music audible, but not blaring loud.
MerleFest is a microcosm of the bluegrass community, getting back to the roots and getting rid of distractions from the banjo pickin'. It's a straight-edge festival with all of the raw, seasoned, and unseasoned bluegrass talent of your dreams. Not only is the music center stage, but classic Appalachian traditions like clogging and songwriting are also featured at the fest.
Midnight Jam. Photo credit: MerleFest
Parking is free and shuttles are provided to the front gates of the festival. April is a tricky month in the mountains, so bring layers and rain gear. MerleFest starts early and ends late, so pace yourself. One of the highlights of the festival is the MerleFest Midnight Jam on Saturday night, which the BGS just so happens to host. Stay tuned for artists we'll be hosting for this late-night jam you don't want to miss.
---
Lede photo credit: DJANDYW.COM on Foter.com / CC BY-SA