Unless you're a mad scientist or you watch a lot of Shark Tank (and if you don't, you should), you probably don't spend too much time thinking about patents. The talented folks at Patents Wall Art, however, do, and the world is a better looking place for it. They produce high quality prints featuring patents dating back to the 1800s, and we bet they'd look pretty rad next to that Edison bulb table lamp you just splurged on.
Here are but a handful of their impressive prints, all featuring the godfather of bluegrass instruments, the banjo: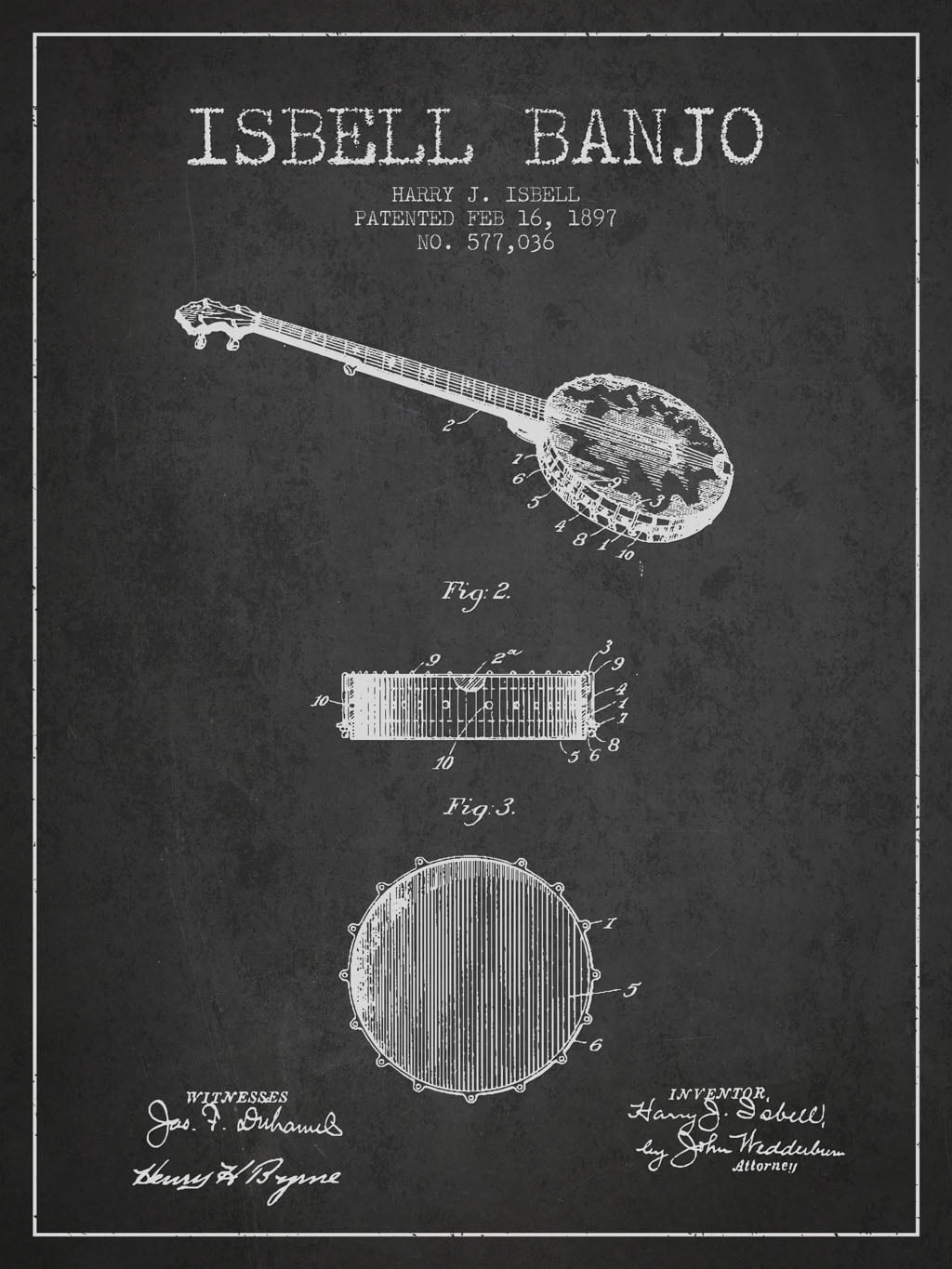 The Isbell banjo was designed by St. Louis banjo maker Harry J. Isbell in the late 19th century. According to some geneaology enthusiasts, Isbell (real name Henry) was a talented musician and professor and allegedly wrote the song "The Adele Waltz," a tune named for one of his daughters. It's unclear whether Isbell actually had a hand in building the banjo or if he simply purchased it as a custom order from either Thompson & Odell or Luscumb. As far as we know, Harry is of no relation to another musical mastermind by the name of Jason.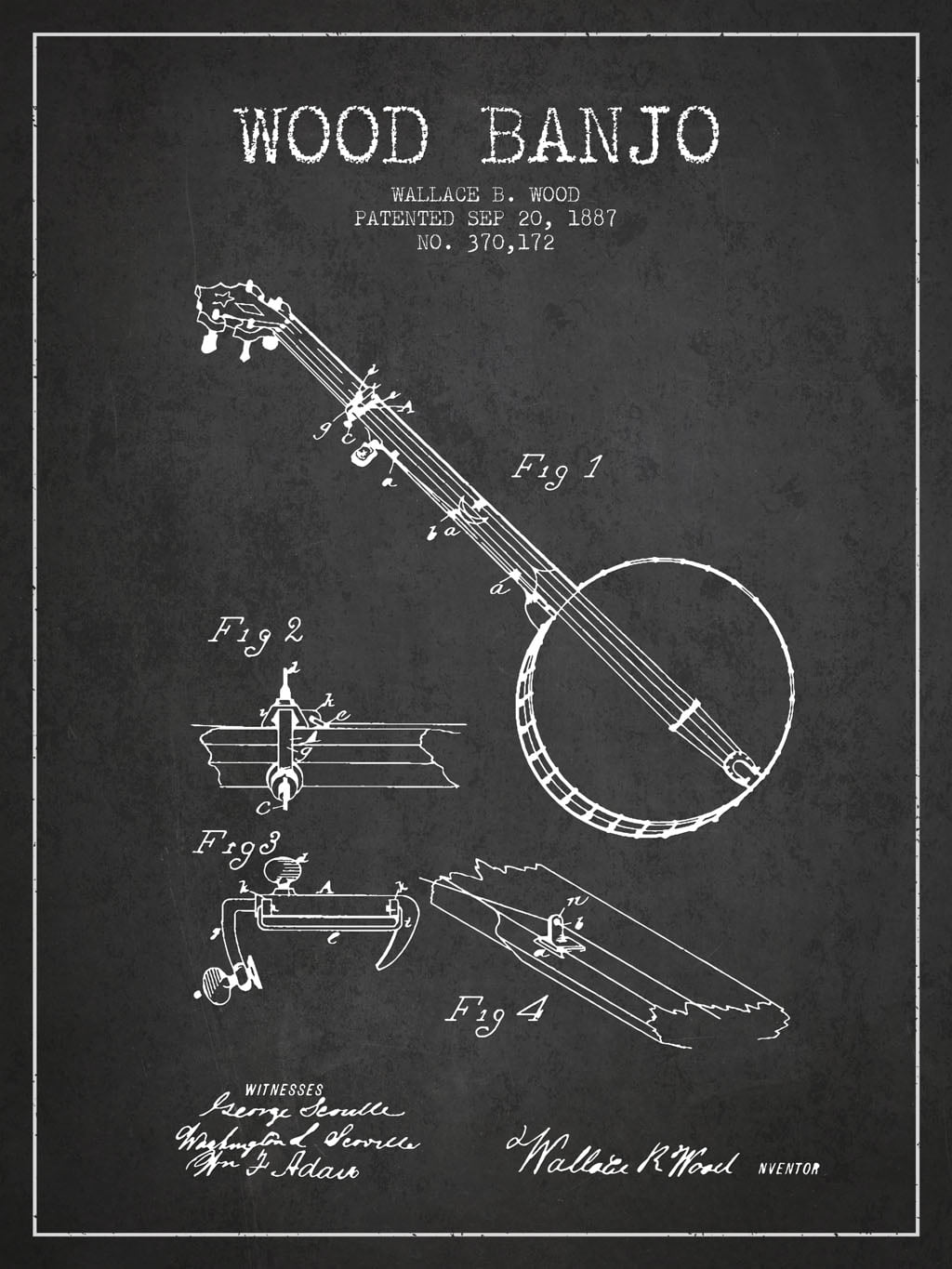 Chicagoan Wallace B. Wood designed this banjo, which he described as an effort to "increase the efficiency and enlarge the action of the banjo as a musical instrument by use of a combination of attachments or devices whereby the key or pitch of the instrument is readily and effectually changed, as may be desired." Wood's contributions to banjo-making were significant, as patents as recent as 1994 reference his work.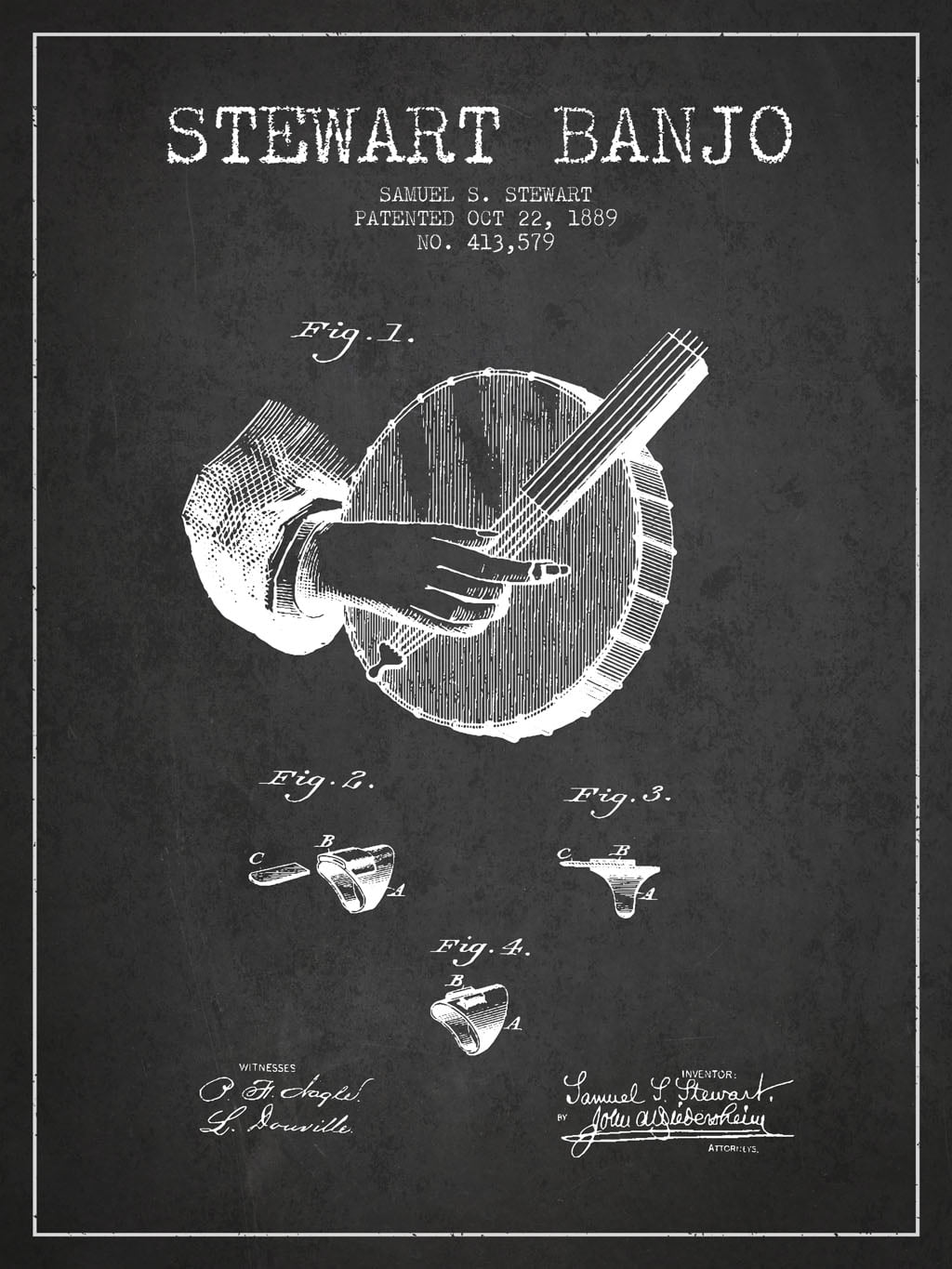 If you love those sharp-looking metal rims — called a tone ring — featured prominently on most banjos, you have Philadelphia instrument maker and music store owner Samuel Swain Stewart (as well as a pair of Troy, NY banjo makers named William Farham and Albert Wilson) to thank as he was one of the feature's early adopters. Stewart had a long career in banjo making before passing away at 43, producing banjos for Sears and inventing the banjeaurine.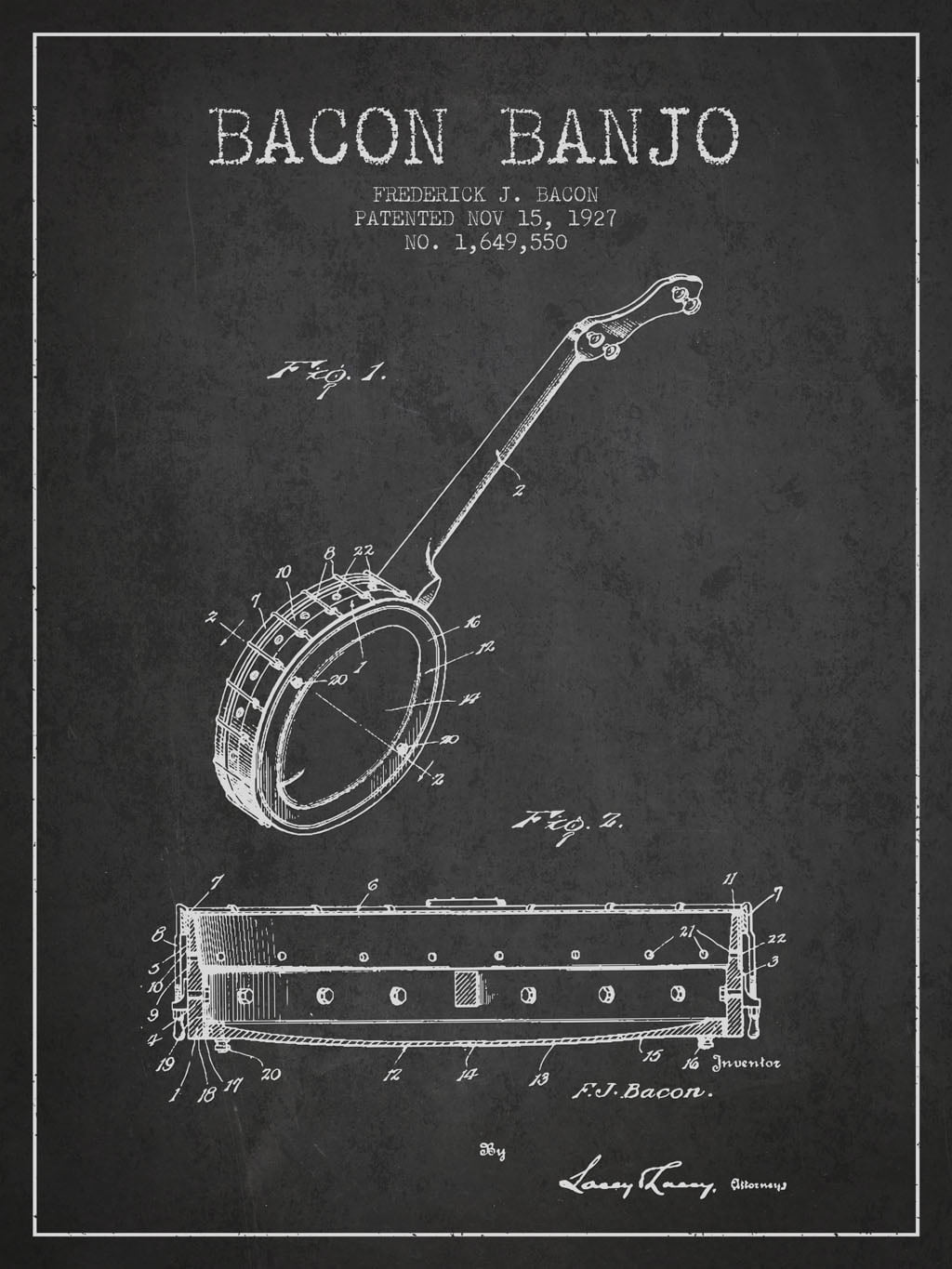 No, it's not a banjo made out of bacon (dream big), but the Bacon banjo is one of the more important instruments to come out of the Pre-War era. Bacon banjos were made well into the 20th century, with Gretsch purchasing the company in 1938 and the brand rights eventually turning over to Fender, who has not produced a Bacon banjo since 1970. Listen to one of Fred Bacon's banjo performances right here.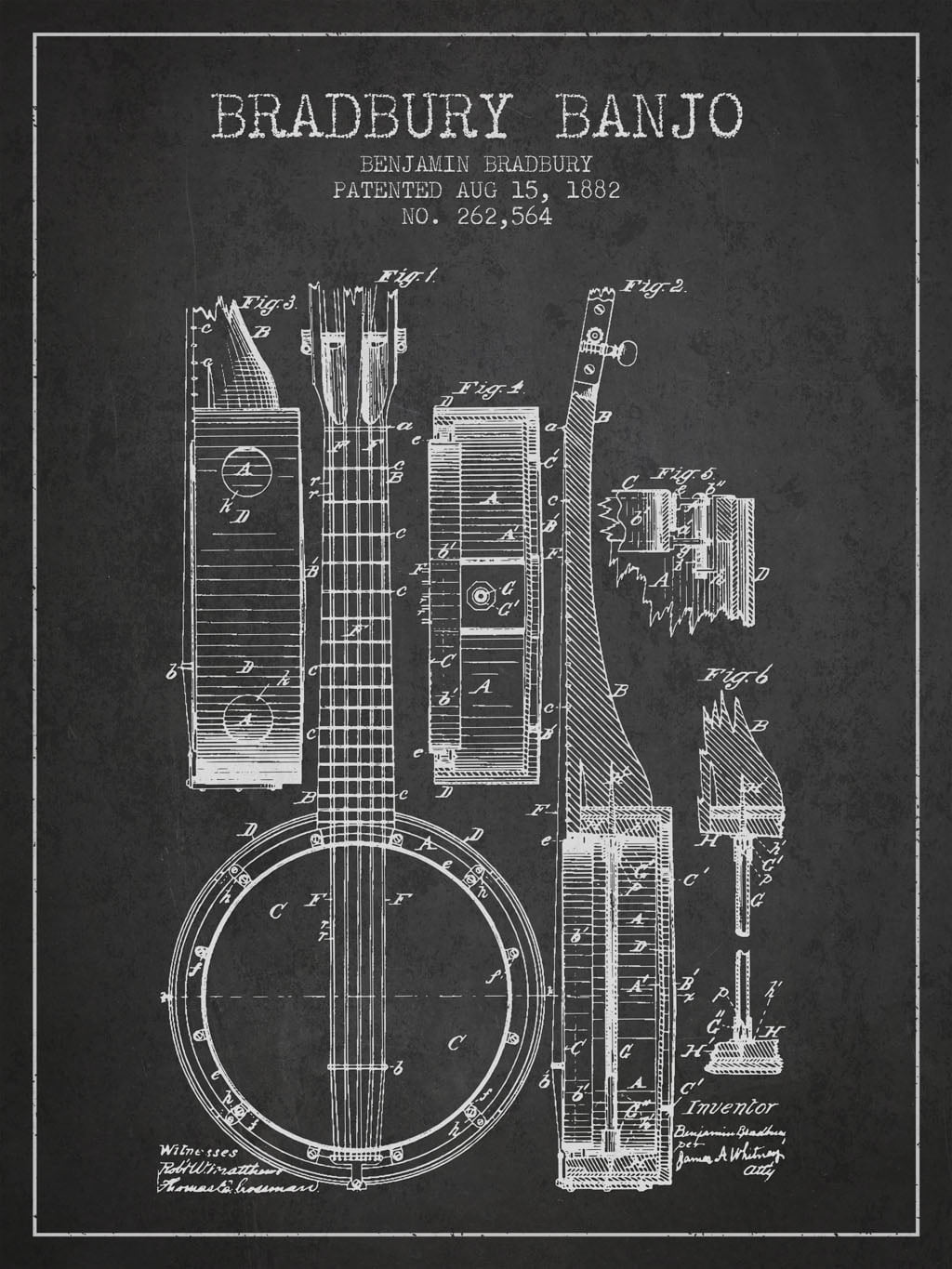 What do you do if you can't decide between playing a banjo or a mandolin? Why, you get one of Brooklyn instrument maker Benjamin Bradbury's banjo mandolins, a piccolo banjo body with a mandolin neck. Bradbury's contributions to musical history were significant enough to warrant a spot at the Metropolitan Museum of Art.
---
Get your own banjo patent print – as well as prints featuring musical instruments, cameras, toys and more – from Patents Wall Art.