Del McCoury is a legend many times over. A snapshot from any period of his life would be enough to earn him a place in the history books. From his time playing with Bill Monroe in the early '60s to fronting his own band with his sons Rob and Ronnie McCoury, Del's career is a triumph. The Del McCoury Band is the most-awarded band in IBMA history, and Del has been honored with a Grammy Award, induction into the Bluegrass Hall of Fame, and a lifetime achievement award from the National Endowment for the Arts.
Since moving to Nashville in the early '90s, The Del McCoury Band has recorded more albums than they can remember. (Literally. I asked them and they couldn't remember. It approaches near two dozen.) Their latest album, Almost Proud, furthers their musical legacy. In a visit with The Bluegrass Situation, Del McCoury and Ronnie McCoury talk about recording it during the pandemic, digging through a big box of submissions for material, and learning a trick from Jerry Douglas that they still use to this day.
BGS: Del, you've fronted a band for many decades and this version with your sons has been around since the '90s. How has the process of picking the material and arranging it changed over that course of time?
Del: Well, I'll tell you, we used to do a lot of prep before we went in the studio, years ago when it was just me and the band. But now the boys have their own band and they're a lot busier now. For the last several records, I just kind of picked the material and I'll try to find the right key and tempo and all those things. And we won't even have a rehearsal or anything until we get in the studio. We just mainly do all of the hard work in the studio after we're in there.
I've always been in awe of how this band not only picks great material but also plays it in a way that makes it unique and often an instant bluegrass classic, no matter the original genre. What goes into how you pick material?
Ronnie: I still don't know what Dad's going to like. I found "1952 Vincent Black Lightning" through a guy named Dick Bowden. He gave me a tape of it after the band had played a show. It was just Richard Thompson playing solo guitar on a radio show. Dick said he thought it'd be a good song to cover and as soon as I heard it and the fingerstyle guitar I thought, "Wow, this could be good." Well, I took it to Dad, and he passed on it for the record we were making. But then the next record, he pulled it out and said, "You know, I've been listening and I think that would make a pretty good song." So, like I said, I don't know what's going to hit him and when it will.
But with my dad, it doesn't matter what he plays or sings. Number one, it's going to have strong guitar rhythm. Number two, it's going to be his voice. Through the years, I figured he can sing about anything. For example, when he played with the Preservation Hall Jazz Band, everybody was like, "I wonder how this is going to work." Well, he just opens his mouth and does what he does, and it is what it is, and it's great! People will pigeonhole others for their style of singing. My dad's got a high lonesome sound, but it always seems to work.
My dad taught us how to have that feel and the elements of first generation bluegrass. The drive, how to play fast and when you need to, how not to overplay, and how to back up behind a singer, things like that. People don't always have a teacher that really knows that stuff, so it sometimes doesn't come easily or at all. We were just lucky to have this guy who was so well-rounded. A great guitar player but a banjo player first and such a good singer. He can sing any part, and he loves to sing bass, too.
Those elements are all very present in this band for sure. The fiddle is a very lyrical instrument to begin with but I've always particularly considered Ronnie's mandolin playing and Rob's banjo playing to be a really interesting combination of melodic/lyrical and still very traditional sounding.

Del: Yeah, I know what you mean. They don't strictly depend on melodic notes to do something, but they make their style work around the melody that they're trying to play. They do that. They try to keep it fairly simple.
It's very masterful, the subtlety of all of it. I imagine you had a hand in guiding them when they were younger.
Del: I tell you, I never even thought about my sons playing music. I don't know why I didn't, but I just didn't. Maybe it's because when I was learning to play, I had a lot of cousins. They'd hear me and they'd want to learn to play, and I'd show them something. And then, of course, next week they'd be into baseball or something else. They forgot about music that quick. And I guess I thought they might also lose interest in this music. But they never did. Rob started playing banjo when he's about 9. Of course, I started playing guitar when I was 9, too. My older brother taught me the chords. But I was not really all that interested in playing until I heard Earl Scruggs. I was about 11 then. And that really switched something up in my brain.
But my boys, they were always around music. Ronnie played violin in school when he was really young, but he also was in Little League and he was their star pitcher. And you know what happened? His violin teacher told me, "He's really doing good on this." And I said, "Really?" She said, "Yeah, he learned so fast." Well, it comes to where there is going to be a recital in school at the same time there's going to be a big Little League baseball game. And he was supposed to be in both of them. He chose the baseball game. And, oh, his teacher called! She was so disheartened because he was one of her finest students. But he kind of forgot about music just for a little while.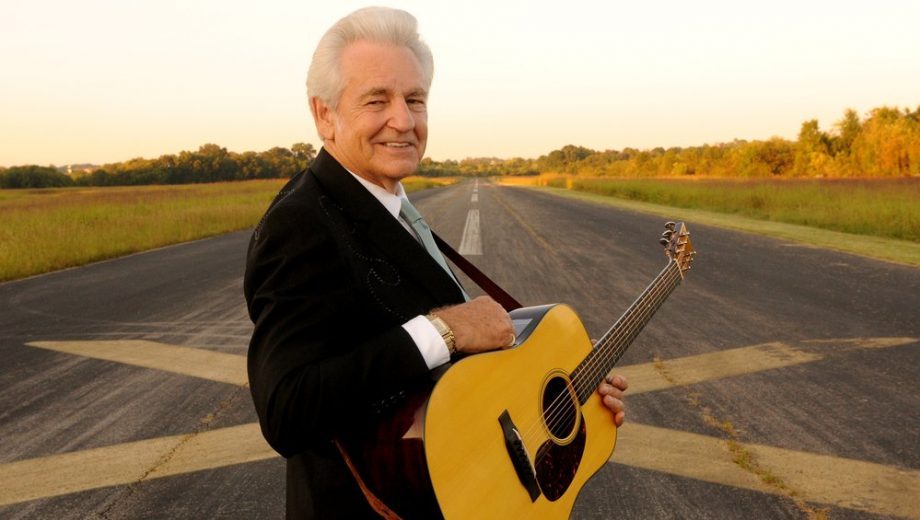 And I took him with me to New York City. I was playing a show and Bill Monroe was one of the acts there. It was during Ronnie's school vacation between Christmas and New Year's so I brought him with me. Bill took an interest in Ronnie. He put his hat on him and he put his mandolin in his lap and he said, "Now you play me something on this mandolin." I didn't think nothing about it at the time. But when we got back home, Ronnie asked if he could have this old mandolin I carried around on the bus. And once Ronnie got that mandolin, he never laid it down.
Well, now those guys, when they did start learning to play on their own, I could hear them in my spare time—I was pretty busy in those days. And I hear them playing and I could tell they were missing a note here and there and I'd just tell them where to find it and then let them go on their own. I just didn't bother them much. Boy, they learned fast.
That's great. I think all of that is a big part of the sound but there's something about the arrangements that has always made you all stand out, I think.
Ronnie: As far as arranging things, when we got to Nashville and did that first record, Jerry Douglas produced it and one of the first things that we did still sticks with me. I wound up singing "A Deeper Shade of Blue." Flux is the one that gave us the beginning and end of it, this lick. And I was like, "Oh, wow, we can put a lick on tunes." I was just so straight-ahead that I had never even thought to do that. I credit Flux with opening my ears to that because he's so musical.
That is interesting because that kind of thing is usually associated with pop-adjacent music. Your music is so traditional but having those hooks does make the songs stick in your mind.
Ronnie: It probably also comes from listening to all kinds of music. I'm a product of the '80s. When I was in school I was hearing all of the rock and newer stuff that was being played on the radio. I never gravitated to it as much as I probably did to Southern rock. We loved the twin guitars of the Allman Brothers. What's interesting is that those guys were listening to this stuff. Dickey Betts was a bluegrass fan and I remember he and Vassar had a duet thing. They used to play together in Florida.
That makes sense. There's a full-circle element there as well. The Allman Brothers are sort of the prototypical jam band and now you guys are playing shows with Greensky, The String Cheese Incident, Railroad Earth, etc.

Ronnie: You're right about that. Part of the reason we got into that world we're in is that there's already a Del McCoury Band, and we wanted to do something different, but we couldn't call it the "Del-less McCoury Band." So we had to do something that was different sounding. When I grew up I had no idea that mandolin players were doing anything but what Bill Monroe did. I was around 15 years old when the Dawg came out with that first record, the David Grisman Quintet album with Tony Rice on it.
The arrangements and playing on there were really influential and all that stuff squeaks into your music. You're a product of what you hear, I guess. Those guys changed so much. There's the guys that don't get credit on the banjo like Bobby Thompson and then the next guy was Bill Keith. From Bill Keith comes [Tony] Trischka and Béla [Fleck], and it just moves on. But the Dawg, man, he was kind of the first one to take the Monroe and Wakefield stuff and stir it up like that. I'm a big proponent for him to be in the Hall of Fame.
The ensemble abilities of this group are some of the best in the business. Having so much family in the band lends itself to that, but Jason Carter and now Alan Bartram have been in the band so long I imagine that you all can anticipate what each other will do next.
Del: That's true. It makes it easier, because I think we all kind of think alike and are satisfied in what we're doing. And I'll tell you something, I think it helps keep them interested. Like on live shows, we never have a set list, and they never know what's coming next. When we get on stage, we just go up there and do a few tunes. I like to introduce each member of the band. I'll let them tune or choose a song to sing after I get the four of them introduced. Then a lot of times we just start doing requests from the audience, and all through the set, we'll try to work in things that we just recorded or had released, whatever. But for the most part, we're doing requests from the audience. They know that when they go up on stage, they don't know what's happening next, and I don't either, but that's kind of the fun of it.
You are a link to those older traditions, and those were a lot more about performing than making records and stuff. It seems to me that performing and being an entertainer is what's important to you.
Del: You know, I think it probably is because that's what you do most. You're never in a studio that long but before the pandemic we'd be out every week doing a show. I like talking to the audience. I think they entertain me more than I entertain them. For example, I ask them questions, like, "What would you like to hear next?" And what entertains me is they'll request a song, but they get one word wrong or two in the title of the song.
For instance, we get a lot of requests for "1952 Vincent Black Lightning," and what people have problems with is the year. So, I say back to them, "Well, I don't know that song." And then it gets real quiet and they'll think, "Well, I know he knows that song because he's got it on a record." I let them wonder for a little bit before I'll say, "Well, now, look, I know a song entitled '1952 Vincent Black Lightning,'" and then they're relieved and I'll play it for them. But just little things like that. They're so funny. People are funny if you listen to them. They will entertain you.
You guys have put out so many records. Is there anything that makes this one stand out or feel special to you?
Ronnie: Well, probably the fact that during a pandemic, my dad worked and he sat down and listened to like 150 songs or something. He didn't just rest on his laurels. We got him a tape recorder, a nicer one, that he could record his ideas on because he felt more comfortable working with a tape machine.
Del: All through the years, people have sent or given me songs while we were on the road. A lot of the time, I just throw them in a box and say, "Well, when I get time, I'll listen to them, see what they are." So, when this pandemic hit that spring, I thought, "Wow, I'll get all those things out and listen to them." And then I picked out certain songs and I started to work on them.
Ronnie: During this time, we're wearing masks and sitting outside doing our radio show six feet apart and not going in the house. Everybody's worried about my parents so we were careful. But he worked on this stuff and he wrote some songs. So, what's special to me are just good memories, really. Just being able to be in a studio with Dad in the middle of a pandemic and getting it done and not having so much wasted time. … The hardest thing through the pandemic for me to see, besides the tragedies where people lost their lives to this stuff, was seeing my dad in his golden years, not being able to do what he wanted to do, which is to travel and play for the people. He knocks us all out with how he can play and sing at this age.
Yeah, it's pretty amazing.
Ronnie: He knocks me out. I can't get over it. Like I said, it was amazing to be able to go in and do this record through all this and that his health is still with him. So I'm just proud of that. "Almost Proud," you could say, ha ha.
"Almost Proud," there you go.
---
Photo Credit: Daniel Jackson