You may know Allen Ginsberg for his poetry, but did you also know that the "Howl" author and prominent Beat Generation figure had a music career?
In addition to influencing musicians like Bob Dylan and the Clash with his poetry, Ginsberg made his own music, recruiting the likes of Arthur Russell, Happy Traum, and Dylan himself for an album called First Blues in 1971. The set of original songs was political in nature, offering commentary on gay rights, Richard Nixon, and Vietnam, among other topics. Typical of Ginsberg, there are some real lyrical gems, like "Everybody's just a little bit homosexual, whether they like it or not." The controversial subject matter contributed to the lengthy delay of the project's release, which didn't happen until 1983 after Columbia Records producer John Hammond took it upon himself to release the album on his own label.
Now, for the first time since that 1983 release, the album is being reissued as The Last Word on First Blues, a box set that also includes an hour of never-before-heard songs from those very sessions and from other Ginsberg projects between 1971 and 1984. Produced in conjunction with the Allen Ginsberg Trust, the box contains the original double album, a bonus disc of unreleased music, and a booklet with rare photos and new interviews. The tunes themselves also feature musician David Amram (a frequent collaborator of Ginsberg's Beat Generation pal Jack Kerouac), trumpeter Don Cherry, and poets Anne Waldman and Peter Orlovsky, the latter of whom was Ginsberg's longtime partner.
The Last Word on First Blues is available now. Check out the full track listing and a photo of the set.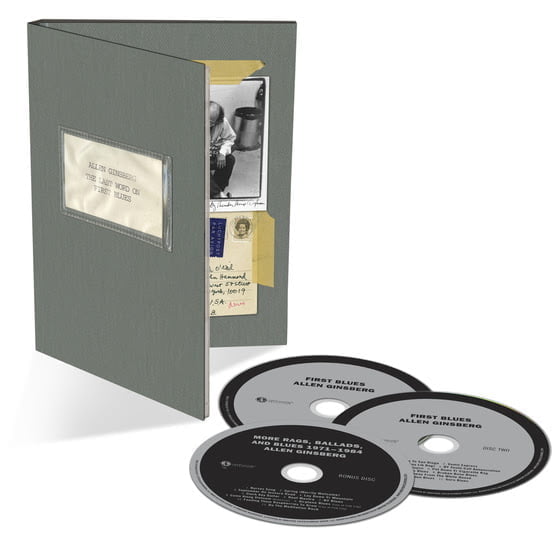 Track listing:
Disc One:
1. Going to San Diego
2. Vomit Express
3. Jimmy Berman (Gay Lib Rag)
4. Ny Youth Call Annunciation
5. Cia Dope Calypso
6. Put Down Yr Cigarette Rag
7. Sickness Blues
8. Broken Bone Blues
9. Stay Away from the White House
10. Hardon Blues
11. Guru Blues

Disc Two:
1. Everybody Sing
2. Gospel Nobel Truths
3. Bus Ride to Suva
4. Prayer Blues
5. Love Forgiven
6. Father Death Blues
7. Dope Fiend Blues
8. Tyger
9. You Are My Dildo
10. Old Pond
11. No Reason
12. My Pretty Rose Tree
13. Capitol Air

Bonus Disc:
More Rags, Ballads, and Blues 1971-1984
1. Nurses Song
2. Spring (Merrily Welcome)
3. September on Jessore Road
4. Lay Down Yr Mountain
5. Slack Key Guitar
6. Reef Mantra
7. NY Blues
8. Come Along Vietnam (Rehearsal)
9. Airplane Blues (Live at Folk City)
10. Feeding Them Raspberries to Grow (Live at Folk City)
11. Do the Meditation Rock