On a cool November evening, the crowd of regulars filters in at the Down Home — Johnson City, Tennessee's beloved listening room and bar. The performer waiting to the side of the stage is no stranger to this crowd, cycling between tuning her guitar and greeting friends as they make their way to their seats. When Amythyst Kiah takes the stage and the warm applause settles, she lays down a thumping bass line with her acoustic guitar. Soon, a few bright treble notes layer in, building up a minor chord that completes the gritty and skillful backdrop. Kiah begins to sing with a relaxed sense of ease and a steely intention, and the listeners lean in. "Ooh, Lordy, my trouble so hard / Don't nobody know my trouble but God." Though few audience members would know the song's origin, the emotion moving in it is familiar and immediate.
Trouble was a familiar subject for Adele "Vera" Hall, a singer who learned African-American spirituals and blues in her family and community in rural Alabama. When Hall sang on record for folklorists John and Ruby Lomax in 1939, she had already endured the death of her husband — a coal miner who died in a gunfight more than a decade earlier. Hall made her own way, earning a living as a cook and washerwoman, and since her childhood days, she was known to be one of the finest singers in the area. When Hall sang "Trouble So Hard," perhaps she knew that future generations of singers like Amythyst Kiah would put the song to good use, just as Hall had throughout her life. Of the hundreds of singers John Lomax documented for the Library of Congress, he remarked that Vera Hall had the "loveliest untrained voice [he] had ever recorded."
Praise from folklorists like Lomax is not what makes Hall's singing so valuable. For those hearing Kiah perform, the testament is in the air and among them, a strong voice reaching back through generations to present a song that folks can still relate to.
Kiah is an important and innovative presence in contemporary traditional music. Describing herself as a "Southern Gothic, alt-country blues singer/songwriter," Amythyst has a repertoire that honors tradition while crossing genres to illuminate many common threads. A theme of "vocal integrity" unites her varied influences which include Son House, Dolly Parton, Sister Rosetta Tharpe, and Florence and the Machine. Accompanying her singing with guitar and clawhammer banjo, Kiah stands out among Southern artists, a uniqueness which has led her to perform at national venues such as the Smithsonian Folklife Festival and on programs like Music City Roots. Amythyst released a solo record titled Dig in 2013 and her current project brings together traditional and original music set for a five-piece blues rock band — Amythyst Kiah and Her Chest of Glass. The group will release their debut EP in Fall 2016.
Tell me some about your upbringing in Chattanooga and how your first music came about.
I grew up in the suburbs, so I was close to the mall and all that — suburban sprawl kind of thing — that's sort of where I grew up. I played basketball and did the typical suburban life stuff. But when I was 13, I'd been really interested in wanting to play an instrument for a while, and my parents wanted to encourage me to play an instrument, play a team sport, and make good grades — to be a well-rounded individual. Once I got my guitar, I started getting into writing and really getting into listening to music — a lot of rock, singer/songwriters, that kind of thing — and so, during that time, I pretty much dropped sports, transferred to a creative arts high school. I wish I could have gone there so much earlier, but I got there when I got there and it was a great change. I got really heavy into writing and playing music when I was in high school and I was a closet musician. I played a couple of talent shows, but I really just played for fun and I kind of kept to myself as a kid.
Actually, my first performance where it was a large group that was very much validating my existence as a musician — other than my dad saying that he liked what he heard — I wrote a song for my mom … for her funeral. It was a few months before I graduated from high school that she died, so I wrote a song for her and sang it at the funeral. That was an eye-opening experience for me: Maybe I could write songs and people would actually want to hear them. I had a lot of good feedback.
We ended up moving to Johnson City when I was about 19, just to kind of start over. I transferred from the college I was going to in Chattanooga to East Tennessee State University and had absolutely no idea what I was going to do for my career. I didn't really have a path. I just knew I was supposed to go to college. I was reveling in all these really cool classes like philosophy. I was really enjoying myself, but not knowing what I wanted to do. So I ended up auditioning for bands the next semester — the Fall before, I had taken a bluegrass guitar class and I didn't know anything about traditional music. I just liked the idea that I could take a music class where they appreciated learning by ear because, when I took classical guitar in high school, what discouraged me was the fact that I had to learn how to sightread and do all the formations and all that kind of stuff.
So I took that bluegrass guitar class with Jack Tottle, who is an amazing human being; it really meant a lot to be able to take that course because it changed my perspective on a lot of things. From there, I joined a Celtic band and did Celtic rhythm guitar and then I found my place in old-time music. That was around the time I learned about the Carolina Chocolate Drops — I had taken Ted Olson's class about American folk music and was fascinated with the intermingling, how multicultural the music actually was. I think part of my hesitance to finding my place was that I've always listened to all kinds of different music, and sometimes, if you don't see people like you, sometimes you wonder or people make you feel like, "Well, do I belong here?" I was having those kind of feelings with some people. I'd had lots of praise and lots of support, so I'm really grateful for that, but there were always those few little people who put doubts in my head about my presence.
Once I read about the history of this music and how Blacks and whites both played this music — that this is something that is integrally a hybrid — I was like, "Well, hell, I have just as much right to be here as anyone else!" From then on, I was just like, "I'm doing it." Roy Andrade reached out to me and asked me to be in the first-ever Old-Time Pride Band because he heard my voice and felt like he really wanted me to be part of it, and from then on I just did old-time. I ended up switching my major, once they got it approved, to Bluegrass and Old-Time Country Music Studies, and I graduated in 2012. During that time, I picked up solo gigs alongside the school band stuff, so that's all part of my transition from playing mainly contemporary stuff into solely old-time stuff for a while, and now I've transitioned back into doing contemporary stuff. But it still has that old-time, roots influence.
I really admire your music, because your personality is so evident in it and your own experience has shaped it. That's so much a part of good music — period — but also traditional music. I was reading through your list of influences, and there wouldn't have been a Sister Rosetta Tharpe or an Ola Belle Reed or so many of these figures if they hadn't taken a step to put their own personality and experience in the music. You said you're doing a lot more songwriting now and transitioning with your new band, Amythyst Kiah and Her Chest of Glass. Talk about that.
It's interesting because, first of all, the guys in the band, they're also part of another local band here called This Mountain and they're an interesting mix. It's kind of in the middle of folk and rock. They're a hard sound to describe. They remind me of Radiohead — alternative rock with acoustic instruments in it. This Mountain asked me to open for them a couple of years ago at the Hideaway over here. That was my first time playing a solo show in Johnson City. That turned out really well, and then they asked me to play with them at a festival in Savannah, Georgia, called Revival Fest because two guys in their band weren't going to be able to make it. So we got together, put together a 30-minute set, then we went and played in Savannah.
We were well-received and I thought, "This is pretty cool!" Basically, the music in this band, a lot of it is stuff that I played acoustic, but with electric arrangements. For our EP, there are three songs that I've written that are going to be on there, and then there's some stuff that I've done that come straight from old-time. Not all of them transitioned over, but two big ones are Vera Hall songs — she's really become one of my favorite singers. I'd like to take more of her songs and do more work with them. We do "Another Man Done Gone" and we do "Trouble So Hard" in the band. Obviously she sang a cappella and, as a guitarist, I always feel like I need to add some guitar stuff, so I added guitar arrangements to both of those songs. Then when I brought them to the band. At that point in time, they had mainly just been solely following me on what I do on guitar because I establish rhythm, bass line, and the riff. When they came in, they were kind of just following me, which is fine, but then we got to the point where it's like, "Hey, what if we did the intro of a song with just piano or just drums?"
So I've gotten into arranging songs more because I have to remind myself that I've got other instruments here now. I don't have to do everything. It's nice because you get four different perspectives on the same song and it really opens you up in new ways, maybe trying things that you never thought you'd try before. But the way everything kind of flows right now is that it's blues rock, but it's also danceable — it's like blues-dance-rock. I've gotten into writing songs in a blues style mainly because, for me, songwriting has always been very difficult. I can write a poem — I can write a short prose piece or a poem piece, but when it comes to putting it to music, I think of melody and chord arrangements first. That's what happens when I listen to a song. Once I come up with the melodies, I'm like, "What the hell am I going to sing about?" because I feel like I've already expressed my feelings in this melody and in this song, so what else do I need to say? So that's always been difficult.
But, when I got into blues, I started realizing that this is perfect. The main focus is on the emoting, and you've got a few choice words to describe what you're feeling. For me, I like singer/songwriter stuff and the storytelling aspect of that, but I guess my brain doesn't necessarily work in telling stories. I more or less like to express feelings. With a song like "Hangover Blues," I'll create three verses and they tell a really short story. I don't know if it's an attention span thing or what it is, as far as words go. I feel like sometimes, if I write too many words, it might take away from the emoting of the music. It's something I always struggle with.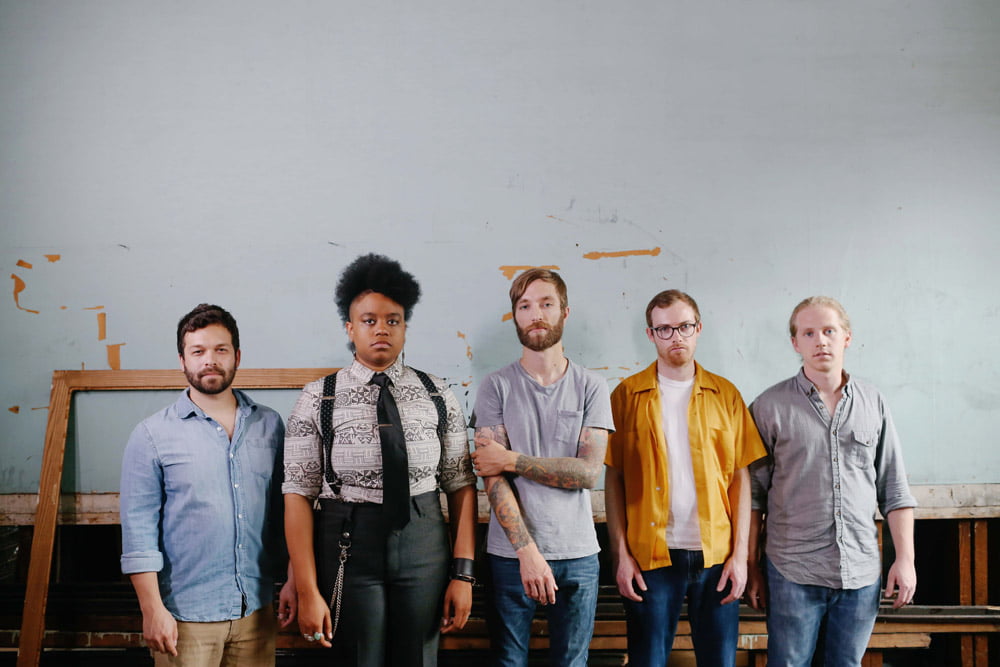 That's so characteristic of really good traditional songs like the blues that you're talking about — that economy of words and expressing the feeling with your voice.
That's where I feel most at home.
So much of your songwriting is about speaking your truth. You talk about writing for your mother and what a brave step that was. What kinds of emotions do you find yourself writing about now?
In the beginning, a lot of the stuff I would write about would be kind of along the lines of "me against the world." Those aren't songs that I've recorded because I wrote them years and years ago. But, as time has gone on — especially after playing old-time music — a lot of the songs I was drawn to were about loss and heartache, death … lots of things that affect us to the core as humanables. There's something very cathartic about playing a really sad song because, when it's finished, it's almost like you're dealing directly with something that's kind of scary and that you know is going to happen at some point in your life. To go through all those emotions in song is the safest way to be able to experience those things. It's almost like preparing yourself, reminding yourself that bad shit happens, but at the same time, you come out of the song, and you can appreciate what you do have a lot more.
So now, the new songs that I've written, they're actually a little more lighthearted than the stuff I've written in the past. "Hangover Blues" is one that's on the EP and it's about recovering from a hangover, but also being like, "I had a damn good time and I would do it again." That's one of my more lighthearted songs. Then "Wildebeest" is inspired from the sort of quintessential blues theme of "My woman pissed me off and I want to get back at her." It's a jealous lover kind of song. That one's got some little parts in there that are meant to be lighthearted and comedic, but at the same time, the title also ties into the idea that, even though we are human beings, despite living in I guess what you would call a civilized society, we still have these primal urges. It's a reminder of the fact that we are animals. I feel like keeping that in mind — that we are susceptible to those things — I feel like expressing that helps check the ego a little bit. The idea that people don't see that they're part of nature baffles me. You can be spiritual and still realize that you're also part of nature. But some people separate themselves from their environment and, when people do that, you see what happens: Mountains get removed, tree forests are cut down because people don't see themselves within the cycle of life. Just because we have logic and cognitive thought doesn't mean that we live above and beyond everything. We are, in essence, destroying ourselves by doing this. Songs like "Wildebeest" … I like to remind people that we're very much part of something much bigger.
You can take this wherever you want to, but I'm wondering what you hope to accomplish through your music. You've talked about expressing your emotions and I think you represent a lot of communities in an innovative way, and also you are honoring these traditions and carrying them forward. What impact do you hope to make with your music?
This is something I've been thinking about a lot lately because music has always been something very personal. Sometimes it's easy for me to get lost in my own brain and not necessarily think about the kind of impact that I'm having, but I'm thinking a lot more about that lately. For me, being a queer woman of color in Appalachia, pulling from these different roots-based ideas and then making these connections with electric music and traditional acoustic music and bridging the gap there, as an Appalachian person, I feel like I can bring a perspective to a wider audience and hopefully inspire people that look like me or love like me to tap in and be like, "Hey, this is really cool. This is something that I could do." I just feel like, in a lot of ways, intersectionally, I'm the exact opposite of what would be considered typical for what I'm doing and I needed to see someone like that when I was playing music. I just feel like I want to, in some way, inspire other people. Their voice should be heard, and that contributes to the diversity of the people who are from our area.
---
Sam Gleaves is a folk singer and songwriter from Southwest Virginia. His latest record, Ain't We Brothers, is made up of stories in song from contemporary Appalachia, produced by Cathy Fink.