Even if you're from Nashville or you've visited Music City many times, AMERICANAFEST always offers something new. This year, the annual event encompasses more than a dozen places to hear live music, as well as an impressive slate of industry panels and a near-endless list of parties. Where to begin? Although this story is by no means definitive, here are some promising highlights from the 2022 Americanafest daily schedule.
Tuesday, September 13
If you're in town early, come say hello to BGS at Station Inn, where Jason Carter & Friends will take the stage. Doors at 8. Although it's not open to the public, all conference and festival passholders are welcome. To pick up your pass, you'll need to swing by City Winery or the Westin (the host hotel) earlier that day. An exploration of East Nashville might also be in order, with The Old Fashioned String Band Throwdown from 6-9 p.m. at Dee's Country Cocktail Lounge.
Wednesday, September 14
A plethora of panels awaits conference registrants at the Westin, along with a couple of notable interview sessions. The Indigo Girls will be interviewed by NPR Music's Ann Powers at 10 a.m. (They'll be honored with a Lifetime Achievement recognition at the Americana Music Honors & Awards later that night too). Stick around for a conversation between Dom Flemons and Asleep at the Wheel's Ray Benson, presented by WSM's American Songster Radio. After that, Stax Records' Al Bell and Deanie Parker will discuss the historic Wattstax festival in 1972.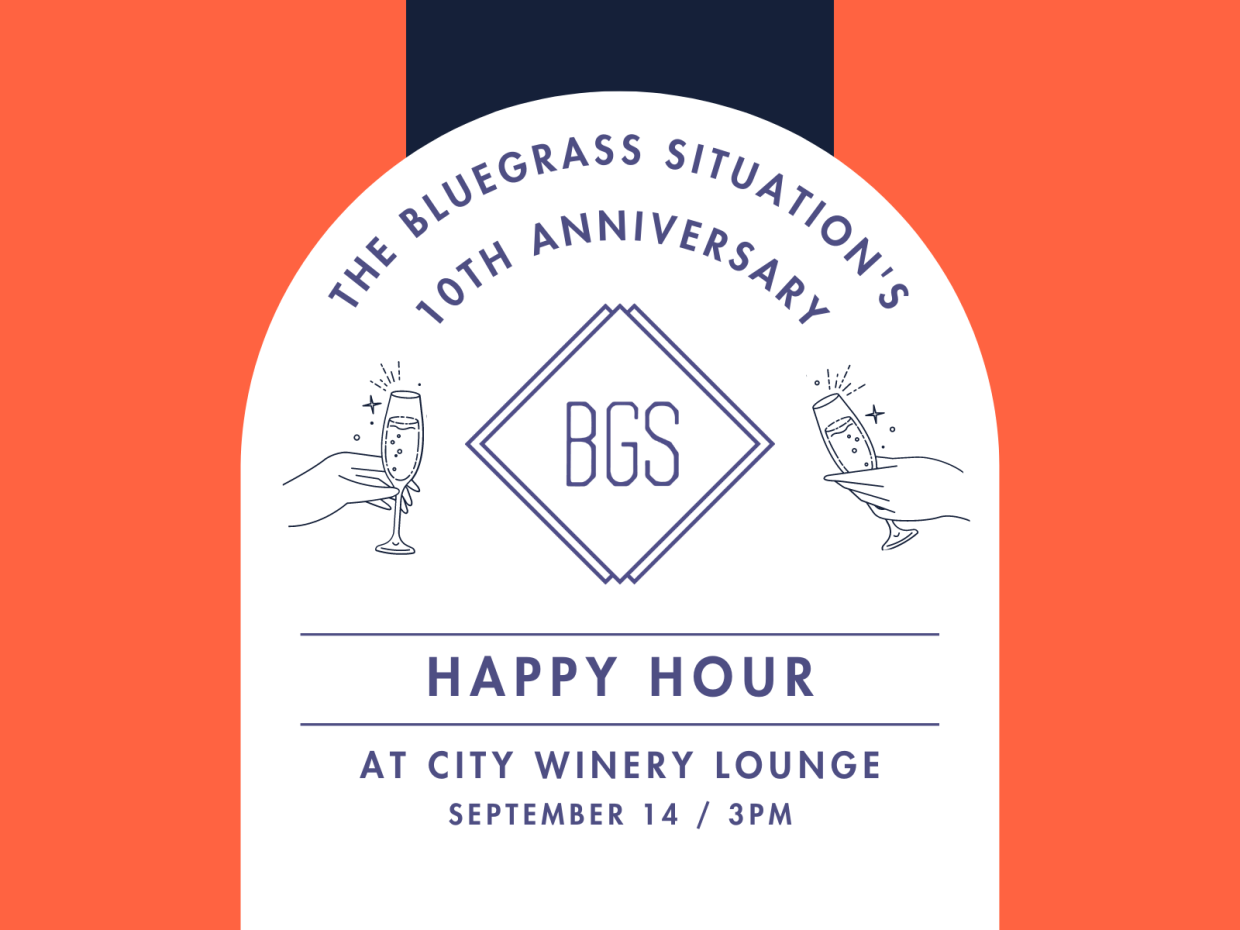 You can count on BGS for another party as we celebrate our 10-year anniversary with a happy hour at City Winery Lounge from 3 – 5 p.m. Conference and festival passholders welcome. Special performers include Kyshona, Rainbow Girls, and Willie Watson. And after the awards show, there's an abundance of awesome shows to consider, including a rare solo set by Angel Olsen (our BGS Artist of the Month in August) at Riverside Revival, a set from Bill Monroe acolyte Mike Compton and a surprise headliner at Station Inn, and an acoustic showcase from members of North Mississippi Allstars at Analog at Hutton Hotel immediately followed by Texas great Joshua Ray Walker.
Thursday, September 15
One of the most intriguing panels on Thursday is titled The Narrators: How Jake Blount, Leyla McCalla and Kaia Kater Re-Mapped the Past, Present and Future With Concept Albums. As the Americanafest app points out, all three artists are students of musical and cultural traditions, as well as Black banjo players. The conversation takes place at noon with moderator Jewly Hight. Coincidentally, these three performers are showcasing at the exact same time later that night, so here's your chance to catch them all at once.
Ishkōdé Records will celebrate Indigenous voices from Turtle Island at Dee's Country Cocktail Lounge from 1-4 p.m., with performers such as Amanda Rheaume, Aysanabee, Digging Roots and Evan Redsky. If you're lucky enough to get into the Bluebird Cafe for a 6 p.m. show, you can enjoy a songwriting round with Gabe Lee, Tristan Bushman and British artist Lauren Housley. A Tribute to Levon Helm with an all-star cast closes out the night at 3rd & Lindsley, following an evening of music with Arkansas roots.
Several of the most buzzed-about showcases of AMERICANAFEST will take place at the Basement East, with a strong lineup boasting Rissi Palmer, Molly Tuttle & Golden Highway, Trousdale, Bre Kennedy and Jade Bird. If you're up for bluegrass, the City Winery Lounge lineup includes Tammy Rogers & Thomm Jutz alongside rising talent like the Tray Wellington Band and Troubadour Blue. If honky-tonk is more your style, stay up late for Jesse Daniel at 6th & Peabody, with original music that pays homage to the Bakersfield Sound without losing its contemporary appeal.
Friday, September 16
Diversity is a common theme on Friday's daytime events, with panels like Booking With Intent: How Curating the Stage Impacts Industry Diversity and How Americana Music Is Embracing Minority Representation. Of particular note, British artist Lady Nade speaks on the influence of Black music in country and Americana in a panel titled You Can't Be What You Can't See: Why Representation Is Vital for the Americana Genre. Look for a conversation and performance at the Country Music Hall of Fame and Museum at noon with rising artists from the Black Opry Revue.
To list all the parties on Friday would take up this whole page. To socialize, you've got options ranging from songwriting rounds to label parties to multiple happy hours. (If you're a craft beer drinker who loves to linger on the deck, it's worth a visit to Tennessee Brew Works, where Hear Fort Worth is setting up shop.) As for BGS, you'll find us at the Basement for a party presented with Nettwerk Records and Taylor Guitars. The public may RSVP through the invitation below.
This might be a good time to mention one of the festival's new venues, The Well at Koinonia. This cozy coffee shop on Music Row played a crucial role in the development of contemporary Christian music, once lending its small stage to a then-unknown Amy Grant. For AMERICANAFEST, it's providing a listening room environment for a number of quieter artists who still deserve to be heard, such as Nashville songwriter-producer Alex Wong, award-winning acoustic guitarist Christie Lenée, mesmerizing folk duo Ordinary Elephant, Australian troubadour Colin Lillie, and the accomplished Mexican-American musician Lisa Morales on Friday night. If you're interested in early shows (starting at 6 p.m.), easy parking, and/or enjoying music in a non-alcoholic environment, make an effort to get refueled here.
Not far away lies one of Nashville's musical landmarks, The Basement (a.k.a. "The Basement O.G."), and if you're in town to discover some overlooked voices, this might be an ideal spot to start. Drawing on blues and rock, Chicago musician Nathan Graham is making his AMERICANAFEST debut this year, followed by Southern slide guitarist-songwriter Michelle Malone, who's touring behind new material like "Not Who I Used to Be." At Exit/In at 9 p.m., Michigan Rattlers are among Americana music's best storytellers, with a vibe that's kind of brooding but still has some rock 'n' roll swagger. Hang around for 49 Winchester, a Virginia ensemble that's been DIY for most of its career. However, 2022's Fortune Favors the Bold is garnering some much-deserved attention. Listen closely for the Exit/In reference in standout track, "Damn Darlin'."
For something more mellow, you can zoom over to City Winery for a late set by Milk Carton Kids. It wouldn't even feel like AMERICANAFEST without seeing these guys. Earlier in the evening, longtime festival favorite Ruston Kelly will play alongside his dad, Tim Kelly, performing exquisite songs that they recorded together (with Ruston serving as producer). Gaby Moreno, Henry Wagons and Rainbow Girls are also on the well-rounded bill. Go ahead, order a bottle.
Saturday, September 17
By the time the weekend arrives, the panels have wrapped and the parties are well underway. You can peruse the Americanafest app for all the options, but first, settle in at City Winery for the Thirty Tigers Gospel Brunch from 11 a.m. to 1 p.m. (It's on Saturday this year, rather than Sunday.) Artists appearing include Alisa Amador, Brent Cobb, Emily Scott Robinson, Stephanie Lambring, The Fairfield Four and The McCrary Sisters. Musicians Corner in Centennial Park also features free afternoon sets from Nashville mainstay Josh Rouse, Brooklyn's own Bandits on the Run, Los Angeles songwriter Chris Pierce, Canadian banjo player Ryland Moranz, and more.
Over at The 5 Spot, Alabama bluesman Early James anchors a lineup with Theo Lawrence (a French songwriter-guitarist who opened dates for Robert Plant and Alison Krauss in Europe), Canadian musician Megan Nash, and new ATO Records signing Honey Harper. The night concludes with an 11 p.m. showcase titled Luke Schneider & Friends: A Pedal Steel Showcase. For something similarly atmospheric, consider a one-night-only event, Phosphorescent Performing Songs From the Full Moon Project, also at 11 p.m. at Brooklyn Bowl. He's promising to play more songs than just the covers he's chosen for this unique album, so you can bask in the afterglow of an incredible week of music.
For more information about these events and countless more, visit AMERICANAFEST.COM.
---
Artists featured at top (L-R): Phosphorescent, Molly Tuttle, Dom Flemons, Angel Olsen