Angel Olsen wants you to stop what you're doing and go listen to Dolly Parton's 1968 album Just Because I'm a Woman. Recorded while she was still singing with Porter Wagoner, it's not one of her most famous albums, definitely not as celebrated as her records in the early '70s and '80s, but it's Olsen's favorite. She loves "The Bridge," a song about pregnancy and suicide: "Nobody's talking about that song, but they should." And she's tickled by a tune called "I'll Oil Wells Love You," which sounds like parody of Parton's 1974 smash "I Will Always Love You" despite the fact that it hadn't even been written in 1968.
"It's all so scandalous," Olsen says of "Oil Wells," but the whole record is "so powerful. Dolly's just being sassy and very real about her career. I love the way her voice sounds, but the production is one of my favorite parts of the album. It just sounds so good."
Dolly in particular and country music in general helped Olsen weather the pandemic and a broken heart. While cooped up inside her home in Asheville, North Carolina, she gravitated toward Townes Van Zandt, Lucinda Williams and others. Their music was a distraction from all the worry and stress of Covid, but it was also a balm for the hurt and confusion that followed the abrupt end of her first queer relationship. Country soothed her, and eventually it found its way back into her own music.
Olsen specialized in a dark, austere strain of country folk earlier in her career, both as a member of Bonnie "Prince" Billy's touring band (that's her singing on 2011's Wolfroy Goes to Town) and as a solo artist. Partly as a means of avoiding the pigeonhole of Americana, however, Olsen gravitated more toward rock guitars and icy synths on later albums, including her 2016 breakthrough My Woman. Those instruments brought out new aspects of her songwriting, which favored big choruses and lyrics evoking messy emotions. Last year she even released an EP called Aisles, featuring her covers of '80s synthpop hits like Alphaville's "Forever Young" and Men Without Hats' "Safety Dance."
Obsessing over Dolly — and Lucinda and Roger Miller and others — during the pandemic made Olsen more comfortable embracing the sounds and songwriting strategies of country music, which inform her seventh album, Big Time. Most of the music was recorded live in the studio with producer Jonathan Wilson and a small crew of backing musicians; strings and horn overdubs were added later. Songs like "All the Good Times" and "Dream Thing" straddle the line between Dusty Springfield and Owen Bradley, which makes a fine palette for Olsen's powerful vocals. She doesn't have much of a twang in her voice, but her singing expresses feelings acutely — a quality that does recall Dolly herself.
Retaining the drama of her previous albums, Big Time nudges Olsen into new musical territory — which is fitting for an album about facing and even embracing big changes in life, about closing old chapters to open new ones. Pandemic aside, the last few years have been tumultuous, to say the least. Just weeks after Olsen came out as queer to her adoptive parents, her father died. Her mother followed two months later. She was still reeling with grief when she flew out to Los Angeles to record Big Time. But she was also starting a new relationship with the writer Beau Thibodeaux (who co-wrote the title track).
Big Time reflects these changes, examining the different ideas of love and devotion. "I'm loving you big time," she sings on the title track. Olsen might be singing to Beau, or to her parents, or even to herself. But when she sings the chorus of "Ghost On" — "I don't know if you can take such a good thing coming to you" — she might as well be singing to herself. What makes these songs country, even more than their arrangements, is their deft, real-life balance of grief and joy, mourning and celebrating. Olsen lets all of these conflicting emotions bleed into one another, because there's never a clear line between happy and sad.
BGS: I wanted to start by asking about the sound of this album. I wondered if these songs suggested this kind of treatment, or if you were writing songs that suggested this kind of Dusty Springfield treatment.
Olsen: I wrote "All the Good Times" years ago and thought about giving it to someone [to record], because I wasn't making that kind of music at the time. But then during the pandemic, I listened to a lot of outlaw country, a lot of Dolly and J.J. Cale. Roger Miller's Tender Look at Love. That record is so good. I don't know if you've heard it, but it's amazing! But I was also listening to a lot of other stuff, like George Harrison. I started to think, you know, the best-sounding things are really simple. I want to write something that really simple. It wasn't like I thought, "Now I'll write some country music."
But I'd just had my heart broken. I had a pretty bad breakup where the person just disappeared. It's all water under the bridge now, but at the time I thought, "What happened?" I really had to sit with it. I was listening to some Lucinda Williams stuff, so I thought, I'm just going to get into my psyche, into my writing zone a little bit. I never sit down and say, "I'm going to do this kind of record now." Although I guess I did that with Aisles, which was an EP of '80s covers. But covers are different. I never sit down with material that's mine and think, "This is how this material will go."
What's your history with country music? Was it something you grew up listening to, or did you discover it later?
I listened to a lot of stuff like Garth Brooks growing up, thanks to my parents, but I never really got into contemporary country until fairly recently. As I was getting older, I found myself really loving Dolly Parton and Skeeter Davis. She was huge for me. I just loved how she had this voice like a dirty kid, like she's out on the playground making trouble. It's not exactly heartwarming or a typically beautiful sounding voice, but her singing is just such a mood. And then I got really into Dolly Parton, of course. During the pandemic I got really into Lucinda Williams and started to really appreciate contemporary Americana. It's been a long, winding journey for me, but now I'm here.
How did working with producer Jonathan Wilson direct these songs?
Working with him, he just intuitively knew what I was going for. He's obsessed with the same kind of records and the same kind of sounds. We discussed it openly, and I didn't have to work extra hard to explain what I needed. He just knew. He didn't need to try to reinvent my sound, but just wanted to make something that sounded like me. That made a huge impact. We were just able to cut through the bullshit and get straight to the point.
It sounds like you recorded this album during a period of deep grief, where you went in without having rehearsed the songs with your band. This almost feels like a very open-ended approach. Did you ever think something might not come of those sessions?
I like to have a vision of what I want to start with. Otherwise, it wastes money and time. Maybe one day I'll be able to just go and mess around. But I'm not the kind of person who likes to write in front of people, so I don't like to write when I'm in the studio. Sometimes songs do happen in that situation just by chance, just by being there. I like to write as much as possible and then book dates, so that I can just be in a cave with the other people there. I've learned over time to be more open to what other people hear within my vision, so that it can be more collaborative and not just me telling people what to do.
So we just went in there [Fivestar Studios in Topanga Canyon] and played the songs a few times. We recorded them on tape and listened back to find the structures we liked as a four or five-piece band. Then, if we didn't like the drums, we could redo that part of it. Or I could redo my vocal. That happened a lot, because I was playing guitar and singing. That changes the way I sing. I can do it live and it's totally chill. I can get into a flow. But I really wanted to make sure I got the strongest vocals possible. I wanted to make sure my palate was open and I was present with the words I was singing.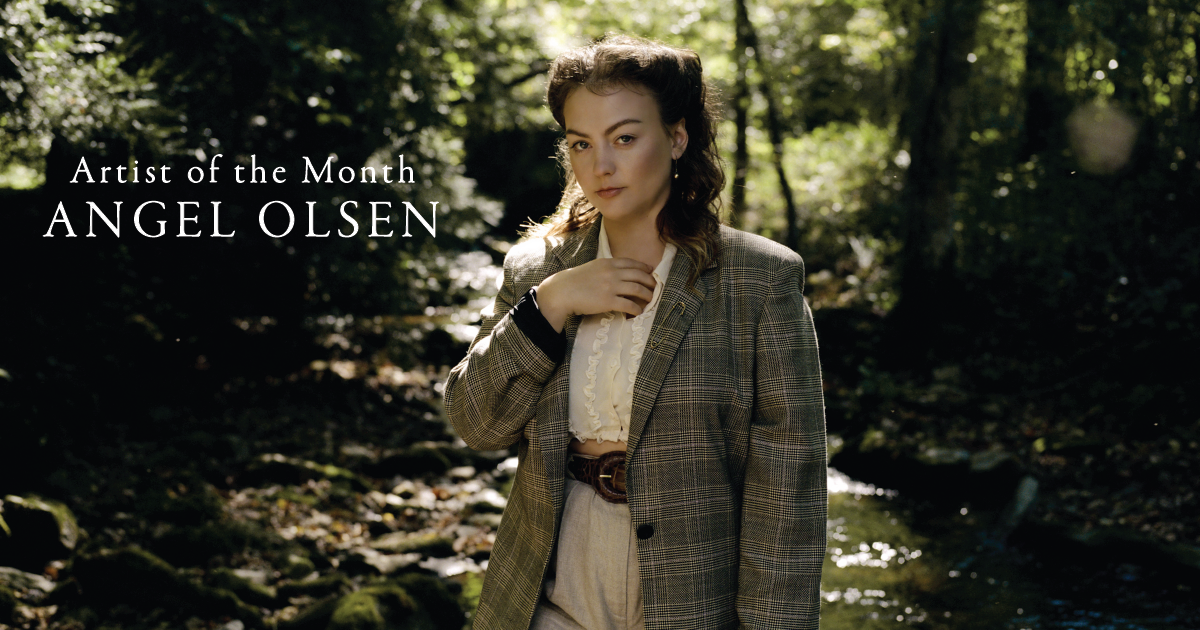 How was it recording out in Topanga Canyon?
Topanga is so beautiful! It was so nice to come to L.A. and immediately leave the city for the mountains. That's more my vibe. But I actually had this thought while we were recording: We better be backing up all these files in case there's a huge fire! It was just like hanging out with cool people and then we'd make music. That's what it should be. Maybe not everybody agrees, but I think it's so important to have a good rapport with everyone to make something that feels good, that you feel good about. It's important to be open and honest with people without hurting their feelings or creating a really weird atmosphere. That's a huge part of making music that nobody really talks about. After we left the studio, I just wanted to keep playing with those people. "Can we just hang out together later? Can we all sit on the floor and listen to records?"
You need to trust these people that are playing your songs.
Exactly. Sometimes, when certain songs took a little longer to get, then we tried to experiment with them more. Usually we found something even bigger. That's so exciting, and I think it makes the songs more exciting. We'd decide, "Oh this chorus on 'Go Home' needs something to make it sound eerie. What if we just stacked my voice underneath the main vocals, but just, like, wailing sounds?" I didn't want it to be coherent. And Jonathan was like, "Oh shit, we should try it through this tape echo and do it at different speeds for each one." So we sat down on the floor, like little kids with toys, and I'm just sitting there wailing like an idiot. But I love the way it turned out. It sounds like the soundtrack to a desert island gone wrong. We were like, "Whoa, this is trippy." And there were these wild banshee noises behind my vocals, and I've never done that.
That part of the song reminds me of Simon & Garfunkel's "The Only Living Boy in New York."
It reminds me of George Harrison. Not that this is anything like what he has ever done, but he does stuff like that a lot. The Beatles did, too, where they would do harmonized vocals where a guitar solo or instrumental lead might be. People don't really do that anymore. I need to do that more. Instead of thinking, "Oh this is where the guitar goes," maybe I could just sing that little melody. That's why it's so much fun to be in the studio, because it reminds you to use different parts of your brain.
It's such a simple idea, but very effective.
Yes. It's simple. I think so much of the music I like is simple. That's what makes it great — it wasn't overthought. It was just a confident, weird-ass move that somebody decided to take. It was just a simple little thing that changed the song forever. I love stuff like that. The easiest song on the album was "Chasing the Sun." "This Is How It Works" was probably my favorite to listen back to, because I love the Crumar and the organ sound together. That detuning sound just sounds so trippy, like you're standing in place melting.
Did those experiments change how you related to the lyrics you'd written?
It made me feel them in a different way — in a cool way, I think. It brought them out to me.
Earlier you mentioned the mountains being more your vibe. Is that what took you from Chicago to Asheville?
Chicago was great in the early aughts. I loved being there from 2007 on. It was such a special music scene. I don't know what it's like now, but Asheville has a growing music scene. There's a lot of stuff coming out of there now. And a lot of kids are staying there instead of moving away, which I think is really changing the music scene. People who graduate don't leave. They stay and they play in bands. And now people from Durham and Greensboro and places like that are moving to Asheville. It's fun. It's like what people say Austin was like in the '70s, before it got eaten up by big industry. There are still some pockets of weirdness left.
When I'm home I like to drive out to Hot Springs and Marshall and Sand Mountain, put on a good album, and then go for a hike. It's chill. I think a lot of people spend their time that way. You might see some hiker wearing their new Patagonia out there, or you might see a punk kid. Everybody's going out in nature in Asheville. That's what I love about it. You can do so many things — you can go trout fishing, you can go kayaking, you can go up to a bald mountaintop and see 360° views of the mountains. It's just a walk up a hill.
And the state has such a rich musical history.
Yes! There's a lot of people in their 40s who've been playing for 15 years and are playing incredible blues guitar or making incredible Appalachian folk music. I just met a new friend the other day, and we were talking about this one specific ridge. This person is my age or younger, and they told me there is this whole book about the history of this one ridge. That's my shit! That's what I wanna know about. I wanna fucking read that book! When I moved to Asheville 10 years ago, I fell in love with it for that reason. There were all these little nooks and crannies, but there was also so much history. And back in the day people in Western North Carolina were very liberal — going back to Civil War times. It's an interesting place that way. Its history is so fascinating, the moonshine culture and all that.
I guess it's too early to say, but have these songs changed at all since you wrote them? Have they revealed new meaning for you over time?
Not yet. I think they might, as time goes on. But right now they're still fresh to me. I sat with them a long time before the record was released, so now I'm just ready to freakin' play them! The vinyl backup means everyone has to wait for their record to be ready. So you finish everything and then you have to wait for a year. And I don't want to write too much new material because I don't want this material to feel like old news yet. I've been journaling and writing other stuff, which is nice — good practice — but now I'm excited to play these songs for a while.
Obviously they can't sound exactly the same as they do on the record. There have been adjustments and things we've had to figure out with the live band. I don't have an entire string section, for example, and I don't want to do everything for a backing track. So we've had to stretch our brains and be more creative during that process. The songs are definitely changing form in that way, but they're still pretty straight up, still pretty simple.
I think the hardest part is finding people to play these songs and who won't be upset if I say, "Hey can you play less?" Sometimes it feels so ridiculous to tell a really talented musician to just play in open G. But I'll pay you the big bucks just to play that one chord! But when you take a bunch of simple parts together, it can make something really special and big. You have to remind yourself and other people that that's how it can work. A simple part can have a huge impact.
It's been weird to have this role where I'm telling people what to do and what to play. I never wanted to be a leader! I just wanted to write music. And I don't even know all the answers. At rehearsal I've got seven people asking me different questions, and part of me just wants to say, I don't know! But I have to know. I have to think about what I want on that moment, which is so much emotional work because you want to say it the right way. The stuff that isn't music is the hardest part of it all, you know? The easy part is just getting up there and playing music.
---
Photo Credit: Angela Ricciardi