New York is not a sentimental town. It takes pride in its ever-evolving skyline. It doesn't have a museum commemorating the Harlem Renaissance. The only jazz memorials are Woodhull Cemetery and the Louis Armstrong House. There is nothing celebrating the folk revival. It's up to you and your two feet to seek out its history. A good starting point is Bob Dylan and Greenwich Village, a historical neighborhood that maintains much of its original architecture. On a cold Winter day in January of 1961, Dylan arrived in New York City. In the next three years, he left an indelible mark. Forever after, the two would be forever connected.
Start at 1 West 4th Street.
It's a big brown building. Peek in a window and you are likely to see an art exhibit. It's not much now — another bland NYU building — but it was formerly Gerde's Folk City, a hotbed of folk talent in the 1960s. It was a bit off the beaten path, but it still attracted large touring acts. Dylan's first professional show was at Gerde's Folk City. He opened for the great John Lee Hooker. "A bright new face in folk music is appearing at Gerde's Folk City. Although only 20 years old, Bob Dylan is one of the most distinctive stylists to play a Manhattan cabaret in months," wrote New York Times critic Robert Shelton. "But if not for every taste, his music-making has the mark of originality and inspiration, all the more noteworthy for his youth. Mr. Dylan is vague about his antecedents and birthplace, but it matters less where he has been than where he is going, and that would seem to be straight up."
On this same block is the former site of the Bottom Line. Dylan never performed at the Bottom Line, though he did live nearby in the 1970s, during the club's hey day. It opened on February 12, 1974 and played a prominent part in preserving Greenwich Village's legacy as a cultural hotspot. Bruce Springsteen played some legendary showcases. Lou Reed recorded the album Live: Take No Prisoners here. A middle-aged Dylan spent some lonely nights here.
Continue two blocks on West 4th to Washington Square. Go to the fountain and look at the arches … there might even be some folk singers performing.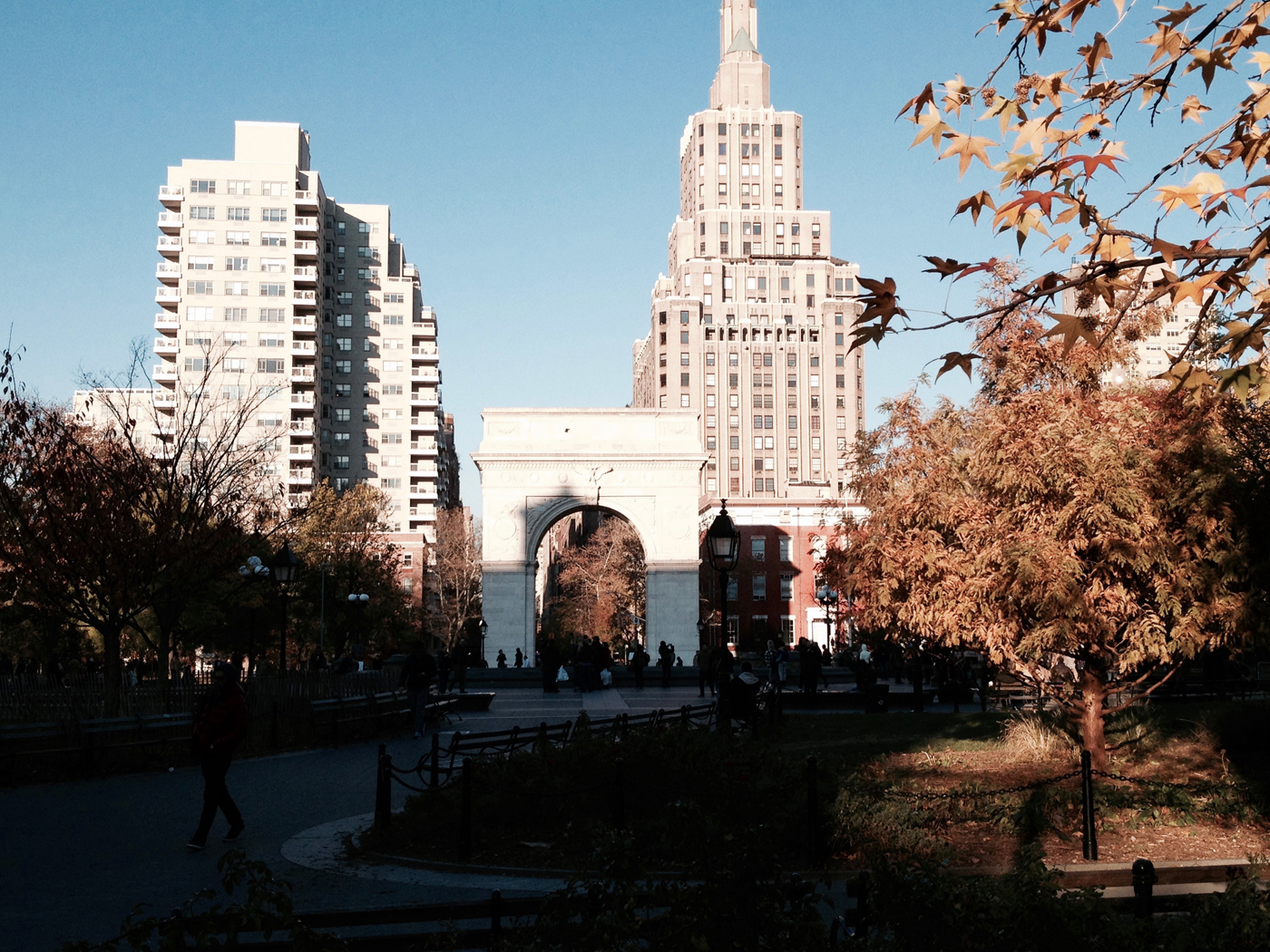 Folk musicians began performing at Washington Square in 1945. It was rough and tumble music. Then, in 1958, the Kingston Trio had their first hit — a pop-folk version of the traditional song "Tom Dooley." Folk music boomed and, suddenly, Washington Square Park was flooded with musicians. By 1960, Sundays in Washington Square were the big day when the folkies would descend on the park. It was so popular with both tourists and players that the police put up barricades. When Dylan arrived in January 1961, he quickly began playing at the Square.
Three months after his arrival — in April of 1961 — the police cracked down on public performances in the park, insisting that all performers have a permit. When the folk musicians applied, they were denied. The following Sunday, Izzy Young from the Folklore Center and 500 musicians gathered and sang songs in the park. They then marched down 5th Avenue to the Judson Memorial Church where the riot squad was waiting. They attacked the singers with billy clubs, arresting 10 people in what is now known as the Beatnik Riot, much to the folkies' disdain.
Continue West on West 4th toward 6th Avenue. Cross 6th Avenue and continue on West 4th. Dylan's first apartment is at 161 West 4th Street.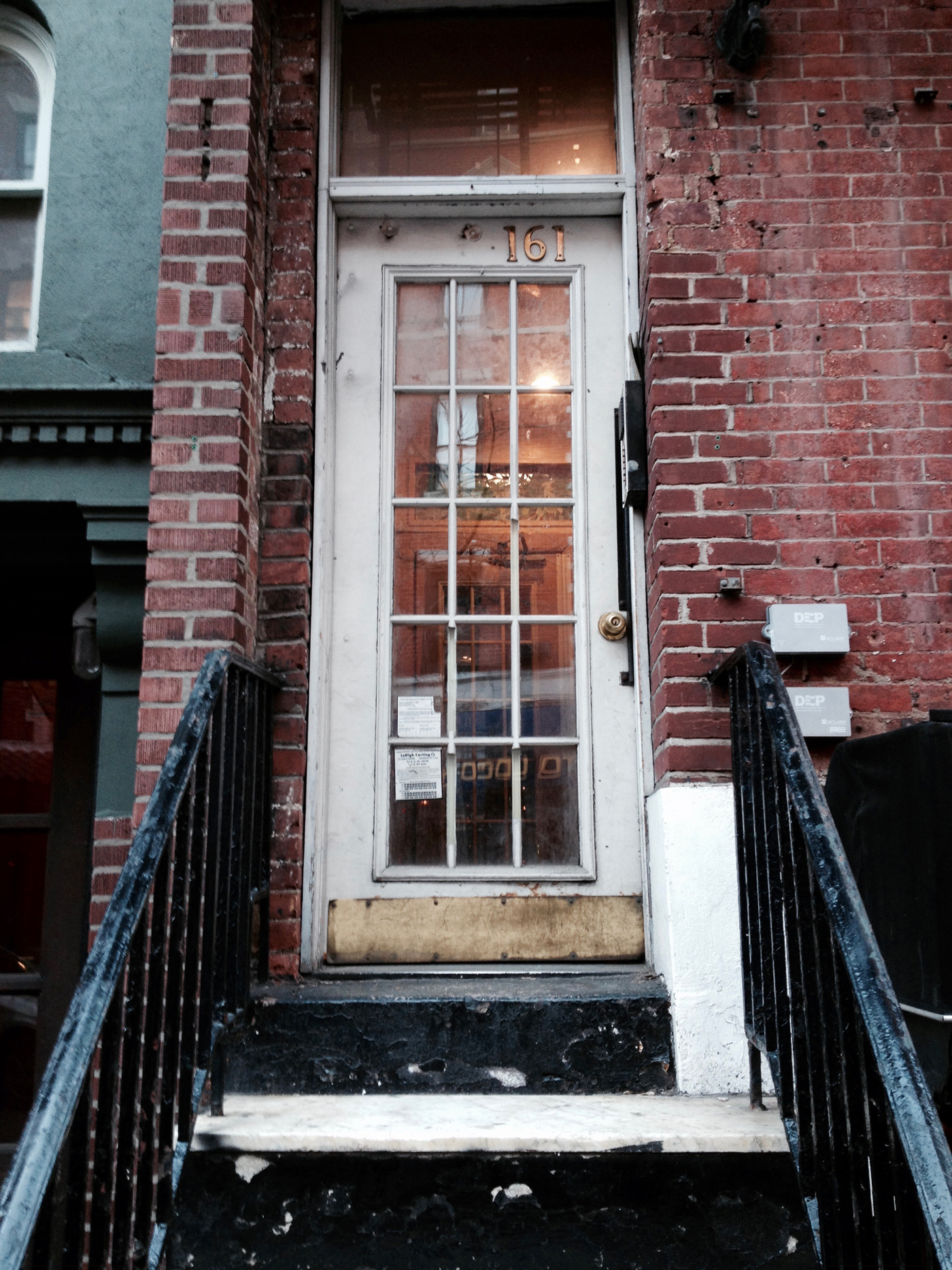 Bob Dylan was homeless for his first year in New York. When he fell in love with Suze Rotolo, they rented this apartment. She is on the cover of The Freewheelin' Bob Dylan, which was photographed right down the street.
Continue on West 4th Street to 1 Sheridan Square, home of the infamous Café Society.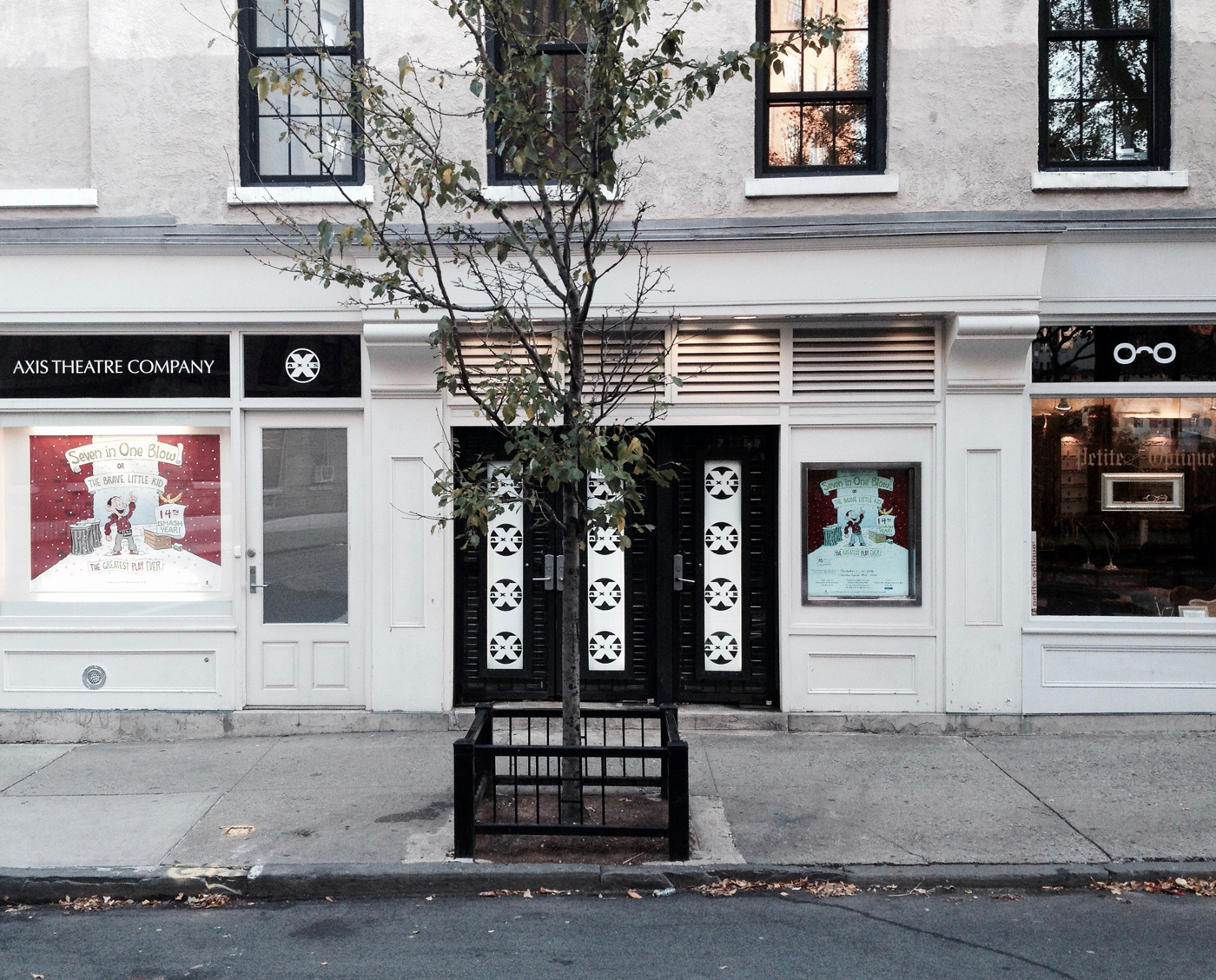 In the 1940s, this was one of the first nightclubs to feature folk music. The great protest and folk singer Josh White held court at Café Society for five years. Billie Holiday and Lester Young were regular performers in what was one of the first clubs to truly break color barriers. When Dylan lived here in 1962, it was the Haven — one of New York's largest openly gay nightclubs.
Now turn around and head back toward Dylan's first apartment. Stop and buy a record at Bleecker Street Records. Maybe something by Bob Dylan?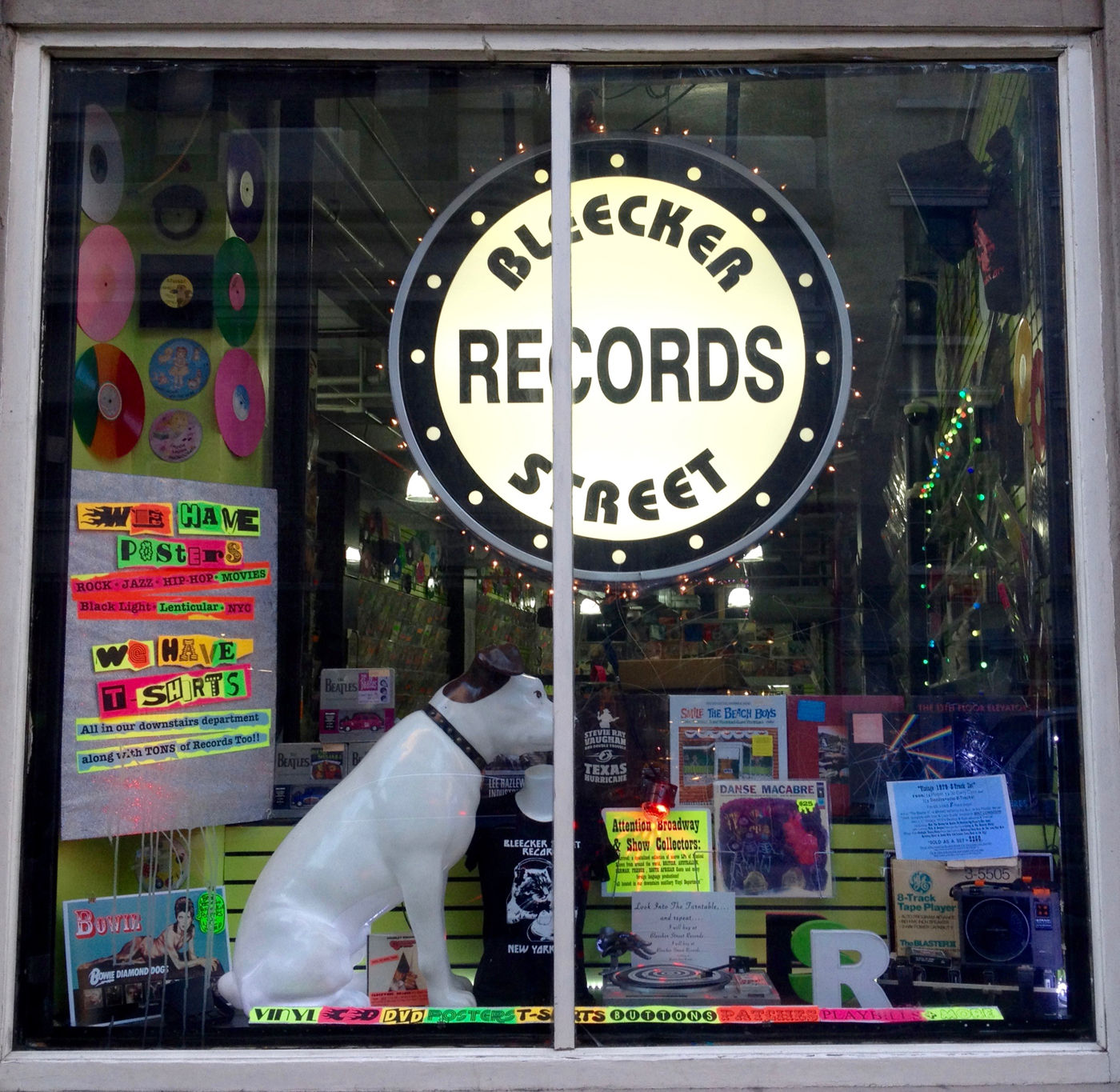 Keep heading toward Dylan's apartment and then turn right on Jones Street.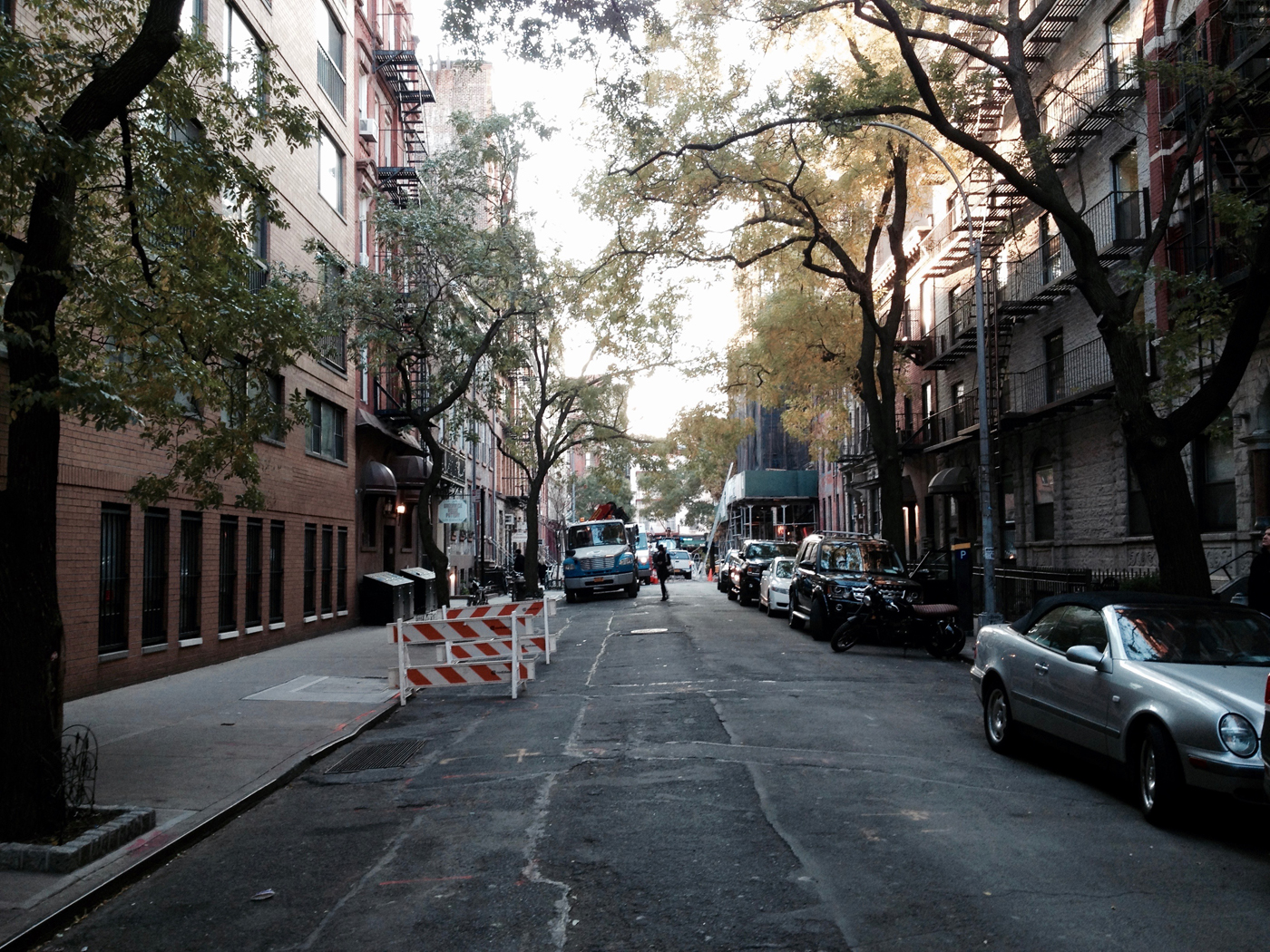 This is the street from The Freewheelin' Bob Dylan album cover. Take some photos and continue down the street — at the end is Caffe Vivaldi. Pop in for a beer. It's a great place to hear some burgeoning New York musicians, as it is still home to songwriters and one of the only clubs with a piano. It's a great old room.
Turn left at the end of block and cross 6th Avenue. Take a slight left up Minetta Street. Panchito's is at 13-11 Minetta Street.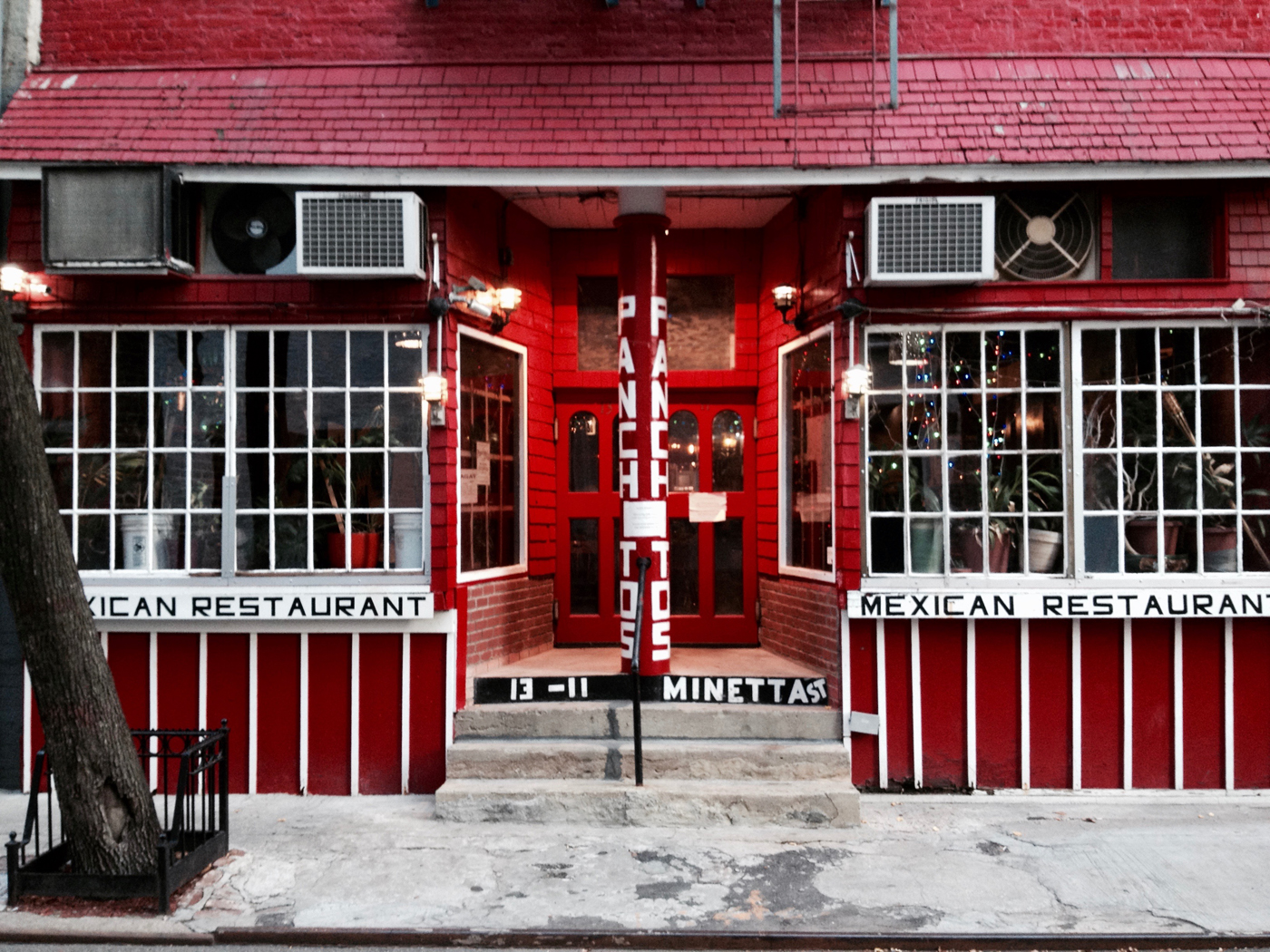 This room has a rich history. It was first the Commons. Opened in 1958, the Commons was originally a small theater and café that was tres bohemian. It was also one of the first basket houses — a coffee shop that had live music — in Greenwich Village. The performers were paid in tips, which were collected in a passed basket. The Commons expanded in 1960 and changed its name to the Fat Black Pussycat. This is where Dylan wrote "Blowin' in the Wind."
Take a right on Minetta Lane. On the corner of Minetta Lane and MacDougal Street is Café Wha?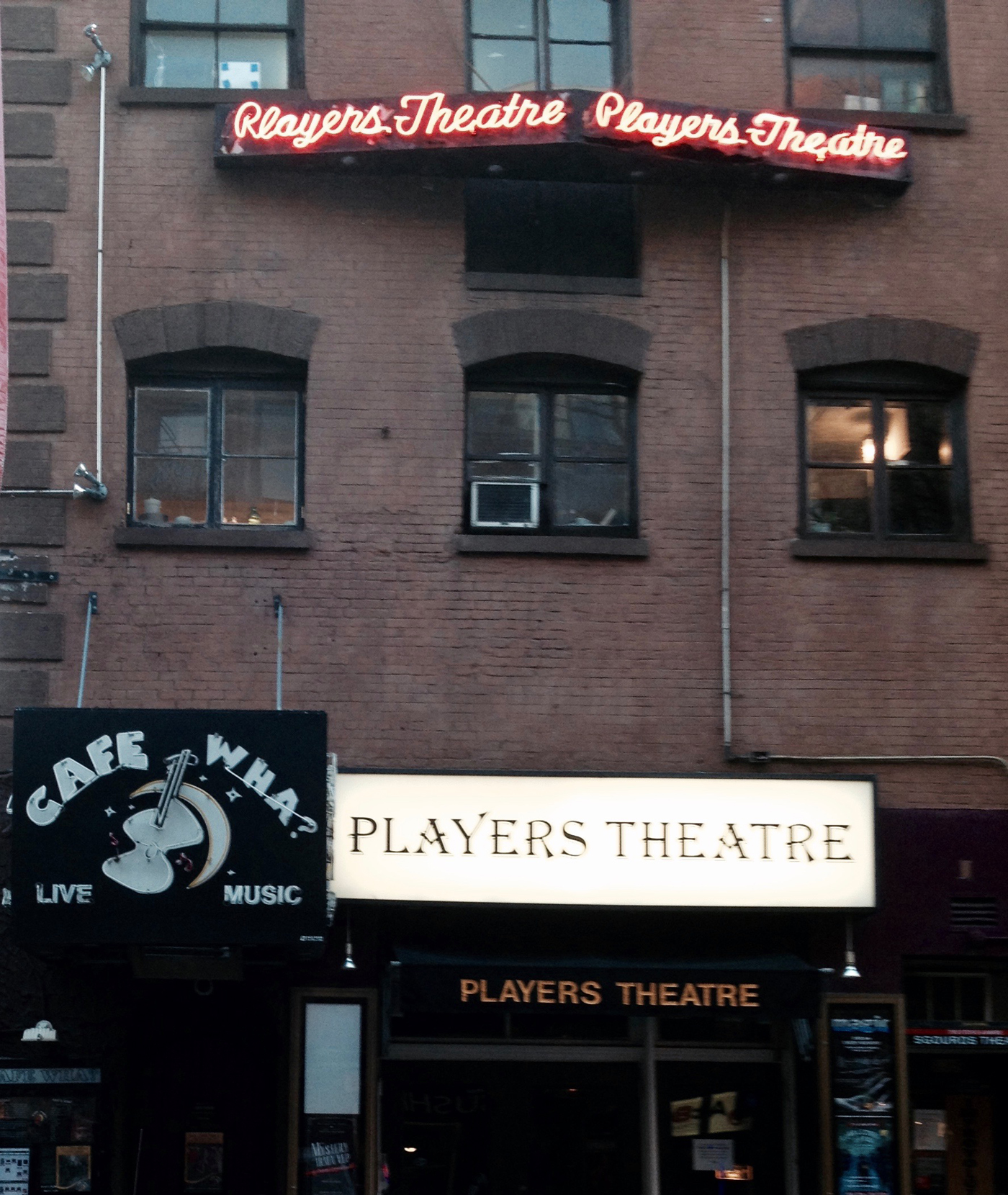 Dylan performed at Café Wha? on his first day in New York. It was an open mic hosted by Fred Neil. Fred Neil is best remembered as the songwriter behind "Everybody's Talking" from the film Midnight Cowboy. In 1961, he managed the café's day bookings and MC'd the open mic. Dylan did a set of Woody Guthrie songs and Neil hired him on the spot as his harmonica player.
Take a right down MacDougal Street. Caffe Reggio is at 119 MacDougal Street.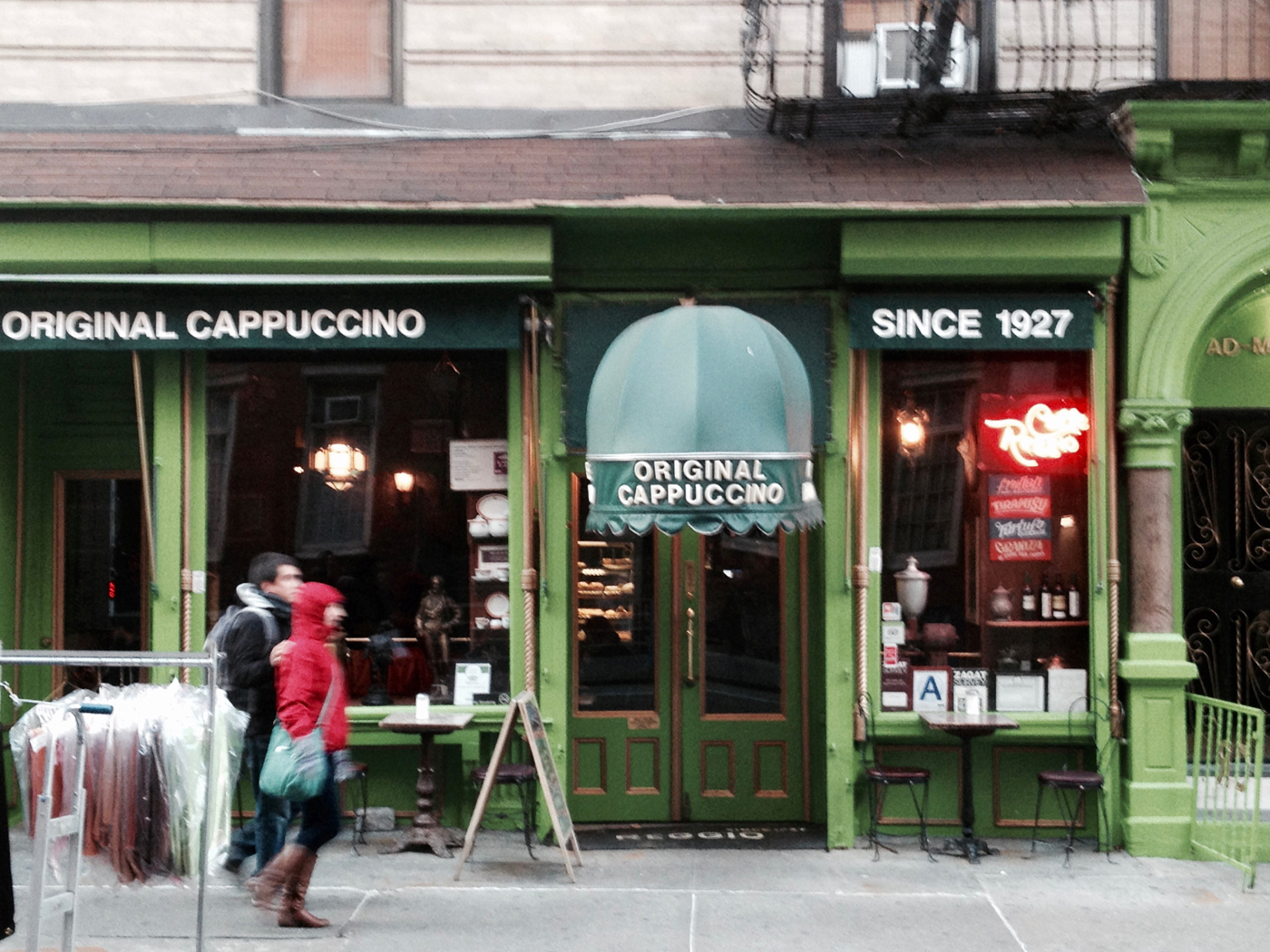 This café is virtually unchanged from the day it opened. Without a doubt, Dylan spent time here. You might also recognize it from the film Inside Llewyn Davis. Caffe Reggio also claims to be the birthplace of the cappuccino.
Keep heading down MacDougal Street, away from the park. At 116 MacDougal Street is the former Gaslight Café.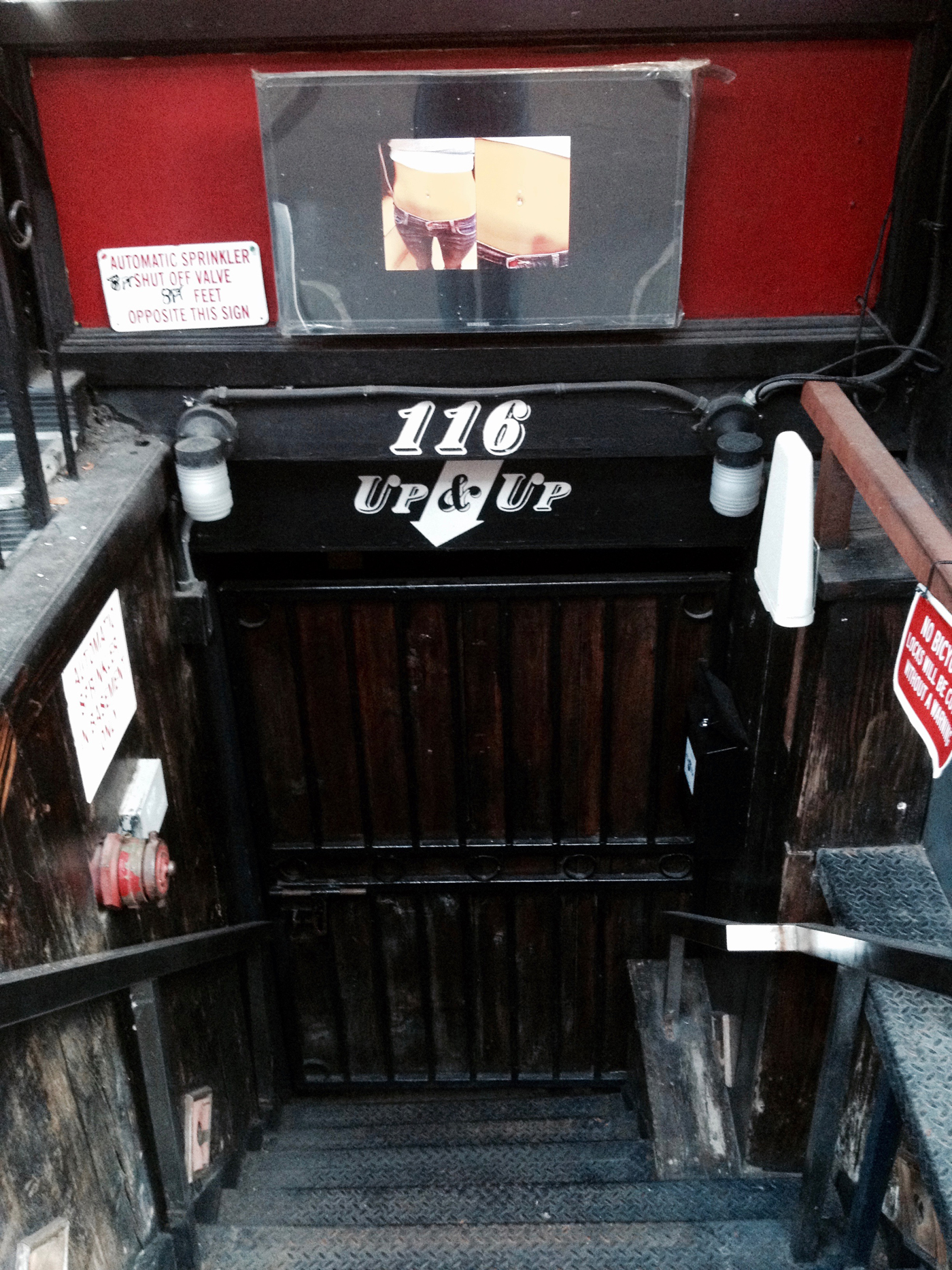 The Gaslight was the place to play in the 1960s. It was the Carnegie Hall of folk music, where Dave Van Ronk hosted the weekly hootenanny every Monday and Dylan was one of the regular performers within a year of moving to town. There were typically five performers each night and they would rotate every four songs. It is a tiny spot, and there would be lines stretched down the block. Before being converted to the Gaslight, this was the coal room for the building. The walls were stained black from years of storage, but the room embraced it and left it dark. It's also been rumored that this is where the beatniks began snapping instead of clapping, so as not to disturb the upstair tenants.
Immediately to the right is 114 MacDougal Street.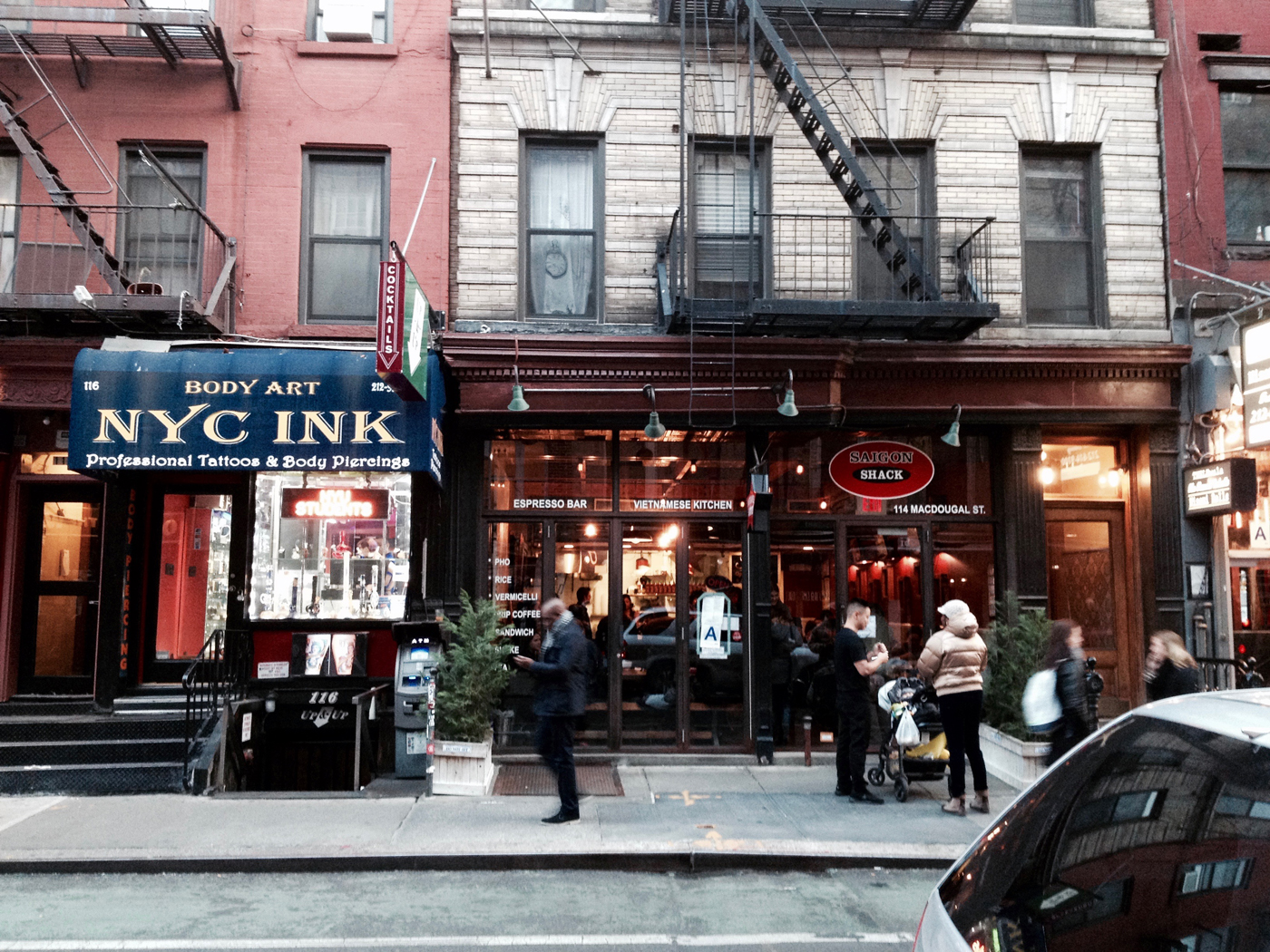 This is the former Kettle of Fish. When not performing, the musicians would eat and play cards up here.
Two doors down, at 110 MacDougal, is where the Folklore Center used to reside.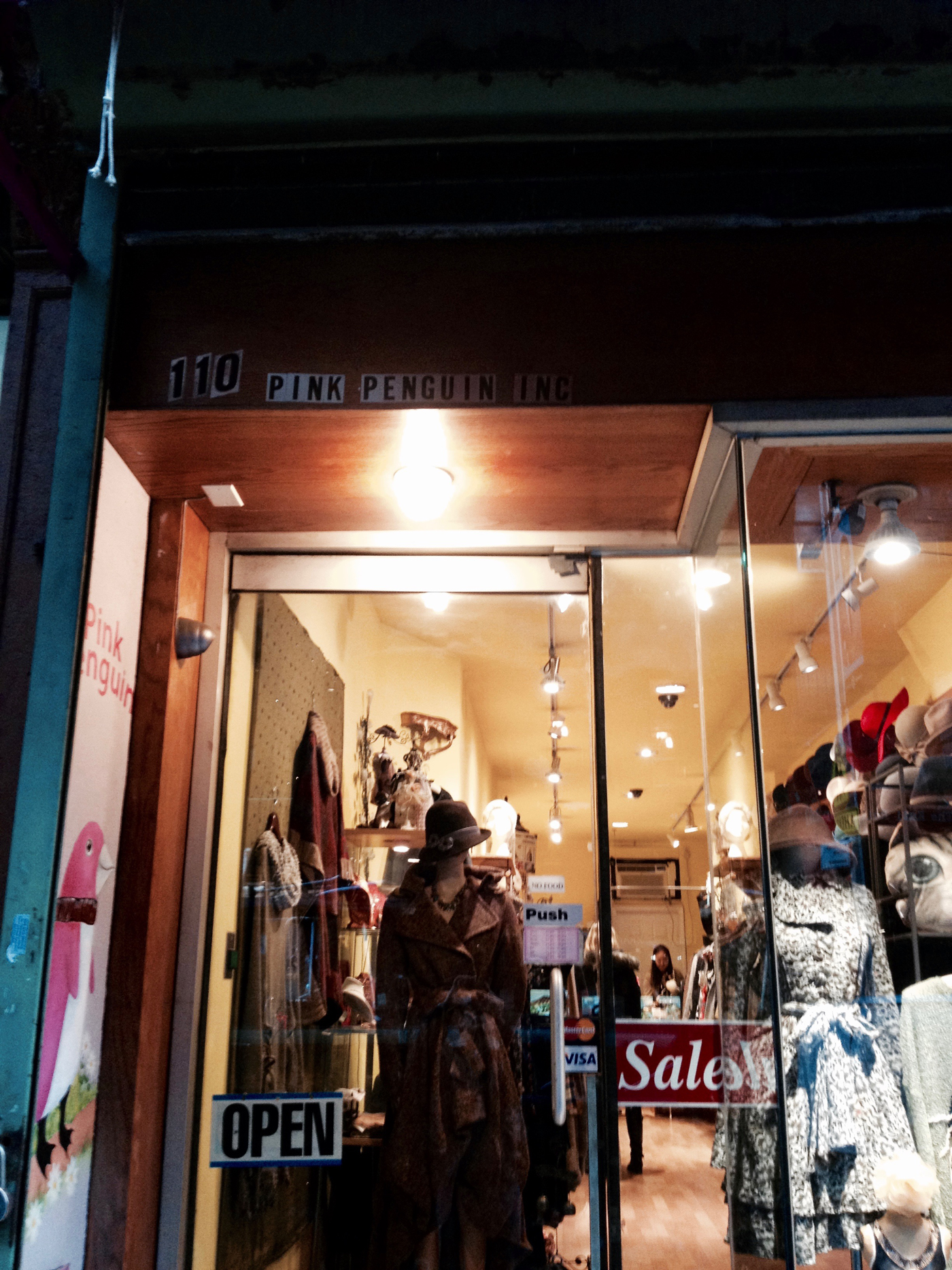 Izzy Young from the Beatnik Riots was the proprietor. Dylan referred to the Folklore Center as "The Citadel of American Folk Music." Izzy was a notoriously bad businessman, but his folklore center was the hub of the New York folk revival. Van Ronk, and countless other musicians, were technically homeless — although they always had a place to crash. This was where their mail was sent. It was also where Dylan came to absorb records and learn new songs.
At the end of the block, turn left on Bleecker Street.
Bleecker Street was a mecca of basket houses. In the '50s and '60s, this street was crawling with amateur musicians toting guitars and hoping to be next big star. Café Figaro was located at 184 Bleecker Street. Today it is a Bank of America.
The Village Gate was at 158 Bleecker Street. Dylan wrote "A Hard Rain's A-Gonna Fall" in September of 1962 in the basement apartment. The Village Gate was a notable folk hangout for 36 years. It's now Les Poisson Rouge and still hosts some of the best events and concerts in Manhattan. If you look at the corner, the original Village Gate sign is still posted.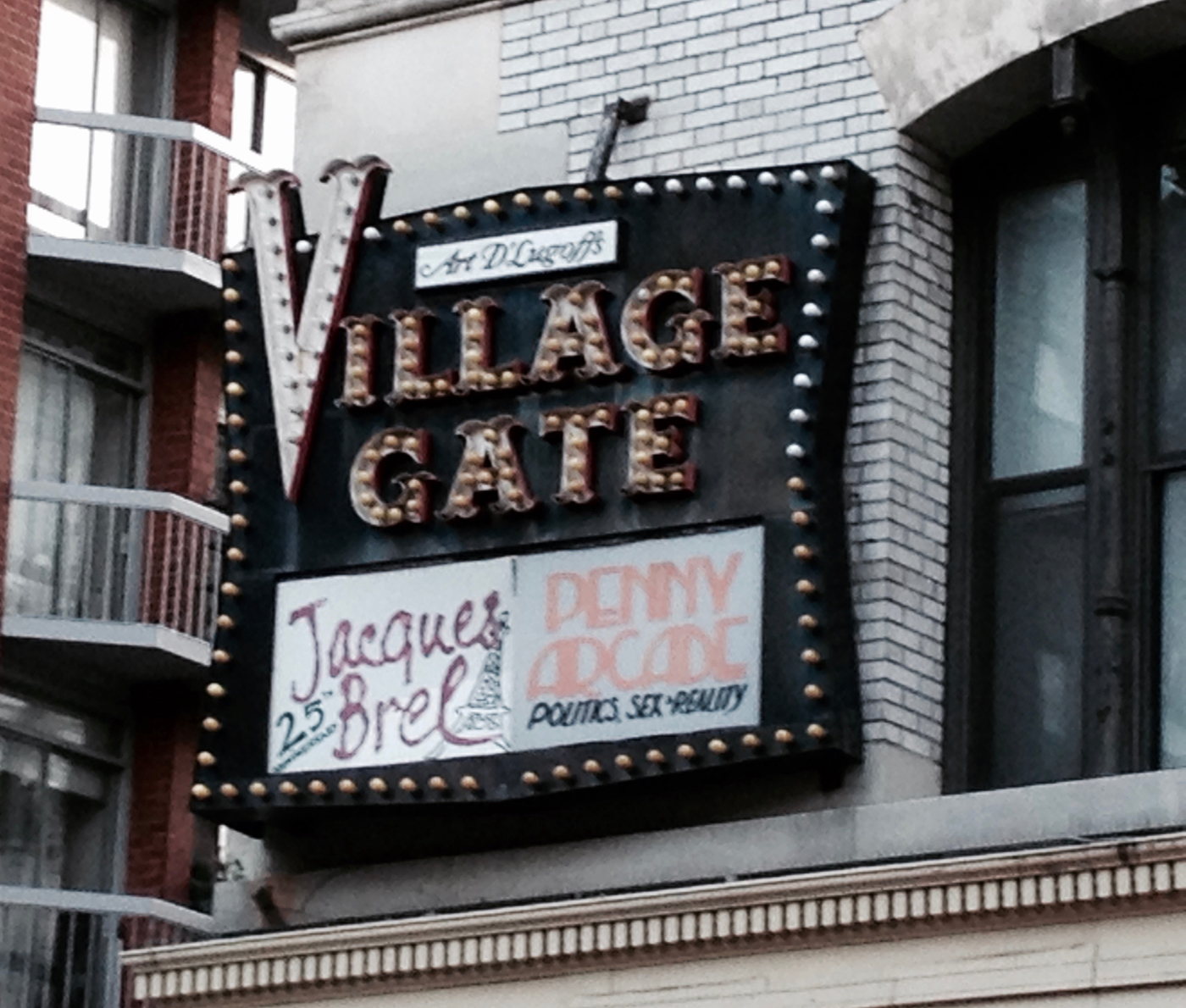 Continue to 152 Bleecker Street where the old Café Au Go Go is now a Capital One Bank. Café Au Go Go was a cultural hotbed in the 1960s hosting folk, jazz, comedy, blues, and rock. The Grateful Dead played their first New York show at Café Au Go Go. A young Joni Mitchell had a weekly gig. Blues legends Lightnin' Hopkins, Son House, Skip James, Bukka White, and Big Joe Williams performed at the club after being "rediscovered" in the '60s. Young Bob Dylan spent many nights listening to his peers and forefathers.
Across the street at 147 Bleecker is the Bitter End.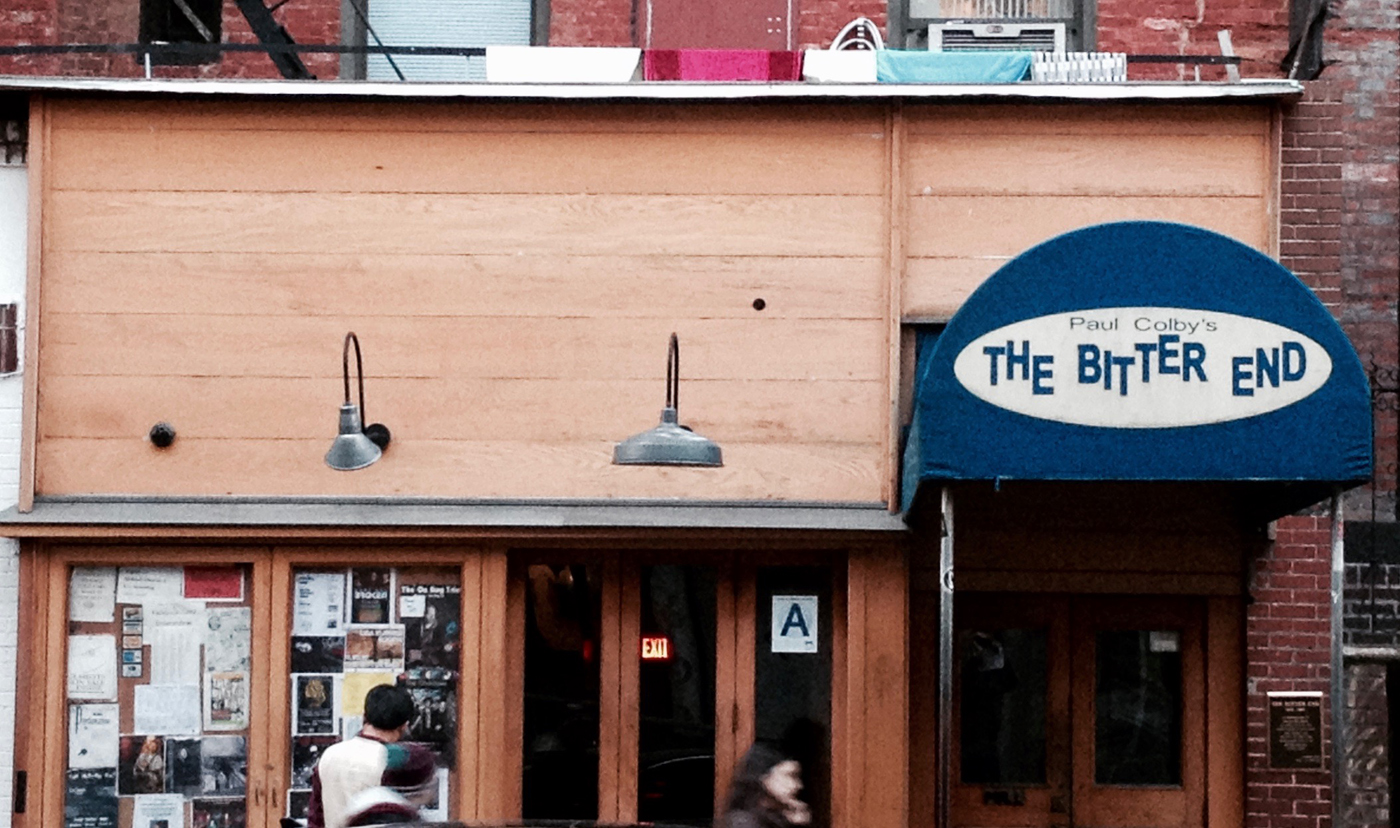 This is where Dylan came up with the Rolling Thunder Review. When he moved back to Greenwich Village in the '70s, he spent many nights at the Bitter End. There were many late-night jam sessions and, one night, he decided to take this loose collective on the road. He recruited some of his famous friends, hired a film crew, and embarked on one of the most ambitious tours of the 1970s. The Bootleg Series put out an amazing double album, and Heavy Rain was recorded on this tour. If you've ever seen Dylan in white face with a pimp hat, it was from the Rolling Thunder Review.