A familiar voice across Canada's airwaves, Tom Power hosts CBC Radio's q, an all-encompassing public radio talk show that perhaps best compares to NPR's Fresh Air or PRI's Studio 360. Though it does air on some public radio stations in the United States, Power is best known to the north, not only as a radio personality, but as a musician — he's an accomplished guitarist with remarkable prowess in Irish and traditional Newfoundland musics — and musical scholar.
As it turns out, he's also a diehard, lifelong fan of bluegrass. As a teenager he picked up the five-string banjo and took lessons (which had a much broader reach than just banjo techniques) from once Blue Grass Boy and now Bluegrass Hall of Famer Neil Rosenberg, who just so happened to live nearby in Power's native Newfoundland. Though his work as host on q reaches far beyond his home island and his favorite chosen folk musics, his ethnomusicological expertise still centers on bluegrass — and he is a devout and starry-eyed fan.
BGS is proud to partner with Power and his co-producer Stephanie Coleman to present Toy Heart: A Podcast About Bluegrass, a platform for bluegrass storytelling and an examination of the true narratives that gave rise to this singular genre. Over eight episodes in its inaugural season Power will interview Grammy Award-winning, IBMA Award-winning, and truly earth-shattering artists in bluegrass about their lives, their stories, and their songs.
At Folk Alliance International in New Orleans last week BGS and Tom Power unveiled the first five minutes of the first episode of Toy Heart, which features Del McCoury accompanied by his sons Ronnie and Rob. Listen to that trailer right here on BGS, and read our interview, where Power discusses the pros and cons of his status as an "outsider," the never-before-heard stories he unearthed in his recordings, and much more.
Our BGS audience, being largely American, might not have an understanding of who you are already. Then the audience there in Canada will know who you are as an interviewer and on-air personality, but maybe not that you are a dyed-in-the-wool bluegrass nerd of the best kind.
[Tom laughs]
How does it feel being the person executing these interviews, creating this podcast, and being in the center of that odd Venn diagram between really traditional bluegrass and folks who love it, and your more outward-facing persona on the radio in Canada and, to a lesser degree, here in America?
Tom Power: I am a little apprehensive and a little scared, but I also know that the things that are making me scared about this are making our podcast good. I feel like I have a lot of bona fides in this music, in terms of my knowledge of it. I've been obsessed with it since I was about fifteen years old, studied it extensively, did a lot of work on it. When I went down to Nashville and met the community there I started to understand that I was an outsider, that I was not someone who was part of that community. I'm from a very different group, I play very, very different music.
I'm kind of a new member, [everyone has] been very welcoming, but it's a little intimidating. That being said, I think the perspective I have allows me to ask different questions, or at least think differently about the music than someone who's in it. In this case I'm on the outside looking in, which allows me to ask different questions, allows me to have different conversations. I wouldn't know the history of say, Ricky Skaggs and Bill Monroe as well as others. I know the history of how they got together, but I was able to look at Ricky and say, "Hey man, I don't remember a lot from when I was four years old. Do you actually remember him handing you that mandolin? How is that possible?" Which is a question that maybe someone who was a little more involved in this community may not have thought of. They may have just accepted it as part of the lore.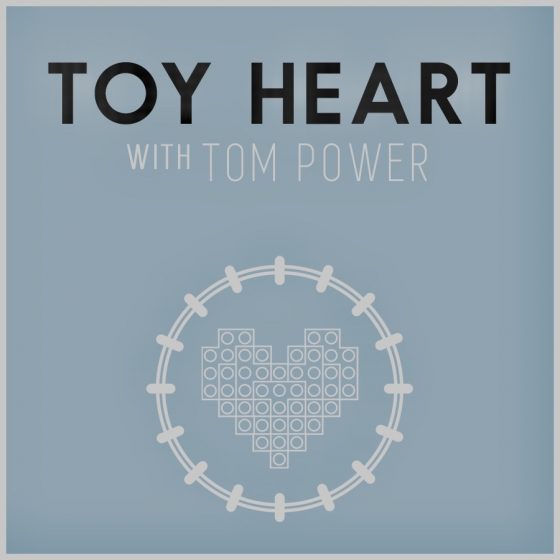 As you're describing this apprehension I'm wondering, are you thinking about how to mitigate for folks being like, "What about my favorite Del McCoury song? What about my favorite Ricky Skaggs anecdote?" How much of that are you anticipating and/or how much of this is you specifically turning over stones that haven't been turned over before?
The format of the podcast is largely autobiographical. Each episode begins with, "Where were you born?" Or, "What was it like growing up?" I try to let the guest [lead]. On the radio show, q, say I have twenty minutes and ten pieces I really need to hit. In this case I have an hour, I have an hour and a half. I'm able to let them guide me where they want to go and I can steer them back around.
One nice thing about my interviewing background, and I think the reason q has been in any way successful in Canada and a bit in the U.S. as well, is because we focus on what the listener might want to know most. When I'm doing an interview I'm always thinking about how it's coming out in someone's headphones, how it's coming out over somebody's car stereo. What are they shouting at the radio? What are they shouting at their phone? I'm always trying to keep that in mind.
When you imagine that hypothetical listener, the average person you're trying to target with the podcast, is it a diehard who knows everything about bluegrass, or is it somebody who's maybe a new initiate? Who do you hope will come into the audience of this podcast?
More than anything what I'm trying to do is trying to get a record of some of this music. I think the podcast format is a great opportunity to get these kind of biographical stories on record. I found myself listening to people like Marc Maron, Howard Stern, and Terry Gross thinking, "Why can't I do this for the music I love the most? Who's doing this work?" The music that Del McCoury's making, the music that Ricky Skaggs is making, or Alice Gerrard or Alison Brown, is as valid to me as something nominated for an Oscar or nominated for the Booker Prize. Who's treating this music this way? Who's giving it this attention to detail?
In any kind of music there's a lot of myth-making and a lot of legend-making. I'm really interested in what the actual story is. Even if it might seem a little boring to them. The eight-hour drive from Nashville to somewhere else, I want to know what they talk about on that bus ride! I want to know the minutiae.
Some of my favorite interviews have been with people who I didn't know. I've turned it on and I've gone, "Who is this person? Who is this director? Who is this actor?" And I found myself engrossed in the story. Take Jesse McReynolds, who told me on this podcast about driving around with his brother Jim from schoolhouse to schoolhouse, taking the car battery out of their car, putting it on stage, plugging the PA into it, and seeing if they could just get people to come. Is that not just a beautiful, human story? Bluegrass is the story of the original DIY music, as far as I can tell. These people were living what punks thought they were living for the first time in the 1970s. [Laughs]
I am aware that I'm entering sort of a hallowed ground of music and music aficionados. I really believe that this is just a matter of getting it on the record and using the little bit of training that I've had on public radio. Being able to sit down with Del McCoury and go through his entire life, his entire career, and ask, "What was it like when you had to quit music and go work in the logging industry? What was it like working in a sawmill? Tell me about the actual moment. I know the story that you were playing banjo [in your audition] for Bill Monroe and then Bill Keith came in, how'd that happen? Didn't that hurt? You lost that gig — what was it like playing in a band with a guy you lost a job to?"
You do have these moments with so many of these icons that we know and love. We know their "mythology" intimately, yet you get stories out of them that people like you and I have never heard before, let alone people who don't think and write about music every day for a living. You mention Del and Jim & Jesse, but is there another story that you've uncovered in your recording so far that you were surprised to hear?
I spoke to Del McCoury about the time he [spent] in the military. I said, "So you were in the military, how did that go?" Pretty broad, right? He tells a story about being in the military, about a couple of things that transpired while he was in the military that were hilarious. We laugh about it, and on the way out Ronnie and Rob McCoury stopped me and said, "Tom, we've never heard that story before." These were his sons! Not just sons, but his business partners, his bandmates, and they said they had never heard him tell that story before.
I can tell you, Alice Gerrard told me what it was like to sing at Hazel Dickens' funeral. I felt so honored that she would even be able to tell me that. I asked Béla Fleck, "Where is Tony Rice?" And what his relationship with Tony is like these days. I asked Jerry Douglas about drug use in bluegrass, something that often gets overlooked. And I should be clear, the goal is not to be in any way sensational. The world I come from in public radio, I find stories about humans way more interesting than stories about legends. What I was able to do is have human conversations while finding out the history of how a bunch of people created this thing that changed my life and it changed the lives of people all around the world. How is that possible? It's largely by an unglamorous industry, a hard life on the road, touring nonstop, playing small barns, having lean years — the story of what actually happened there is more interesting to me than anything else.
I'll give you one more. Ricky Skaggs, for the first time ever, tells the story of how Bill Monroe almost hired him to be a Blue Grass Boy. Hearing Ricky's tone when he told me that story — he says to me, "I haven't really talked about this before." I felt so honored that I saw not a bluegrass legend on the Opry, but I saw a kid still being blown away because his hero spoke to him.
I think that's one of the most beautiful things about bluegrass and even folks with even the most casual relationships to bluegrass understand that the community is just as important a part of the whole thing as the music itself. The legends that you're describing just so happen to also still be human.
And they have stories they want to tell! And maybe haven't even had the chance to tell them. I want to hear about it. I want to hear the story of how Béla Fleck heard that Tony Rice was making records without banjo and he thought, "That's not right, and I gotta be the banjo player." So he leaves New York! These are the stories of ambition, of love of music, honoring a tradition, and wanting to further things. Of humanity. I find it fascinating.
Ideally, if enough people listen to it, this season will just be one of many. I want to get to everybody! I mean, my white whale is Tony Rice. If you listen to these interviews a lot of them close with, "How do I get in touch with Tony Rice?" [Laughs] Alison Krauss is another I'd love to speak to, because other than Bill Monroe she is maybe the most transformative artist in the music's history. I want to know what it was like to be a twelve-, thirteen-, fourteen-year-old child prodigy playing this music. I want to know what emails — I know there weren't Tweets back then — or messages she got when she started adding drums to her music. I'm dying to talk to Larry Sparks! And the Osborne Brothers! These are crucial — I had to limit myself to eight people this time around and it was so challenging.
As someone who got a Bluegrass Unlimited subscription mailed to Newfoundland when he was fifteen, and a Banjo Newsletter subscription mailed to Newfoundland when he was sixteen, I still would not know anything about this if I wasn't under the tutelage of, in my mind, the greatest mind in the history of bluegrass, Neil Rosenberg. It changed my life forever. When I first took this on the first thing I did was fly back to Newfoundland to see Neil. I told him, "I'm doing this thing, what should we talk about?" And he helped me out. If I can be a pebble onto the beach of the work he has done that would make me very happy.
---
Photo courtesy of Tom Power