Earlier this year, Chef Barry Maiden won the much-coveted James Beard Award for Best Chef: Northeast. The award is only the latest in his acclaimed career. Whether as chef/proprietor of Boston's Hungry Mother and State Park restaurants or as a faculty member in Boston University's Culinary Arts Program, Maiden has always brought his Appalachian roots along with him.
Born in Southwest Virginia, he got his first taste for cooking in his grandmother's kitchen before heading into the professional world with jobs at Shoney's and, eventually, the Martha Washington Inn. Soon enough, Maiden moved to Nashville to study under and work with renowned French chef Emile Labrousse who encouraged Maiden to attend the New England Culinary Institute.
Degree in hand, Maiden landed a job at L'Espalier in Boston, then transitioned to Sel de la Terre and Lumiere, before opening his own establishment — the Appalachia-goes-to-France-themed Hungry Mother — in 2008. The following year, Food and Wine named him Best New Chef and Maiden was off to the races.
He opened the Southern sophisticate State Park in 2013 with a menu that included Memphis BBQ spaghetti, Nashville hot chicken, and Kentucky Hot Brown sandwiches. In order to pursue other opportunities, including the BU faculty position, Maiden bowed out of both State Park and Hungry Mother this year. Today, though, he's here to give us his best Thanksgiving turkey tips.
What's the single biggest mistake people make preparing turkey?
Buying a frozen bird then submerging it in a wet brine, and then overcooking it. Yum!
What's a great, unexpected, and simple side dish?
Sautéed collard greens with hot pepper vinegar — helps keep things moving and the acidity cuts the richness of everything else.
Stuffing, mashed potatoes, or yams?
Tough one but, if i had to choose, it would be stuffing … BUT only stuffing made with cornbread and oysters. Otherwise, definitely mashed potatoes. Life's too short for shitty stuffing. 🙂
Best pumpkin dessert … GO!
The one without pumpkin in it! Why is this tradition?! Buttermilk pie all day long.
What are the ABCs of Thanksgiving leftovers
One word [or three] … Kentucky Hot Browns!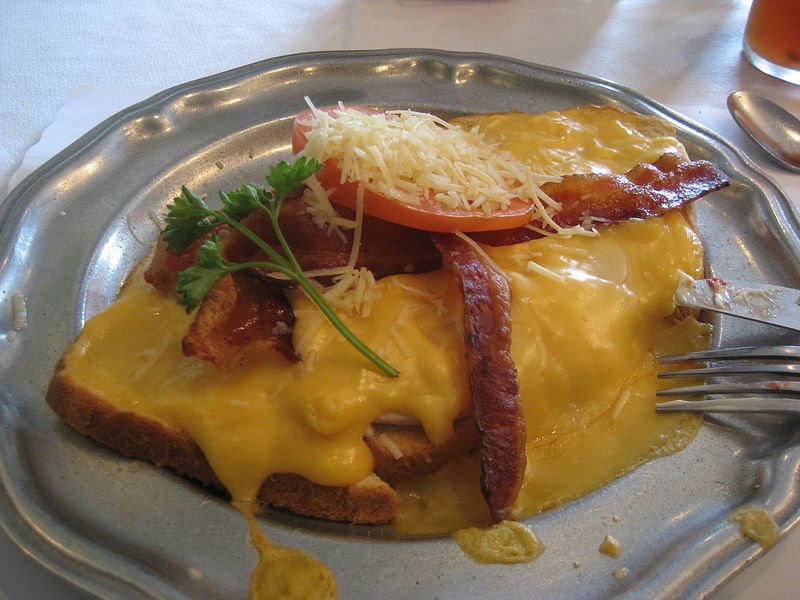 [Kentucky Hot Brown sandwich from Kurtz Restaurant, Bardstown, Kentucky, USA. Photo credit: Shadle.]
KENTUCKY HOT BROWNS (FOR LEFTOVERS)
I grew up about 50 miles south of Kentucky and, because hot browns were so popular, many variations existed in local diners … and even gas stations. Some versions including ham or sausage existed in parts of Virginia and were often served on a biscuit or grits instead of toast. Besides needing an excuse to add cheese, gravy, and bacon to your leftover turkey sandwich, I think Thanksgiving is the perfect time to revisit this Southern classic.
Ingredients
4 tablespoons unsalted butter
4 tablespoons flour
2 cups whole milk
2 cups heavy cream
1 cup sharp yellow or white cheddar cheese
1-1.5 pounds leftover turkey breast or leg, sliced
4 thick slices of pan de mie bread, buttered and toasted
8 slices of tasso ham or other good quality smoky bacon
4 ea. scallion, chopped for garnish
bourbon barrel-smoked paprika for garnish (or any smoked paprika)
Instructions
Make a roux by melting butter in a sauce pan and whisking in flour until a thick paste forms. Continue cooking over medium heat, whisking continuously, for two minutes and the roux is a light blonde color. Add milk slowly, whisking to combine and ensuring there are no lumps. Bring to a simmer, stirring often. Once sauce reaches a simmer, allow to cook for 10 minutes. Remove from heat and whisk in the cheese. Season with salt and freshly ground black pepper.
Build hot browns by placing toasted slices of bread in an oven-safe dish. (You can use one dish for hot browns or individual dishes.) On top of toasted bread, add sliced turkey. Pour cheese sauce over each hot brown. Place under broiler until cheese sauce is brown and bubbly.
Remove from oven. Top each hot brown with tasso ham and garnish with cut scallions and smoked paprika.
---