It sounds like the start of a horror movie. A husband and father packs up the car with some clothes and a few guitars, bids farewell to his wife and kids, then drives deep into the Canadian countryside. He bunks at a friend's country retreat, isolated from society, miles from the nearest human being. Or is he? Cue footsteps in the night, a dead bird on the doorstep, a shadowy figure barely glimpsed at the window. Perhaps there's a death cult searching for the lost city of Ziox. Or some maniac with a pickaxe. Or some unnamed evil haunting the forest.
"It's exactly like a horror movie!" laughs Michael Timmins, who is the man in that scenario and who write songs and plays guitar for the veteran Toronto band Cowboy Junkies. To pen tunes for their sixteenth studio album, All That Reckoning, he had to get out where nobody could hear him scream. "When I write, I have to be writing full time. As the years have gone by, it's gotten harder and harder to do that, because I have more and more responsibilities at home. So I have to get away where it's quiet, where I can sit around and think about nothing but songs. I have to get my head into it, so I have to isolate myself completely."
He made it out alive, of course, but if All That Reckoning is any indication, the real horrors are the ones he encountered once he returned to society. An angry album whose outrage simmers coolly just beneath the surface, a thorny collection that ranks among the band's best efforts, it chronicles a period of alienation, disappointment, fear, and paranoia. The guitars lurch and grind, the rhythm section lays out chunky, funky grooves, and singer Margo Timmins spits her brother's lyrics with a strident combination of disgust and compassion. This is the Junkies in punk mode, decrying the hate and hostility that are scarier than any boogeyman.
"I'm not a protest writer," says Michael, "but there are times in one's life when the two collide. When I was all alone writing this album, I began to realize that the personal songs are little political analogies, and the ones that are a little bit political are really personal analogies. One feeds the other, and you really see how they cross. I felt like I was taking stock of what's going on in my life and in the Western world, thinking about having to pay the price for a few things."
Cowboy Junkies don't usually traffic in dissent or social commentary; they're better at documenting the personal than the political. Over the last thirty years they've crafted a sprawling body of work whose main subject is their own lives, their sons and daughters and wives and husbands and brothers and sisters. The band is rooted in their everyday lives, such that it feels more like an extension of family than a profession. "Margo and I are basically the same age," says Michael. "We're only about a year apart in age. We have our separate lives and things we go through, but when I write about something, she can relate that to something that's happening in her world. And then she's able to relate it to the listener by singing it, by giving it voice."
It wasn't always that way. After brief tenures in a punk group called the Hunger Project and an improvisational act known as Germinal, Michael Timmins and bass player Alan Anton returned home to Toronto, where they started a new band and eventually persuaded Margo to join as singer. Early shows were wildly spontaneous, with the band laying down a groove over which she would improvise lyrics or sing snatches of other songs. They covered old blues songs by Bukka White and Robert Johnson; they played "State Trooper" like Springsteen was an old bluesman himself. Released in 1986, their debut, Whites Off Earth Now!!, was a modest success, further entrenching them in the Canadian alternative scene but doing little to break them south of the border.
"Before anybody was listening," says Margo, "we were just playing for ourselves—like all bands. You start in the garage or the basement or wherever, and playing music is fun. So you do a rock song. And then you do a country song, and then you do a blues songs. Nobody cares because nobody's there."
For their follow-up, they booked time in Church of the Holy Trinity in Toronto, claiming to be a Christian vocal band to allay any suspicions of sacrilege or heresy. The band recorded around a single microphone, capturing an ambience so strong, so distinctive, so immersive that the church becomes a member of the band. They reimagined "Blue Moon" as a eulogy for Elvis Presley, reinterpreted Patsy Cline's "Walking After Midnight" as an anthem of urban paranoia, and most famously recorded what Lou Reed declared to be his favorite cover of the Velvet Underground's "Sweet Jane." The Trinity Session sounded unlike anything else at the time, and it pointed in new directions roots and folk music might travel: lo-fi, place-specific, history-steeped, atmospheric yet conceptual, beautiful and weird.
"What happens is you have any album like The Trinity Session and then suddenly everybody wants you to sound like that forever," says Margo. "They want you to do that quiet album again and again. And we just couldn't do that. We knew it would kill us. We'd get bored really fast, and it would be the end of the Junkies. We did it the way we wanted to do it, and we're still here."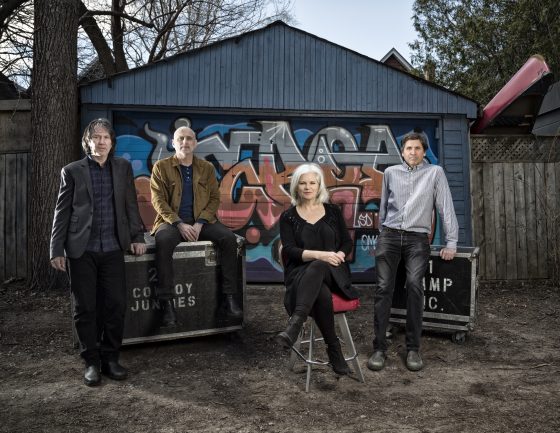 After the misstep of 1990's The Caution Horses—a little too clean, a little too slick—Cowboy Junkies proved themselves a deeply curious and extremely experimental band, one that had much greater range that previous releases had hinted. Black Eyed Man from 1992 is their country record, featuring songs rooted in Southern experience, some written by Townes Van Zandt (including a lovely version of "To Live Is to Fly"). They followed it up in 1993 with Pale Sun, Crescent Moon, a lowdown and occasionally abrasive album featuring guitarwork from J Mascis. There can't be much overlap between John Prine and Dinosaur Jr, but the Junkies made it sound like a natural progression.
Since then they've largely forged their own path, never fully embracing or embraced by the roots community but also never feted as a major postpunk influence. Their most recent albums have been a linked quartet of experimental releases based on seasons of the year: One record was based on Michael's experiences living in China, another gathered eleven Vic Chesnutt covers. Cowboy Junkies have reached a point where they can exist well outside the trends and slipstreams of contemporary pop, indie, and roots music, where they become a scene in and of themselves. Perhaps more crucially they've shown how a band might settle into a long career, enjoying a cult audience more than hit albums. They've shown how to make a life in music.
In that regard All That Reckoning is all the more surprising for how relevant it sounds, for how well it surveys our current climate, most crucially for how it suggests that the band's defining traits—the quiet vocals, the erratic guitars, the menacing midtempo jams—are specifically calibrated to speak to this very moment. As Margo sings on "When We Arrive": "Everything unsure, everything unstable."
It's not easy to write about these topics, but it can be even harder to sing about them. Before she even records her first notes, Margo road tests her brother's songs, playing them in front of audiences, living with them so she can burrow into them, figure them out, and devise a plan of attack. For All That Reckoning she set up a makeshift studio in the ski chalet where Michael wrote the songs. "Often I don't know what a song is about, and Mike won't tell me. When he writes them, he just writes them. They're mine to interpret and bring my life to and figure my way around."
She has always been an imaginative singer, but these songs contain some of her best and most precise performances. The disgust in her voice on "Missing Children" is palpable, as is the disdain on "Shining Teeth," but she sings "The Things We Do to Each Other" as matter-of-factly as possible, as though the lyrics were self-evident, as though a little compassion might help the lesson go down easier.
"Mountain Stream" plays like a record skipping, Michael's guitar jangling like a pocketful of ill-gotten coins and Margo sounding hazy even though she's relating a very grounded story about a king surveying his crumbling kingdom. "I wanted to sing it like… you know when you have a dream and you wake up the next morning and you tell somebody about it? You're telling it in that kind of confused, almost stilted way of talking? You're shaking your head going, I was here and I was there and then this dog came along. I wanted to sing it in that bewildered sort of way. But it eluded me. I don't think I got it."
Perhaps not getting it, perhaps hitting just off the mark, is what gives the song its haunted quality, as though nothing quite lines up, nothing quite makes sense. Everything unstable, everything unsure. "There's something weird out there, something undefinable," says Michael, pinpointing the album's appeal. "We can't really define it or figure it out, but it's been out there forever, and for some reason it seems to be getting more common, more present." The Junkies stare it down on All That Reckoning and they never flinch.
---
Photo credit: Heather Pollock