As I was preparing to sit down and salivate while writing about all the ways that I love Peanut Butter Soup, before I could even type a single word, my daddy called and told me what he, my mom, and aunt happened to be having for dinner at that very same moment. Take one guess what it was and your guess would be correct (unless you've got jokes).
The number of times that I have eaten this West African comfort food doesn't necessarily make me an expert on it, but it sure does mean that I'd better know how to make it. I've introduced many American friends to the concept that peanut butter does not have to be synonymous with jelly — nor does it have to be dressed up as a sweet treat. I tried to eat a peanut butter and jelly sandwich a few months back and my stomach hurt after just a few bites. Put me in front of a Reese's Peanut Butter Cup and I will look the other way. I think it may be because I've been spoiled by this savoury dish. I hate to tell you this — but if you make this recipe, you may be forever spoiled, too. Consider yourself warned.
This recipe originates somewhere in West Africa. Some say Gambia; others say Ghana. My version is influenced strongly by my home country of Ghana. In Ghana, we know this dish as "groundnut soup." The word "peanut" simply wasn't introduced to West Africa for quite some time (even though that's definitely the nut we're talking about here). You take the nut, you grind it, and you've got, well … "groundnut." Call us West Africans literal, I guess. It makes more sense than pea-nut. Amirite??
And what else do you have when you grind a nut? Well, after a while, nut butter, of course! That's the bold base of this rich, velvet-cloaked soup. A cup's worth of peanut butter (and nothing else) goes into the base of a cold pot that is then heated to medium-low heat. The peanut butter slowly begins to release its rich oil when gently heated, and that's actually all the oil you'll need in this soup's base. That small cup of peanut butter will continue to release its amber-coloured oil for the rest of the cooking process until your soup is speckled with shiny drops of jeweled oil along its surface. You'll feel like you're being naughty when you consume a spoonful of this rich goodness, but ,unlike animal fat, this oil is nutritious and full of fiber.
I'll leave you with that and dig into the linear steps.
Note: I want to thank the six people in the world who already have my Peanut Butter Soup recipe for allowing me to share it publicly now. Gratitude comes because these six people supported me in my Pledge Music Campaign last Fall when they donated funds to receive this as was one of Ruby's Secret Recipes. Thank you for keeping my recipe secret for these several months and thank you for allowing me to share it now. I won't give away any more of these for a long, long time.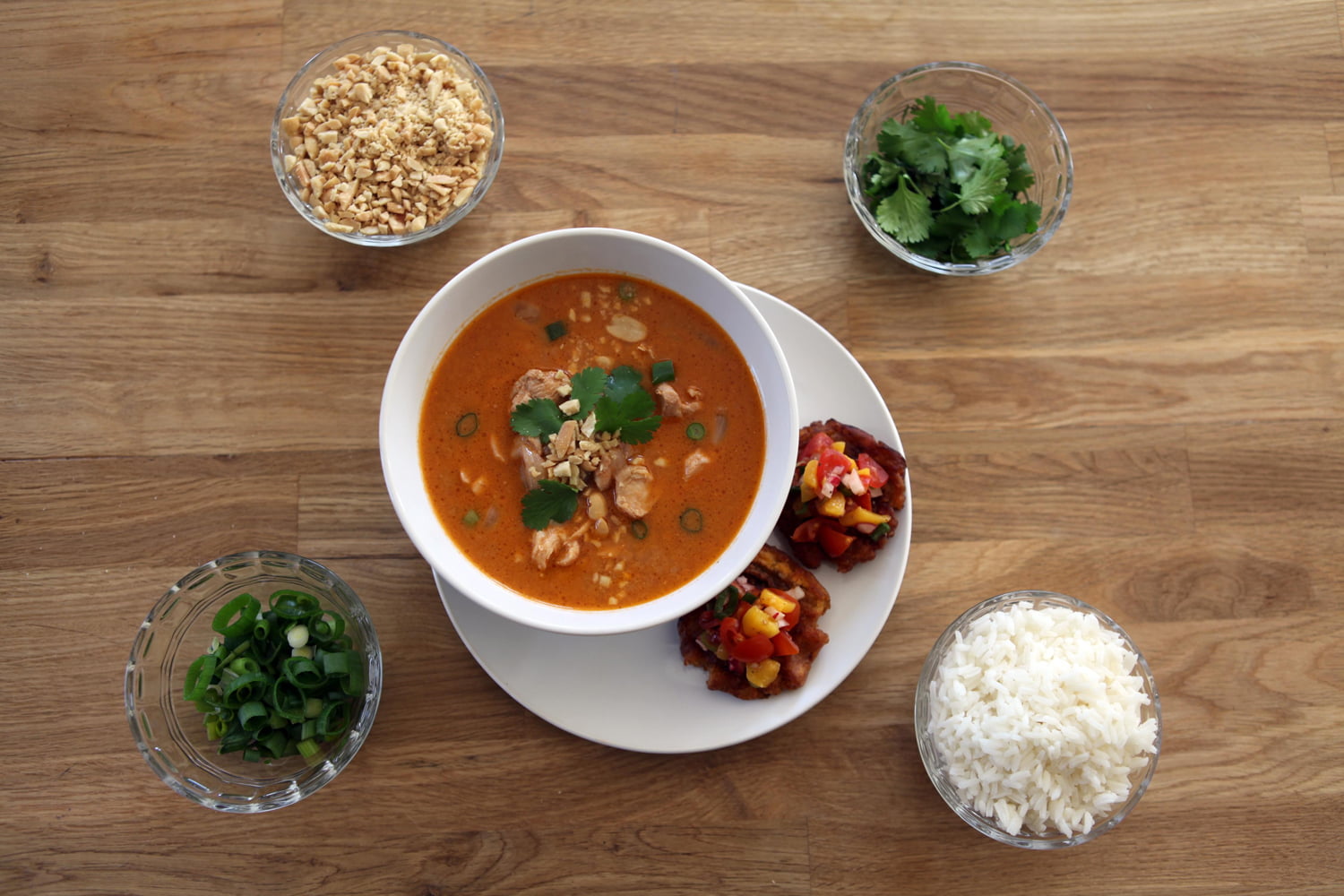 INGREDIENTS
1 cup unsweetened creamy peanut butter
1 medium onion, thinly sliced
2-3 medium cloves of garlic, chopped
1 Tbsp ginger, grated (or use ginger paste)
1 Tbsp ground coriander
1 Tbsp ground cumin
2 tsp paprika (any kind; even smoked)
1 quart chicken broth + 1 extra box (use bone broth for extra luxury)*
1 15-oz can of tomato sauce
1-1.5lbs of raw chicken thighs, cooked to pleasure and cut into bite-sized pieces**
Kosher salt to taste
Black pepper to taste
Cayenne pepper to taste
Crushed peanuts, scallions, and/or cilantro to garnish, if desired
*Use vegetable broth if preferred
**Substitutions for chicken may include sautéed shrimp, diced sweet potatoes, yams, or mushrooms
DIRECTIONS
Place peanut butter in the base of a deep pot first and then bring the pot to medium-low heat. Watch carefully so that it doesn't burn and lower heat as needed, stirring occasionally with a long wooden spoon. Allow the butter to loosen and release a lot of that good peanut oil into the pot. Be patient and let it happen. It may take 10 minutes, but it's the most important step.
Once it looks like your peanut butter has kind of perspired, add in the onion, garlic, ginger, coriander, cumin, and paprika, and stir to combine. Increase the heat to medium-high to release more peanut oil and cook ingredients in the rendered peanut oil and butter until onions are just beginning to soften. Bring the heat down if it looks like it wants to burn. If the peanut butter accidentally gets too dark in the pot, don't worry about it. Just lower the heat and continue on.
Pour in an entire quart of chicken broth in 1 cup increments, stirring each round in until well-combined and smooth. Then simmer and stir for 5 minutes. Add in the tomato sauce, salt to taste (added in pinches at a time so as to not over season), black pepper, and cayenne to taste. Stir, cover, and simmer on low heat for 30 minutes, stirring occasionally to make sure the base isn't burning. If the soup looks to be too thick, add more chicken stock in 1 cup increments until desired viscosity is achieved.
Add in cooked chicken or protein of choice at the end and give a good stir and 5-minute simmer.
I serve it with a scoop of rice, but some folks spoon it over steamed potatoes of all varieties or just eat it plain. Top with crushed peanuts, sliced scallions, and/or cilantro for extra love.
Serves 4
To make this dish extra sassy, I recommend listening to Memphis Minnie's box set. Well, at least I did, and I'm pretty sure it helped! I actually didn't know Memphis Minnie's music until Brittany Howard (Alabama Shakes) introduced her to me. In 2013, Brittany and I were brainstorming which songs to record for our Third Man Records Blue Series vinyl release. I brought a Rodriguez tune ("I Wonder") to the table and Brittany's contribution was Memphis Minnie's "When My Man Come Home." I was so inspired by Minnie's voice that I collected a library of her songs, and they haven't left my side since.
Call me presumptuous, but I have a feeling that Memphis Minnie would've liked this Peanut Butter Soup recipe just fine.
---
Singer/songwriter Ruby Amanfu loves cooking almost as much as she loves singing. Her latest release, Standing Still, was featured as part of the BGS Class of 2015.