In 2012, two years after receiving a liver transplant, Gregg Allman was diagnosed with a reoccurrence of liver cancer and given a prognosis of 12 to 18 months to live. The pioneering rock legend kept the news private and moved forward doing what he did best: playing music. Choosing not to undergo treatment, he beat the odds and continued his musical journey for another five years, passing away on May 27, 2017. His parting gift — to himself, his family, his friends, and his fans — is Southern Blood, his poignant farewell album that was released posthumously last month. Produced by the legendary Don Was, Southern Blood features a selection of nine cover songs and one original tune, "My Only True Friend," co-written with Gregg Allman Band guitarist and music director, Scott Sharrard.
"I was one of a very, very small inner circle of people who knew that he had received the terminal diagnosis with the idea that he may live longer, he may die tomorrow, and I had to make every decision as his music director, as kind of his lieutenant, and as his songwriting collaborator, based on his imminent demise, and that was extremely difficult," Sharrard says. "We became much closer through that period. I think some of that had to do with our mutual deep, deep love for music, and it also had to do with him, I think, realizing that those of us in his inner circle who were helping to collaborate were kind of ferrying him across to the other side as best we could."
Don Was and Allman's longtime friend and manager, Michael Lehman, helped him choose the covers from a list of artists he admired and songs he loved, like Lowell George's "Willin'," Tim Buckley's "Once I Was," and Jackson Browne's "Song for Adam," which always reminded him of his brother, Duane. In a cosmic full-circle move, Allman recorded Southern Blood over a two-week period in March of 2016 at the historic FAME Studios in Muscle Shoals, Alabama, where he and his brother Duane recorded their first demo tracks as part of their early band, the Hour Glass, and where Duane later famously became the session guitarist for Aretha Franklin, Wilson Pickett, and others.
"I would go with [Gregg] to most of his milestone health appointments at the Mayo Clinic where he had his transplant and where his oncology team was, and every time we'd get there, we'd be amazed because his health was maintained for the most part," Lehman recalls. "But as the team of doctors always said, one day the lid is gonna come off the kettle. And as we were getting into '16, and he was starting to have more days than not where he wasn't always feeling great, he knew. Even though we had never heard that yet from the doctors, I truly believe he knew inside of him that that day was coming sooner than later and so he was going to make the best of it with this record."
Allman's health began deteriorating rapidly after those sessions, and he was never able to get back into the studio to record his vocal harmonies, as was his custom. With Allman's blessing, Lehman enlisted Buddy Miller to fill out the harmonies and Jackson Browne, who he had played with when they were both teenagers, contributed to his "Song for Adam." Allman signed off on his preferred version of "Song for Adam" with Browne's additions, and was able to take a final listen to some of the other songs.
"The day before he passed, I had received three final tracks and, that night, Gregg and I listened for about an hour to the tracks and I said, 'They're perfect, Gregg. There's nothing to do, nothing to worry about,'" Lehman recalls. "And we talked about exactly what he wanted to be done with this record. He confirmed that I could share his journey with his health and talked about how to go out there and make this record everything that it should be. And I've followed his plan to the tee, right now … I think he just wanted to feel really close to home on this record, and all these songs sort of allowed him to retrace his life's journey."
On Gregg's Final Years
Sharrard: It was very difficult to juggle Gregg's desire to perform live, his need financially to perform live, because the music business sure ain't what it used to be. I mean, you can't just sit home and collect mailbox money anymore; you've gotta go tour. That's why you see these guys touring all the way to the end. They love it, but it's not just because of that. And then, his health battles. When you're ill like this, it's a game of whack-a-mole. They'd give him one drug, and it'd cause some other thing, and then this thing would make him get pneumonia and that thing would make him get COPD, and this thing would do that and then he's out for various things that had nothing to do with the cancer, that were complications of trying to manage it and trying to manage a new liver … He was not in a writing period. He was not in that frame. I've always called him the Frank Sinatra of rock 'n' roll. He had grown into this elder statesman master interpreter of song — someone like Nina Simone or Billie Holiday or Muddy Waters. He became a voice, like that voice that could sing the phonebook, as they say. And I think he was inhabiting that.
On Recording at FAME Studios in Muscle Shoals
Lehman: As people know — and it's well-documented — really probably not a day in his life wouldn't pass where Gregg either wouldn't think of Duane or talk about him. So he was always ever-present and [FAME] is the place that Duane recorded with Wilson Pickett and Aretha Franklin and other greats. It was also where Gregg and Duane recorded some demo tracks for one of their early bands, the Hour Glass. And lastly, we had reconnected with Rick and Rodney Hall, father and son, from FAME Studios of Muscle Shoals three or four years ago when the Muscle Shoals film documentary came out. And Gregg was so happy to reconnect and contribute to the doc, that he actually went out and helped promote it and I think, in doing so and reconnecting with Rick after so many years, it just brought back a flood of memories. And Gregg loved the sound that would come from an old studio and a studio like that has so much history and so many artists were there. They had all the analog equipment and boards, and so Gregg said, "You get the best of both worlds because you record in analog, you can mix digitally," and this was just a place that meant so much to him, so he was thrilled to get back there … I would say about close to half the days he was not feeling great, but his work ethic was such that he would spend four or five hours a day in the studio and then, the other 19 or 20 hours, he'd be back in the hotel room eating, sleeping, resting, and just preparing for the next day. So he did not waste any energy and conserved his energy so that he would deliver the performance that he needed to on the tracks that we went into the studio to record.
Sharrard: Since that demo session with the Hour Glass, Gregg had never been back there. I think it was his first professional recording session, actually. So his first session and his last session were in that studio. That's pretty amazing, right? I'm sure he thought that through … When we got there, we were all really knocked out by the vibe. Don Was had never even been in the building in his life, and Gregg hadn't been there since he was a teenager, so the two of them were like kids in a candy store, too, which was also inspiring for us. You think these guys are totally jaded, right? Not at all. They were as freaked out as we were about working in there. So that added to the vibe and the anticipation that you need to get it right.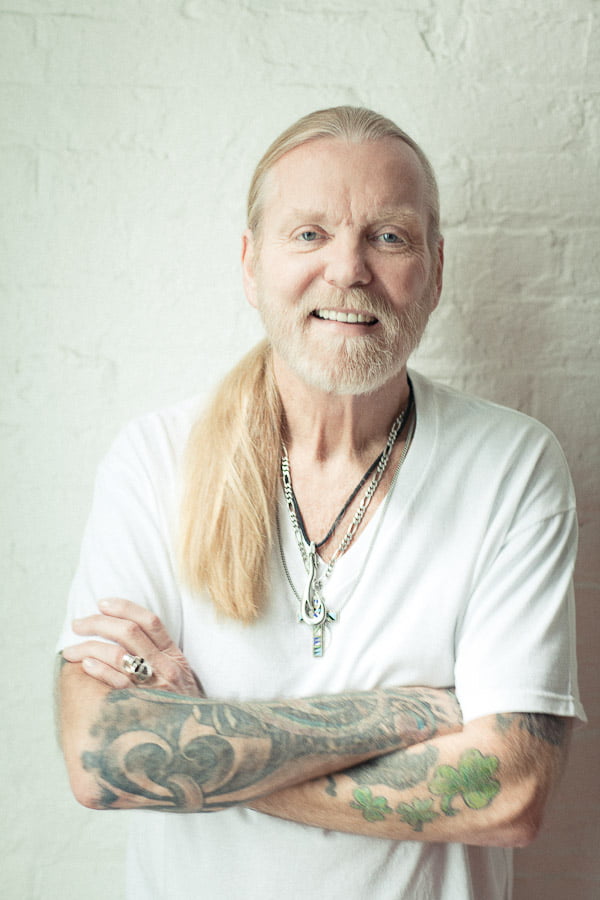 On the Album's Only Original Song, "My Only True Friend"
Sharrard: Of all the stories I have about the making of Southern Blood, that song is my personal journey with Gregg. The story of the creation of that song has no shortage of drama, I'll warn you. But it's a 100 percent true story, like some of the best ones. I was really lucky to go through this experience with him. I was at his house — this was probably around 2015 is when that song started being written. When we were off the road, I would go for a few days, and we would do these writing sessions. We had already knocked out one song, which was a funky blues tune, and we were real happy about it. We had a good vibe going, and he had had some other ideas we were bouncing back and forth, and we were just having a good time one night. We went to bed real late, as usual, and he had been telling me a lot of road stories. We'd go out to the boat slip and come back — he had this beautiful property in Savannah — and it was just one of those really one-on-one hangs, when he was really lucid and telling a lot of detailed stories, and we always talked a lot about Duane. I was staying in his mother's room at the house and, as I was going to bed, I was looking at all these pictures of them as kids in military uniforms together and stuff in military school, and I was just digging the whole family vibe. And I drifted off to sleep and then I shot up in bed at dawn with the sun coming up over the swamp. And as I shot out of bed, you know how it's like you have those dreams where you remember it like it's a movie you saw and you can't tell if it's a movie or a dream? Well, what I immediately remembered — and even weirder, I can still see it in my mind what it looked like, the beginning of it — it was Duane actually speaking to Gregg. And right away, it's the first two lines of the verse and the hook to the song is what he said to Gregg in the dream. So I run downstairs and I grab an acoustic guitar off the couch, I go out on the porch, and I'm looking at the sun coming up over the boat slip and I start playing that intro that you hear on the record … I had an intro and I had a verse and I didn't have anything else except for this line, "You and I both know the road's my only true friend." And, by the way, I never told Gregg that story because I was worried it would spook him out. I didn't want him to judge the song or anything about it based on that because I know how much he respected his brother … I had been pacing all morning waiting for him to wake up because I knew how special this song was. When he woke up, I sat there and played what I had for him and he said, "This is it, man. We gotta do this. This is gonna be the tune."
Fast forward to later that year, I go to the hotel near the Beacon Theatre when he was doing his second-to-last run with the Allman Brothers to do more writing. And when I get to his hotel room, we're still working on this song, "My Only True Friend," but it's going back and forth with all these different pre-chorus and chorus ideas and bridge ideas. So I get to his room and the vibe is really messed up, and he sits me down and he tells me about his terminal diagnosis right there. And I said, "Look, obviously we don't have to work today, we can just hang. I can leave. Whatever you need," and he's like, "No, we need to work." So we started working and we're getting into stuff and, right in the beginning of that writing section, he reached over and he crossed out the pre-chorus we had — and I still have this sheet of paper, by the way — he crossed out the pre-chorus we had and he wrote in "I hope you're haunted by the music of my soul when I'm gone," and that was the first time that line came in.
The first time he had ever sang the third verse was that day when we cut the song. So that song was almost not recorded. It was right down to the wire. I gotta be honest with you: I had been writing the song for almost three years with him at that point — or two years or whatever it had been — and I was at my wit's end with getting it right. But I see why it was so important to him now, and it all makes sense now. That's why, sometimes, you just have to follow the zeitgeist. Creativity is never a straight line. You've just gotta trust the process.
On the Cover of Jackson Browne's "Song for Adam"
Sharrard: It's about the untimely death of a friend and Gregg and Chank always relate it to their experience with Duane Allman as their brother and friend who they lost so tragically and so early. I can't tell you how important Chank was. He was like the spirit animal of everything Gregg Allman. He personally really wanted Gregg to record this song and Gregg was fighting him. I think Gregg was very emotional about doing that song because he related it to his brother. So basically, when we got in the studio, I'm gonna tell you that this record, everything is first or second takes. We were having a ball every day, knocking out two songs a day. Fun times. We got to "Song for Adam," they had sent the horns home and they'd sent Mark Quiñones home, so we had lost a lot of the yucks from the session. It's like we went into the studio that day to do "Song for Adam" and we've got one song left to do, "Song for Adam" — the horns are gone, Mark's gone. So the vibe in the studio was kind of like a little of the oxygen had been sucked out of the room. And I remember when we were cutting it, on the floor, we had the rhythm section — Steve Potts, Ron Johnson, Pete Levin, and me — four-piece band. Gregg was standing singing. I played all the guitars on that track. So Gregg's standing up singing with Chank sitting next to him on a stool and Chank was like almost holding his hand through it … We played that fucking song for like seven hours … Now you listen to it and it sounds absolutely gorgeous and, of course, Gregg emotionally was never able to sing the last two lines, and I thought it was quite brilliant that Don Was decided to just let the verse end with that last line about singing his song. I mean, it's a pretty incredible and dramatic exit to an album.
---
Photo credit: Danny Clinch